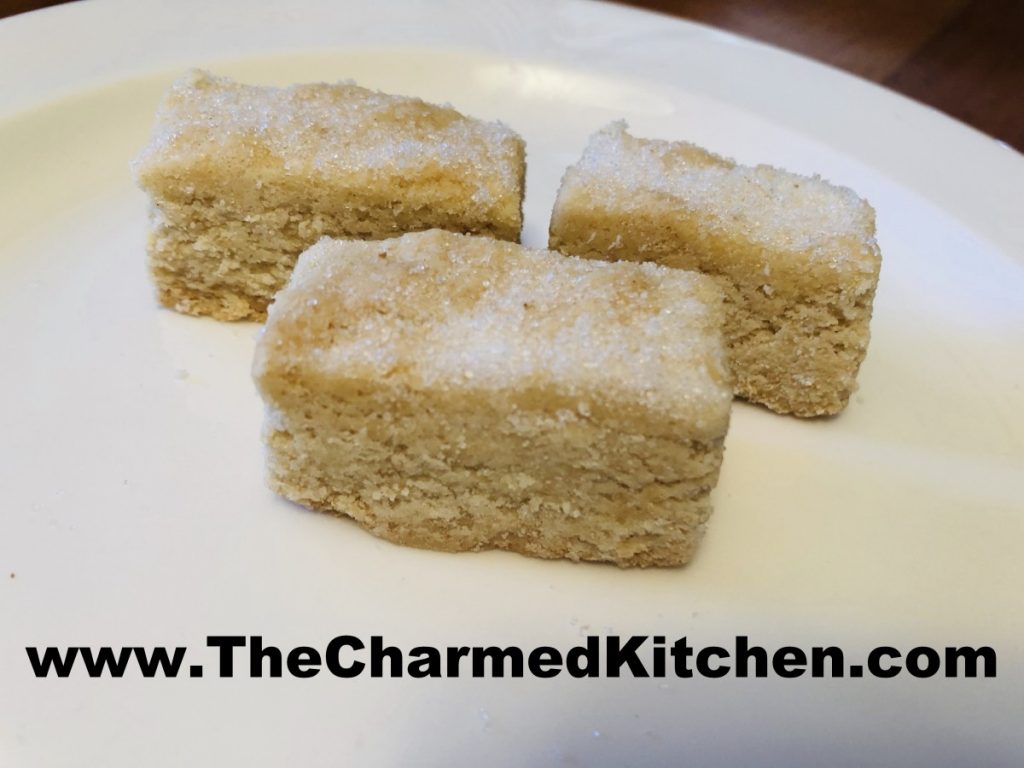 If you are looking for an Irish dessert for St. Patrick's Day, you might want to make these shortbread cookies. They are everything a shortbread should be. They have the classic shortbread crumbly, tender texture that is buttery at the same time. I think the phrase is melt in your mouth.
These are a little different than other shortbread, though. For starters, you add cornstarch to the dough. The cornstarch helps the cookie to be extra tender. You also melt the butter before adding it to the rest of the ingredients.
It could not get any easier. I pressed the dough into a 9×9-inch pan to bake. Once in the pan, I score the dough before baking, then cut the shortbread again once baked and cooled.
I will say that shortbread aren't the prettiest cookies on the plate- but they are wonderfully tasty.
So here is the recipe. They also call for self-rising flour. If you don't have self-rising flour- the recipe for making your own follows the shortbread recipe.
Irish Shortbread
1 c. butter
2 1/4 c. self- rising flour (see note)
3/4 c. cornstarch
1/3 c. sugar, plus extra for sprinkling on top
Melt butter and allow to cool slightly. In medium bowl combine remaining ingredients. Stir in butter and mix until dry ingredients are thoroughly coated. Press into 7×11-inch glass pan (8×8 or 9×9-inch pans are OK). Sprinkle with extra sugar and score with a knife into 1×1-inch pieces. Bake in a preheated 325-degree oven for 30-40 minutes, until edges begin to brown. Cool in pan and cut on score marks. Makes about 6 dozen squares, depending in pan size used.
Note: If you don't want to buy self-rising flour here is an easy recipe to make your own. It works in any recipe that calls for self-rising flour.
Self-Rising Flour
8 c. flour
5 T. Baking powder
2 T. sugar
1 T. salt
Combine all ingredients and store in an airtight container. Keeps for several months.
Right out of the oven
Published
December 21, 2019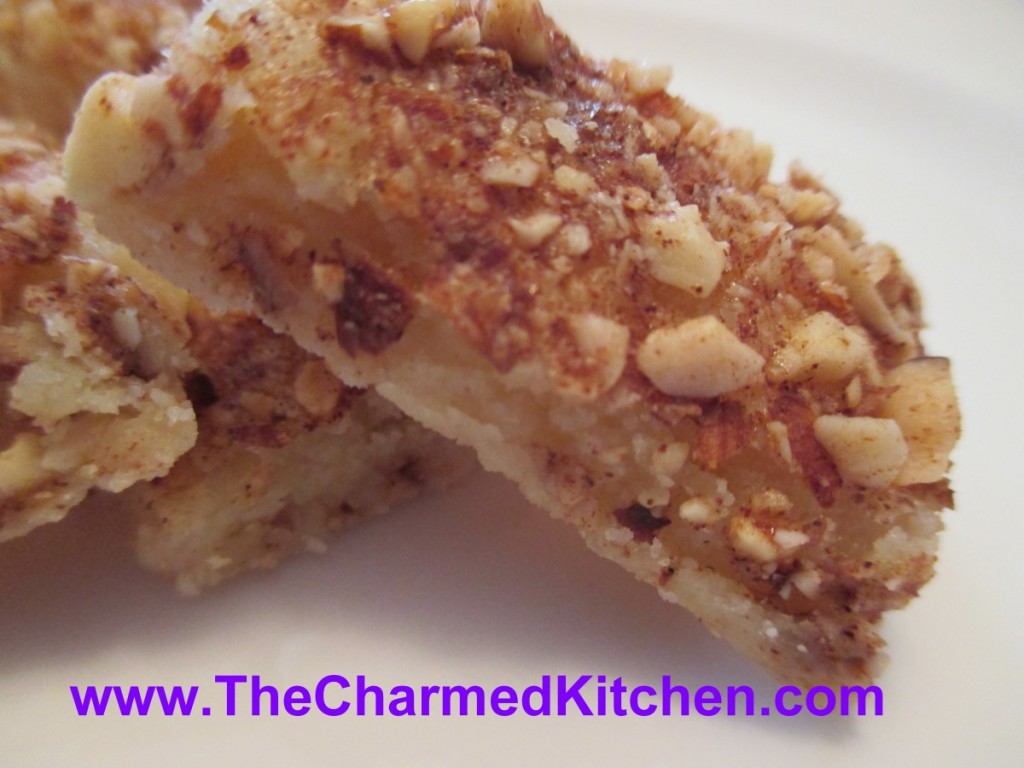 It seems I am always making variations on shortbread cookies. I love shortbread. I am not alone- so many friends and family have told me the same thing. There is something about the crumbly texture of shortbread that makes them a favorite for a lot of people.
This recipe is a classic shortbread, topped with cinnamon and pecans. They are really good. You just make a batch of dough, press into a pan, top with a cinnamon – pecan mixture, and bake. Could not be simpler.
As soon as they come out of the oven cut them into little strips or squares. I got nearly 100 out of one batch. It depends on the size you cut them. If you are looking for a simple, yet wonderful cookie, you might want to try these.
Cinnamon Pecan Shortbread Cookies
1 c. butter
1 c. sugar
1 egg, separated
2 c. flour
1 T. water
½ c. finely chopped pecans
3 T. sugar
2 t. cinnamon
Lightly grease jellyroll pan (10×15). Mix butter, sugar and egg yolk then stir in flour. Pat into pan. Beat egg white with water until frothy and spread over dough. Combine pecans, sugar and cinnamon. Sprinkle nut mixture over the dough and bake in a 350-degree oven for 20-25 minutes or until lightly browned. Cut immediately into tiny strips, makes 50- 100.
Subscriber to our Mailing List
Follow us on Social Media