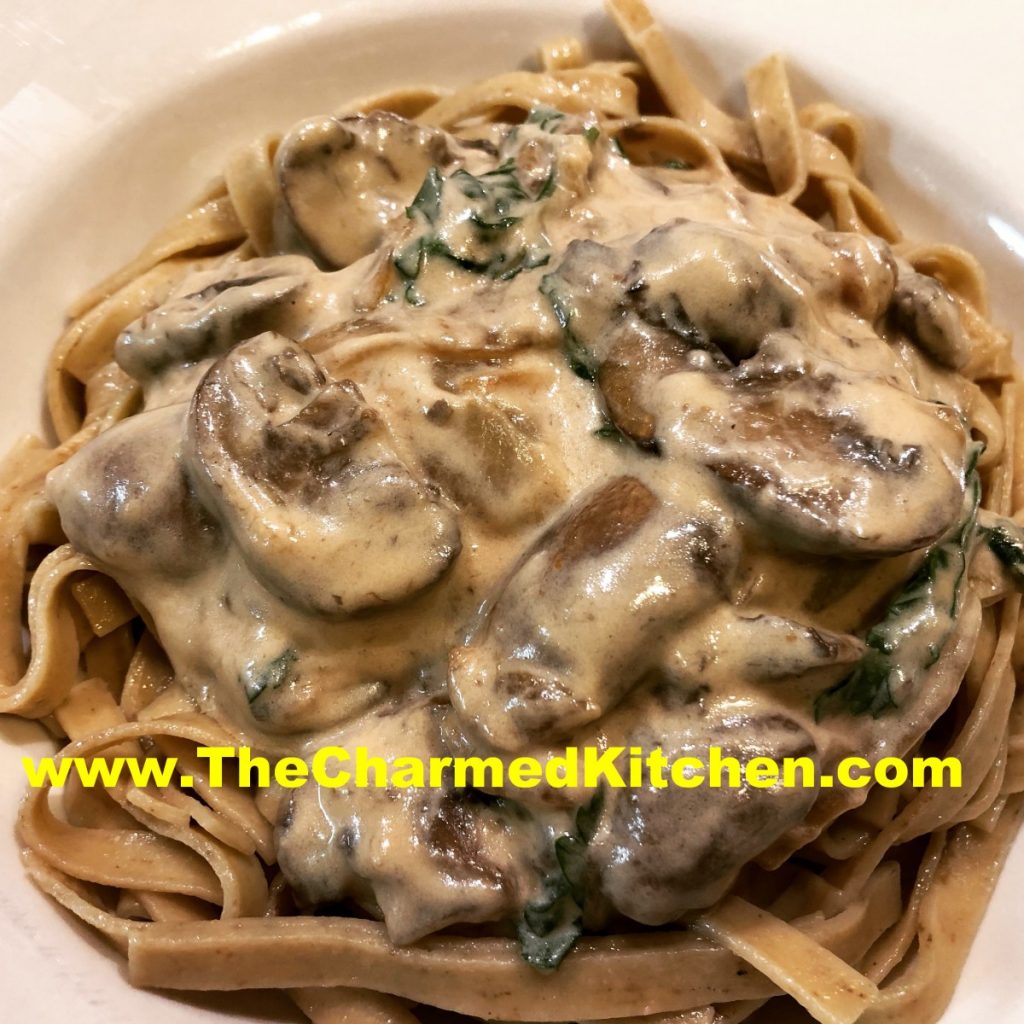 If you are looking for a meat-free meal, you can't go wrong with mushrooms. Mushrooms add so much flavor to any dish. This mushroom stroganoff is easy to make and tastes great. I also made mushroom pasta, but you can use store bought pasta.
I used a pound of mushrooms, but I could see making this dish with even more mushrooms. I also think it would be fun to make it with a few different types of mushrooms.
For the pasta, I used mushrooms I had dried myself. Store bought dried mushrooms often have to be soaked first, to remove dirt. I only recommend using mushrooms you washed and dehydrated yourself. You don't want grit in your pasta.
Mushroom Stroganoff
3 T. oil or butter
1 c. chopped onions
1 lb. mushrooms, washed, trimmed and sliced
1 c. stock- I used chicken stock, veggie or beef would also work
1/2 c. dry sherry
1 c. sour cream
1/2 c. half and half
1/2 c. fresh chopped parsley
salt and pepper to taste
Heat oil in large skillet and cook onions until golden. add mushrooms and cook until they are golden, too. Add stock and sherry and cook until most of the liquid is cooked off. Remove from the heat and stir in the sour cream, half and half and parsley. Warm gently for several minutes until sauce thickens a little. Adjust seasonings and serve over mushroom pasta. Recipe follows. Serves 4-5. I only used some of the pasta for the dish.
Mushroom Pasta
3 c. flour, more if using electric pasta machine. See note.
½ c. mushroom powder- made from dried mushrooms
1½ t. salt
4 eggs
Water, as needed
Mix flour, mushroom powder and salt. Stir in eggs, kneading until dough is smooth and elastic. Dough will be very stiff. Add a little water, as needed, to hold dough together. You may wish to mix the dough in a mixer or food processor. Cover dough and let rest at least 15-20 minutes before rolling. Under kneading your dough will result in coarse, crumbly pasta. This batch makes about 1 pound. Serves 4-6.
Roll dough out on a well-floured board or with a pasta machine until desired thickness in reached. Add flour as needed to prevent sticking. Cut into strips or whatever shapes are desired. You might want to let the noodles dry 1-hour or more before cooking, but this is not necessary. Pasta can be hung to dry or separated and allowed to dry flat on a table. When pasta is not hanging to dry it must be turned occasionally to dry evenly. Although you may hear otherwise, homemade pasta, even when dried, should be frozen for long term storage. Storing at room temperature can lead to spoilage. Fresh pasta can also be stored in the refrigerator for a day or two.
Cooking fresh pasta happens quickly. For most noodles you are looking at 2-3 minutes at the most. Thicker cuts and ravioli would take a little longer. Watch it carefully. Drain after cooking, and toss with your favorite sauce.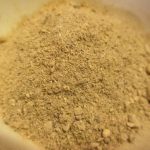 Mushroom powder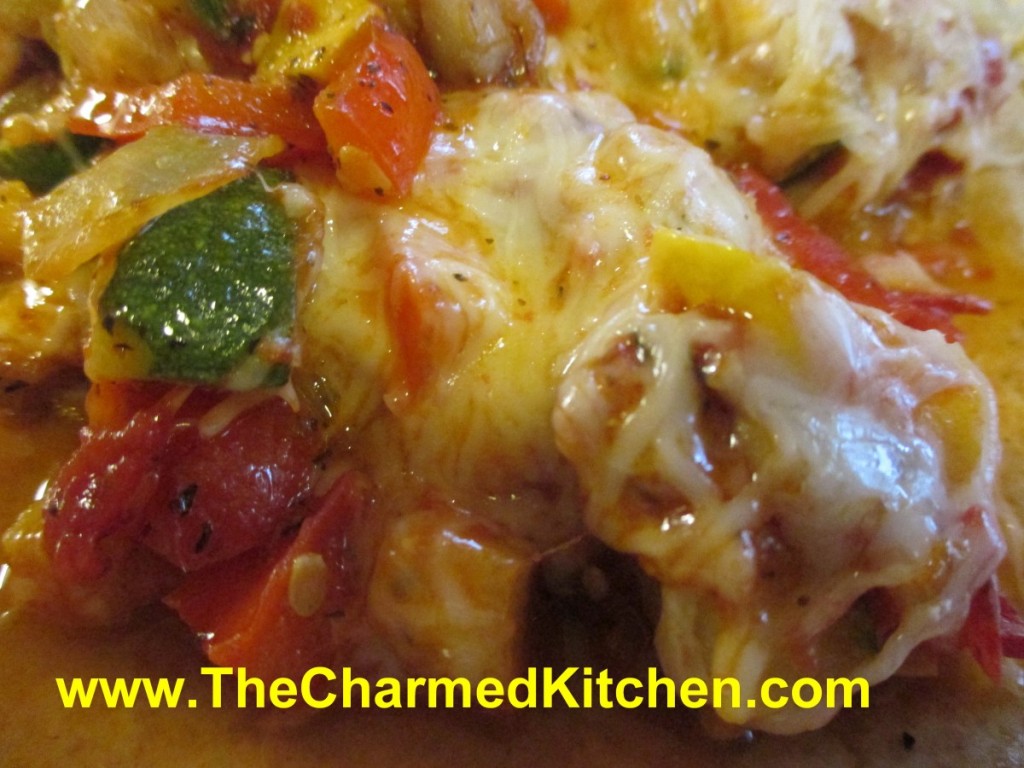 I started making this dish out of necessity. I was fresh out of college and never seemed to have much money. I did have a big garden, though. It was August and the garden was full of zucchini, tomatoes and peppers. I had to find a tasty way to combine them. Pizza Zucchini was born.
The name is a little misleading. It isn't really a pizza at all. Rather, it is a saute of several veggies, seasoned with pizza seasoning. I top it off with cheese, and often serve it over pasta or rice or stuffed in a pita bread. Last night, I served it on a whole wheat tortilla, so it did sort of have a pizza feel to it.
Not much work, this dish packs a lot of flavor. Plus, you can use all sorts of other veggies, depending on what you have around. So if you have a few extra zucchini laying around, this is a fun and tasty way to enjoy them. You might even get your family to eat more veggies.
"Pizza" Zucchini
1 T. oil
½ c. chopped onion
1 sweet pepper, seeded and chopped
1 c. sliced mushrooms, optional
3-4 c. sliced zucchini or other summer squash, trimmed and sliced
3 c. diced fresh tomatoes, or use canned or 1 c. tomato sauce
1-2 t. pizza seasoning, or to taste*
8 oz. Mozzarella cheese
Sauté onion in oil until tender add pepper and mushrooms and sauté 2 minutes more. Add squash and cook until tender. Add tomatoes or sauce, seasonings and salt, if desired. Heat through, turn down heat and add cheese. Cover and allow to cook on low until cheese melts. Serve as is, over rice or pasta or in pita bread. Serves 3-4.
*Pizza Seasoning
3 T. dried basil
2 T. dried oregano
1-T. red pepper flakes
1 T. dried minced onion
1-T. fennel seeds
1 t. garlic powder
Combine all ingredients and store in a cool, dark, dry place.
To use: Add 1-2 teaspoons per cup of tomato sauce to make pizza sauce. Also good sprinkled on bagels with sauce and cheese or added to any tomato or pepper dish.