Gratin is just another way of saying cheesy cauliflower. I love cauliflower. I also love cheese. Bringing the two of them together is a classic combination.
I decided to make a cauliflower gratin for lunch today. When I started, I remembered one I had made a few weeks ago. It tasted great, but was a little too watery.
The problem is, I wanted the cauliflower to be cooked, but not cooked to mush. I just steamed it for a few minutes. It was tender, but still pretty firm. When it cooked in the cheese sauce, it cooked a little more and became more tender. This is a good thing. Unfortunately, it gave off water as it cooked and thinned the sauce too much.
I wanted to try again, with a thicker base sauce, to offset the water in the cauliflower. We were so pleased with the final dish. Creamy, cheesy and not watery at all.
I have to admit, I almost chickened out when I saw how thick the base sauce was. But, I figured if it was too thick, it would still taste good.
I forgot to measure the cauliflower before and after steaming. I had to take a good guess at how much chopped up cauliflower there was. A little more or less won't matter that much. I had a pretty good size head of cauliflower. I guessed at 8 cups raw, but it could have been 10 cups.
So here is the recipe- I hope you give it a try.
Cauliflower Gratin
1 medium head of cauliflower, stems trimmed off and cut into bite sized pieces- you should have about 8 cups
6 T. butter
6 T. flour
1 c. half and half- you could use cream or milk, if you prefer
6-8 oz. cheese- cubed, shredded or sliced- any cheese that melts will work. I used a combination of cheddar and Muenster
Salt and pepper to taste
Hot sauce to taste
½ c. bread crumbs
2 T. butter
Steam the cauliflower until just tender. I steamed mine in the microwave for 6 minutes. It took me two batches to steam it all. Place cauliflower in a mixing bowl and set aside. In pot, heat the butter until melted and stir in the flour until smooth. Add the half and half and cook, over medium heat, stirring often, until mixture thickens. It is going to get REALLY thick. Don't freak out. When the mixture cooks with the cauliflower, the cauliflower will give off more liquid which will thin out the sauce. Once the mixture gets bubbly, cook over very low heat another couple of minutes, stirring constantly. Turn off the heat and add the cheese. Stir occasionally, until the cheese has melted. You can turn the heat on if you need to for a minute or so. Trust me, be patient, the cheese will melt. Spoon the cheese sauce over the cauliflower and mix it together as best you can. Add seasonings, if you like. Place cauliflower mixture in a baking dish. I used a deep dish pie pan- and it fit, but I had to push it down a little. Sprinkle with the bread crumbs and dot with the 2 tablespoons of butter. Bake in a preheated 350 degree oven until it gets all bubbly and starts to brown a little. This takes about 25-30 minutes.
Let it sit a few minutes before you try to eat it. It is really hot.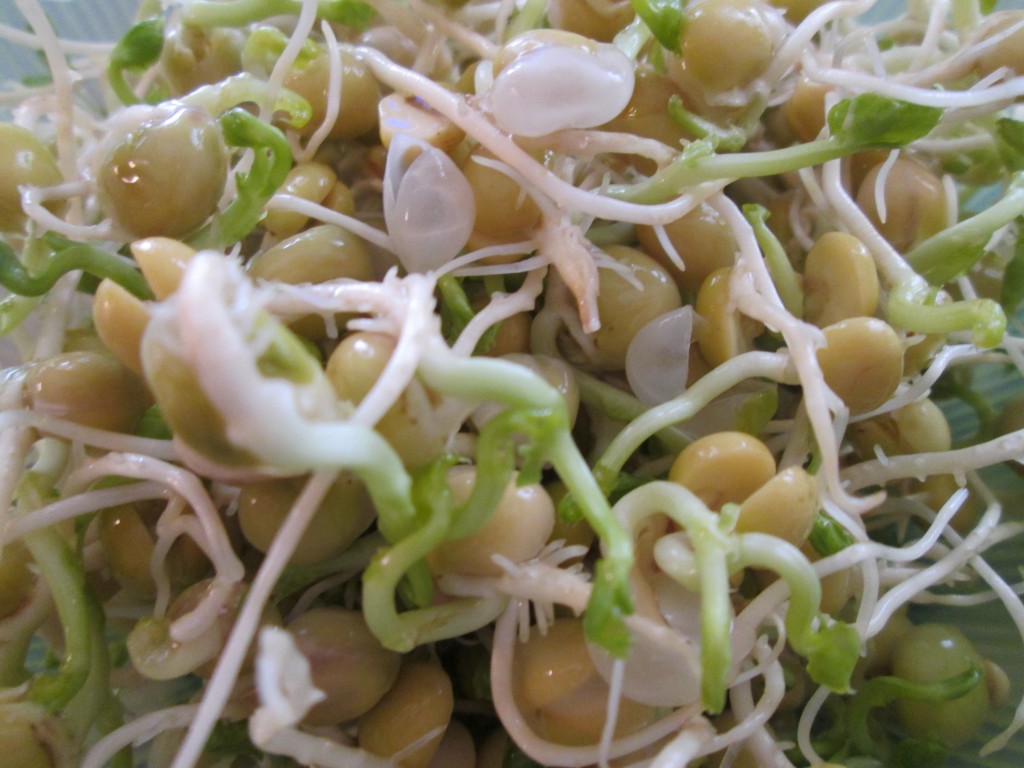 To satisfy my urge for fresh produce I have taken to sprouting seeds. I have a nice assortment of seeds for this purpose and I can start more anytime I like. I can have sprouts, like pea, garbanzo beans and mung beans that can be eaten cooked or more delicate seeds like alfalfa and radish sprouts that are great as a salad ingredient or on sandwiches. Maybe it is also the time of year, but with snow outside the window the sight of fresh green growth is especially satisfying.
The upside is the seeds last for ages so they will be available for sprouting when I need them. The downside is that it takes a week or more to get sprouts so some planning is required.
Sprouting is pretty simple- although it is a little like having a pet. There is some care than needs to happen. First, start with a clean, wide mouth jar. I have these handy lids with holes in them that are made just for sprouting. Place the seeds in the jars and cover with water. Allow them to be covered in the water for at least several hours. Drain and rinse the seeds. After the first soaking, only keep what ever water stays on them after a rinse and drain. That's pretty much the whole process. Twice a day, maybe three times if the weather is really warm, rinse the seeds and drain off any extra water. Depending on the seeds you can expect your first crop in 7-10 days. You can place the jars in a sunny window for greener sprouts. If you don't have the lids with holes in them you can cover the jar with some cheesecloth. Hold in place with a rubber band. That will allow the sprouts to get air and make it easy to rinse and drain them.
Also, quantity can be tricky. Very few seeds can produce a heck of a lot of sprouts, so go easy. A few tablespoons of tiny seeds like radish, alfalfa or broccoli should be plenty. Perhaps a 1/4 cup of larger seeds like the beans and other legumes is also going to give you a bountiful supply.
They do take time, so if you want a steady supply start a new batch every few days.   Once sprouts are the size you want them to be give them a final rinse and drain well. Store in the fridge until you are ready to use them. Do use them soon. Often they are quite perishable. Besides, if you were sprouting for fresh food- enjoy it while it is fresh.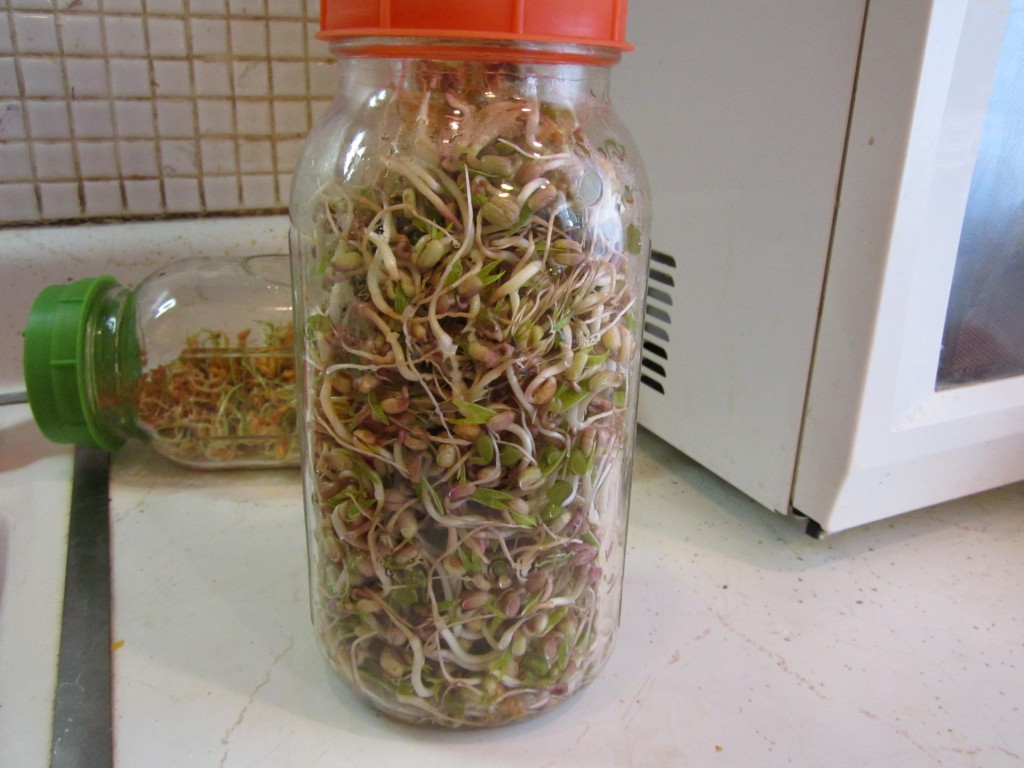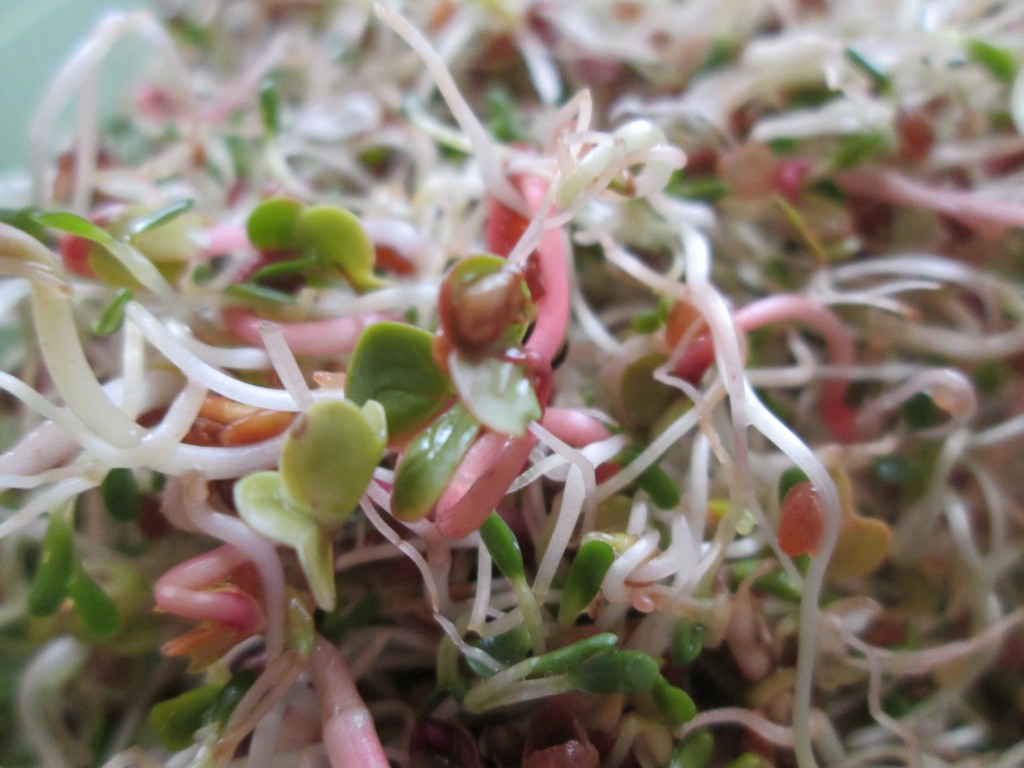 I don't generally endorse any specific business in my posts. There are numerous sources for sprouting seeds on line. I have purchased seeds from Mountain Valley and was pleased with the results and quality. I receive no compensation from them- I just like them.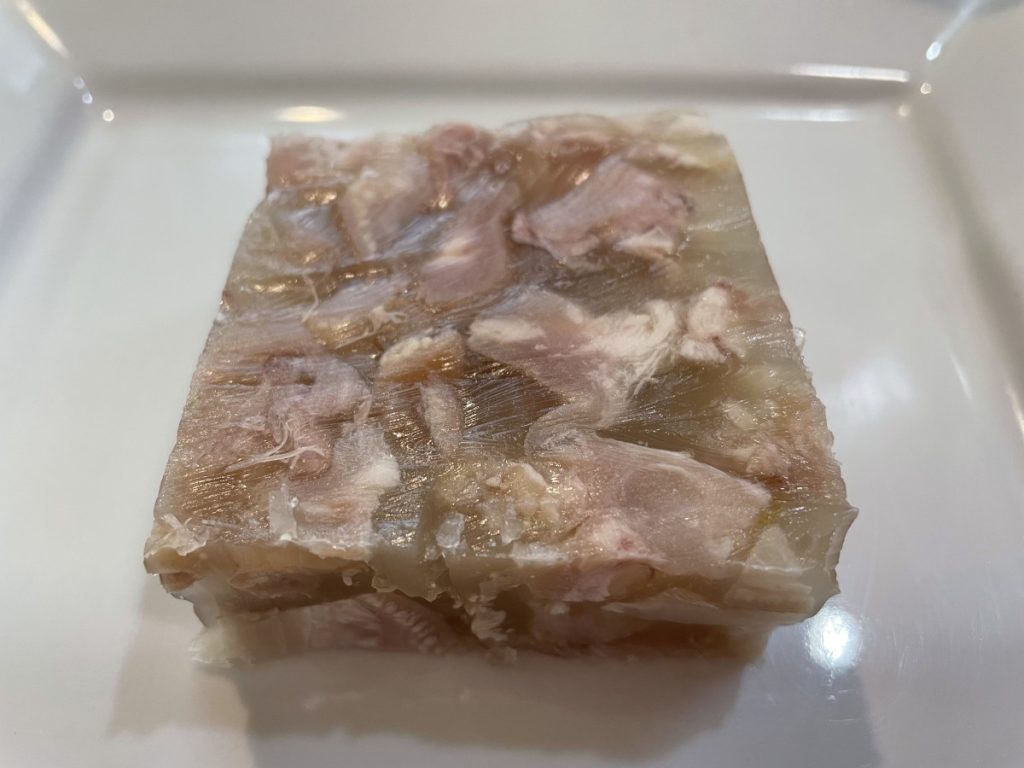 This is a dish you either love or hate. It is a dish a grew up with and I love it. My Polish grandmother made it and so did my mom. I can remember my father always adding a splash of vinegar to his.
The dish is pretty simple, really. Pigs' feet, sometimes called trotters, are cooked in water with salt and aromatic veggies until very tender. The stock is strained and then the pigs feet are returned to the stock and chilled until it sets up. The stock is very gelatinous and can easily be sliced to serve. Similar to head cheese found in some delis.
The difference from one cook to the other is whether the pigs feet are returned to the stock whole, or if the meat and skin are removed from the bones before they are added. I have had it both ways. It is much easier to eat when the bones are removed.
Jellied Pigs' Feet
4-5 lbs. Pigs' feet, washed well
Water
Salt and pepper
1 medium onion, peeled
1 carrot, peeled and chopped
1 rib celery, chopped
1 t. minced garlic
1/4 c. pickling spice, optional
Vinegar
Cover pigs' feet with cold water in soup pot. Add 1-2 t. salt and bring to a boil. Drain and repeat process. Return feet to pot and cover with cold water. Add salt, pepper, veggies and garlic. Simmer, skimming any foam off the top until meat is getting tender, about 2 hours. Fill tea ball with pickling spice, if using, and place in pot. Cook until meat is falling off the bone, at least 2 more hours. Remove all meat and bones from pot. Set aside. Remove tea ball and set aside. Strain  broth through fine strainer or cheesecloth. Add more salt, to taste, if needed. Remove meat  from bones and place meat in a loaf pan. Discard the bones. Pour over the stock and chill. Remove fat from top of dish after chilling. Serve with vinegar, if desired.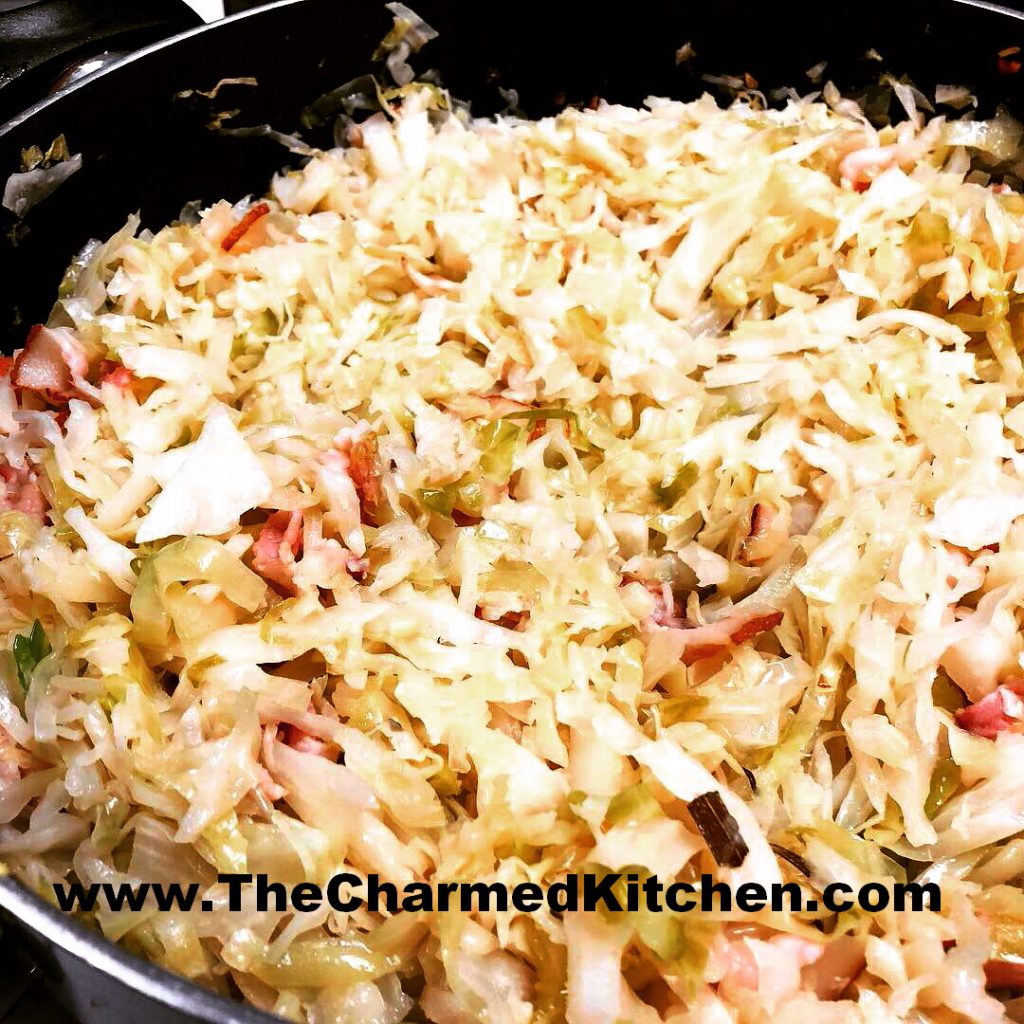 This Italian-inspired recipe really elevates the humble cabbage.
I love cabbage in all sorts of dishes. Maybe it's my Eastern European roots. I really love it prepared this way.
Smokiness from the pancetta and a hint of rosemary and garlic really makes this dish sing. I made it recently, but didn't cook it as long as the original recipe called for. I think I prefer it less cooked. The cabbage retained some crispness. My best advice is to taste this dish as it cooks to see how "done" you like it.
If you are looking for an easy and tasty way to prepare cabbage, try this recipe for Venetian Cabbage. I think you will be pleased.
Venetian Cabbage
1/2 c. minced pancetta (Italian bacon) or thick bacon
4 cloves garlic, minced
pinch of rosemary, minced- I used a bit more
1 T. olive oil
2 1/2 lbs. green cabbage, trimmed and shredded
1/2 c. chicken stock or white wine
Cook bacon, garlic and rosemary and oil in saucepan until mixture starts to sizzle. Stir in the cabbage, tossing to coat well. Cook, covered, over low heat for an hour, or a little less, adding the stock or wine a little at a time. Add salt to taste before serving. Serves 6.
This colorful, tasty soup, was first made for me by my Busha, my Polish grandmother. Beets are a big ingredient in Eastern European culture. My Mom cooked with them, too.
I have fond memories of spending time with my Busha. I stayed with her on weekends a few times. One of those weekends, she taught me how to make a wonderful coffee cake. I still have the index card where I wrote down the recipe as she went along making it. Busha didn't write her recipes down much.
Another time, she made beet soup. I loved it. I think the color is what pulled me in. I was a big fan of pink back then. I still am, especially when it comes to this soup.
I love to use fresh, raw beets, when possible. You can use cooked beets, or even canned, if you like. This time I used frozen beets- using ingredients I already have on hand.
I make homemade spaetzle, but other pasta or cooked, diced potatoes are good, too.
So here is the recipe for the soup and the spaetzle. I always think of Busha when I make it.
Busha's Beet Soup
1 large onion, sliced thin
oil
5-6 medium beets, about 2 pounds
5-6 cups beef, chicken or vegetable stock
1 c. dairy sour cream
1 t. dill weed
cooked spaetzle, recipe follows
In soup pot, sauté onion in oil until starting to brown. Meanwhile, peel and dice the beets. You should end up with 5-6 cups of cubed beets. Add beets and stock to pot and bring to boil. Cover and turn down to a simmer. Cook until beets are tender, about 20- 25 minutes. Place sour cream in small bowl and ladle in a little of the hot soup, whisking until smooth. Add another ladle of soup and whisk again. Pour this mixture into pot of soup along with the dill weed. Serve with the spaetzle. Serves 4-5.
Note: You can also pre-cook the beets or use canned beets. Trim off leaves of beets, leaving 2 inches of stem. Leave roots intact. Boil beets in water until tender, which can take as little as 20 minutes for tiny beets or 45 minutes for the large ones. Cool in bowl of ice water and then slip off the skins. Dice and add to soup as if the beets were canned. You don't need the long cook of fresh beets. Just bring soup up to a simmer.
If you prefer, serve the soup with diced boiled potatoes or kluski, rather than the spaetzle.
You can serve the sour cream on the side, rather than incorporating it into the soup, then allow people to add a dollop of sour cream to individual bowls. Polish beet soup usually adds the sour cream and Russian style is to dollop on the top. Both versions taste good.
Spaetzle
3 eggs
1/2 c. half and half or evaporated milk
1/2 t. salt
1 1/2 c. flour
Combine all ingredients and let rest 30 minutes. Drop by small spoonfuls into boiling water. Cook until they float and puff up, about 5 minutes. Drain and serve with soups, stews, sauces or buttered.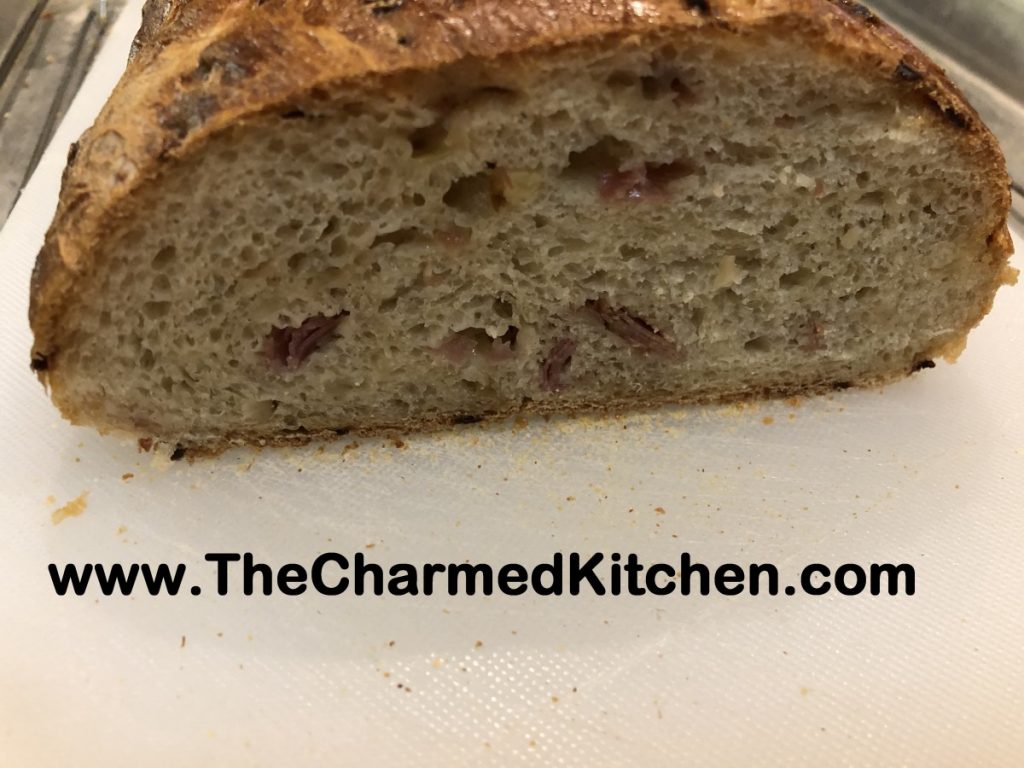 I have made a lot of different breads in my life. This is one of my absolute favorites. The bread has a wonderful, chewy texture and is studded with onions, garlic and the smoky flavor of prosciutto. What's not to love?
I first made this bread a long time ago. I even shared the recipe in bread baking classes. I only had the recipe in hard copy and at one point, I could not find it. Over time, I kind of forgot about it. Until a little over a week ago when I was going through a pile of old recipes and found it!! I decided to make it right away. It is every bit as good as I remember. I have shared slices of this bread with friends. The feedback has been great.
I made a few minor changes to the original recipe- a little more garlic and salt, but that was it. You don't want to mess around with perfection. 🙂
I love the bread toasted and buttered.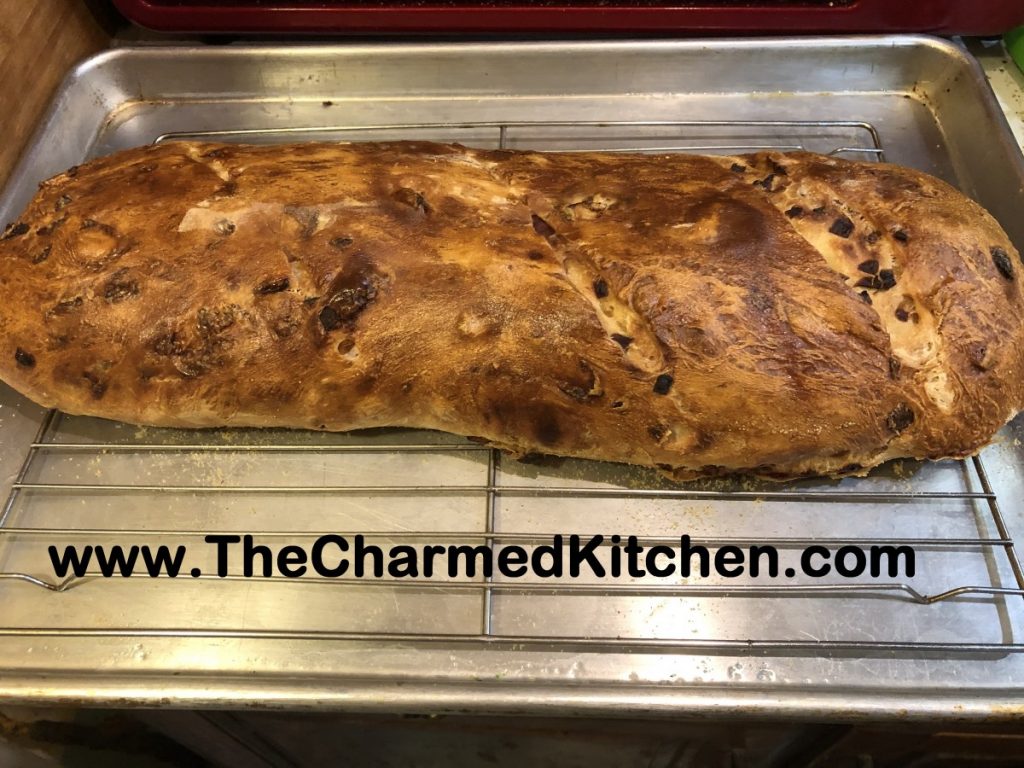 Onion and Prosciutto Bread
1 packet active dry yeast
¼ t. sugar
1⅔ c. warm water, 105-115 degrees F, divided
4-4½ c. flour
1 T. salt
2 T. olive oil
1 large onion, minced- about 1-1½ cups
4-5 garlic cloves, minced
4 oz. prosciutto, minced- 1½ cups
Cornmeal
1 egg
2 t. water
In large mixing bowl, combine 1/3 cup warm water with the sugar, 3 tablespoons of the flour and yeast. Stir until dissolved and let sit until mixture gets bubbly, about 10 minutes. Add the rest of the water, 3 cups of the flour and the salt. Stir until well mixed. Add enough of the flour to make a soft dough. Turn out onto a floured surface. Let rest 3 minutes, then knead until smooth and elastic, about 10 minutes. Dough should be on the soft side. Place dough in a lightly greased bowl and cover with a towel. Place in a warm place until dough has doubled in size. While dough is rising, prepare the onion mixture. Sauté the onions in the olive oil over medium heat until just tender, about 3 or 4 minutes. Add the garlic and cook 2 more minutes. Set aside to cool and stir in the prosciutto. Once the dough has risen, punch down and place on a floured surface. Roll dough out into a circle, about ½-inch thick. Sprinkle the onion-prosciutto mixture evenly over the dough. Fold the sides in, in thirds- like folding a piece of paper to go in an envelope. Then fold in the top and bottom in the same way. The dough will look like a bundle. Place back in the bowl, cover and let rise again until doubled. Turn dough onto a floured surface. Let rest a few minutes, then knead a couple of times. Roll the dough out again into the big circle. Do the same folding that you did before- sides folded in thirds, then the top and bottom folded in. This helps to distribute the onion-prosciutto mixture evenly. Place the dough on a baking sheet lightly greased and coated with cornmeal. Shape the dough into a 14-inch loaf. Cover with a towel and let rise until doubled. Preheat oven to 400 degrees. Place a pan with hot water on the bottom rack of the oven. Combine the egg with the 2 teaspoons of water, mix well and brush lightly over the bread. With a sharp knife make three slashes on the top of the bread. Place in oven and bake 25 minutes. Remove the pan of water and bake another 25 minutes or until bread is golden brown and sounds hollow when tapped lightly. Remove from oven and place on a cooling rack. Makes one very large loaf.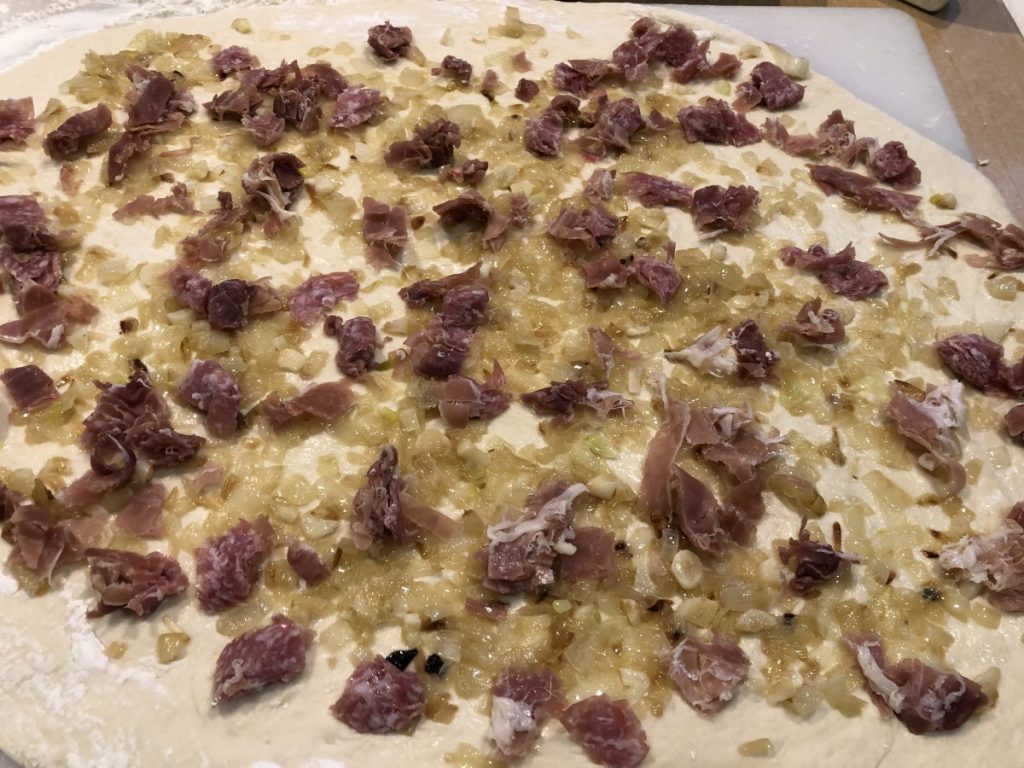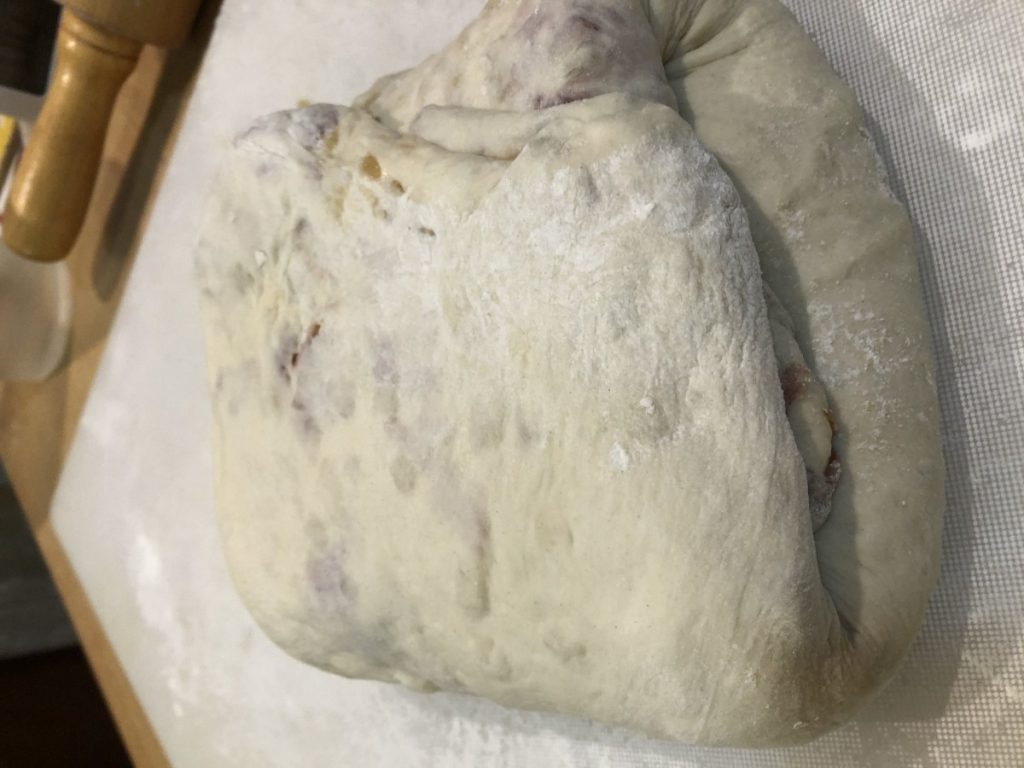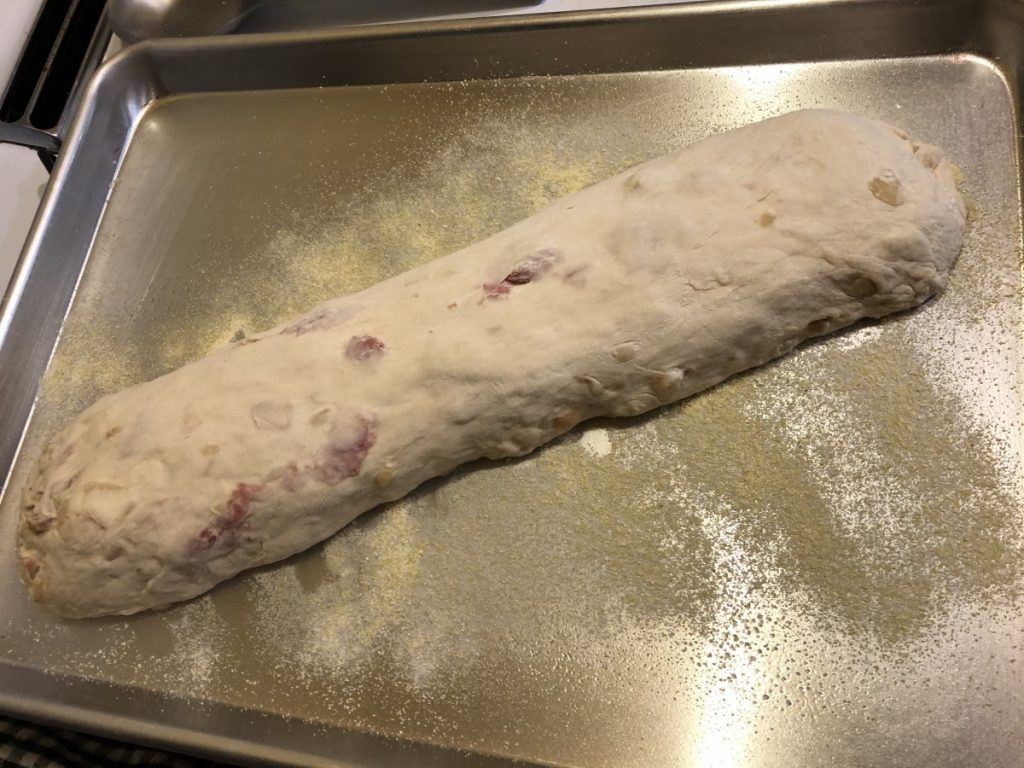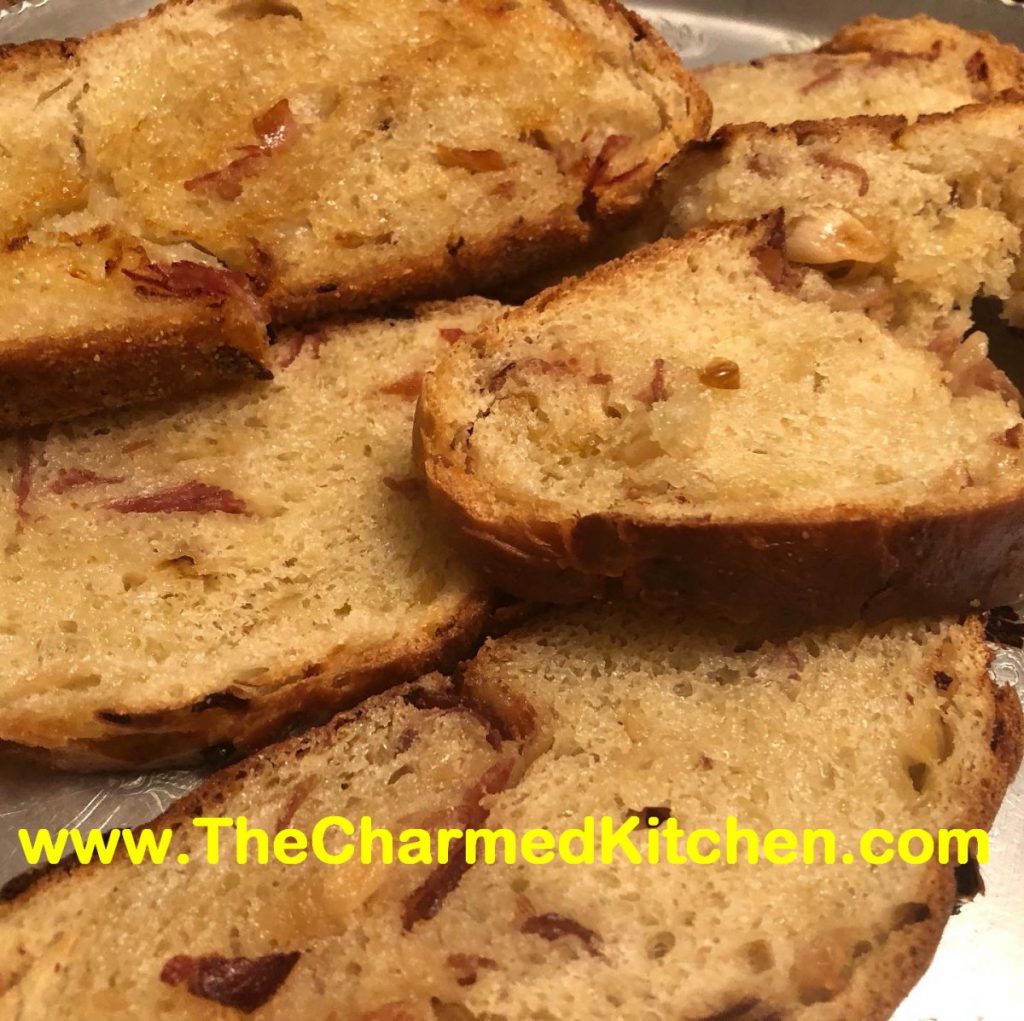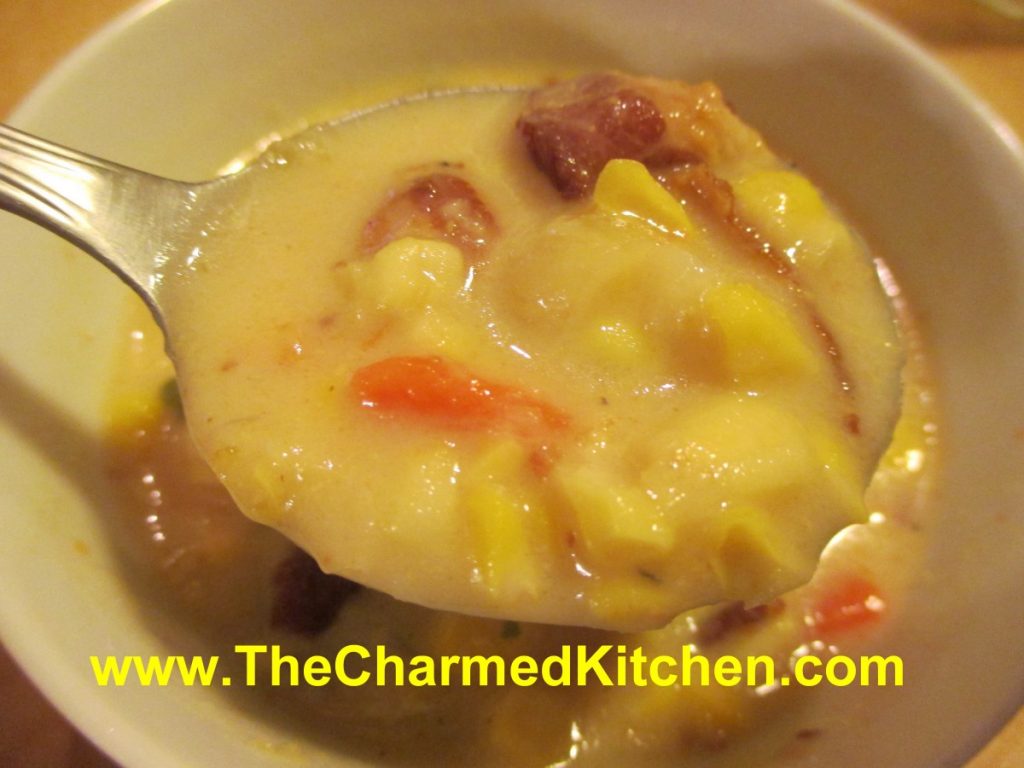 I was sorting out my freezer and found local sweet corn I had frozen last summer. I had forgotten all about it. I wanted to make soup for a dinner, so I decided to use the frozen corn to make this chowder. I also had a pound of bacon, which gave the soup a wonderful smoky flavor. I cooked the bacon in the soup pot, allowing it to get pretty crisp. I removed as much of the fat as I could, but left the bacon in the pot. Then, when I cooked the onions and added the stock, all the little brown bits of bacon in the pot added even more flavor. It came out great!! A perfect dish for a chilly evening.
Corn and Bacon Chowder
1 lb. bacon
1 onion, chopped
2 carrots, peeled and sliced
6 c. chicken stock
2 potatoes, peeled and cubed
6 c. corn – I used frozen corn
2 cups half and half or milk
¼ c. flour
Salt and pepper to taste
Hot sauce to taste
Fresh chopped parsley
Cut bacon in 1-inch pieces and fry in a Dutch oven until crisp. Tip pot and spoon out most of the fat. Add the onion and sauté until translucent. Add carrots and stock. Cover and simmer 10 minutes, then add the potatoes and corn. Cover and simmer 15-20 minutes, or until potatoes are tender. In jar with a tight fitting lid, combine 1 cup of the half and half or milk with the flour. Put on the lid and shake until mixture is smooth. Stir into the pot along with the remaining half and half or milk and cook, stirring often until mixture thickens up. Adjust seasoning to taste. Stir in parsley and serve. Serves 6.
What is jade tofu? The simplest way to describe it, is that jade tofu is a custard, made with soy milk and eggs. It is also known as egg tofu or Japanese egg tofu.
If you have had any sort of custard before, you know the texture- smooth, creamy, tender. Jade tofu is creamy and soft. But it is not like the custard you might have had in the past.
In the west, custard is sweet, a dessert. That is the big difference here. Jade tofu is not sweet. Although, I could see it being used in sweet applications.
I first had jade tofu at a local Asian restaurant. It was in a dish with fried fish in a light, thickened sauce. Wow, I loved it. So did friends. I looked it up and even tried to make it once. It did not go well. For starters, I accidentally bought sweetened soy milk. Then, when I put the heat on, it was too high and the custard curdled a little.
So on the advice of a couple of friends, I looked for it at an Asian grocery store. There it was!!! I was so happy. Now I could enjoy jade tofu whenever I wanted.
Jade tofu is sold in tubes. Kind of like slice and bake cookies. I first just pan fried the slices and served it with a dipping sauce. They sort of look like scallops on the plate. The texture is what it is all about, crisp on the outside and creamy in the middle. It makes a nice appetizer served that way.
This is the brand that my store carries. I like that the soy milk is non-GMO.
Honestly, the flavor of jade tofu is pretty neutral. You add it to other ingredients to get flavor. It is a texture element in your dish.
I've served it to friends a couple of times now, to good reviews. I even made it the other night with fish, like at the restaurant. It came out really good. I used catfish, which was what I had. Other fish would certainly work, too.
Here is that recipe
Catfish with Jade Tofu
oil- I used avocado oil
1 tube egg tofu, sliced
salt and pepper
1 pound catfish, cut into 2 oz. portions
cornstarch
1 c. stock- I used shrimp stock, but chicken, fish or vegetable stock would work
soy sauce- to taste
2 green onions, sliced
Heat a couple of tablespoons of oil in a skillet. Add the tofu and fry until golden brown on both sides. Remove from pan. Add a little more oil, if needed. Season the fish with salt and pepper, then dredge in cornstarch to coat. Fry in skillet until cooked. Add stock to the fish along with the green onions. Stir until sauce thickens. Return tofu to the pan. Adjust seasonings and serve.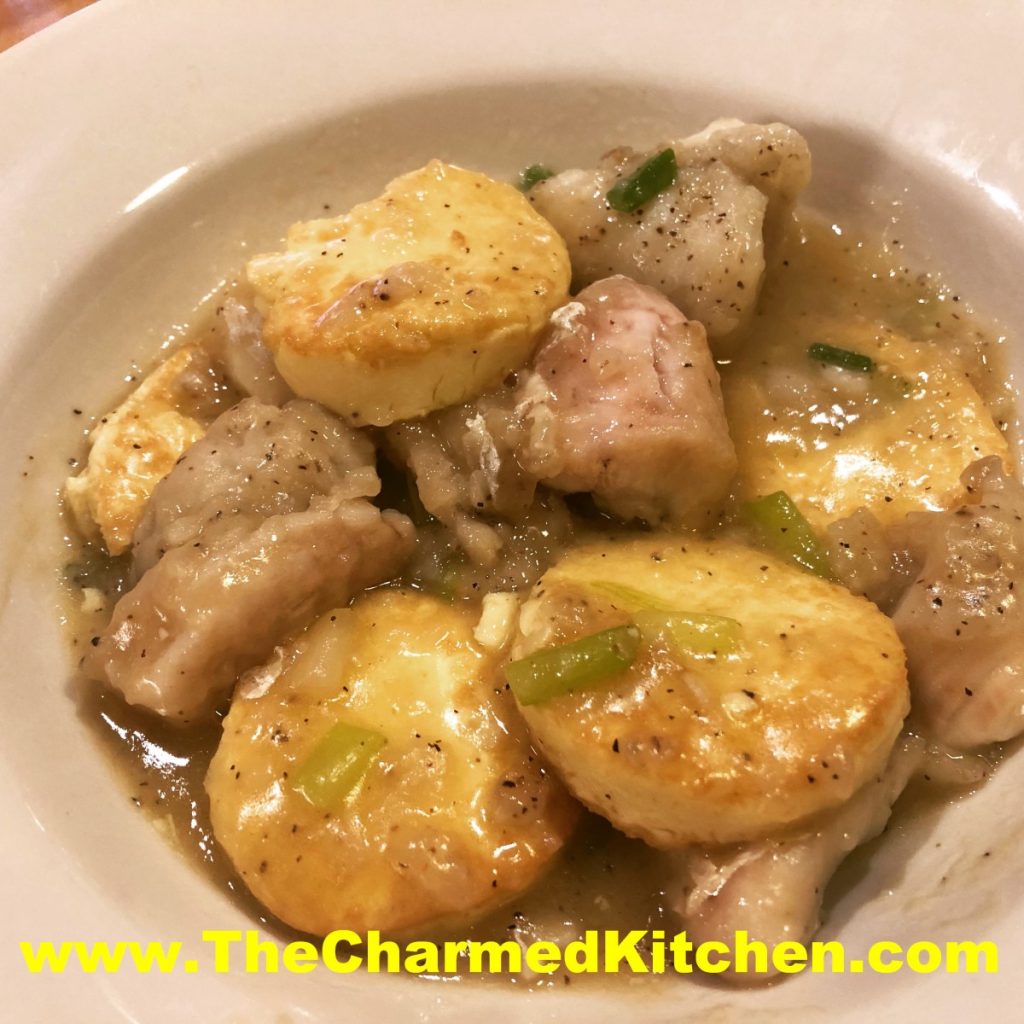 For the pan fried versions, I just sliced the tofu and browned it in oil, in a medium-hot skillet. They are tender, so turn gently. You don't want to break them. For added texture, I sometimes dust the tofu with rice flour or cornstarch before frying.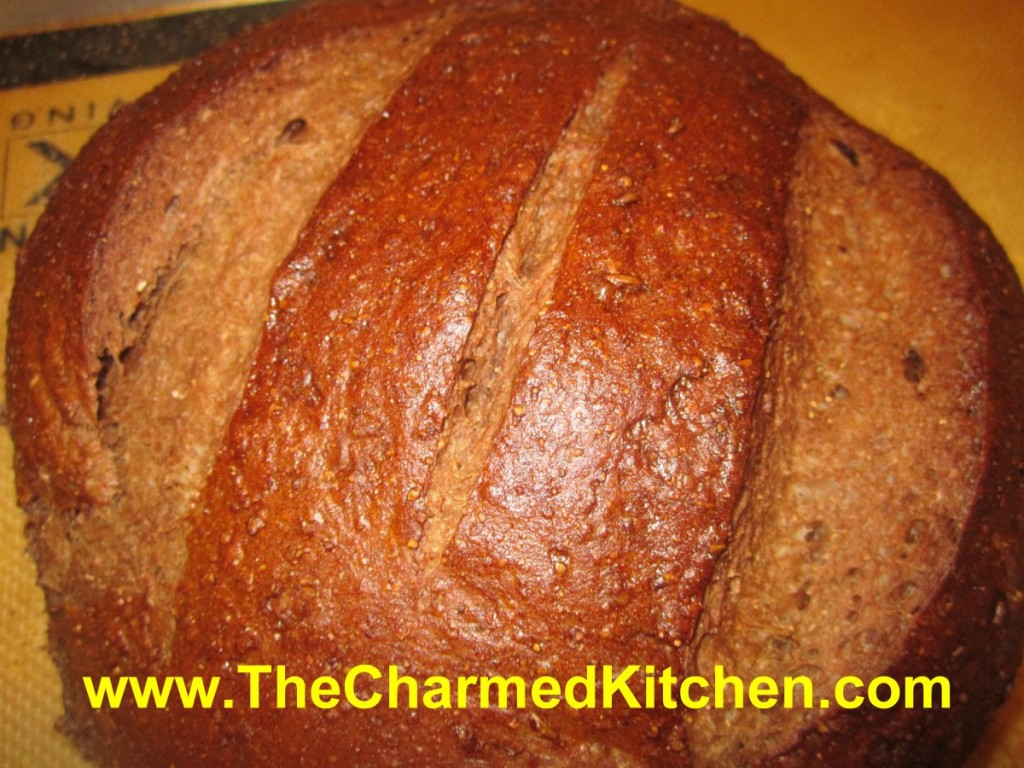 I bake a lot of bread. Homemade pumpernickel is one of my favorites. Plus, there is that wonderful aroma as it bakes.
The dark color comes from a mixture of rye flour, strong coffee, cocoa powder and molasses. These ingredients give this bread a flavor and texture I adore.
It's hard for me to find a store-bought Pumpernickel bread that comes close to this one. Some store bakeries rely on caramel coloring for the color in the bread. For real flavor you need the real ingredients. It is worth the time to make your own.
Pumpernickel Bread
2 Packages active dry yeast
½ c. warm water
2 c. lukewarm strong coffee
¼ c. each molasses and unsweetened cocoa
2 T. Caraway seeds
2 t. salt
5-6 c. all-purpose flour or bread flour, if you prefer
2 c. rye flour
Cornmeal
1 egg white, slightly beaten
In large bowl dissolve yeast in warm water. Stir in coffee, molasses, cocoa, seeds, salt and 3 cups of flour. Beat with wooden spoon about 2 minutes. Stir in rye flour and enough of the remaining regular flour to make soft dough. Turn onto floured surface and knead until dough is smooth, about 10 minutes. Place in greased bowl, turning to grease top, cover and let rest until doubled, about 1 hour. Grease large baking sheet and sprinkle with cornmeal. Set aside.
Punch down dough, divide in 2, and form into balls. Place on baking sheet and cover. Let rise until double, brush with egg whites, slash tops and bake at 375 for 35-40 minutes. Makes 2 loaves.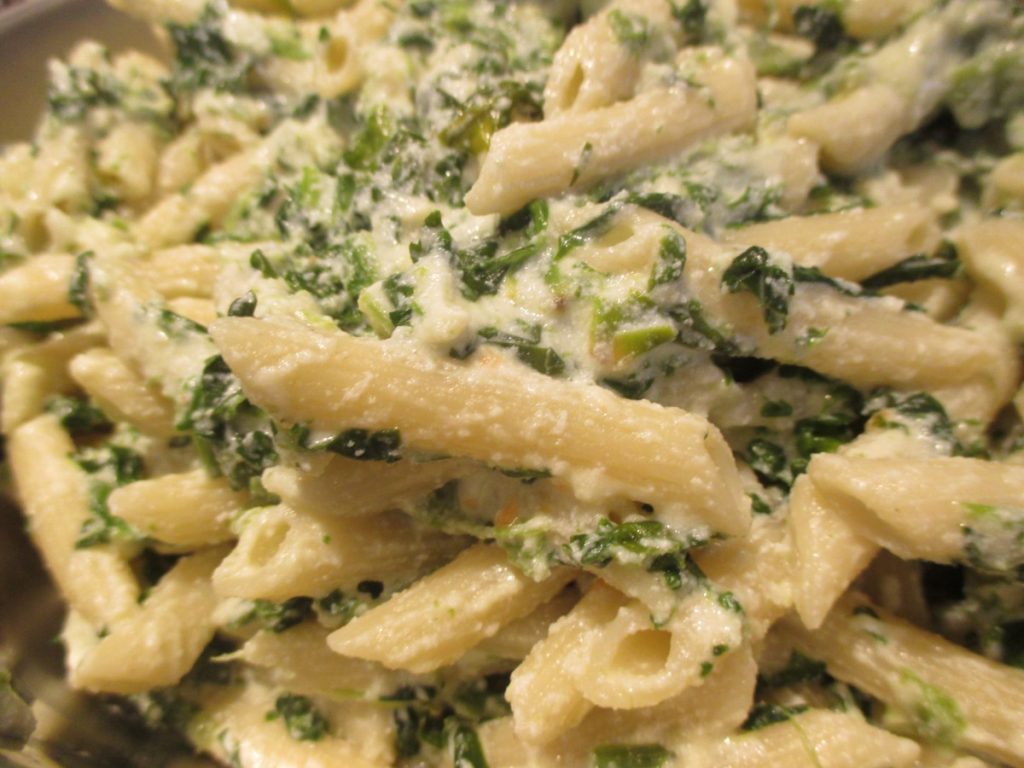 The sauce reminds me of creamed spinach, a favorite childhood dish of mine. The recipe makes enough to generously sauce a pound of pasta. It is very tasty and easy to make. Great when you need a home made meal, but don't have a lot of time. You can also use this sauce on hot cooked rice or baked potatoes.
The recipe uses frozen spinach, but you can use fresh spinach , if you prefer. Just cook down 12-16 oz. of fresh spinach and use like the frozen spinach.
There is Parmesan cheese in the sauce, but I like to serve extra on the side.
Creamy Spinach Sauce
1/4 c. butter
1 (10 oz.) package frozen spinach, thawed and drained
1 t. salt
1 c. ricotta cheese
1/4 c. grated Parmesan cheese
1/4 c. milk
Heat spinach in butter for 5 minutes. Add remaining ingredients and heat gently until warmed through. Do not boil sauce. Toss sauce over hot, cooked pasta. Makes 2 1/2 cups, enough for about a pound of pasta.