I had a class with kids yesterday and we had made doughnuts. We also made fritters. We made several different fritters, including these banana fritters. These are a fun and easy dessert to make if you find yourself with some ripe bananas. Simple to make and a nice change from banana bread.
We started with a couple of bananas, which they peeled and chopped up. The recipe is basically the same one we used for the strawberry and apple fritters. You can experiment with other fruit, too. I think I may make these with peaches next.
The fritters puffed up beautifully when fried. They were just a little crisp on the outside, tender and light in the middle. There is almost no sugar in the batter. The sweetness comes from the bananas and the powdered sugar or cinnamon sugar they are rolled in. I think they would be great with a powdered sugar glaze, too.
So here is the recipe. A fun way to use ripe bananas.
Banana Fritters
2 large ripe bananas- you want 1 cup diced banana
2 eggs, beaten
1 c. milk or half and half
2 T. melted butter or oil
2 c. flour
2 T. baking powder
2 T. sugar
1 T. cinnamon
1/2 t. salt
Oil for frying
powdered sugar or cinnamon sugar
Peel bananas. Cut up into small pieces. You should end up with about a cup of mashed bananas. Combine in a small bowl with the eggs, milk and oil. Combine flour with the baking powder, cinnamon and salt. Stir into the banana mixture. Heat oil in a pot to 350 degrees. Oil should be at least a couple of inches deep. By rounded tablespoonfuls, drop batter into the hot oil to fry. Only do a few at a time, so you don't overcrowd them, or bring the temperature of the oil down too much. Fry until golden brown. It will take several minutes. Remove with slotted spoon and drain on paper towels. Repeat with all the batter. You will end up with 2-3 dozen fritters.
Once the fritters are cooled down, you can roll them in powdered sugar, cinnamon sugar or even make a powdered sugar glaze.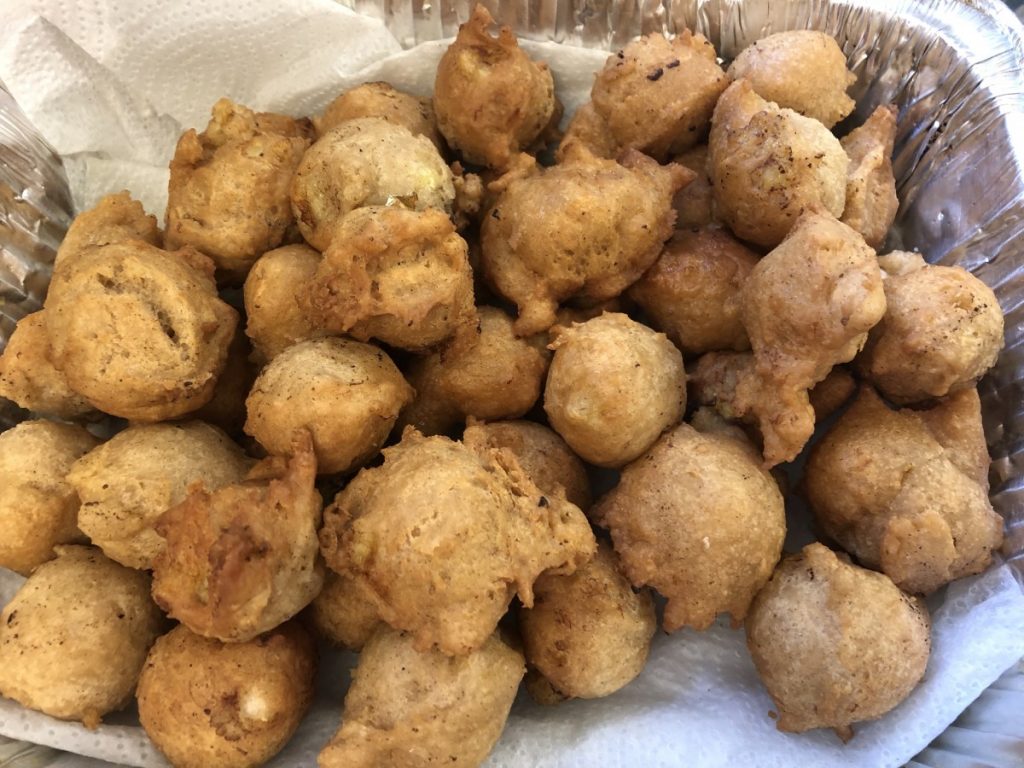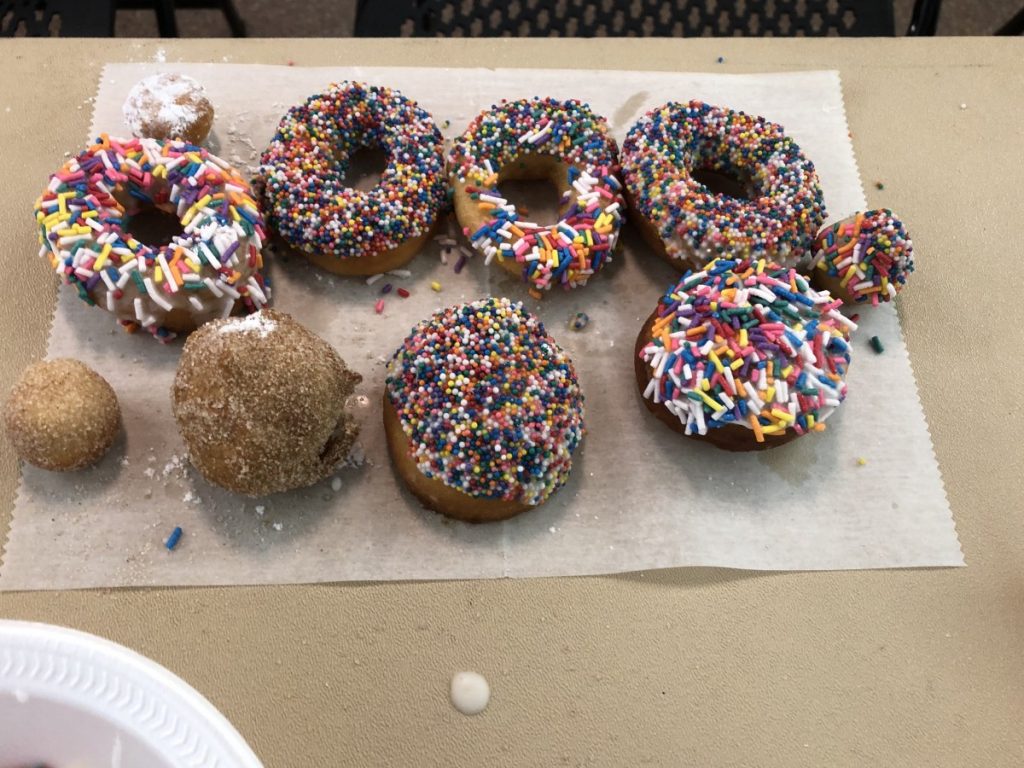 The kids had a great time making doughnuts and fritters today. I lost count of just how many doughnuts they made. I know it was over 200. They had a lot to take home to share with family. They also made strawberry fritters, banana fritters and apple fritters. Wonderful group of kids looking forward to the rest of the week. Tomorrow- we make calzones!!!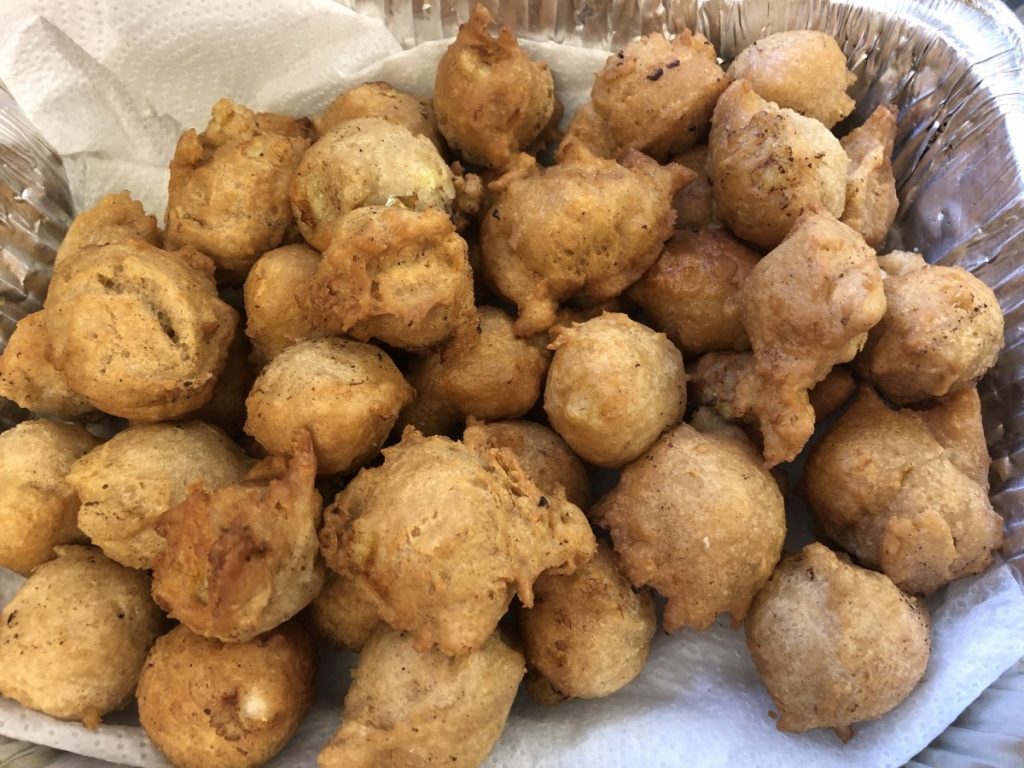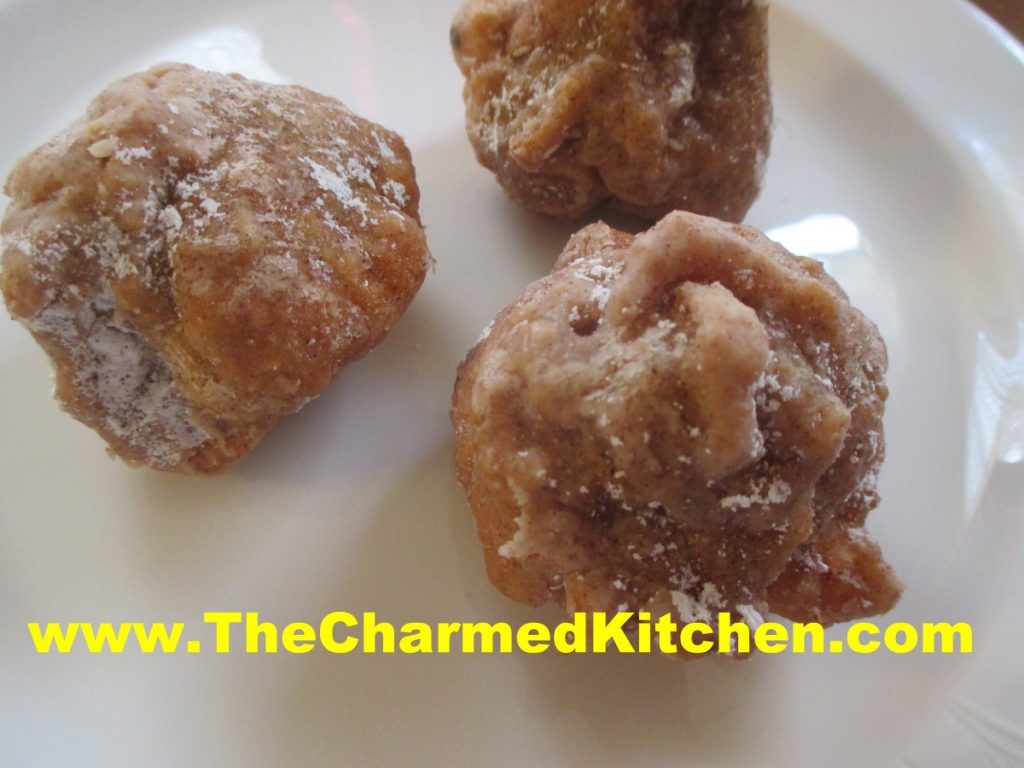 I made these fritters sort of by accident. A happy accident, as it turns out. I was planning on making banana fritters. Turns out, the person I was thinking of making them for, wasn't crazy about bananas.
The only other fruit I had was strawberries, so I used them instead. I had never made strawberry fritters, but I was pretty sure they would work out. They came out great. My friend loved them.
They are very good. Slightly crisp on the outside, tender in the middle with juicy bits of strawberry. They aren't very sweet on their own, but once rolled in powdered sugar, or glazed, they are plenty sweet for dessert. They are great served all on their own, or paired with ice cream or whipped cream.
We will be making these in cooking camp later today. Pretty sure the kids will love them. Thanks, Amy, for the inspiration.
Strawberry Fritters
2 c. flour
2 T. sugar
2 T. baking powder
1 T. cinnamon
1/2 t. salt
1 c. milk
2 eggs, beaten
2 T. melted butter
1 c. diced strawberries
oil for frying
Combine dry ingredients and set aside. Mix together milk with the eggs and butter. Stir in dry ingredients until just moistened and add the berries. Heat oil to 375. If using gluten-free flour heat oil to 350. Drop dough by tablespoonfuls into the hot oil and fry until golden brown. Don't do more than 4-5 at a time. It will take about 4 minutes in total, but you need to turn them to brown evenly so 2 minutes per side. Drain on paper towels. While warm roll in powdered sugar, cinnamon sugar or drizzle with a powdered sugar glaze. You can also dip them in melted chocolate. Makes about 32.
This colorful salad can be a side dish or main dish. I like it as a main dish for these hot, summer days. It somehow manages to be light and filling at the same time. It makes a wonderful lunch, served over a bed of salad greens.
The combination of sweet corn and barley works so well together. I don't think most people think of salad, when they think of barley. Barley is more commonly used in soups. But this versatile grain can also be a nice ingredient in a salad. Perfect on a hot day, when you want a lighter meal.
I had grilled corn, and had some leftover, so that is what I used. I think the smokiness of the grilled corn added a nice touch. I had some fresh basil so I added that, too.
So, if you are looking for a new salad idea this summer- you might want to try adding barley to your next salad.
Corn and Barley Salad with Basil
½ c. pearl barley
salt
3 T. cider or white wine vinegar
1 t. Dijon mustard
fresh ground pepper
3 T. olive oil
3 T. fresh basil, cut into thin strips
3 c. cooked corn, from about six ears
1 c. diced sweet onion
1 c. diced sweet pepper, any color
¼ c. sliced green onions
Combine barley, 2 cups water and ½ t. salt in saucepan and simmer, covered until barley is tender, about 50 minutes. Drain and rinse under cold water. Combine remaining ingredients and toss with barley in large bowl. Makes 6 servings.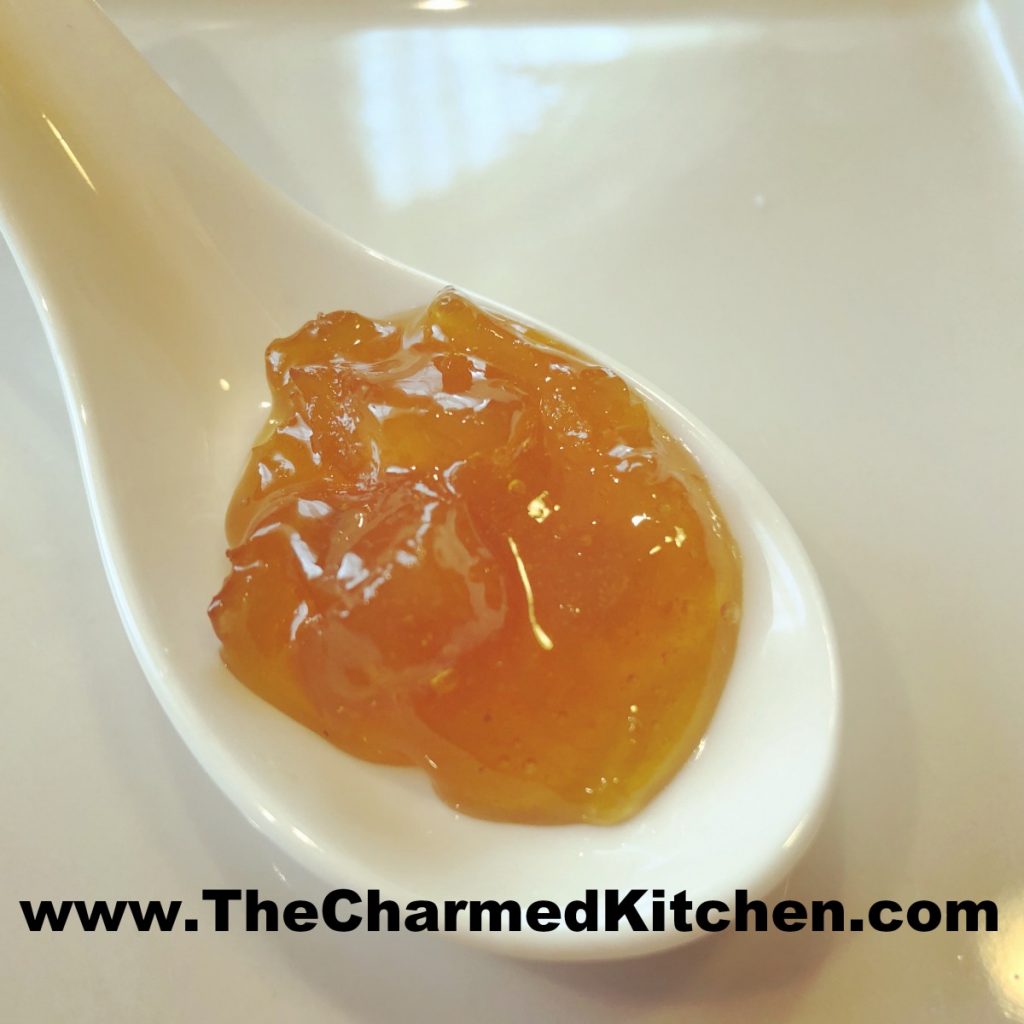 I love pineapple preserves. I make them pretty often. More motivated when I get good price on pineapples, like I did recently. I wanted to change things up a little this time. I decided to add cinnamon to the recipe. It turned out to be a really good idea. Just a touch of spice from the cinnamon to cut through the sweetness of the pineapple. I also added extra lemon juice for tartness. The end result is something special. Thought I would share the recipe with you.
Pineapple-Cinnamon Preserves
8 cups finely diced fresh pineapple, rind and core removed- about 2 pineapples
2 cups water
3/4 c. lemon juice
6 cinnamon sticks- about 4 inches long
6 c. sugar
Place pineapple in a pot with the water, lemon juice and cinnamon sticks and simmer until pineapple is tender, about 15 minutes. Add sugar and bring mixture to a boil. Cook until mixture reaches gel stage ( 220 degrees F).* Stir from time to time. This should take about 20 minutes, but can take longer. Remove cinnamon sticks. Ladle hot preserves into hot half-pint jars leaving 1/4 inch headspace. Wipe rims and adjust lids. Process in a boiling water bath for 15 minutes. Yield about 9 half-pint jars.
*When you are making jelly recipes that will sometimes say to cook to the jelly (gel) stage and I bet you are thinking "and that is…." There are 3 ways you can check to see if you have cooked your recipe long enough.
1. Use a candy thermometer, attached to the side of the pan and down in the jelly far enough to cover the bulb of the thermometer, but not touching the bottom of the pan. This is the most accurate method.
2. Spoon test by using a cool metal spoon dipped in the jelly and held on its side so the jelly can run off the edge. When jelly is not ready the drops will be light and syrupy. As it gets thicker the drops will falls off the spoon 2 at a time. When it has reached the proper stage two drops will form together and sheet off the spoon.
3. Freezer test just involves spooning a small amount of jelly on a plate and placing it in the freezer for a few minutes, to cool it down quickly. If the mixture gels, it should be done. While waiting for jelly test to cool, remove jelly from heat.
Summer is the time for picnics, campfires and S'Mores. Summer is also the time of year to eat lots of ice cream and other frozen treats.
This dessert combines the ingredients of S'Mores in a frozen treat. How fun is that?
They aren't hard to make, but you need to allow time for ingredients to freeze. The mixture is frozen, then cut into squares and sandwiched between Graham crackers. They get returned to the freezer to harden up.
We made these in a cooking camp recently. The kids loved them. Of course the we skipped the step where the sandwiches are assembled and put back the freezer to harden. The kids just ate them right away. A little messy, but a LOT of fun.
So here is the recipe.
S'Mores Ice Cream Sandwiches
1 (14 oz.) can sweetened condensed milk
2/3 c. chocolate syrup
1 c. coarsely crushed graham crackers
1 c. mini marshmallows
2 c. whipping cream, whipped
72 graham cracker square halves
In large mixing bowl combine sweetened condensed milk and syrup. Fold in crackers, marshmallows and whipping cream. Pour in foil lined 9×5-inch loaf pan and freeze until firm, about 6 hours, or longer. Remove from pan and peel off foil. Slice loaf in half lengthwise and then each half into 18 (½ inch) slices. Place one slice between two crackers and repeat with rest. Wrap and freeze until ready to eat. Makes 36.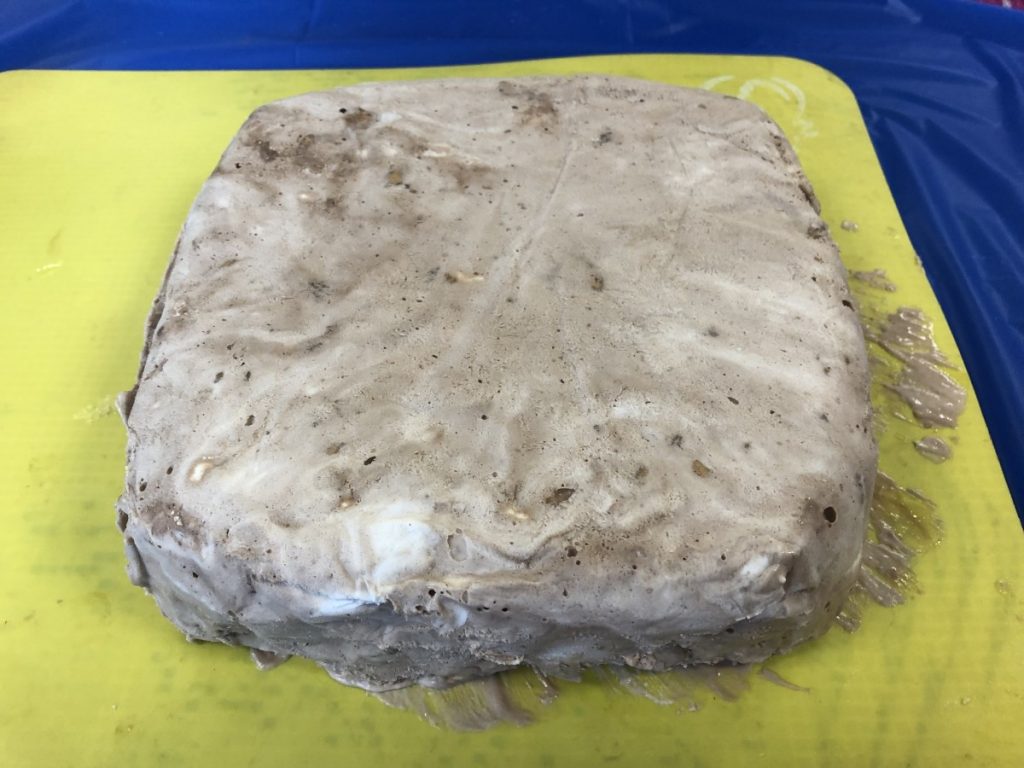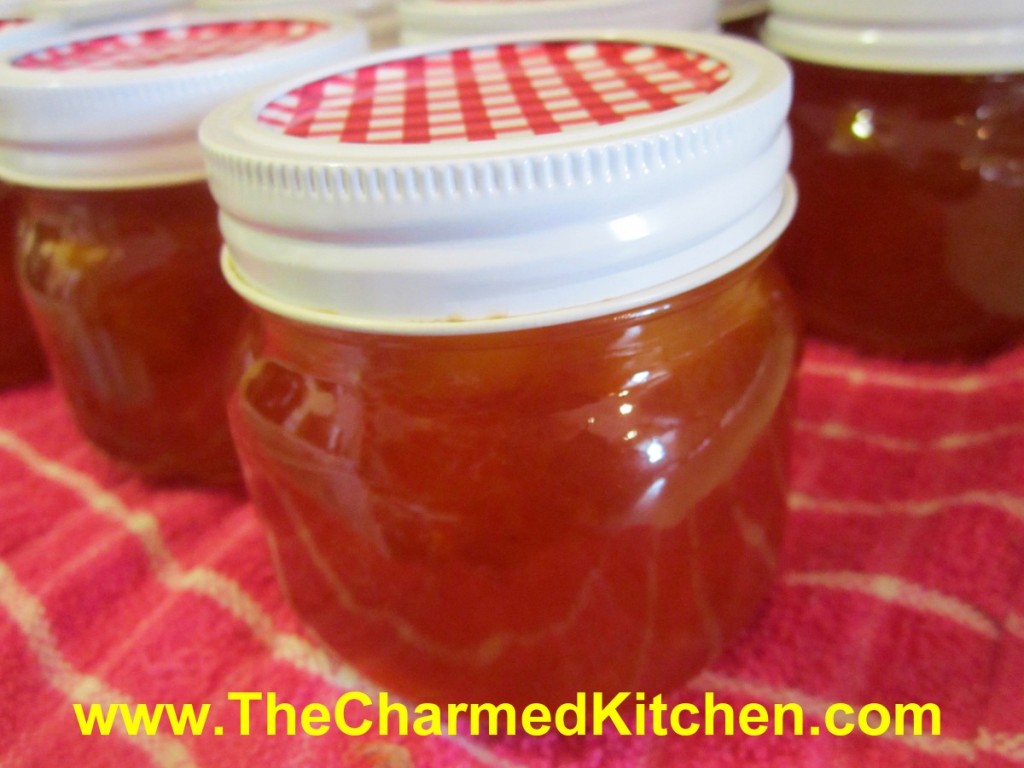 After getting some peaches from a local market, I decided to make preserves with some of them. The peaches were so juicy and perfectly ripe. They smelled amazing. I knew I would not be able to eat them all. I used a basic preserve recipe, but added some vanilla and cinnamon for added flavor. I also used pectin in this batch.
You can make peach preserves without added pectin, but because these were so ripe, I knew they would set better with the pectin. There is less pectin in very ripe fruit. The end result was just what I was going for. Pieces of peach, suspended in a soft gel, lightly flavored with the vanilla and cinnamon. I may have to make another batch.
Cinnamon-Vanilla Peach Preserves
4 c. sliced peaches, about 2-3 lbs. of fresh
6 T. pectin
2 T. lemon juice
1 T. vanilla extract
3-4 (4-inch) cinnamon sticks
7 c. sugar
Note: Before starting the preserves have your canning supplies ready including clean jars, lids, rings, water bath canner, funnel and ladle.
Prepare peaches by scalding in boiling water for a minute. Place in cold water, then slip off the skins. Cut in half and remove the pits and any fibrous parts near the pits. Slice peaches and place peaches and any juices in a large pot. Add the pectin, juice, vanilla and cinnamon sticks and bring to a boil, stirring often. Add the sugar and cook over high heat, stirring often, until mixture comes to a boil that you can't stir down. Stir constantly for 1 full minute.
Remove from heat and remove the cinnamon sticks. Skim off any foam, if needed. Ladle hot preserves into clean, hot jars, filling to ¼-inch from the top. Wipe rims and screw on lids until comfortably tight. Repeat until the jars are filled. Place jars in water bath canner filled with boiling water. Water must cover the jars by at least an inch or two. Cover pot. Once water returns to the boil, start timing. Process for 10 minutes, turn off heat and leave jars in pot for 5 minutes longer. Remove jars to counter with a towel on it, or a cooling rack. Keep out of drafts. Allow jars to cool, check seals. Makes about 9 half pint jars.
Adapted from Ball Blue Book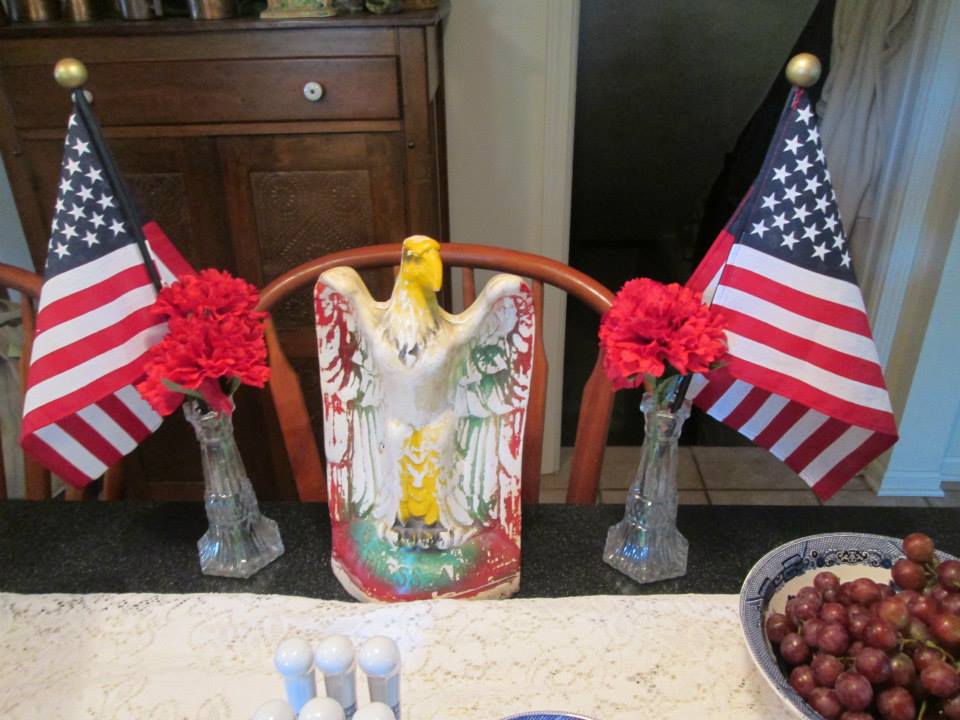 So what is the 4th of July about? Cookouts and noisy celebrations abound, but what is it we are celebrating? We are celebrating revolution, protestors and people who fought their government.
We were a colony, ruled by a monarchy. Had it not been for those who saw injustice, and tried to fix it, we would be bowing to the queen today. They were brave and very forward thinking.
Had the Revolutionary War gone the other way, they certainly would have been hung as traitors. I'm not sure how many of us today would be that brave.
So in your daily life, remember and honor the rebel. If you see an injustice, speak up. Do something to make this country better.
There is always room for improvement, after all. Think about the people who risked death to fight for the freedom we enjoy today. Life, liberty and the pursuit of happiness. Don't ever take that for granted.
No time to bake? Maybe too hot? Here is a fun and easy no-bake dessert, that is perfect for any picnic or cook out. This is also a nice dessert for kids to make. They are great when you agreed to bring a dessert- and realize you have no time to make something from scratch. Fun dessert for the 4th.
The "burgers" are super fast to assemble. Vanilla wafers are the buns, and small, chocolate cookies are the burgers. I usually use chocolate mint cookies. You can also use thin mints, instead of the cookies. The "cheese" is orange tinted frosting. The "lettuce" is made from tinting coconut green.
To finish off the look, brush the tops of the cookies with a thinned out powdered sugar icing (not tinted), and sprinkle on a few sesame seeds.
They really do look like little burgers.
Cheeseburger Cookies
1 package vanilla wafer cookies
1 package Keebler Grasshopper cookies, or other small chocolate cookies
2 c. powdered sugar
1- 2 T. milk
few drops of yellow and red food coloring
1 c. coconut
several drops of green food coloring
1/4 c. powder sugar
1 T. milk
sesame seeds
Combine 2 cups of powder sugar with the milk and red and yellow food coloring. This should be the color of cheese. Place the coconut in a small bag and add a few drops of green food coloring. Close the bag and shake well to evenly color. This will be the 'lettuce'.
To assemble cookies use 2 vanilla wafers (the bun) and one chocolate cookie (the burger). The orange frosting works as the cheese and glue. The coconut is the lettuce. Place a vanilla wafer flat side up on work surface. Place a little dab of "cheese" on the vanilla cookie and then a chocolate cookie. Sprinkle a little coconut on the burger, then some more cheese and the top bun, flat side down. Combine the remaining powder sugar and milk. You should have a thin glaze. Brush this lightly on the top of the finished "burgers". Sprinkle with a few sesame seeds. Makes about 2 dozen cookies.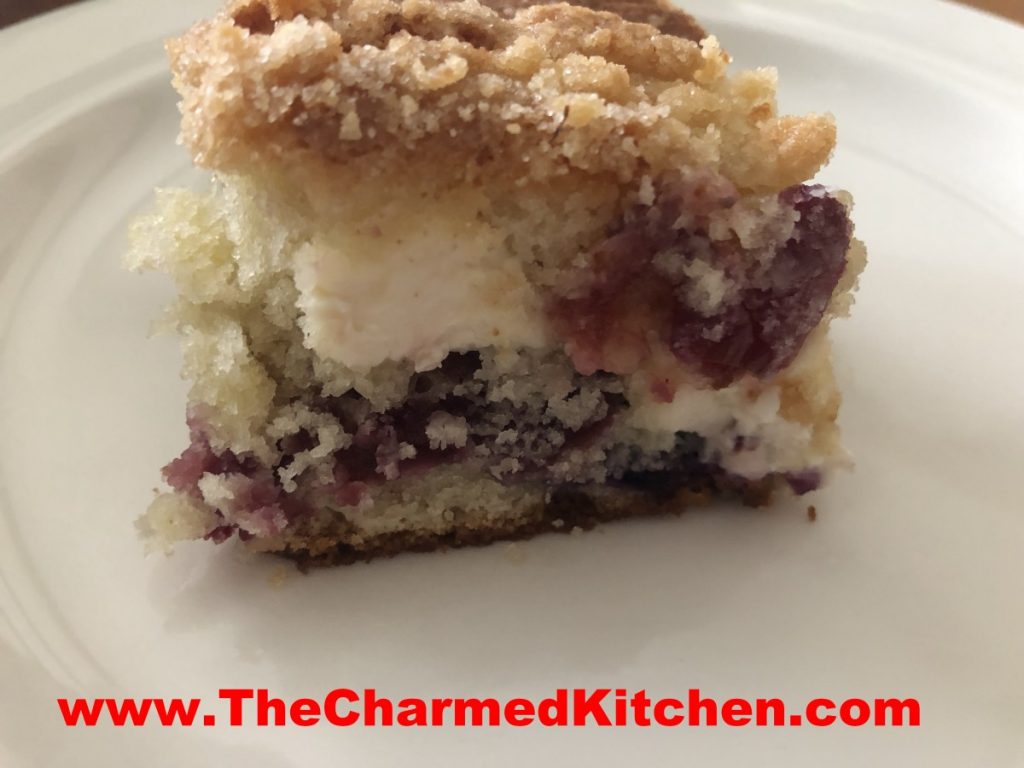 If you need a really special dessert for your next party or cookout, consider making this cheesy cherry blueberry coffee cake. It is one of my favorite coffee cake recipes ever. This is a great dessert for the 4th of July.
The cake is not too sweet, and the combination of cream cheese, with the fruit,  reminds me of a cherry-blueberry blintz.
The streusal topping adds a nice little crunch.
It is fine served all on its own. You can also serve it with ice cream or whipped cream. You can also top with more blueberries and cherries.
While I think of this cake as a wonderful dessert, it can be served as a breakfast or brunch dish.
As if this weren't enough- this cake freezes great. Who are we kidding? There won't be any leftovers – but you could freeze them, if you had some.
So here is the recipe. Enjoy!!
Cheesy Cherry-Blueberry Coffee Cake
1 1/4 c. sugar
1/2 c. butter
2 eggs
2 1/4 c. flour
1 T. baking powder
1 t. salt
1 c. milk
1 c. fresh or frozen blueberries
1 c. pitted and coarsely chopped cherries
8 oz. cream cheese, cubed
1 t. grated lemon peel
Topping:
1/4 c. sugar
1/4 c. flour
1 t. grated lemon peel
2 T. butter
Preheat oven to 375. Grease and flour a 13×9 inch baking dish. Cream together sugar and butter until fluffy. Beat in eggs. Combine 2 cups of the flour with baking powder and salt and beat into batter alternately with the milk. Toss fruit with the remaining flour and fold into the batter along with the cheese and lemon rind. Pour batter into prepared pan. Combine sugar, flour and lemon peel for topping and cut in butter to resemble coarse crumbs. Sprinkle over batter and bake for about 45 minutes. Use toothpick to test for doneness. Serves 12.