If you haven't made them before, English muffins are pretty simple to make. They are not baked in the oven, like most other breads. Rather, they are "baked" in a skillet over medium heat. It is the same way crumpets are cooked. I really like the flavor of a freshly made English muffin.
I decided to make a multi-grain version this time. I used spelt flour, but you could use whole wheat flour instead. Here is the recipe. If you only have white flour, you could use it for all the flour in this recipe.
Multi-Grain English Muffins
2 packages yeast
2 ½ -3 cups bread flour
1 ½ c. spelt flour, or whole wheat flour
½ c. oat bran
¼ c. wheat germ
2 T. sugar
2 t. salt
2 c. milk
¼ c. oil
Cornmeal
In large bowl combine yeast, 1 cup of the bread flour and remaining dry ingredients. Warm milk and oil and add to flour mixture and beat 3-4 minutes. By hand, stir in enough flour to make a moderately stiff dough. Turn onto floured surface and knead until dough is smooth and elastic, about 8-10 minutes.
Place dough in greased bowl and turn to grease top. Cover and allow to rise until doubled, about 1 ¼ hour. Punch dough down and allow to rest 10 minutes. On lightly floured surface roll dough to just under ½ inch thick. With 4 inch biscuit cutter cut out rounds of dough, re-rolling and cutting scraps. Dip both sides in cornmeal and cover, allowing to rise about 30 minutes. In ungreased griddle pan or skillet cook muffins over medium heat, turning frequently, until they are golden on both sides and cooked through. This will take about 20-25 minutes. To serve, split and toast. Makes 12-15.
Note: I used a 3-inch biscuit cutter and ended up with over 20 muffins.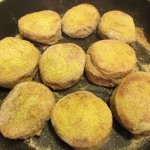 Tender cake and a crunchy topping seem like the perfect combination. Most days I would rather have a crumb topping on a cake than frosting.
This recipe hits all the right notes. Sweet with apple chunks throughout, a nice touch of cinnamon and that crumb topping. An added bonus, it is easy to make.
This time I baked it in a 7×11 inch glass pan. I have also baked this cake in 8×8 and 9×9 pans. The 8×8 pan may take a few more minutes to bake.
Apple Crumb Cake
For cake batter:
2 c. flour
2 t. baking powder
½ t. salt
½ stick (¼ cup) butter, softened
¾ c. sugar
1 egg
½ c. milk
2 c. chopped peeled, cored apples
For topping:
½ c. sugar
¼ c. flour
2 t. cinnamon
½ stick (¼ c. butter, chilled and cut into bits)
Combine dry ingredients and set aside. In mixing bowl with electric mixer, beat butter and sugar until light and fluffy. Beat in egg and milk. Add flour mixture gradually until just mixed in. Fold in apples. Grease and flour an 8 or 9-inch pan and add prepared batter. Combine topping ingredients until they resemble coarse crumbs. Sprinkle over the batter in pan and bake in a preheated 375-degree oven for 35-45 minutes. Use toothpick to test.
Note: I used a 7×11 inch pan and it worked fine.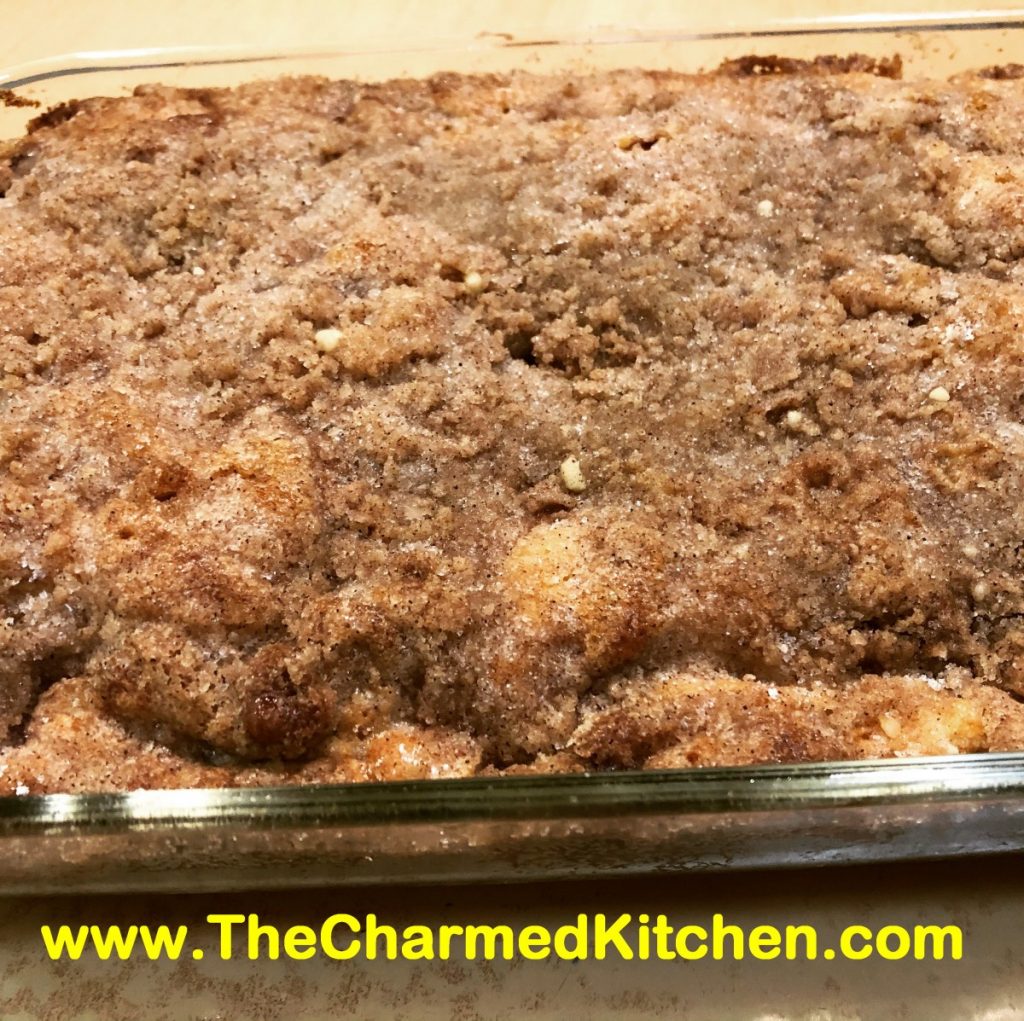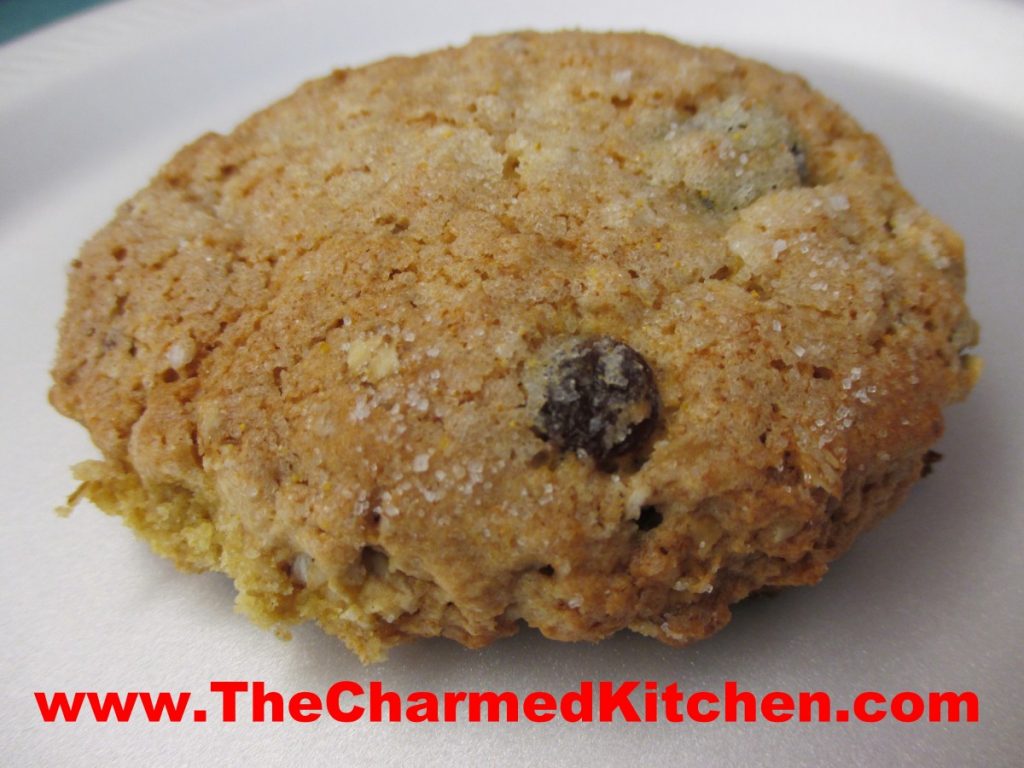 I love fresh scones, still warm from the oven. Since it is citrus season, I decided to make scones with some seasonal orange flavor. These scones have a nice, crunchy outside and crumbly, tender middle.
The orange juice and orange zest gives them a wonderful flavor. The oatmeal gives them a lovely texture and the raisins add just a bit if sweetness. A very nice combination.
These are great served warm, topped with sweet butter and jam. They are perfect for breakfast or brunch.
You can also use these scones as the base for a berry shortcake. Split, topped with sweetened berries and some whipped cream, they turn into a simple and tasty dessert.
Orange and Oatmeal Scones
2 1/2 cups flour
2 cups rolled oats
1 cup sugar
1 teaspoon salt
1 tablespoon baking powder
1/2 teaspoon baking soda
1/2 cup very cold, unsalted butter – cut into chunks
1 egg
1/2 cup orange juice
2 t. grated orange peel
1 cup raisins – plumped and well dried
Glaze
milk, sugar, orange zest
Line a large baking sheet with parchment paper (double two sheets if you have them – one inside the other). Preheat oven to 425 F. In a large bowl, place flour, oatmeal, sugar, salt, baking powder, baking soda and mix together. Cut or rub in butter to make a mealy mixture. Stir in egg and orange juice. Add orange peel and raisins. Mix to make a soft dough. Turn out onto a lightly floured board and knead for a few minutes. Roll or pat out into a thickness of 1/2 inch. Using a serrated cookie cutter cut into disks or rounds. Brush with milk and sprinkle with sugar and orange zest. Bake until nicely browned – about 14 minutes. Makes about 24.
Since the lilacs are in bloom, I decided to preserve some of them and make lilac vinegar. As long as they are grown where chemicals haven't been sprayed, lilacs blossoms are edible. The flavor is floral, with a touch of spice.
I use the lilac vinegar in salad dressings, marinades and in pickling. I like to add a splash to soups or chili, to brighten them up. I also use lilac vinegar as a base for lilac jelly.
To make lilac vinegar, just place clean lilac blossoms in a jar and cover with red wine vinegar.* Put a lid on the jar and store in a cupboard for 10 days or longer. Ideally, you want at least one cup of blossoms for every 2 cups of vinegar- to get enough lilac flavor into the vinegar. A one to one ratio- one cup blossoms, one cup vinegar, will give you an even more flavorful vinegar in the end.
When ready to use, strain out the blossoms and discard them. Pour the vinegar through a coffee filter to get out any remaining plant material. You can transfer the lilac vinegar to a decorative bottle. It can be stored at room temperature but will hold its color longer if kept cool, even refrigerated.
* always use vinegar that is 5% acidity. You can use white wine vinegar, cider vinegar or whatever vinegar you like.
Lilac Salad
4-6 cups mixed salad greens, washed and spun dry
Olive oil
Lilac vinegar
Salt and pepper to taste
Edible flowers, optional
Place greens in a salad bowl. Drizzle with a little olive oil and toss until leaves look glossy. Drizzle with a little lilac vinegar and toss. Season with salt and pepper and toss again. Add flowers, if desired and place in serving bowls.
This is not your typical garlic bread. In this recipe, slices of bread are topped with a garlic and onion mixture, then a cheesy mixture is added. They are so good. Made these in class last night. I couldn't find baguettes, so we used a nice Italian bread. They came out great. Substantial enough to make a meal if served with a salad.   
Cheesy Onion Garlic Bread
2 French baguettes, cut into 3/4 inch diagonal slices
1 large minced onion
8 cloves minced garlic
1/4 cup butter
2 cups shredded mozzarella cheese
1/2 cup grated Parmesan cheese
1 cup mayonnaise
Preheat the broiler. Slice the French baguettes diagonally into 3/4 inch slices.
In a medium skillet over medium heat, melt the butter. Combine the onions and garlic in the skillet. Cook and stir until tender. Set aside to cool. In a mixing bowl, combine the mozzarella cheese, Parmesan cheese and mayonnaise. On a cookie sheet, arrange the French bread slices in a single layer. Spread the onion and garlic mixture on the bread slices. Spread the cheese and mayonnaise mixture over the onion and garlic mixture on the bread slices. Broil about 5 minutes, until the cheese is bubbly and slightly browned. Serve immediately.
Note: You can also bake at 450 degrees until the cheese is melted and toasted. That will take a little longer than the broiler, about 10 minutes.
When deciding which flowers to plant in your yard- why not plant flowers that are also edible? That way they do double duty. They make your yard look beautiful and they can make your food look beautiful, too.
I cook a lot with flowers. I often add them to salads, infuse vinegar and make jelly with them. You can also use them to decorate cakes or other desserts, in salad dressings and marinades, floating in tropical cocktails, in punch bowls and in ice cubes.
Flowers can also top off dips, cheese, fruit trays and other appetizers, be used to make teas, infused in honey or mixed with soft cheese and spread on crackers or toast. I candy violets every year.
Add some to baked goods like quick breads, cookies and muffins or in yogurt, cottage cheese or sorbet. Wherever your food needs a little color or flavor, flowers make it special.
Below are 2 lists- one of edible flowers- the other a list of flowers that are poisonous. I would be remiss if I didn't caution you about flowers that are not edible. Be sure to get a positive identification of any flower before you eat it. Only eat flowers that have been grown pesticide free.
Some Edible Flowers
Calendula, Chives, Daylily, Mint, Nasturtium, Pansy, Rose, Sage, Signet Marigold, Squash Blossoms, Anise Hyssop, Apple, Arugula, Basil, Bee Balm, Borage, Broccoli, Chamomile, Chicory, Chrysanthemum, Coriander, Dandelion, Dianthus, Dill, Elderberry, English Daisy, Evening Primrose, Fennel, Garlic Chives, Hibiscus, Honeysuckle, Hyssop, Jasmine, Johnny-Jump-Up, Lavender, Lemon, Lilac, Linden, Magnolia, Marjoram, Mustard, Nasturtiums, Nodding Onion, Okra, Orange, Oregano, Pea, Pineapple Guava, Pineapple Sage, Radish, Red Clover, Redbud, Rose of Sharon, Roselle, Rosemary, Runner Beans, Sage, Safflower, Scented Geraniums, Shungiku, Society Garlic, Sunflower, Sweet Woodruff, Thyme, Tuberous Begonia, Tulip, Violet, Winter Savory, Yucca
Some Poisonous Flowers
Aconite, Anemone, Anthurium, Atamasco Lily, Autumn Crocus, Azalea, Baneberry, Black Locust, Bloodroot, Boxwood, Burning Bush, Buttercup, Butterfly Weed, Caladium, Call, Carolina Jasmine, Castor Bean, Cherry Laurel, Chinaberry, Christmas Rose, Clematis, Daffodil, Deadly Nightshade, Death Camas, Delphinium, Dogbane, Dumbcane, Elephant Ears, False Hellebore, Four O'clock, Foxglove, Gloriosa Lily, Golden Chain Tree, Goldenseal, Heavenly Bamboo, Henbane, Horse Chestnut, Horse Nettle, Hyacinth, Hyacinth Bean, Hydrangea, Iris, Ivy, Jack-in-the-Pulpit, Jerusalem Cherry, Jessamine, Jetbead, Jimsonweed, Jonquil, Kentucky Coffee Tree, Lantana, Larkspur, Leopard's Bane, Lily of the Valley, Lobelia, Marsh Marigold, May Apple, Mescal Bean, Mistletoe, Morning Glory, Mountain Laurel, Nightshade, Oleander, Periwinkle, Philodendron, Pittosporum, Poison Hemlock, Potato, Privet, Rhododendron, Rock Poppy, Schefflera, Spring Adonis, Spurge, Star of Bethlehem, Sweet Pea, Tobacco, Trumpet Flower, Water Hemlock, Wild Cherry, Wisteria, Yellow Allamanda, Yellow Oleander, Yesterday, Today and Tomorrow.
Neither of these lists in meant to be complete. Most important of all is to be sure you can identify these plants. If you are unsure plant identifications can be done at your local Extension office, garden center, nursery, arboretum and botanical garden. When in doubt, err on the side of caution. There are more than enough easy to identify flowers out there to enjoy without taking chances.
I am always interested in new and different ways to use my edible flowers. A few years ago, I started making jelly with my violets.
I started by making violet-infused vinegar from some of the violets. I like the vinegar for dressing salads.
I decided to use some of the violet vinegar as a base for the jelly. It worked out great. The end product had a sweet taste of violets, but the vinegar added a tartness I really liked. It also came out a stunning pink color.
Since the violets are steeped in vinegar- you can harvest over several weeks- just keep adding blossoms to the vinegar. If you don't have a lot of blossoms at once, you can harvest a few at a time over a longer period of time. The violets in vinegar will keep, so you don't have to make the jelly right away.
I like to have equal parts flowers and vinegar for a nice strong floral flavor, but you can get by with fewer blossoms if you need.
Start with a clean jar, and put your violets in it. Pour vinegar over to cover. White vinegar or white wine vinegar can be used. Heck you could probably use red wine vinegar, too. Cider vinegar might affect the color. You can continue to add flowers to the jar as you pick them. I picked 4 cups of violets and put them in a quart mason jar. I added vinegar to fill the jar, closed it up and let the flavors blend for a week. I could have let it sit longer if I was too busy to get to it. If you are in a hurry and want to make the jelly right away just heat up the vinegar and steep the flowers.
After a week, I strained it out then poured the mixture through a coffee filter to get it really clear. I ended up with 3 1/2 cups of violet "vinegar" to use for my violet jelly. I had a basic idea of how much sugar I would need so I went from there. It worked out great and jelled perfectly.
Violet Jelly
3 1/2 cups violet vinegar*
1/2 c. lemon juice
1 box powdered pectin (1 3/4 oz.)
5 c. sugar
Wash and prep jars and get water bath heating up. Place violet vinegar in pan and add lemon juice and pectin. Bring mixture to a rolling boil over high heat. Add sugar and return to the boil. Stir often. Once mixture gets to a full rolling boil, boil 1 minute. Remove jelly from heat and skim off any foam. Ladle hot liquid into jars leaving 1/4 inch headspace. Wipe rims and adjust lids. Process in a boiling water bath for 10 minutes for 4 oz. and 8 oz. jars. Remove jars to cooling rack and check seals once they have cooled down. Yield: about 7 half pint jars or 13-14 (4 oz.) jars.
*For 3 1/2 cups of violet vinegar you will need 3-4 cups of blossoms and 3 1/2 cups of vinegar.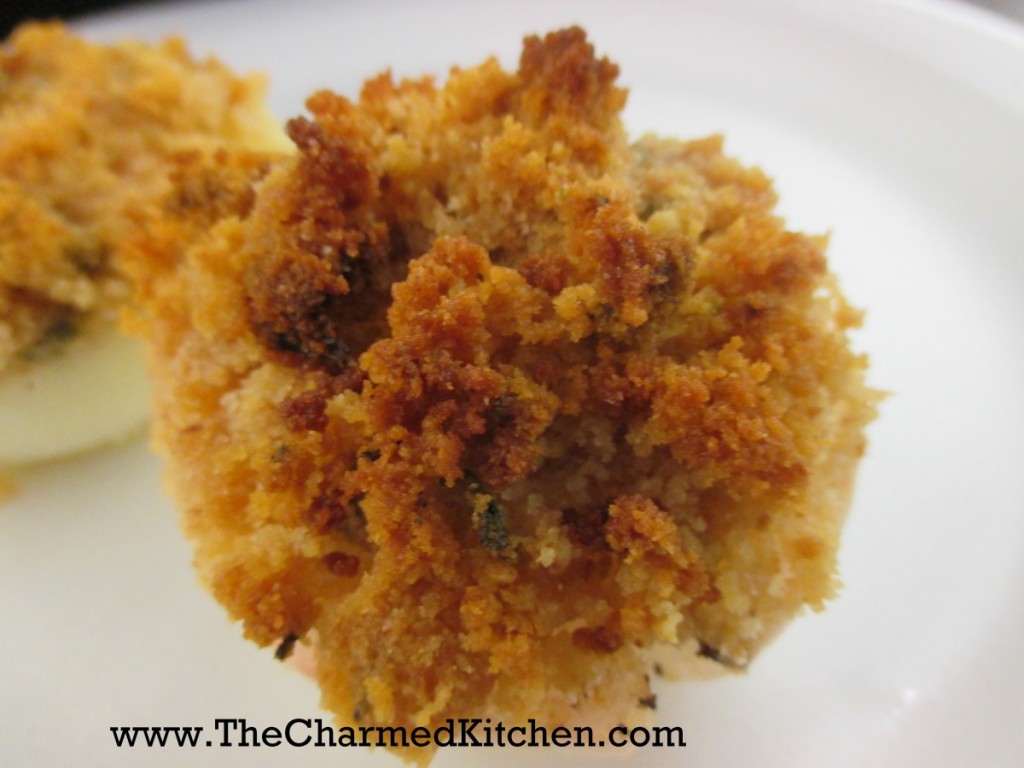 I never met an onion I didn't love. Most of my savory dishes start with sauteing onions in a pan. But in many ways, the onions are in the supporting role, making the other ingredients taste better.
In this recipe, the onions are the star. Plain old yellow cooking onions are elevated to a tasty side dish I think you will like. This make a great side dish for any meal.
The onions are peeled, halved and drizzled with a vinegar/sugar mix. Then, they are topped with a bread crumb and herb mix that gets crispy, while the onions roast and become tender. The recipe reminds me of onion rings in flavor. The presentation is so pretty, though. Much more elegant than onion rings.
If you never tried baking onions this way, you might want to try it. Just a warning- they are addictive. Bake a few more than you think you need. People go for seconds on this dish.
Sweet and Sour Baked Onions
4 cooking onions, peeled and halved- I use yellow onions, but you can use red or white- about the size of a tennis ball or baseball
2 tablespoons cider vinegar
2 teaspoons sugar
1 cup dried bread crumbs
1/2 cup olive oil
1 teaspoon dried rosemary
1/4 cup chopped fresh parsley
Salt and pepper to taste
Preheat oven to 375 degrees. Arrange the onions in a 9×13 inch baking pan. Arrange the onions round side down. In a small mixing bowl mix together the vinegar and sugar. Spoon the mixture onto the flat surface of the onions. Sprinkle with a little salt and pepper. In another mixing bowl combine the breadcrumbs with 1/4 cup oil, rosemary and parsley. Mix until well combined. Pat the mixture evenly onto the flat side of the onions. Drizzle the remaining 1/4 cup of oil over the onions and bake for 45 minutes or until the onions are tender when pierced. Let the onions cool a little at room temperature. Serve with extra salt and pepper to taste.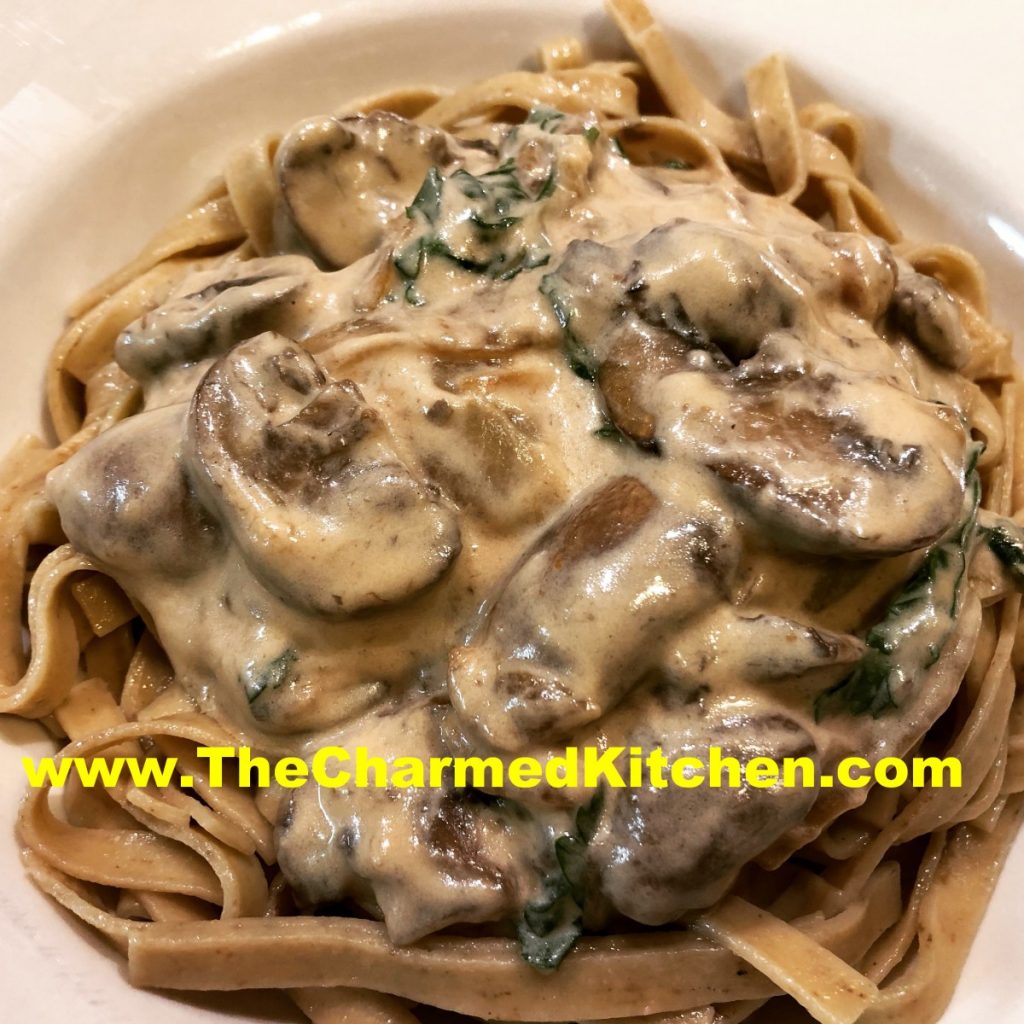 If you are looking for a meat-free meal, you can't go wrong with mushrooms. Mushrooms add so much flavor to any dish. This mushroom stroganoff is easy to make and tastes great. I also made mushroom pasta, but you can use store bought pasta.
I used a pound of mushrooms, but I could see making this dish with even more mushrooms. I also think it would be fun to make it with a few different types of mushrooms.
For the pasta, I used mushrooms I had dried myself. Store bought dried mushrooms often have to be soaked first, to remove dirt. I only recommend using mushrooms you washed and dehydrated yourself. You don't want grit in your mushroom powder or pasta.
Mushroom Stroganoff
3 T. oil or butter
1 c. chopped onions
1 lb. mushrooms, washed, trimmed and sliced
1 c. stock- I used chicken stock, veggie or beef would also work
1/2 c. dry sherry
1 c. sour cream
1/2 c. half and half
1/2 c. fresh chopped parsley
salt and pepper to taste
Heat oil in large skillet and cook onions until golden. add mushrooms and cook until they are golden, too. Add stock and sherry and cook until most of the liquid is cooked off. Remove from the heat and stir in the sour cream, half and half and parsley. Warm gently for several minutes until sauce thickens a little. Adjust seasonings and serve over mushroom pasta. Recipe follows. Serves 4-5. I only used some of the pasta for the dish.
Mushroom Pasta
3 c. flour, more if using electric pasta machine. See note.
½ c. mushroom powder- made from dried mushrooms
1½ t. salt
4 eggs
Water, as needed
Mix flour, mushroom powder and salt. Stir in eggs, kneading until dough is smooth and elastic. Dough will be very stiff. Add a little water, as needed, to hold dough together. You may wish to mix the dough in a mixer or food processor. Cover dough and let rest at least 15-20 minutes before rolling. Under kneading your dough will result in coarse, crumbly pasta. This batch makes about 1 pound. Serves 4-6.
Roll dough out on a well-floured board or with a pasta machine until desired thickness in reached. Add flour as needed to prevent sticking. Cut into strips or whatever shapes are desired. You might want to let the noodles dry 1-hour or more before cooking, but this is not necessary. Pasta can be hung to dry or separated and allowed to dry flat on a table. When pasta is not hanging to dry it must be turned occasionally to dry evenly. Although you may hear otherwise, homemade pasta, even when dried, should be frozen for long term storage. Storing at room temperature can lead to spoilage. Fresh pasta can also be stored in the refrigerator for a day or two.
Cooking fresh pasta happens quickly. For most noodles you are looking at 2-3 minutes at the most. Thicker cuts and ravioli would take a little longer. Watch it carefully. Drain after cooking, and toss with your favorite sauce.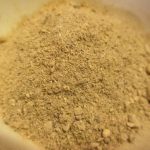 Mushroom powder
This time of year, I always get requests about how to make candied violets. I thought I would share the recipe again.
Since my yard is full of violets right now, I decided to candy some today. It's an easy way to enjoy these delicate flowers throughout the year.
I use them to decorate baked goods. Lovely on a cake, they also add a sweet touch to cupcakes.
Candied Violets
Powdered egg whites (see note)
Water
Superfine sugar (see note)
Fresh violet flowers, rinsed and drained on paper toweling- Not African violets
Following package directions reconstitute egg whites to the equivalent of one or two egg whites. You can dilute them a little to make them easier to brush on. Place sugar in a shallow bowl. With a food-grade fine brush coat a violet with the egg white and press into the sugar. Place on wax paper and repeat with remaining flowers. Allow to dry for about a week. Store in a container with a tight fitting lid in a cool place. I like to store them in the freezer.
Note: By using powdered egg whites, you remove the risk of salmonella from using raw eggs whites. Powdered egg whites can be found in some grocery stores and in cake decorating and candy making shops. Meringue powder can also be used.