Sauerbraten is not a dish that you throw together on the spur of the moment. The first time I had sauerbraten was at my sister Cindy's home. I was instantly in love with it. The flavors were so complex. I could not get enough of that wonderful gravy.
The secret to sauerbraten is the long marinading process. A beef roast marinades in a mix of vinegar, wine, veggies and spices for 3-5 days. In that time, the meat becomes very tender and it picks up all those flavors. It's almost like pickling the meat.
When ready to cook, the meat is dredged in flour, browned, then simmered in water until tender. All those ingredients in the marinade flavor the cooking water, creating a broth. The broth is tart. To offset the sourness of the vinegar, a gravy is made with the broth that contains cookies. Yes, cookies. Gingersnaps, to be exact.
It sounds odd, but it really is wonderful. The ginger, cinnamon and cloves in the cookies add such a wonderful flavor to the gravy. I made my own gingersnaps, but you can use store bought. I posted the recipe for gingersnaps earlier in the week.
Sauerbraten
Marinade:
1 c. red wine vinegar
½ c. cider vinegar
½ c. red wine
1 large onion, sliced
2 carrots, peeled and sliced
top from 1 bunch celery
few sprigs of fresh parsley or 1 T. dried
1 bay leaf
4 whole cloves
3 whole allspice
½ t. whole peppercorns
1 t. salt
4- 6 lb. lean boneless chuck roast – I actually used a bottom round roast
additional flour for dredging
⅓ c. oil
2 c. warm water
¼ c. flour
I T. sugar
1 c. crushed gingersnaps – or a few more
water
salt and pepper to taste
Combine marinade ingredients in a large glass or ceramic bowl. Add meat and cover. Refrigerate 3-5 days. Tum meat at least once a day. Remove meat from marinade and pat dry. Discard marinade. Dredge in flour. Heat oil in Dutch oven and brown meat in pan. Add warm water and simmer, covered, for 1- 2 hours or until fork tender. Start testing meat for doneness after the first hour. Remove meat to platter and keep warm while sauce is being prepared.
For sauce, strain the pan juices and discard solids. Skim off any fat. Return the juices to the Dutch oven and keep hot. In small bowl combine the ¼ c. flour, sugar, and gingersnaps. Stir in cold water until smooth paste is formed. Whisk this paste into the hot liquid in the pan and simmer, stirring until thickened. If it's not thick enough, make a little more paste with flour and water. Serve meat sliced thin, with sauce on the side, and hot cooked noodles, potatoes, potato dumplings, or spaetzle.
Serves 8 – 12.
I have to thank my friend, Vicky Singleton, for the inspiration of this recipe. She asked if I had ever made chicken pot pie soup. I hadn't. I told her I hadn't ever heard of it. She explained to me what it was.
So what exactly is Chicken Pot Pie Soup? Imagine the ingredients of a pot pie, only in a soup. Then imagine using baked pie crust like croutons on the soup. A classic casserole, presented in soup form.
You want this soup to be creamy, like a pot pie filling. How "thickened" is really up to you. I didn't want my soup to be as thick as a pot pie, but I wanted it thickened, so I played around with the amount of flour I added to it. Half a cup of flour worked perfectly for me, but you can add 1/4 cup more flour if you want a thicker soup.
The vegetable selection has some wiggle room, too. I think green beans would be a nice addition, I just didn't have any. That is the fun part of making your own version. I think I might add mushrooms to the next batch.
I could see making this soup with leftover turkey after Thanksgiving.
I made my own pie crust, but feel free to use store bought. The recipe for the crust is at the bottom of this post. I used cookie cutters, but you could cut the crust out free-hand into little squares or triangles.
So here is the version of Chicken Pot Pie Soup I came up with. I hope you'll give it a try. You can thank Vicky.
Chicken Pot Pie Soup
Dough for 2 pie crusts – recipe follows
3 T. oil or butter
1 large onion, chopped
3 medium carrots, peeled and sliced thin
1 c. sliced celery
3 medium potatoes, peeled and cubed
1 c. fresh or frozen corn
3 c. cooked chicken, diced
8 c. chicken stock
1 c. peas, fresh or frozen
½ c. flour
¼ c. fresh chopped parsley- or 1 T. dried
Salt and pepper to taste
The pie dough makes the croutons for the top of the soup. You can use homemade pie crust or store bought. Roll out the crust to about 1/8-inch thick and cut out in pretty shapes to top your soup. Re roll scraps and place all the cut out dough pieces on an ungreased baking sheet. It will take two sheets for all the dough. Bake in a 350 degree until golden, about 7-10 minutes. Remove to a cooling rack.
In a soup pot, heat up the butter or oil and add the onions, cooking until onions are tender. Add the carrots, celery, potatoes, corn and 7 cups of the stock. Set the remaining cup of stock aside for now. Bring to a boil, reduce to a simmer and cook, covered, until the vegetables are tender. Place the reserved stock in a jar with a tight fitting lid. Add the flour, close jar tightly and shake until the mixture is smooth. Add the flour/stock mixture to the soup along with the peas and parsley. Bring to a simmer and cook, covered 5 minutes- or a little longer. Adjust seasonings.
Ladle soup into individual bowls and top with some the pie crust croutons. Serves 6-8.
Flaky Pie Crust
2 c. flour
1 t. salt
3/4 c. butter, chilled – you could also use chilled coconut oil, lard or shortening
1 T. cider vinegar
4-5 T. cold water
Combine flour and salt and cut in butter. Toss in vinegar and water, 1 tablespoon at a time, until dough holds together. Use a fork to toss the ingredients together and as soon as the mixture holds together stop adding water. Makes 2. Chill well before using.
I am posting this as a public service to those of you with leftover Halloween candy.
Sometimes you end up with leftover Halloween candy. It was cold and rainy here last night, so there were not as many kids out as usual. I am sure some of you have leftover candy, too.
You could just eat the candy- or you can transform it into a dessert.
The idea I came up with was mini cheesecakes. I've made them before, so I used my recipe, and just folded in crushed candy bars. Once the cheesecakes cool they deflate a little, so I also added some crushed candy bars to the top to make them look nice.
Only change from the original recipe was a slight decrease in sugar, to compensate for the extra sweetness of the candy. I used what I had, but I am sure a lot of different candy bars would work. I used a small food processor to really crush up the candy bars. I made 2 batches, one with cookies and cream candy bars and the other with Kit Kat bars.
Since the candy will keep, you could use the candy in a Thanksgiving dessert. Of course, the candy might not last until Thanksgiving.
Halloween Candy Mini Cheesecakes
12 vanilla wafers
2 (8 oz.) cream cheese, softened
1/3 c. sugar
2 t. vanilla
2 eggs
2/3 c. crushed candy bars plus 1/4 c. crushed candy bar, for topping
Line 12 muffin tins with paper liners. Place 1 wafer in each. Beat together remaining ingredients (except candy) for 1 minute with electric mixer. Fold in candy. Divide this mixture in the muffin tins, filling each 3/4 full. Bake 25 minutes at 325 degrees. Cool and decorate with extra crushed candy. Makes 12. These can be frozen.
Leftovers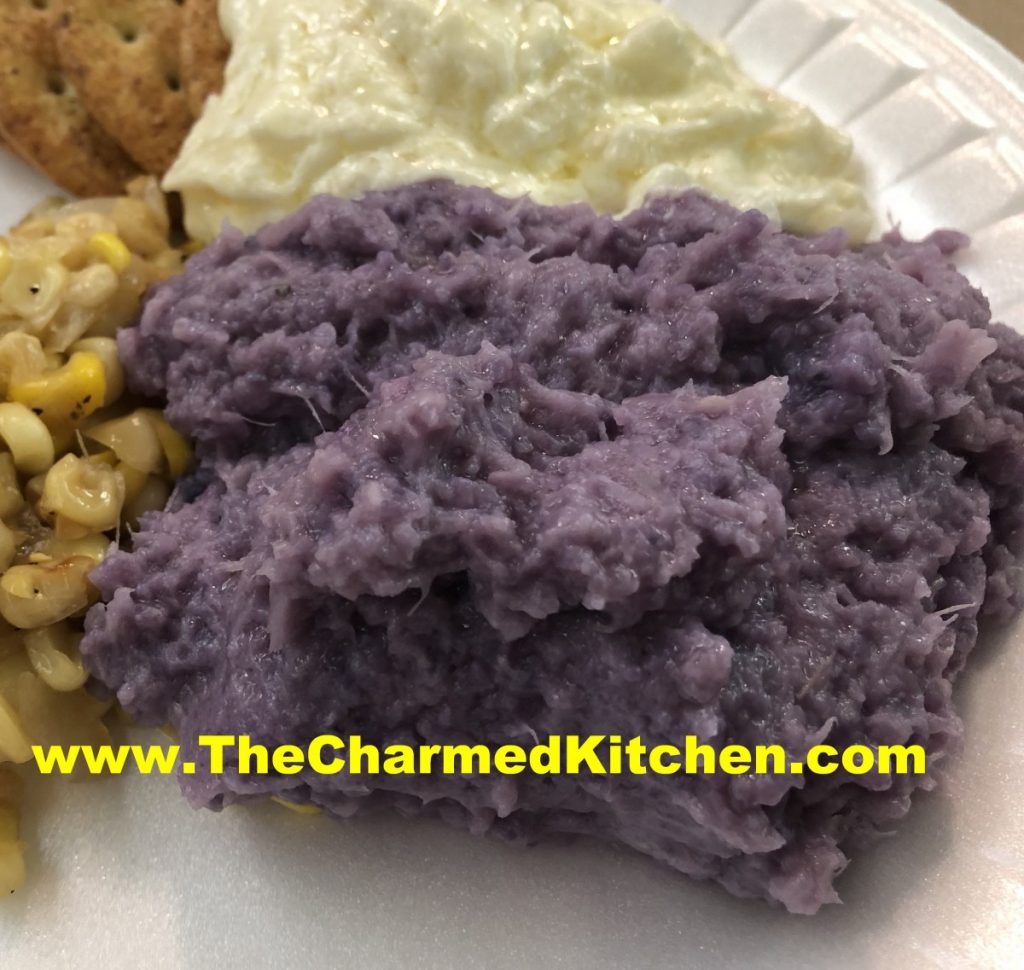 We made this dish in class the other night. It was really wonderful. I had planned on making a different recipe, using potatoes. When I picked up this beautiful purple cauliflower at a local produce market, I thought it might be fun to use it, instead of the potatoes. I am happy I did. The dish came out great.
Just because I used a purple cauliflower, does not mean you have to. Any color cauliflower will work in this recipe. I just like the purple.
I could see making it ahead of time, then just reheating it at dinner time, maybe adding some extra Parmesan cheese to the top and baking until the edges get golden.
So here is the recipe. Enjoy.
Roasted Garlic Mashed Cauliflower
8-10 cloves garlic, peeled
¼ c. olive oil
1 large head cauliflower, trimmed and cut in 1-2 inch pieces
½ c. half and half or milk, warmed
½ c. grated Parmesan cheese
4 T. butter
Salt and pepper to taste
Preheat oven to 325 degrees. Place garlic cloves in a small baking dish. Drizzle with olive oil, cover, and bake 30-40 minutes, or until golden brown. Don't let it burn. Remove garlic from oven and set aside. Bring a large pot of lightly salted water to boil. Add cauliflower, and cook until tender. Drain well, and transfer to a large mixing bowl. Place roasted garlic, milk, Parmesan cheese, and butter into the bowl with the cauliflower. Season with salt and pepper. Mash until ingredients are well combined. Mixture will not be perfectly smooth. Adjust seasonings. Serves 8.
Note: You can always add more garlic. Roasting mellows out the flavor a lot. When adding the garlic, don't drain off the olive oil, it will add richness to the dish.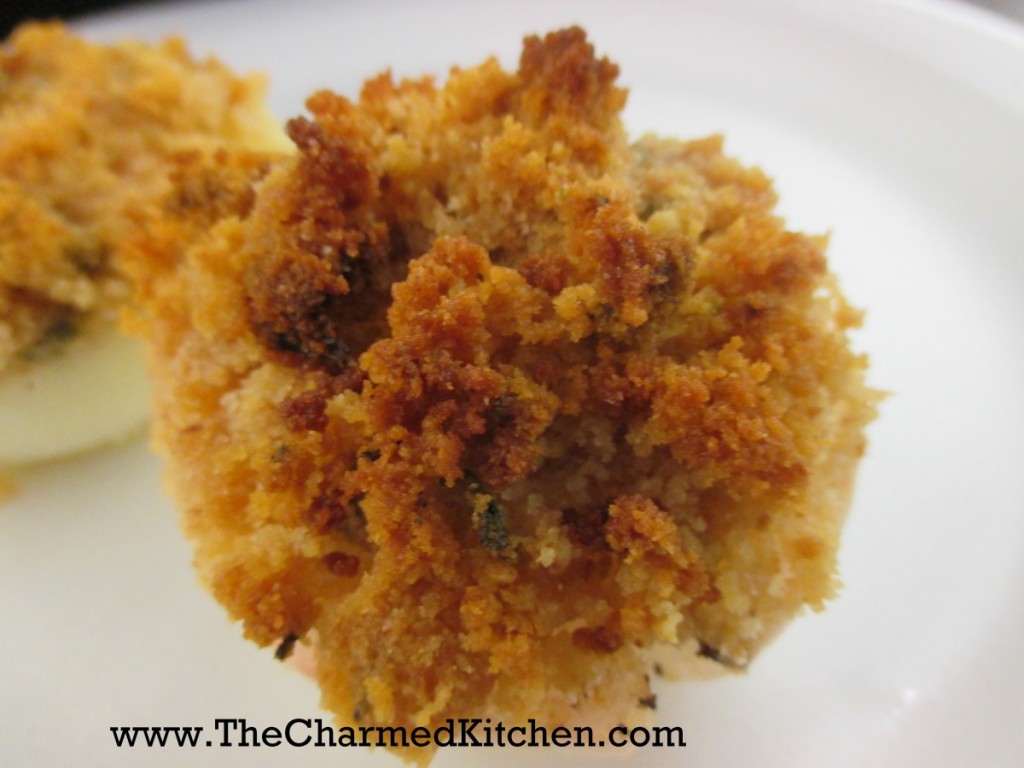 I never met an onion I didn't love. Most of my savory dishes start with sauteing onions in a pan. But in many ways, the onions are in the supporting role, making the other ingredients taste better.
In this recipe, the onions are the star. Plain old yellow cooking onions are elevated to a tasty side dish I think you will like. This would make a great side dish for Thanksgiving or any holiday meal.
The onions are peeled, halved and drizzled with a vinegar/sugar mix. Then, they are topped with a bread crumb and herb mix that gets crispy, while the onions roast and become tender. The recipe reminds me of onion rings in flavor. The presentation is so pretty, though. Much more elegant than onion rings.
If you never tried baking onions this way, you might want to try it. Just a warning- they are addictive. Bake a few more than you think you need. People go for seconds on this dish.
Sweet and Sour Baked Onions
4 large onions, peeled and halved- I use yellow onions, but you can use red or white
2 tablespoons cider vinegar
2 teaspoons sugar
1 cup dried bread crumbs
1/2 cup olive oil
1 teaspoon dried rosemary
1/4 cup chopped fresh parsley
Salt and pepper to taste
Preheat oven to 375 degrees. Arrange the onions in a 9×13 inch baking pan. Arrange the onions round side down. In a small mixing bowl mix together the vinegar and sugar. Spoon the mixture onto the flat surface of the onions. Sprinkle with a little salt and pepper. In another mixing bowl combine the breadcrumbs with 1/4 cup oil, rosemary and parsley. Mix until well combined. Pat the mixture evenly onto the flat side of the onions. Drizzle the remaining 1/4 cup of oil over the onions and bake for 45 minutes or until the onions are tender when pierced. Let the onions cool a little at room temperature. Serve with extra salt and pepper to taste.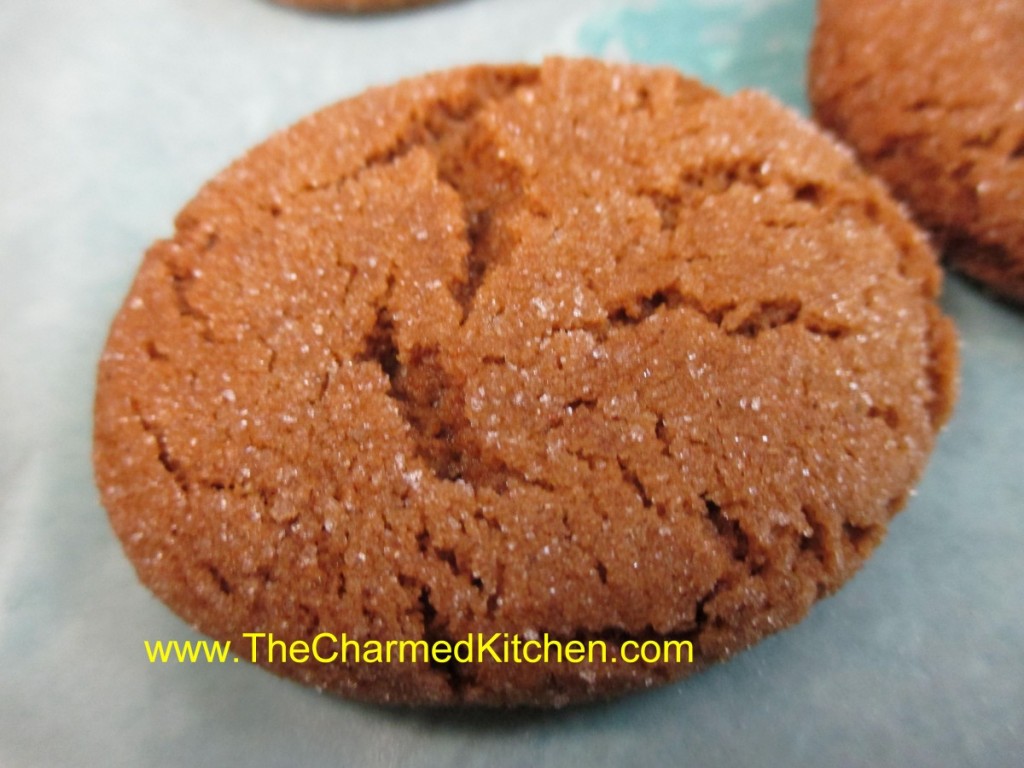 Gingersnaps are one of those cookies- the people that love them – REALLY love them. I will admit to being one of those people. The mixture of spices and crunchy texture just work together so well.
I cannot remember where I first got this recipe. This richly spiced cookie is perfect with a cup of coffee or a cup of tea. They are not too sweet, which I also like.
You can use either dried or fresh grated ginger. I really prefer fresh. I keep a piece of ginger root in my freezer, then just grate what I want, whenever needed. The ginger lasts nearly forever that way. When I got a new refrigerator last year, I emptied out my freezer and found I had more than a pound of frozen ginger root. That's a lot of ginger. I guess I buy a fresh piece every time I go to the Asian grocery store. I have been making a real effort to use it all up.
The original recipe called for shortening. I use butter, but chill the dough at least an hour before baking. You can use shortening, if you prefer.
So here is the recipe. Enjoy!!
Gingersnap Cookies
2 c. flour
2 t. baking soda
1 t. cinnamon
¾ t. ginger (fresh grated preferred)
½ t. cloves
¼ t. salt
1 c. sugar, plus extra for rolling
¾ c. butter
¼ c. molasses
1 egg
Mix together dry ingredients and set aside. Beat together sugar with butter, molasses and egg until light. Stir in dry ingredients and chill dough at least an hour. When ready to bake, roll dough into 1-inch balls. Roll balls in additional sugar. Place 2 inches apart on ungreased baking sheet. Bake in a preheated 350-degree oven for 10-12 minutes. Edges should look dry. Cool on sheet for a few minutes and then move to rack. Makes about 36.
Halloween isn't the only holiday this week. Many people will be celebrating Dia de los Muertos (Day of the Dead). It is a holiday to remember and honor loved ones who have passed. It traditionally runs from October 31 to November 2.
Pan de Muertos is a traditional bread made for this holiday. This is a version of that bread that is flavored with anise (or fennel) and orange. It is glazed, after baking, with an orange sauce, then sprinkled with a little extra sugar. I like to use rock sugar, which, as the name implies, is a large sugar that looks like small rocks.
I shaped the dough into a round shape, with a knob of dough on the top. You can also mold the bread into different shapes like angels or animals.
The bread itself is so tasty. It is a rich dough with a lovely fragrance and texture.
My father was a baker, so I baked this bread to remember him. I think he would approve.
Here is the recipe.
Pan de Muertos (Mexican Bread of the Dead)
1/4 c. each butter, milk and water
3 c. all-purpose flour
1 1/2 t. active dry yeast (half a packet)
1/2 t. salt
2 t. anise seed or fennel seed
1/3 c. sugar
2 eggs, beaten
2 t. orange zest
Glaze:
1/4 c. each sugar and orange juice
1 T. orange zest
Topping:
2 T. sugar, I used rock sugar
Heat together butter, water and milk until the butter melts. Cool to warm. In a large bowl combine 1cup of the flour, yeast, salt, anise seed and 1/3 c. sugar. Beat in the milk mixture then add the eggs and orange zest and beat until well combined. Stir in 1/2 cup of flour and continue adding more flour until the dough is soft. Turn the dough out onto a lightly floured surface and knead until smooth and elastic. Place the dough into a lightly greased bowl cover with plastic wrap and let rise in a warm place until doubled in size, about 1- 2 hours. Punch the dough down and shape it into a large round loaf with a round knob on top. Place dough onto a baking sheet, loosely cover with plastic wrap and let rise in a warm place for about 1 hour or until just about doubled in size. Bake in a preheated 350-degree oven for about 35 to 45 minutes. Cool on rack 5 minutes then brush with glaze. To make glaze: In a small saucepan combine the 1/4 cup sugar, orange juice and orange zest. Bring to a boil over medium heat and boil for 2 minutes. Brush over top of bread while still warm. Sprinkle glazed bread with 2 T. sugar.
Ready to bake
Eat plain, or lightly toasted with butter
I have posted this recipe before, but thought it might be a good time to post it again. This one is fun for Halloween. You start with a baked 9×13-inch cake. Frost it with chocolate frosting and then use white frosting to draw a ghost on the cake.
You can make all sorts of images- cats, bats, pumpkins. When ready to serve the cake, the eyes are set on fire. Fun effect. Kids and grown-ups both will get a kick out of it.
Just be sure to have proper adult supervision for the kids. The picture doesn't do it justice. Very cool blue flames. Don't forget to turn down the lights!
Flaming Ghost Cake
1 prepared 9×13- inch cake, any flavor
2 c. chocolate frosting, I prefer homemade
1 c. vanilla frosting, I prefer homemade
3 oz. semi sweet chocolate, optional
2 empty eggshell halves, washed well and dried
2 sugar cubes
Lemon extract
Frost cake with chocolate frosting, then spread vanilla frosting in the shape of a ghost. Melt chocolate in a small plastic bag. When chocolate is melted snip off the corner of the bag and use to outline ghost. Place eggshell halves in cake, round side down where the ghost's eyes would be. Soak sugar cubes in lemon extract and place in eggshells. When ready to serve light sugar cubes and turn off the lights. Serve 12-16.
Variations: You can use the flaming eyes effect on cat shapes, pumpkins or even bats. Practice drawing the shape on paper before frosting the cake. If you bake a larger round cake the whole thing can be the pumpkin. Just frost it with orange tinted frosting.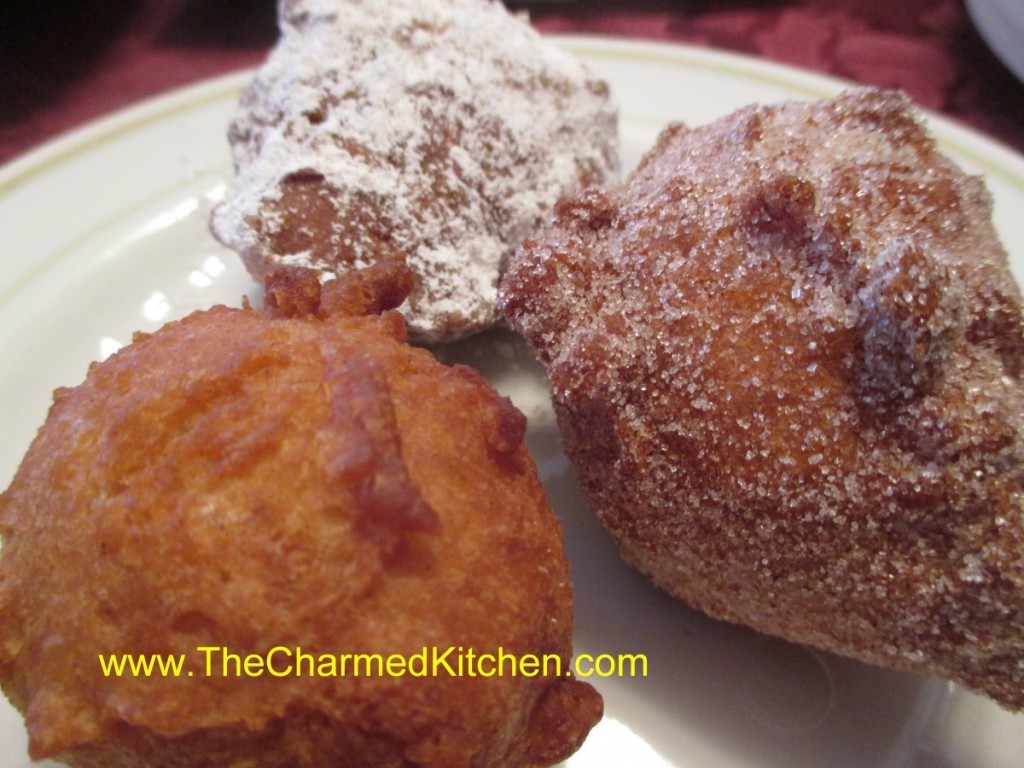 I love apple season.  Besides eating them fresh, I enjoy cooking with apples. One of my favorite apple dishes is apple fritters.
Fritters are similar to doughnuts. Rather than being made from a dough that is rolled and cut, like doughnuts, fritters are made from a batter. The fritter batter is spooned into oil for frying. They are actually very easy to make.
Good fritters are light and airy inside, with a crisp outside. These are very good fritters. These fritters have diced apples and cinnamon in the batter and cook up tender and light. Fritters are good plain, but can be rolled in powdered sugar, cinnamon sugar or drizzled with a powdered sugar glaze.
So enjoy one of my favorite recipes of the season, and make yourself some fritters.
Apple Fritters
2 c. flour
2 T. sugar
2 T. baking powder
1 T. cinnamon
1/2 t. salt
1 c. milk
2 eggs, beaten
2 T. melted butter
1 c. diced apples
oil for frying
Combine dry ingredients and set aside. Mix together milk with the eggs and butter. Stir in dry ingredients until just moistened and add the apples. Heat oil to 375. If using gluten free flour heat oil to 350. Drop dough by tablespoonfuls into the hot oil and fry until golden brown. Don't do more than 4-5 at a time. It will take about 4 minutes in total but you need to turn them to brown evenly so 2 minute per side. Drain on paper towels. While warm roll in powdered sugar, cinnamon sugar or drizzle with a powdered sugar glaze. Makes about 32.
With Halloween fast approaching I thought I'd share this recipe for bat wings. OK, not really bat wings, but you already knew that. I just add black food coloring to barbecue sauce and use it to color chicken wings.
I made a batch for a Halloween party a few years ago and someone actually asked if they were real bat wings.
A word of warning- when you use black food coloring it will transfer to you. No matter how careful you are when you eat the wings, you'll end up with purple fingers.  Also, for the best effect, keep the wings intact- no trimming off of the tips.  You can separate the drums before serving, if you like. Makes eating a little easier. They look pretty cool when set out on the table. Creepy- but very tasty.
Bat Wings
2-3 lbs. whole chicken wings
salt and pepper
1 c. barbecue sauce- store bought or home made
black food coloring- handle carefully- it stains
Place chicken wings in a roasting pan, season with salt and pepper and bake in a preheated 400 degree oven for 30 minutes. Meanwhile in medium bowl combine sauce with food coloring. Add just a little black food coloring at a time. Too much will alter the flavor of the food. Remove wings from the oven and dip them in the bowl of sauce. Turn to coat. Place wings on a clean baking sheet and return to the oven. Bake an addition 45 minutes. You can baste them with additional sauce during the baking, if you like. Place on a serving platter and provide plenty of napkins.
A pile of "bat" wings