These little shortcakes are as cute as they are tasty. You can have all the components ready, then just assemble when ready to serve.
Fun to serve at parties, picnics and cook outs. Because these are small, they work well with other desserts on larger dessert trays.
I made the shortcake base with a scone recipe, and used a small ice cream scoop to put the batter on the baking sheet. They ended up looking like little sandwich buns. One friend said they looked like sliders.
I split them, and filled with sweetened strawberries. I replaced the top and added chocolate ganache and whipping cream to finish them off.
The scone is tender and not too sweet. Satisfying and light at the same time.
Mini Strawberry Shortcakes
The shortcakes
2 c. flour
1/4 c. sugar
½ t. salt
1 T. baking powder
1 1/4 c. heavy cream or 1 cup half and half
Preheat oven to 425 degrees. Sift together dry ingredients and gradually add cream to form soft dough. Stir mixture until it just holds together. Using an ice cream scoop place batter on baking sheet a couple of inches apart. You should get about a dozen. Bake 10-12 minutes or until golden. Makes about 12. Cool on rack until ready to use.
The berries
2 lbs. strawberries, sliced thin
1/2 c. sugar, or to taste
Combine berries and sugar in medium bowl and place in fridge until ready to use. Berries should be in the sugar for at least a couple of hours and can even be prepped a day ahead to allow the juices to come out of the berries.
The ganache
1 c. semi sweet chocolate chips or 6 oz. semi sweet chocolate, chopped
1/2 c. heavy whipping cream.
Combine both in double boiler or in microwave and heat until mixture is just warm enough to melt the chocolate. Stir until smooth.
The whipped cream – use whipped cream, sweetened or unsweetened according to your taste.
Assembly: Slice the caps off the tops of the shortcakes. Place a generous spoonful of the sliced berries on the bottoms of the shortcakes and spoon some of the strawberry liquid over them as well. Place the tops of the shortcakes back on and spoon on a dollop of the chocolate ganache. I let me get to room temperature so it didn't drip down exactly as I had planned. Top with some whipped cream and serve. Makes about 12.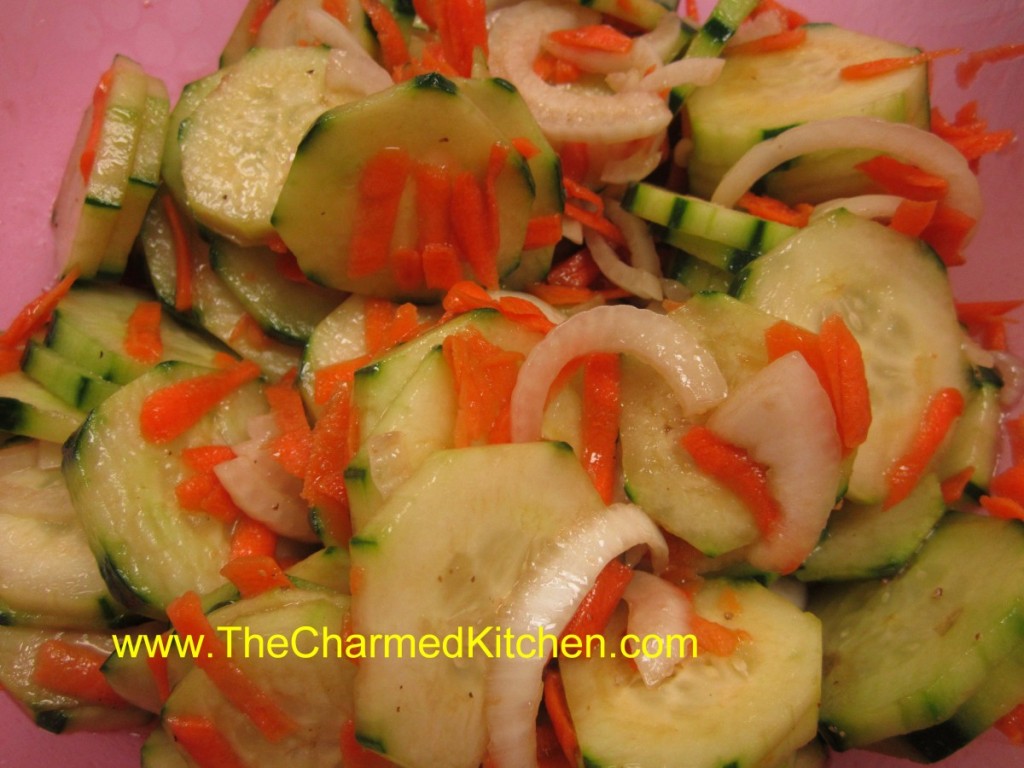 With summer approaching I am always thinking about salads and outdoor dining. I love a dish that is easy to take along to picnics, barbecues and cook outs. This refreshing salad combines carrots and cucumbers in a simple dressing. So easy and fast. Perfect side for your picnic or barbecue.
Cucumber and Carrot Salad
4 cucumbers, peeled, leaving strips of skin
1 c. coarsely shredded carrots
1 c. thin sliced sweet onion
1/3 c. vinegar- I like cider vinegar in this dish
2 T. Balsamic vinegar
¼ c. oil
1 T. sugar
1 ½ t. salt
Fresh ground pepper
Slice cucumbers. Combine vegetables in bowl. Combine dressing ingredients and pour over the vegetables, tossing to coat well. Chill at least 1 hour before serving, Spoon over lettuce, if desired. Serves 4-6.
This is a great dessert for a party, picnic or barbecue. Instead of making a bunch of individual shortcakes, make one really big one. It makes quite an impression.
When ready to serve it, just cut into slices, like cake or pie. I often serve this shortcake with ice cream on the side. Feel free to switch up which fruits you use. I used kiwi fruit with the strawberries, but you can add different fruits. Peaches would go well with the strawberries or blueberries. Just have fun and use fruit combinations you like.
For Memorial Day or the 4th of July, you could use a combination of strawberries, raspberries and blueberries.
Giant Strawberry Shortcake
1 egg
3/4 c. milk
1/2 t. lemon juice
2 c. flour
1/4 c. brown sugar
1 T. baking powder
1/2 stick cold butter plus 1 T. softened
1/2 c. plus 1 T. sugar
1 qt. strawberries, sliced thin
2 kiwi fruit, peeled and sliced thin
1/4 c. nuts, toasted, I left the nuts whole
whipped cream, optional
In small bowl combine egg, milk and lemon juice and set aside. In larger bowl combine the flour, brown sugar and baking powder. Cut in cold butter to resemble coarse crumbs. Add egg mixture and stir until mixture forms into a soft dough. Knead dough gently on a lightly floured surface about 10 times. On greased baking sheet pat dough into a 15×6-inch oval. Sprinkle dough with the 1 tablespoon of sugar and dot with the softened butter. Bake in a preheated 400 degree oven for 20-25 minutes, or until lightly golden. Place on wire rack to cool. Toss the berries with the remaining 1/2 cup of sugar. Allow to stand 30 minutes. Split the shortcake lengthwise and remove the top. Spoon over the half the berries and replace top of shortcake. Combine the kiwi with the remaining berries.Spoon over the remaining fruit and sprinkle with the nuts. Dot with whipped cream, if desired. Cut in wedges to serve. Serves 8.
Note: you can bake shortcake day ahead and prep the fruit day ahead, keeping it chilled and just assemble when ready to serve.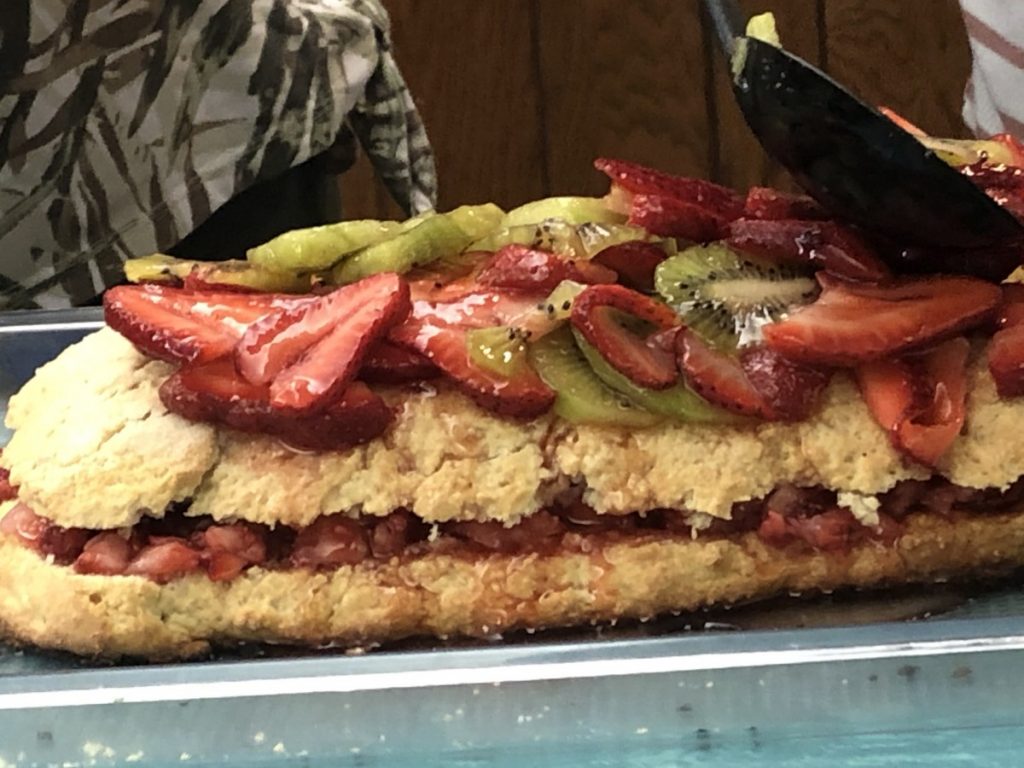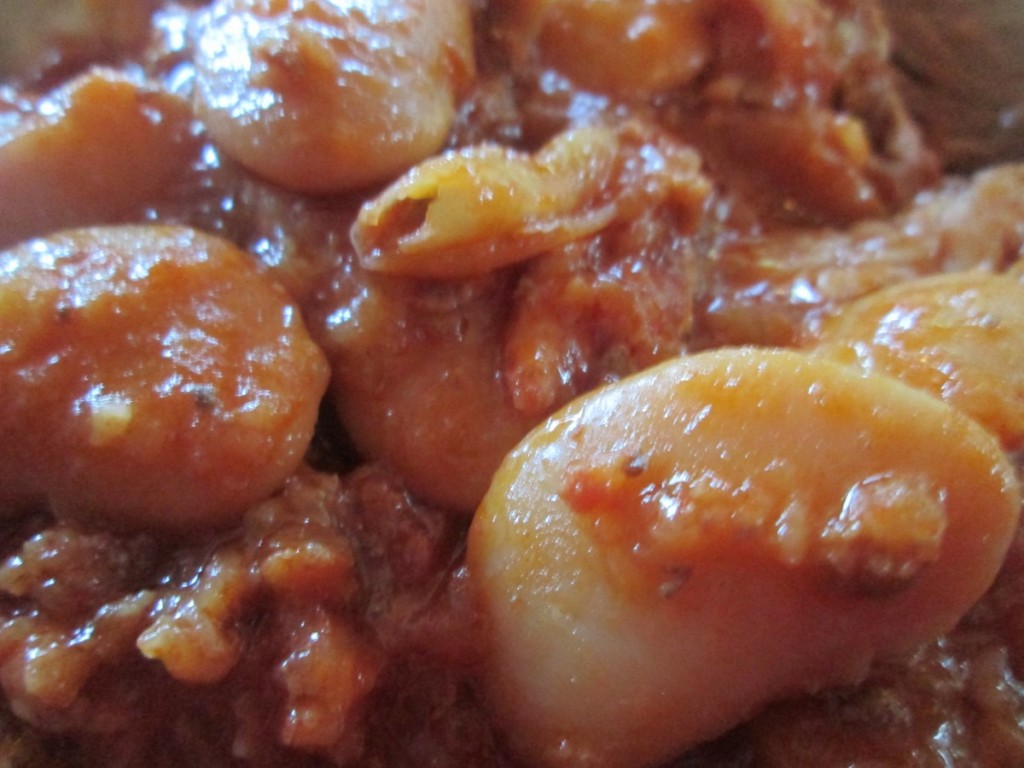 This is a wonderful recipe for baked beans. I got the recipe from my friend Amy. She used to make them for almost every summer barbecue. Unlike traditional "baked" beans, this recipe starts with canned beans.
I love traditional baked beans. The ones baked all day, until the beans get tender and the flavors are perfectly blended. But I don't always have time to make them. By starting with canned beans, it saves a whole lot of time, without compromising flavor. When I serve these beans, everyone comes back for seconds.
It's a simple recipe, with relatively few ingredients. It can be baked in the oven, or done in a crock pot.
Super easy and very tasty.
Amy's Baked Beans*
6 c. chopped onion
1 lb. ground meat
1 lb. bacon, cut into 1-inch pieces
1/2 c. brown sugar
2 cans tomato soup
3 can butter beans, rinsed and drained
Mix onion, meat and bacon in skillet and cook until onions are translucent. Drain off excess fat. Place in Dutch oven with remaining ingredients and cook, covered, in a 350 degree oven for 90 minutes.
Note: You can also cook in a crock pot on high for 4 hours or longer. Uncover, for awhile, if you like, for thicker sauce.
*This recipe has been in the McWilliam family for several generations. They are also called Grandma McWilliam's Beans and before that Aunt Elizabeth's Beans.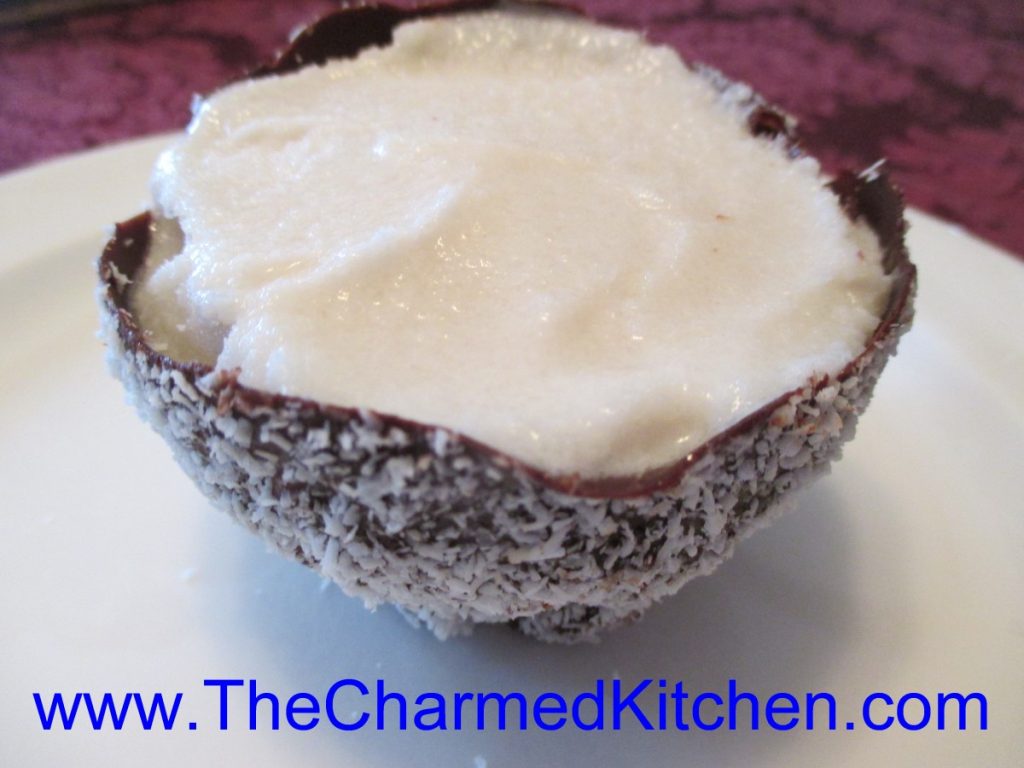 Now this is fun. Coconut almond sorbet served in chocolate bowls. The idea is to make the dessert look like coconuts. It worked out well and tasted great. The whole dessert is dairy free and vegan as well. Great for people who have issues with dairy. You won't miss the dairy in this recipe. The sorbet is smooth and creamy.
These are fun to serve for summer parties. You can make everything ahead of time, assemble and keep in the freezer until you want them. I served them at an April Fool's Dinner a while back.
So here are the directions for the bowls and the recipe for the sorbet.
The bowls are made by dipping inflated balloons in melted bittersweet chocolate. Then you coat them is desiccated coconut to cover the chocolate. Desiccated coconut is dry and unsweetened. It looks like white bread crumbs. You can find it at Asian markets (it is the type of coconut used for coconut shrimp) . It is also found at cake decorating and candy making stores.
Place them on wax paper. Let the bowls set- in fridge or freezer- until the chocolate hardens. Then you just pop the balloons and remove them. You are left with a chocolate bowl. I have the best luck removing the balloons when I put the bowls in the freezer to set. Fill the bowls with the sorbet- you could use vanilla ice cream, I suppose, but the coconut sorbet really is better in this dish.
You can serve them as is- or top with some fresh fruit or chocolate sauce.
Inspired by a friend who can't have dairy, I made this coconut sorbet. I started with a can of coconut milk, added some almond milk, sweetened it, and added vanilla for a little added flavor. So simple and really tasty.
It has a lot of the creaminess of a dairy based dessert. In fact, if you didn't know, you would probably think there is some milk or cream in this sorbet, even though there isn't.
Looking forward to making some for my vegan niece the next time she comes to town.
Coconut Almond Sorbet
1 can (13.5 oz.) coconut milk
1 c. almond milk
¼ c. sugar- or to taste
2 t. vanilla
Combine all ingredients in bowl and stir until sugar is dissolved. Place in an ice cream maker and freeze according to manufacturer's instructions. Makes 1 quart.
Note: If you don't have an ice cream machine, you can freeze the sorbet in a shallow tray. Once frozen, remove from freezer and let it soften a few minutes. Break into chunks and process in a food processor to soften. Return to freezer until ready to eat.
Thought I would share this fun recipe for cupcakes, using beets. I already make a chocolate beet cake- which has red tones from the beets. I wanted a lighter texture for cupcakes, with more chocolate flavor, so I made some changes to the beet cake recipe and ended up with these cupcakes.
Rich, but light, with a very subtle blush of red. I decided to call them Pink Velvet. I topped them with cream cheese frosting, but a dusting of powdered sugar would work well, too, or a favorite buttercream.
Here is the recipe. I hope you will give them a try.
Pink Velvet Cupcakes (Chocolate Beet)
2 cups all-purpose flour
2 t. baking soda
½ t. salt
¾ c. cocoa powder
1 c. butter, softened
1½ c. sugar
3 large eggs
2 teaspoons vanilla
1½ cups grated cooked beets
Powdered sugar, optional
Preheat oven to 350°. Line 24-28 muffin tins with paper liners; set aside. Combine dry ingredients in a bowl; set aside. In a mixing bowl, combine the butter and sugar. Beat until light and fluffy. Beat in eggs one at a time, beating well after each addition. Beat in vanilla. Slowly beat in dry ingredients until well mixed; stir in beets. Spoon batter into prepared tins, filling about 2/3 full. Bake 18-20 minutes, or until cupcakes spring back when touched lightly or when toothpick, inserted into cupcakes , comes out clean. Cool before frosting. Makes 24-28.
Cream Cheese Frosting
8 oz. cream cheese, softened
1 stick, (½ cup butter) softened
2-3 c. confectioners' sugar
1T. vanilla
Beat all ingredients together until smooth and fluffy. Store in the fridge.
I have this fun kitchen machine called an immersion circulator, also known as a sous vide immersion circulator. They are used to cook food at very exact temperatures. It is a kitchen tool that is becoming more popular, but still unknown to a lot of people. They can be expensive, although prices seem to be coming down as more models hit the market. The one I have costs around $200, but you can find them for a lot less these days.
So why would you want to use/invest in one and how exactly is the food cooked?
Sous vide involves cooking your food in a bag, submerged in water. I know that doesn't initially sound all that appealing, but it is pretty cool and has some advantages.
Have you ever fretted about overcooking a really expensive cut of meat? Or do you have trouble with the ends getting too done before the middle is cooked?
In an immersion circulator, you set the temperature that the water will be. If you like medium rare beef, you would set the temp at around 135 degrees F (57 Celsius). That means the water would maintain a temp of 135 degrees. When you put the meat in the circulator it can't overcook. It will only get to a max of 135 degrees, or whatever temperature you like. The meat can't overcook, even if you leave it in for several hours. It also will be cooked the same from one end the the other. This gives you the opportunity to cook less expensive cuts of meats for long periods, making them tender, but still rare. The leg of lamb we had for Easter was wonderful. When a guest was delayed, I didn't have to worry about it getting overdone, either.
The sous vide machine is attached to a pot that is filled with water. Once you set it to the temperature you want, you place the bag with the meat in it, in the water. Set the timer and let the circulator do its job. You can also buy machines that are self contained. Check water levels once in awhile, but they don't go down very much, even after long cooks.
One disadvantage is that the meat will not get that nice sear on the outside that comes from more traditional methods of cooking. To remedy that, you remove the meat from the bag, once it has cooked, and brown it then. I like to use a smoking hot skillet for this. You brown the meat over high heat, turning it until it looks the way you want it to look. This actually worked great for the ribs. You could also place the meat under the boiler for a few minutes or even on a hot grill.
Another slight disadvantage, is not smelling the meat cook. Because everything is sealed up in bags, there are no yummy aromas in the house. At least, not until you open the bags to brown the meat. I have confused guests, who arrived for dinner, but smelled nothing cooking.
It is a nice way to cook in hot weather. Sous vide does not nearly generate the heat that an oven would.
Cooking the Ribs
So for my spare ribs, I wanted them to be very tender, but not mushy. I set the pork to cook at 145 degrees Fahrenheit or 60 degrees Celsius. That is the minimum safe temperature for pork. You can cook it at a slightly higher temperature- but not lower. I seasoned the meat with salt and my Ethiopian seasoning. I used a freezer Ziploc bag. I made sure I got as much air out of the bag as I could, and made sure it was sealed. I then double bagged the ribs, to be safe. Using a vacuum sealer or pump will help remove more air. Nice, but not a must.
I cooked my ribs for 12 hours the first time I made them. I have cooked them for as long as 24 hours. There is a lot of leeway for how long you have to sous vide meat. Tougher cuts should be cooked longer, to make them more tender. The 12 hour ribs were very tender, but the 24 hour ribs were better. Once the time was up, I took the ribs out, heated up my skillet, and browned the ribs on both sides. This is when you can add sauce, if you like. I added a sweet and sour sauce to this batch. They were tender and very juicy.
Unlike poaching, the meat is never in contact with the water, so all the flavor stays in the meat. Because you have such precise control, you don't end up with overcooked meat, either.
There are videos all over the internet that discuss and share sous vide cooking as well as groups on Facebook. I am still learning and don't consider myself an expert. I just wanted to try cooking my ribs this way. I was very happy with the result. I can't say whether an immersion circulator is a good investment for you or not. I will say that I love mine and am using it several times a week.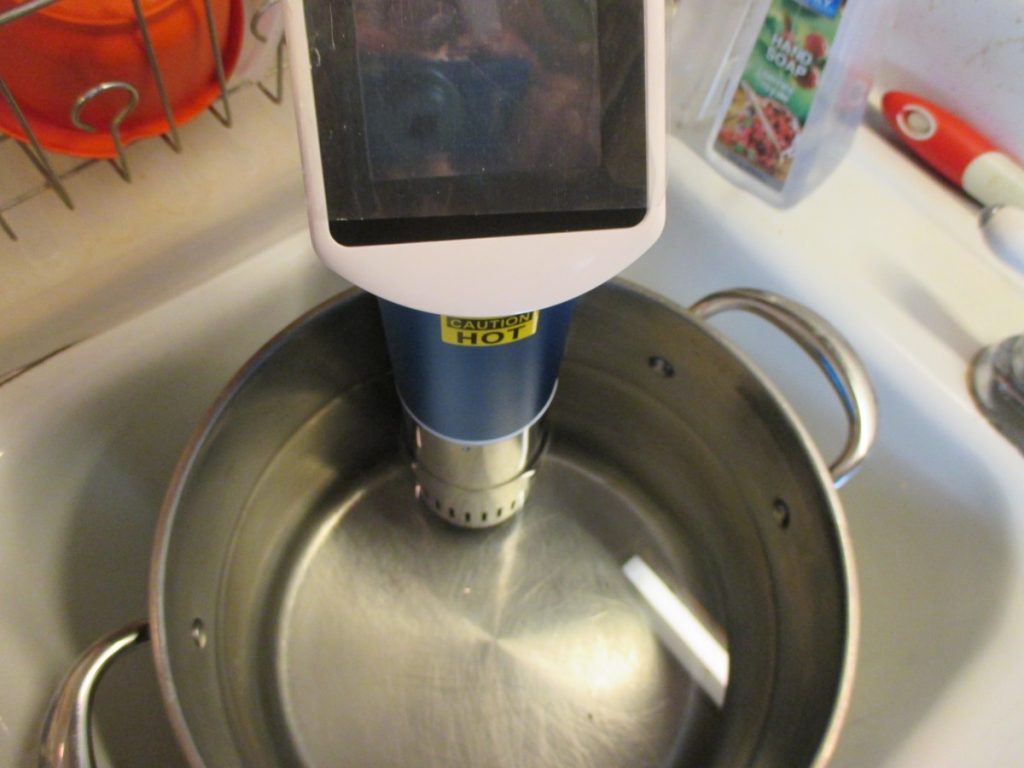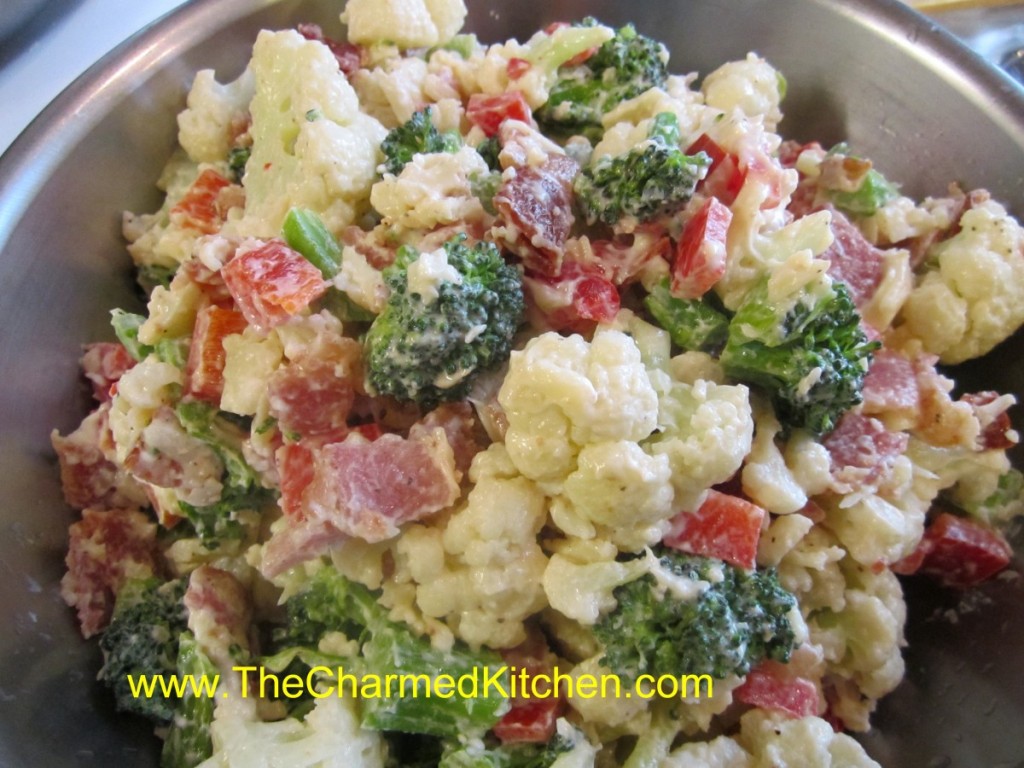 I make broccoli salad pretty often, but sometimes like to switch it up a little by adding cauliflower. The result is  a salad that has a great mixed of flavors, colors  and textures. The addition of bacon also adds a wonderful smoky flavor. Certainly, feel free to omit the bacon for a vegetarian salad. With or without the bacon, this is a great salad for the warmer days ahead. Fun to make for your next cook out or picnic, too.
Broccoli and Cauliflower Salad
4 c. cauliflower, broken into bite- sized pieces
2 broccoli crowns, cut into bite- sized pieces
1 can water chestnuts, drained and sliced
1 sweet pepper, seeded and chopped
1 c. shredded cheese, optional
8- 10 slices of bacon, cooked and chopped
1/2- 3/4 cup of mayo, adjust to your preference
salt and pepper to taste
Steam the cauliflower and broccoli until just tender/crisp. About 5 minutes in a microwave steamer, 6 minutes in a conventional steamer. Place in a bowl to cool down then combine with remaining ingredients and stir to combine well. Adjust seasonings, if needed. Serves 6-8.
These tasty dumplings are easy to make and taste just wonderful. We made some in a class on dumplings the other night. In many ways I think they are easier to make than pasta. The dough is mixed and rolled into ropes, then cut into individual pieces and boiled. No rolling pins or heavy lifting required. You can add the traditional gnocchi ridges by rolling the cut pieces of dough over the back of a fork before cooking. It is optional, but does look nice.
They can be served as a side dish, with butter and salt, We added some Parmesan cheese. You can also toss them with your favorite pasta sauce.
The dough is a combination of cooked sweet potato, cooked russet potato, eggs, flour and salt. I have made them without the russets and liked them best with a little added. Other white potatoes could also be used. You can certainly add additional seasonings, if you like. Turmeric can be added for color, rather than flavor.
Sweet Potato Gnocchi
1 c. mashed, cooked sweet potatoes
½ c. mashed, cooked russet potatoes
2 eggs
1 t. salt
1 t. turmeric, optional
2 c. flour or more
Get a pot of water boiling. In mixing bowl combine the sweet potatoes with the eggs and seasonings. Add about 1½ cups of the flour and stir until a soft dough forms. Continue adding flour, a little at a time, until the dough can be handled without sticking to your hands but is still soft. Take about ¼ of the dough at a time and roll into a rope, about 15 inches long, on a floured work surface. Cut dough into ½ inch thick pieces. You can leave them as is, or add ridges by rolling each gnocchi over the tines of a fork. Place gnocchi in a pot of boiling water and after a few minutes the they will float to the top. Cook them for several minutes after they have risen to the top of the pot. Remove with a slotted spoon and drain. If you aren't going to use them right away drizzle with a little oil to prevent sticking or toss with butter. You can also run a little cold water over them instead. Repeat with the remaining dough.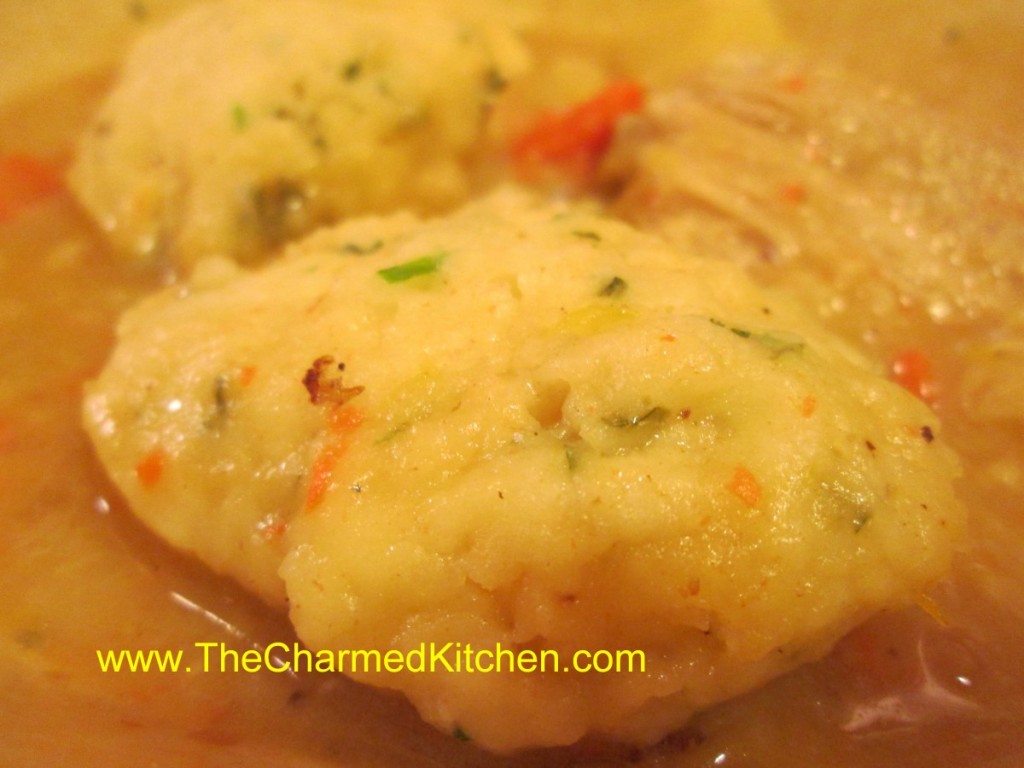 There are foods I will always associate with my childhood. Chicken and dumplings is one of those dishes. I can remember watching my Mom spooning the dumpling batter over the simmering pot of chicken and vegetables. She'd cover the pot and wait.
When she uncovered it, the dumplings had puffed up, and pretty much covered the whole dish. It was magical to me. The dumplings were so tender and light. I can't make this dish, all these years, later without thinking of her.
My mom made her dumpling batter with a buttermilk baking mix- like Bisquick. Eventually, she started making her own baking mix, like I do today.
Dumplings will puff up when cooked
Mom's Chicken and Herb Dumplings
1 T. oil
1 (3 lb.) broiler, cut into pieces
salt and pepper
flour for dredging
1 medium onion, chopped
2 carrots, peeled and sliced
3-4 potatoes, cut into chunks
2-3 c. chicken stock
1 t. each marjoram and thyme
1 c. buttermilk baking mix* , like Bisquick,I make my own, recipe follows
1/3 c. milk
2 t. fresh parsley
2 t. snipped chives or green onions
1/2 t. red pepper flakes
Season chicken pieces with salt and pepper and dredge pieces in flour. Heat oil in large skillet and brown chicken pieces on all sides. Remove chicken pieces and sauté onion until tender. Add carrots, potatoes, broth and chicken to skillet and cook, covered, 20 minutes. Sprinkle herbs over the chicken. Combine baking mix with milk, parsley, chives and red pepper flakes and spoon batter in skillet in 8 mounds. Cover and cook over low heat 20 more minutes. Serves 4.
*Here are two versions of the biscuit mix.
Chef Pastry Mix/ Biscuit Mix
8 cups sifted, all-purpose flour
1 c. powdered milk
1 c. powdered buttermilk
¼ c. baking powder
1 T. salt
2 c. shortening, coconut oil or butter- if using butter store in the fridge- coconut oil version should be stored in fridge in warm weather
Sift dry ingredients together 3 times. Cut in fat to resemble cornmeal. Keep in an airtight container. Store in a cool dry place and use within six months.
Whole Wheat Baking Mix
5 c. flour
3 c. whole wheat pastry flour
1 c. whole wheat flour
1/3 c. baking powder
1 c. powdered milk, not non-fat
2 t. salt
3 1/2 sticks butter
Mix dry ingredients together well, then cut in butter. Store in fridge for up to 3 months and can be frozen for up to a year. Makes about 12 cups.