I taught a class last week on making bagels. It was a lot of fun. I think people were surprised on how easy they are to make. The chewy texture in bagels comes from boiling the bagels before baking them. In class we made plain bagels, Parmesan, Rye and cinnamon raisin. Such a fun evening.
Bagel History
Bagels began in Austria when a baker in Vienna in 1683 wanted to honor the visiting president of Poland. He created a roll that was round, or shaped like the stirrup on the King's saddle. The new creation was called beugel, which was a variation of the German word for stirrup. Over time the word evolved into bagel. Because they were made with white flour, everyone, other than the rich considered bagels a special treat for special occasions. Today bagels are found in almost every grocery store throughout the country.
Lox and Cream Cheese
Probably the most traditional way to top a bagel. A toasted bagel is spread with cream cheese and then a few thin slices of lox (salt cured salmon). Some people like to also add thin slices of sweet onion. I do. I also like to add a few capers. Years ago this became a tradition in my family. My niece and I always have bagels with lox on Thanksgiving morning.
Bagels
4 ½ -5 c. flour
3 T. sugar
1 T. salt
2 pkgs. Yeast
1 1/2 c. water
2 t. butter
1 T. sugar
2 t. salt
1 egg white
Mix 1 ½ cups flour, 3 tablespoons sugar, 1-tablespoon salt and yeast in a medium bowl. Heat 1½-cup water with butter and add to flour mixture. Beat 2 minutes at medium speed. Add ½ c. flour and beat 1 minute. Stir in enough flour to make a soft dough. Turn onto a floured surface and knead until smooth and elastic, about 8-10 minutes. Set in greased bowl and turn to grease top. Cover and allow to rise in a warm place 1 hour. Punch dough down cover and let rest 15 minutes. Divide dough into 12 pieces and form into smooth balls. Cover with towel and let rest 10 minutes. In large skillet heat 1 inch of water to a simmer. Add remaining sugar and salt to water. With floured finger poke a hole in the center of three of the dough balls. Drop into simmering water cooking 3 minutes. Turn over and cook 2 minutes. Turn to first side and simmer 1 more minute. Remove to greased baking sheet and repeat with remaining dough. Mix egg white with 1 tablespoon of water and brush tops of bagels. Sprinkle with seeds if desired. Bake in a 375 –degree oven for 20 –25 minutes. Makes 12.
Variations:
Light Rye: Prepare as above except substitute 1¼ c. rye flour for 1¼ c. of the regular flour.
Whole Wheat: Substitute 1 ¼ c. whole wheat flour for 1 ¼ c. of the regular flour
Herb: Use ½ tablespoon dried marjoram or parsley or 1 teaspoon dried dill. You can also add ½ teaspoon of garlic powder. Add herbs to flour/ yeast mixture.
Parmesan: Add ¼ c. grated Parmesan cheese to flour/ yeast mixture.
Onion Bagels: Cook ½ cup finely chopped onion in 3 tablespoons butter until tender. Brush onion mixture over the tops of the bagels after they have been baking for 15 minutes.
Sesame or Poppy Seed: Just before baking brush tops of bagels with beaten eggs and sprinkling with sesame seeds or poppy seeds.
Extra crusty: Place under boiler (4-5 inches away) for 3-4 minutes, turning once just before boiling. Bagels should not brown.
More Variations
Blueberry: Prepare dough as usual. When you first start to knead the dough add 1 cup of fresh or frozen (thawed) blueberries and knead as usual. You will need a little more flour.
Cinnamon-Raisin: Add 1-2 T. cinnamon to flour/yeast mixture. Add ½ cup raisins when you start to knead dough.
Multigrain: To flour and yeast mixture add ¼ c. each wheat germ, oat bran and cracked wheat. You'll need a little less flour.
Super seedy: To flour and yeast mixture add ¼ cup each pumpkin seeds, sunflower seeds and sesame seeds. Also add 2 tablespoons poppy seeds and 1 tablespoon fennel or caraway seeds. You will need a little less flour.
Cocoa: Add ½ cup cocoa powder to flour and yeast mixture. You will need a little less flour. These are great with cream cheese and fruit preserves.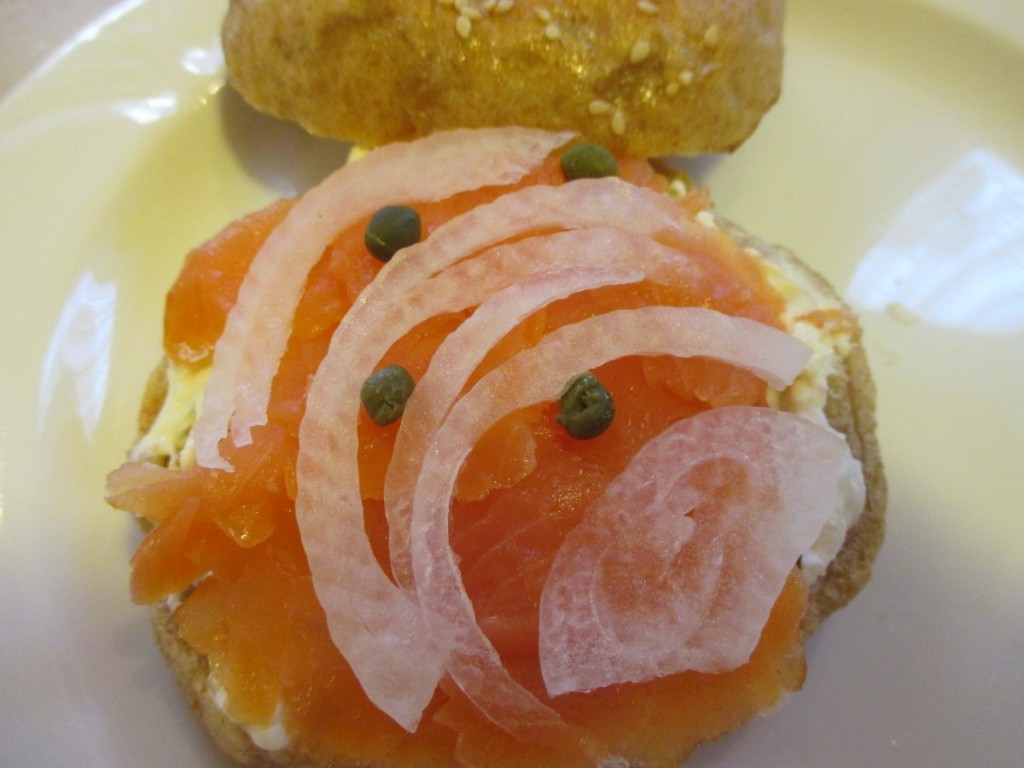 With cream cheese, lox, sweet onion and capers.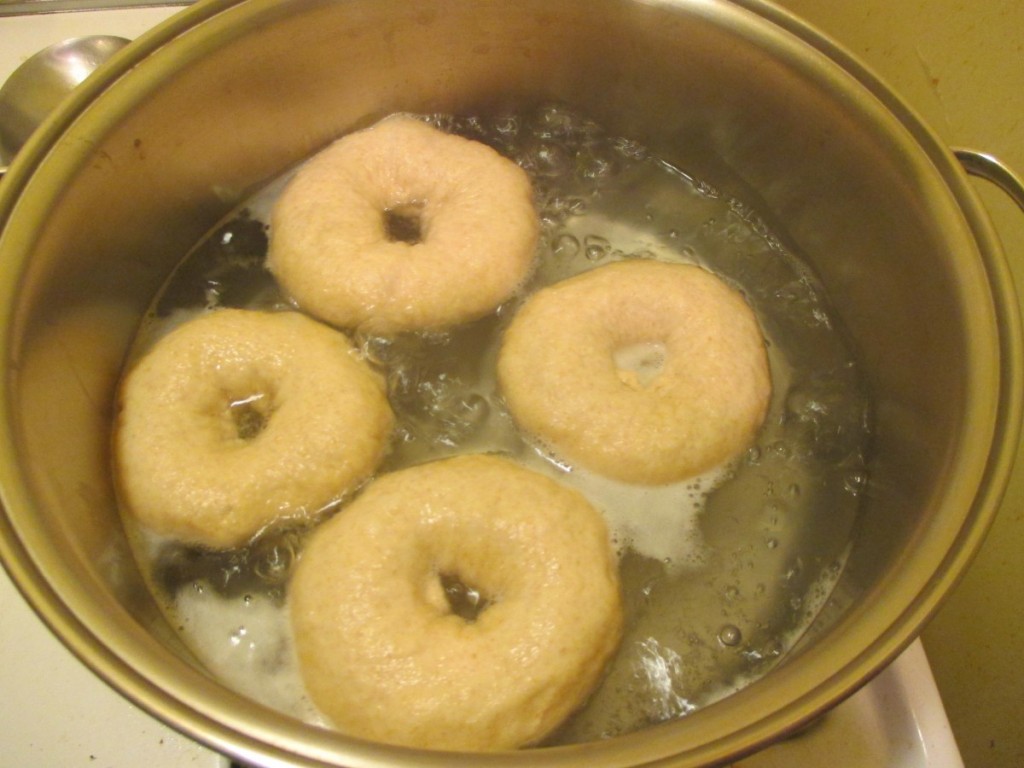 This might be one of my favorite meals. Braised lamb shanks are tender, full of flavor and the perfect comfort food for a chilly evening. They are also reasonably priced. Because the shanks can be tough, they need a longer cook, with liquid, to get really tender. That is what braising is. They can be cooked faster in a pressure cooker, when time is an issue.
Recently a friend and I decided to make them for dinner. We ended up cooking them for about 2½ hours. They were perfectly tender. You can cook them longer, if you like. They really are simple to make. Yes, they take a while to cook, but once in the oven you don't need to do anything but wait. We ended up using the cooking liquid to make a sauce. I just used an immersion blender to puree the veggies and cooking liquid. It tasted so good.
So here is the recipe for lamb shanks.
Braised Lamb Shanks
3 lamb shanks
2 T. oil
2 large onions, chopped
2 large carrots, chopped
1 rib celery, chopped 
4-5 cloves of garlic, chopped
4 cups stock- lamb or beef preferred
½ c. sherry or red wine
2 T. curry powder
Salt and pepper
Cayenne pepper to taste
In Dutch oven brown the lamb shanks in oil until browned. Remove from the pan, add the vegetables and brown them for about five minutes. Return shanks to the pot. Add the stock and bring to a boil. Add sherry and seasonings. Place lid on pot and place in a preheated 350-degree oven for 2½- 3 hours. Check them after 90 minutes and add a little more stock, if needed. It is normal for some of the stock to cook down. I did not add more stock. Remove pan from the oven. Remove shanks and keep warm. Puree the vegetable mixture to make a gravy. Adjust seasonings. Serves 2-3.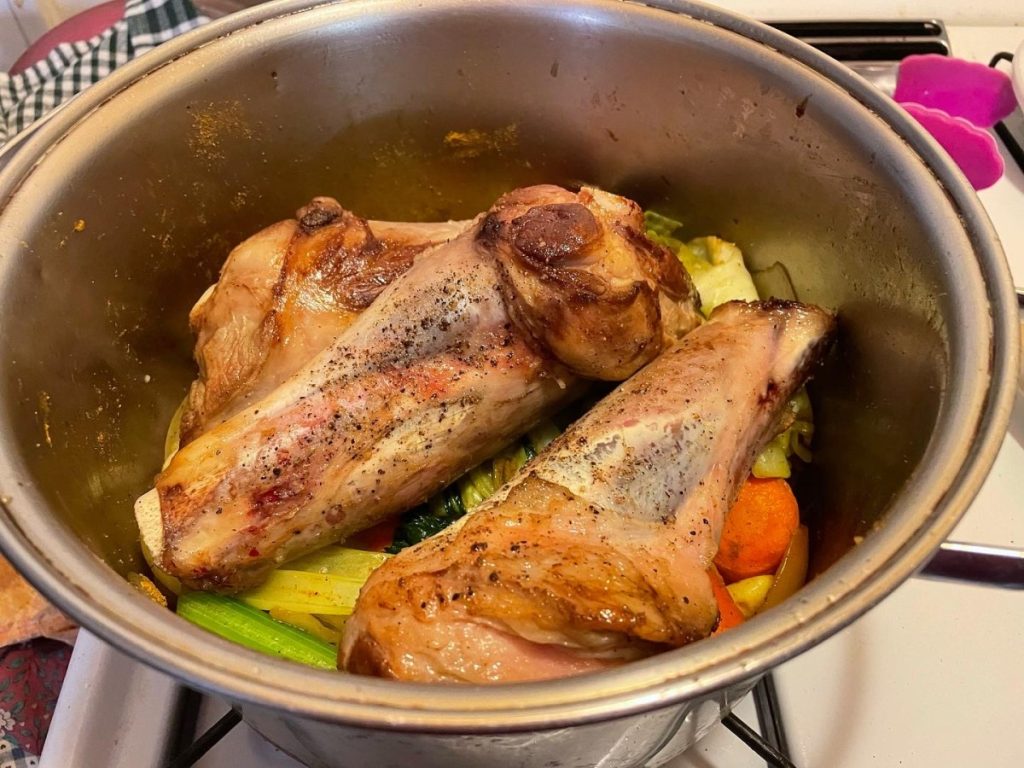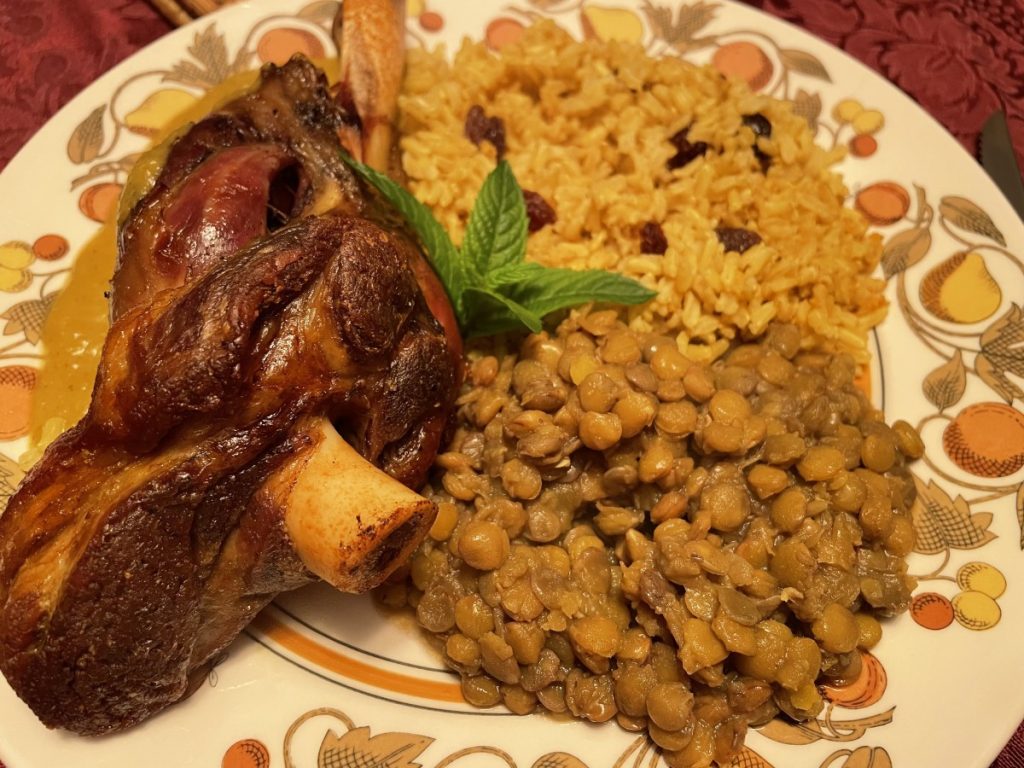 I really enjoy the flavor of homemade applesauce. I try to can at least a few batches this time of year.
I decided to mix things up a little by making a batch of applesauce with cranberries. It came out a pretty shade of pink. The cranberries also added a nice tartness to the mix.
You don't have to add sugar, if you don't want to. You add the amount of sugar you like, or leave it out completely. I like to mix different varieties of apples, for different flavor in your sauce.
You can also freeze the mixture if you don't want to can it.
Pink Applesauce
60 medium apples, I used mostly Melrose and some Jonathans
12 oz. cranberries
water*
1 c. lemon juice
sugar to taste
Peel and core apples. Put in water with some ascorbic acid, citric acid or lemon juice to prevent discoloration. Place apples in a pot with enough water* to prevent sticking and add the cranberries and lemon juice. Cook over medium high heat until soft. I wanted smooth applesauce, so I ran the cooked apple mixture through a food mill on the medium blade. Return apple mixture to pan and bring to a boil. Sweeten with sugar, if you like, or leave unsweetened. Have water bath full of boiling water and have hot, clean canning jars and lids and rings ready. Ladle hot applesauce into hot jars, leaving 1/2 inch of headspace. Wipe rims and apply lids. Process in a boiling water bath for 20 minutes for pints or quarts. Turn off heat and let jars stand in water bath 5 minutes before removing. Set in a draft free area to cool down. Yield: 8 quarts or 16 pints.  
*rather than add water, to prevent the apples from sticking, you can use cider instead.
I had very ripe plums and wanted to use them in a savory dish rather than a dessert. We had made a pear chutney in cooking class a few days before, so that gave me the idea of using the plums in a chutney. I had some pork loin defrosted and I thought they would work well together. I was not disappointed.
I started by pitting and chopping up the plums. They were very ripe. I say in the recipe it was 2 cups, but let's say a generous 2 cups. You can be off a little bit here. A few more plums aren't going the hurt anything. I threw everything in a pot and let it cook until the mixture thickened. After it was finished I added a little honey because it seemed too tart. Trust your taste here for how much sweetening it needs.
Here is the recipe for the chutney and for the pork.
Plum Chutney
2 c. pitted chopped plums
1 small onion, minced
4 cloves garlic, sliced thin
¼ c. balsamic vinegar
¼ c. brown sugar
2 T. honey
1 t. cinnamon
Salt, pepper and cayenne to taste
Combine all ingredients, except the seasonings in a medium saucepan and s= cook over medium heat until thickened. This took about 20 minutes, maybe a bit longer. As the mixture gets thicker, stir more often to prevent sticking. I added the honey later as the chutney seemed too tart when it was finished. That is partly based on how sweet the fruit is and your personal taste. Makes about 2 cups. Will keep in fridge for weeks. Great on pork, duck and chicken or served with cheese and crackers as an appetizer.    
Pork with Plum Chutney
1 lb. boneless pork, cubed
2 T. cornstarch
2 T. sherry, not cooking sherry
1 T. soy sauce
Oil
Additional cornstarch for dredging
Salt and pepper
About ¾ c. plum chutney
Place cubed pork in a small bowl and combine with the cornstarch, sherry and oil. Chill several hours, if possible. Heat oil in skillet. Dredge the pork in cornstarch and sauté until cooked through. Season with salt and pepper and spoon any excess oil out of the pan. Add the chutney and simmer until heated through. Serves 3-4.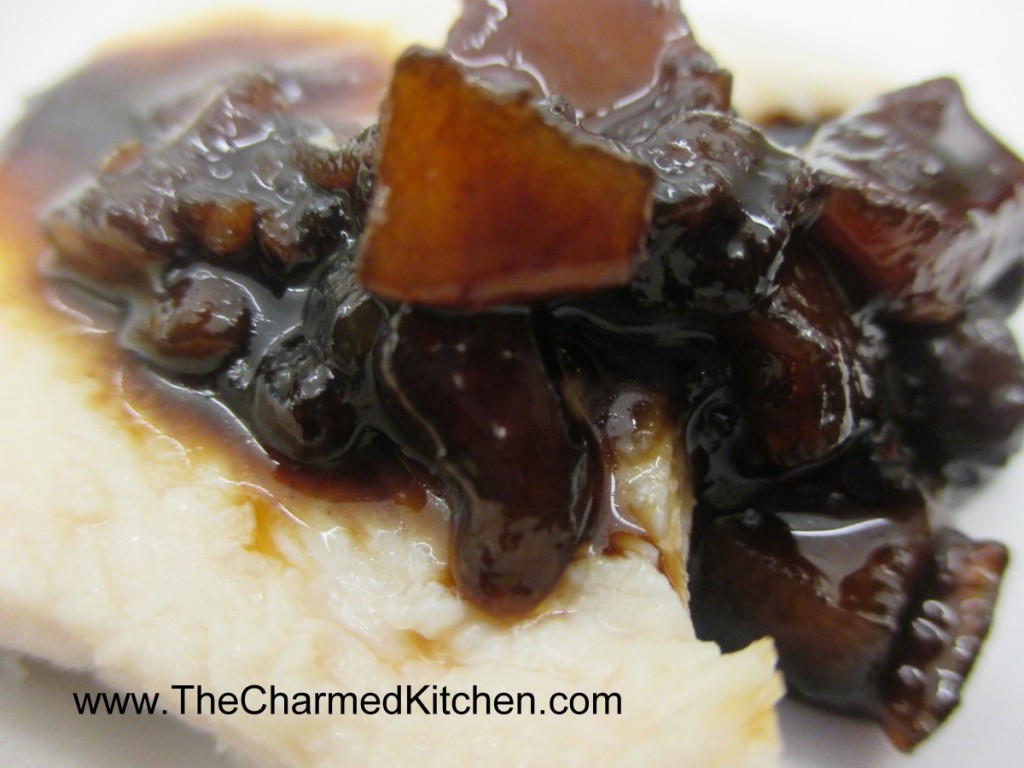 I call this dish by a couple of names. It was given to me as a pear sauce. I think it makes people think of apple sauce and that is misleading. This flavorful sauce is more like a glaze or chutney. A mix of savory and sweet flavors it is great served on the side with various dishes and can be used as a glaze. The picture does not do it justice.
I have served it with turkey and chicken. It goes well with pork and duck, too. I always make a double batch and freeze some for later use. The recipe follows, along with a recipe using the chutney with pork. I think you will be surprised at just how tasty this stuff is. It makes a nice appetizer with cheese and crackers, too.
Spiced Pear Chutney
½ c. sugar
½ c. balsamic vinegar
1 lb. Pears, cored, peeled and diced
1/4 c. minced onion
1 t. minced garlic
1 t. hot sauce – or more to taste
½ t. allspice
½ t. cinnamon
½ t. ginger
Pinch of cloves
Salt and pepper to taste
Combine all ingredients in a saucepan and cook over medium heat until thickened, about 20 minutes. Stir often to avoid burning. Serve with pork or lamb roasts. Also great with turkey or duck. It is also nice with cheesesand crackers and an appetizer. Makes about 2 cups.
Pork with Spiced Pear Chutney
1 lb. Pork loin. Sliced or 4 pork chops
oil
1 large onion, sliced
salt and pepper to taste
1 recipe spiced pear chutney, See above
In skillet, cook pork in oil, turning to brown evenly until juices run clear when meat is pierced. Remove meat and add onions, sautéing until onions are browned. Return pork to pan, adjust seasonings and add 1 cup of the pear chutney. Cook 10 minutes, or until heated through and bubbly. Serves 4.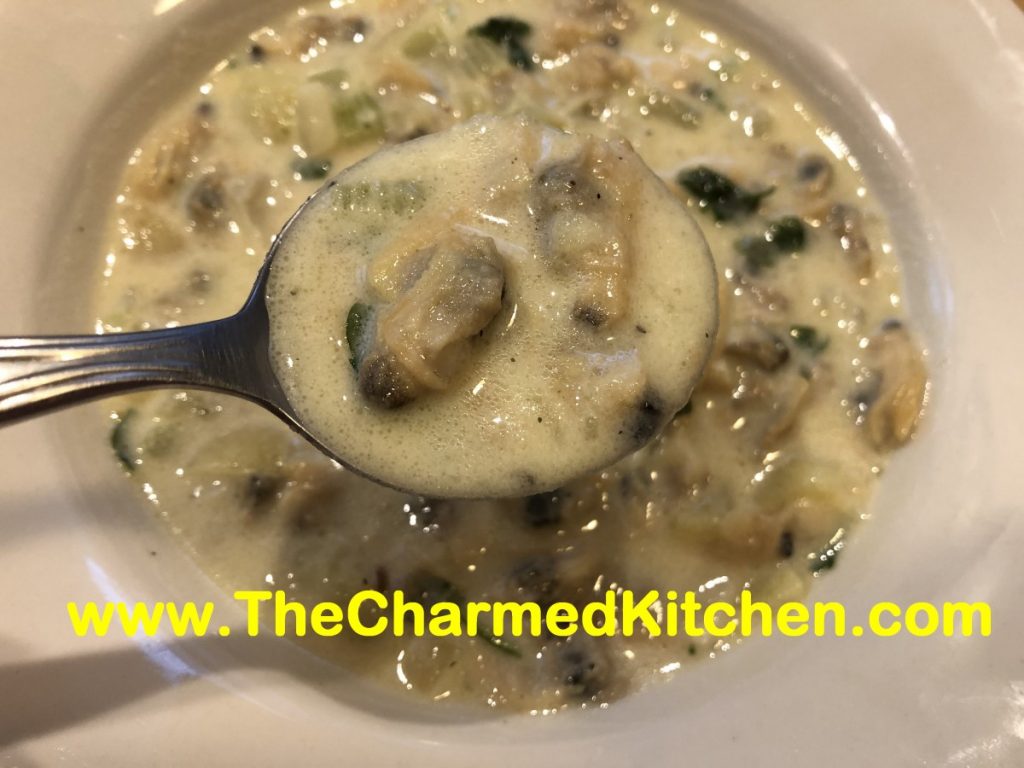 It is clambake season around here and it seemed like a great time to share this recipe. Aunt Josie's clam chowder is a favorite of mine. I have loved it from the first time I had it. It is pretty easy to make and full of flavor. We have it at every family clambake.
You have the option of adding some stock or water at one point. I sometimes have seafood stock in the freezer, but a bottle of clam juice would work great, too.
So here is the recipe. I hope you enjoy it as much as I do.
Aunt Josie's Clam Chowder
2 T. butter
1 onion, chopped
1 rib celery, chopped
2-3 small potatoes, cubed
1 c. water or stock
2 (10 oz.) cans clams, undrained*
1 T. butter
2 T. flour
2 c. milk – I use half and half
salt and pepper to taste
Sauté onions and celery in butter until tender, but not browned. Add potatoes and water or stock and cook, covered until potatoes are tender. Stir in clams and set aside. In another saucepan, combine butter and flour over low heat and stir in milk, stirring to make a white sauce. Cook mixture until it thickens and starts to bubble. Add it to the clam mixture and adjust seasonings. Bring to a gentle simmer. I added some parsley right before serving. Serves 4.
* You can also add clam meat and a little extra stock. I often buy frozen clam meat.
This post is dedicated, with love, to Aunt Josie.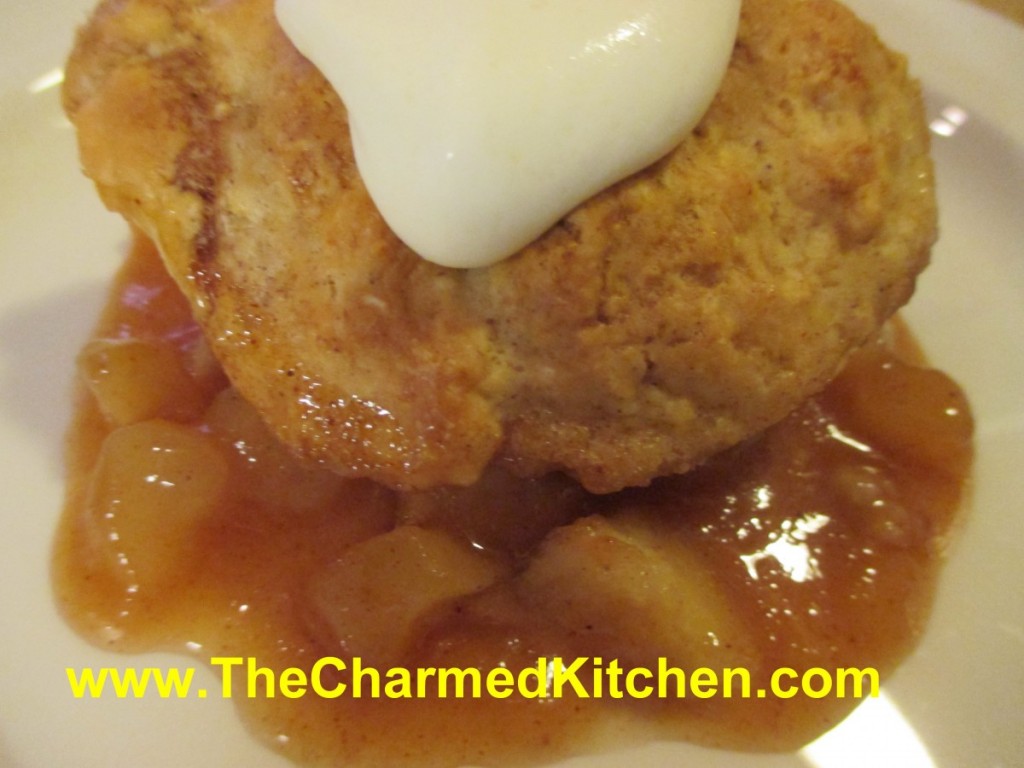 Cobbler is one of my favorite desserts for this time of year. I really enjoy making this pear cobbler for family and friends. Like apples, pears always remind me of Fall.
While cobblers can be made with any number of different fruits, I love using pears. It is one of the simplest desserts you can make from scratch, and one of my favorites, for sure.
In the time it takes to preheat the oven, you can have it ready to bake. This recipe calls for baking mix, like Bisquick or Jiffy Mix. I make my own- recipes follows- but use what you like. The cobbler is fine served plain, or with a dollop of whipped cream or ice cream. It can also be served cold, but I like to serve it warm.
If you prefer, you can also make the cobbler with a combination of pears and apples.
Pear Cobbler
4 c. peeled and sliced pears
½ c. sugar
1 T. plus 2/3 c. baking mix (Like Bisquick or Jiffy Mix or even homemade)- recipe follows
1-2 t. cinnamon
2 T. packed brown sugar
¼ c. butter
2 T. milk
In 1-quart shallow casserole, combine fruit, sugar, 1 tablespoon of the biscuit mix and cinnamon. In medium bowl combine remaining biscuit mix with sugar. Cut in butter to resemble coarse crumbs. Stir in milk to make a soft dough. Drop by spoonfuls over fruit mixture. Bake in a preheated 400-degree oven for 30 minutes, or until toothpick inserted into dough comes out clean. Let stand 5 minutes. Serves 4-6.
Baking/ Biscuit Mix
8 cups sifted, all-purpose flour
1 c. powdered milk
1 c. powdered buttermilk
¼ c. baking powder
1 T. salt
2 c. shortening*
Sift dry ingredients together 3 times. Cut in shortening to resemble cornmeal. Keep in an airtight container. Store in a cool dry place and use within six months.
*You can use butter or coconut oil in place of the shortening. Just store in the fridge, if you do. I use coconut oil.
Posted in Cooking |
Tender cake and a crunchy topping seem like the perfect combination. Most days I would rather have a crumb topping on a cake than frosting.
This recipe hits all the right notes. Sweet with apple chunks throughout, a nice touch of cinnamon and that crumb topping. An added bonus, it is easy to make.
This time I baked it in a 7×11 inch glass pan. I have also baked this cake in 8×8 and 9×9 pans. The 8×8 pan may take a few more minutes to bake.
Apple Crumb Cake
For cake batter:
2 c. flour
2 t. baking powder
½ t. salt
½ stick (¼ cup) butter, softened
¾ c. sugar
1 egg
½ c. milk
2 c. chopped peeled, cored apples
For topping:
½ c. sugar
¼ c. flour
2 t. cinnamon
½ stick (¼ c. butter, chilled and cut into bits)
Combine dry ingredients and set aside. In mixing bowl with electric mixer, beat butter and sugar until light and fluffy. Beat in egg and milk. Add flour mixture gradually until just mixed in. Fold in apples. Grease and flour an 8 or 9-inch pan and add prepared batter. Combine topping ingredients until they resemble coarse crumbs. Sprinkle over the batter in pan and bake in a preheated 375-degree oven for 35-45 minutes. Use toothpick to test.
Note: I used a 7×11 inch pan and it worked fine.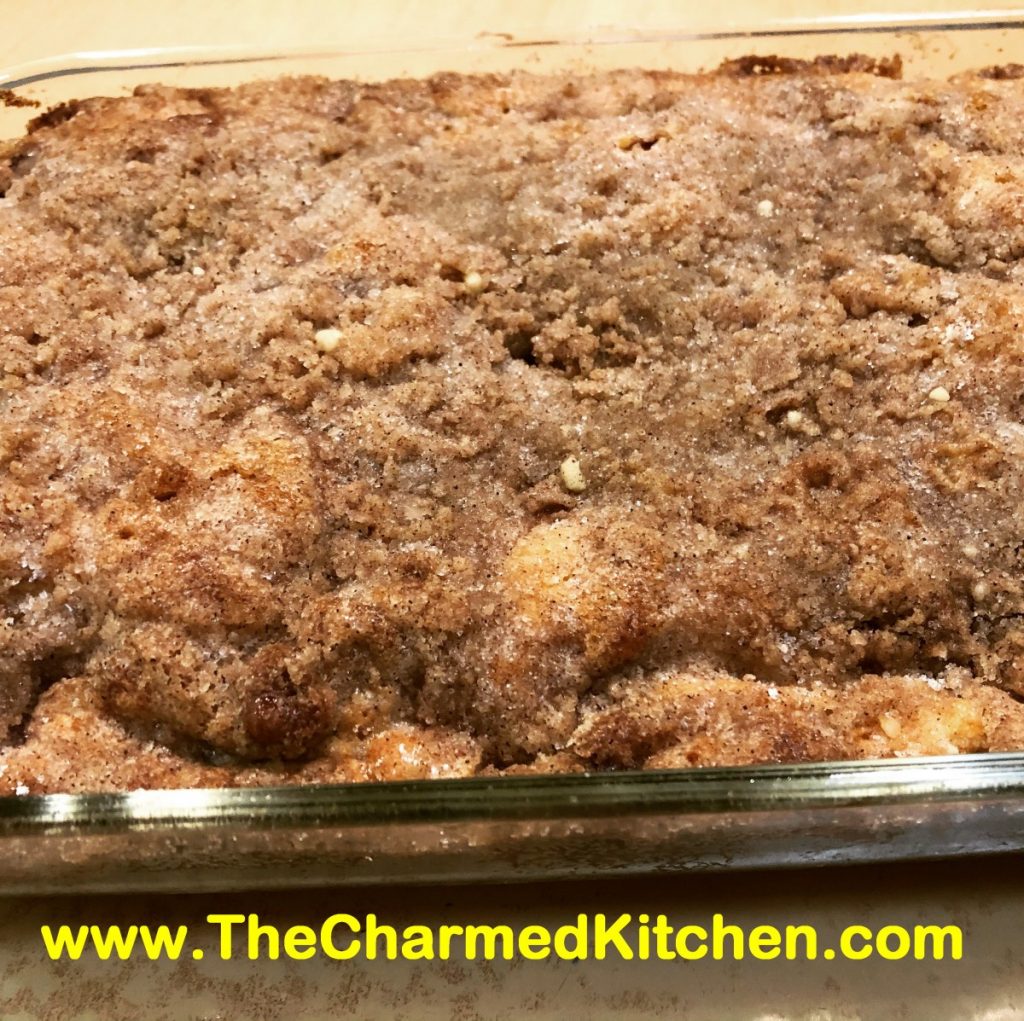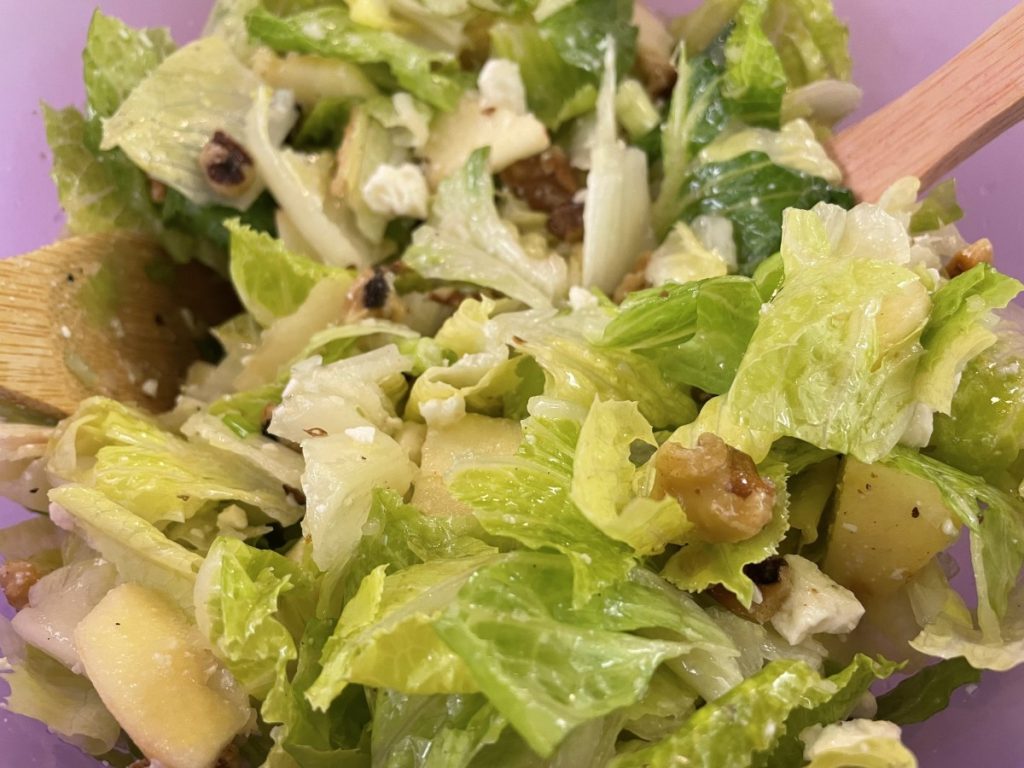 This is one of those recipes where the combination of ingredients seems simple, but the final dish is really special. The texture is nice and crunchy, with richness coming from the cheese and nuts. The dressing is simple, but also has plenty of flavor.
We made this salad in class the the other night using feta cheese and toasted walnuts. I enjoyed that combination a lot. You can switch around the nuts and cheese that you use. If salad isn't the first thing that comes to mind when you think of apples, maybe it should.
Apple and Cheese Salad
Dressing:
3 T. white wine vinegar
2 T. lemon juice
2 t. sugar
¼ c. olive oil
3 T. dried minced onion
2 T. water
salt and pepper to taste
1 c. walnuts or pecans, toasted
4-6 cups salad greens, washed and spun dry
1 c. shredded cheddar cheese or ½ c. crumbled feta or bleu cheese
2 Granny Smith or other tart apples
1 T. chopped fresh mint or parsley
1 T. snipped chives or green onions, optional
In container with tight fitting lid shake dressing ingredients together and chill until ready to use. To toast nuts place on a baking sheet in a 350 degree oven for 15 minutes. Cool. When ready to serve the salads divide the greens among 4 plates or arrange greens on a platter. Core the apples and cut in slices. Toss apples with the dressing. Place apples on greens, then top with remaining ingredients. Serves 4.
I have guests visiting from out of town and wanted to make them a special dessert. I decided to make these tarts. Making them vegan wasn't hard at all. I just used coconut oil in the crust recipe instead of butter. The crust worked out fine, although it is very crumbly. The texture after baking is amazingly tender, but I found the dough a little harder to handle than when made with butter. I would make this crust again, even if I didn't need a vegan version.
I used homemade peach pie filling made with peaches I had in the freezer. You can use store bought, but I include the recipe at the bottom of the post. The recipe makes just over 2 cups of filling. I had crust left over.
I made 24 and used a little over half of the dough recipe. Had I rolled them out a little thinner, half a recipe would be enough.
Peach Mini Tarts
dough for 1 pie crust
About 2 cups peach pie filling, room temp or chilled
Flaky Pie Crust
2 c. flour
1 t. salt
3/4 c. coconut oil, chilled – you could use butter, lard or shortening
1 T. cider vinegar
4-5 T. cold water
Combine flour and salt in food processor and add coconut oil. Pulse until mixture resembles coarse crumbs. Toss in vinegar and water, 1 tablespoon at a time, pulsing as you add, until dough just holds together. Remove from processor and press dough together to form a ball. Chill at least 30 minutes before using. Makes enough for 2 pie crusts or up to 48 tarts.
Peach Pie Filling
3 cups diced peaches
3/4 c. sugar
3 T. water
3 T. cornstarch
2 t. cinnamon
Heat peaches and sugar in a saucepan until bubbly. Stir to prevent sticking. Combine water and cornstarch and add to the peach mixture. Heat until thickened and bubbly. Add the cinnamon, too. If the mixture is too thin, add a little more cornstarch and water. Sometimes the peaches are extra juicy.