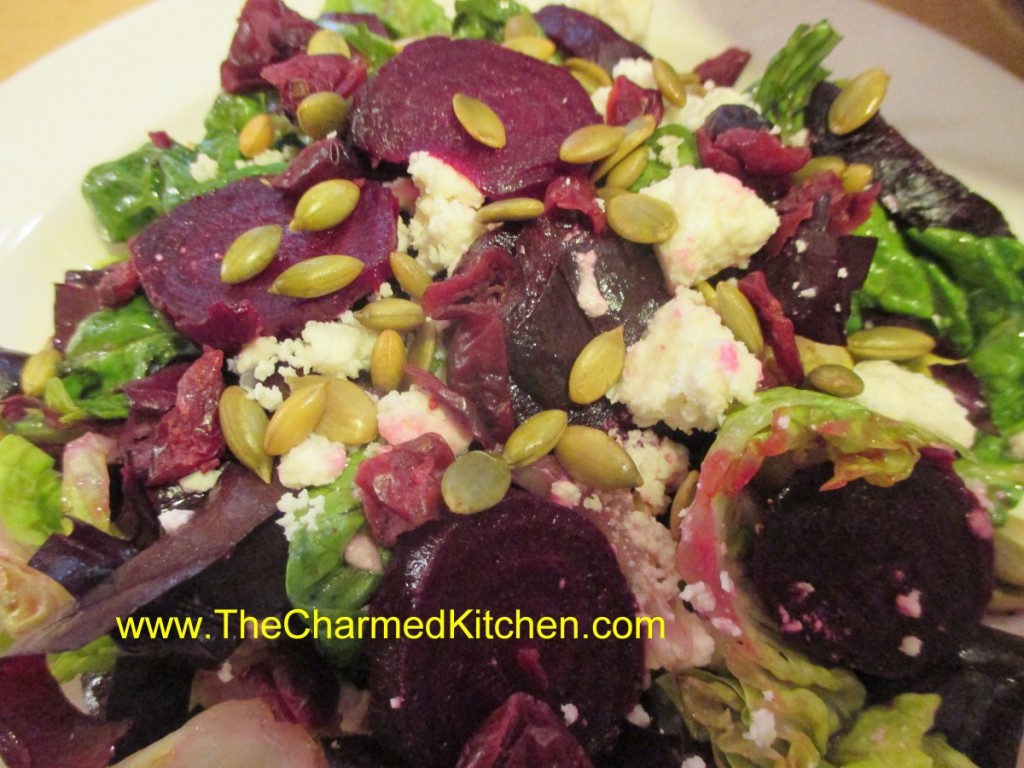 I picked up a couple of bunches of beets the other day. I wasn't sure what I wanted to do with them at the time. They just looked so fresh. I decided to roast some, and then go from there.
To roast beets: just wash them and trim off the greens- leaving about an inch of the stems to reduce bleeding. The beet greens could be added to the salad.
Place beets in a roasting pan and drizzle with a little oil. I used avocado oil. Cover pan and place in a 350 degree oven for about 45 minutes. Smaller beets will be cooked in less time- about 35 minutes. Really large beets could take up to an hour. I always check by poking one of the beets with a fork. Let the beets cool a little and then remove the peels. I use a knife to do this. They come off quite easily.
I used three small beets to make this salad for lunch. I shared it with a neighbor.
Roasted Beet Salad
1 small head Bibb lettuce, washed and sliced into thin slices
2 c. spinach, torn into bite sized pieces
1/4 c. olive oil
3 T. red wine vinegar
2 t. sugar, optional
3 small roasted beets, peeled
1/2 c. crumbled feta cheese
1/4 c. hulled pumpkin seeds, toasted
1/4 c. dried cherries
coarse sea salt- I used pink salt
Place lettuce in a mixing bowl. Combine olive oil with vinegar and sugar, if using. Add salt and pepper to taste and toss over the greens. Slice beets. Divide greens on 2 salad plates. Arrange half of the beets on each salad and top with the rest of the ingredients. Sprinkle with a few grains of the sea salt and serve. Makes 2 luncheon salads.
We made this soup in class a few days ago. Cheddar cheese soup is so simple to make and so tasty. Everyone loved it. One hint is to add the cheese slowly, to get a creamy, not grainy texture.
The soup is great on its own, but you can also add all sorts of other fun ingredients. It can be topped with croutons for some added crunch. Veggies like broccoli, potatoes, asparagus, carrots or Brussels sprouts would all be nice add ins. Mushrooms or caramelized onions could also be added along with fresh herbs.
Even if you leave this soup just as it is, people will love its creamy texture and great flavor.
Here is the recipe.
Cheddar Cheese Soup
¼ c. butter
2 c. chopped onion
2 ribs celery, chopped
2 cloves garlic, minced
¼ c. flour
½ t. paprika
¼ t. cayenne pepper
4 c. chicken stock, low salt preferred
1 ½ c. evaporated milk, or half-and-half
10 oz. grated cheddar cheese, mild or sharp
dash of hot pepper sauce
¼ c. chopped fresh parsley
Cook vegetables and garlic in butter until tender.  Stir in flour, paprika and cayenne, stirring until smooth. Stir in stock slowly and heat to a simmer. Cook, covered, 15 minutes. Use an immersion blender to puree the soup or you can just live with the chunky bits. Add milk and heat through. Add cheese ½ cup at a time, allowing to melt between additions. Add hot sauce and parsley and serve.  Makes 6 servings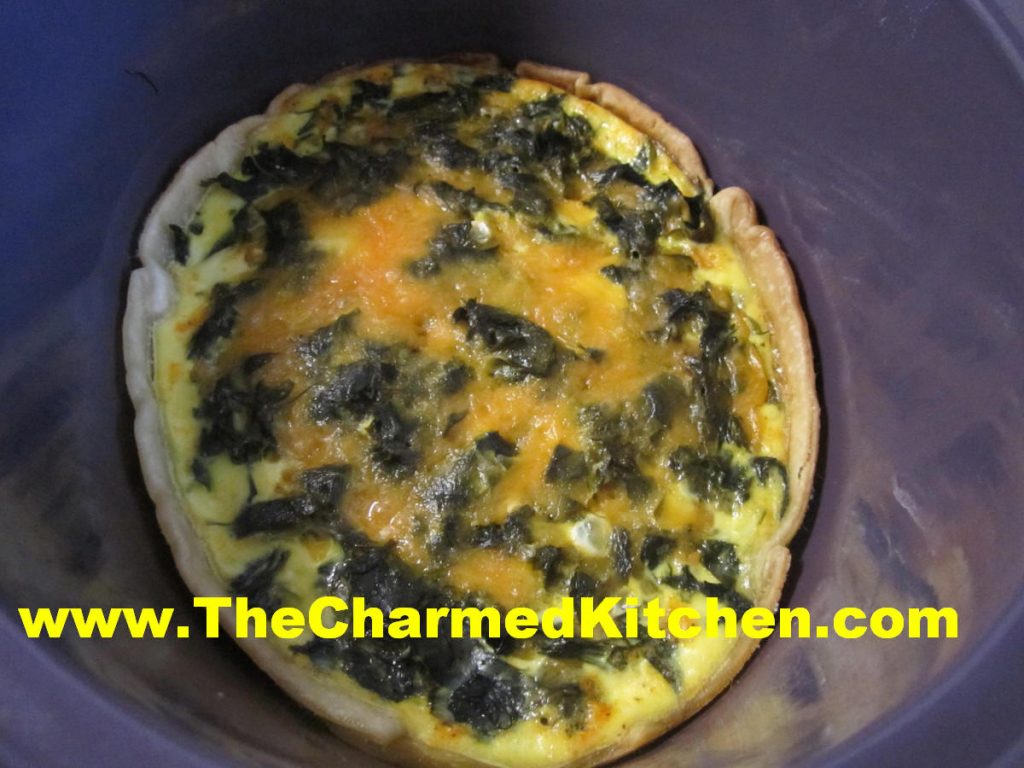 This recipe was inspired by a friend baking a pecan pie in crock pot. I was intrigued. It certainly would be cooler than turning on the oven. If it worked for pie, would it work for a quiche? I had to find out. I followed his directions as best I remembered them.
I started by spraying the inside of the crock pot with non- stick baking spray. I am sure I could have oiled it instead, or maybe rubbed it with butter. Then I placed the pie crust in- trying to fit it as best I could. It was pretty easy. I added the fillings like I normally would. I put on the lid and set it on high. I let the quiche bake for 90 minutes- then gave it a look. It was set, but the crust needed a little more time so I let it go another 30 minutes.
It worked!! A perfectly "baked" quiche in the crock pot.
OK- I can hear the question you want to ask-how do you get it out? We had errands to run so I turned it off and left it in the crock pot, uncovered, for an hour or so. It was still warm. I loosened the edges of the quiche. Then I removed the crock from the base. I placed my hand on the top of the quiche and turned the crock over. It came out right into my hand and I placed it on a serving plate. A little of the crust crumbled- but it mostly held together. Next time I might try 2 spatulas. I suppose I could have just sliced it right in the crock pot, too. Hindsight….
I made my quiche from lambsquarters. It's a common weed, and tastes a lot like spinach. It is also growing all over my yard. I like the idea of harvesting a volunteer veggie from my yard. You could certainly use spinach instead.
Lambsquarters Quiche
1 unbaked pie crust
3 c. shredded cheese, divided
2 T. flour
1 leek, white part only, sliced and sauteed in oil until tender
4-5 cups lambsquarters leaves, washed and steamed until wilted
3 eggs
1 c. milk or half and half
salt and pepper to taste
hot sauce to taste
For conventional cooking preheat oven to 400 degrees. Place crust in a 9-inch deep dish pie pan. Toss 2 cups of the cheese with the flour and place in pie crust. Add the leeks and lambsquarters. Combine eggs with milk and seasonings, beat until smooth and pour over the ingredients in the pie crust. Top with remaining cheese. Place on a baking sheet and bake 45 minutes to an hour. Check quiche for doneness by inserting a knife off center. If it is clean quiche is done. Serve 4-5.
Crock pot directions: Coat the inside of the crock pot with non- stick baking spray, butter or oil. Roll out pie crust and place in crock pot- crust should be at least 1-inch up the sides of the crock pot. Toss 2 cups of the cheese with the flour and place in pie crust. Add the leeks and lambsquarters. Combine eggs with milk and seasonings, beat until smooth  and pour over the ingredients in the pie crust. Top with remaining cheese. Put the lid on the crock pot and set it on high. Let the quiche bake for 2 hours. Leave it in longer, if the crust is not brown enough.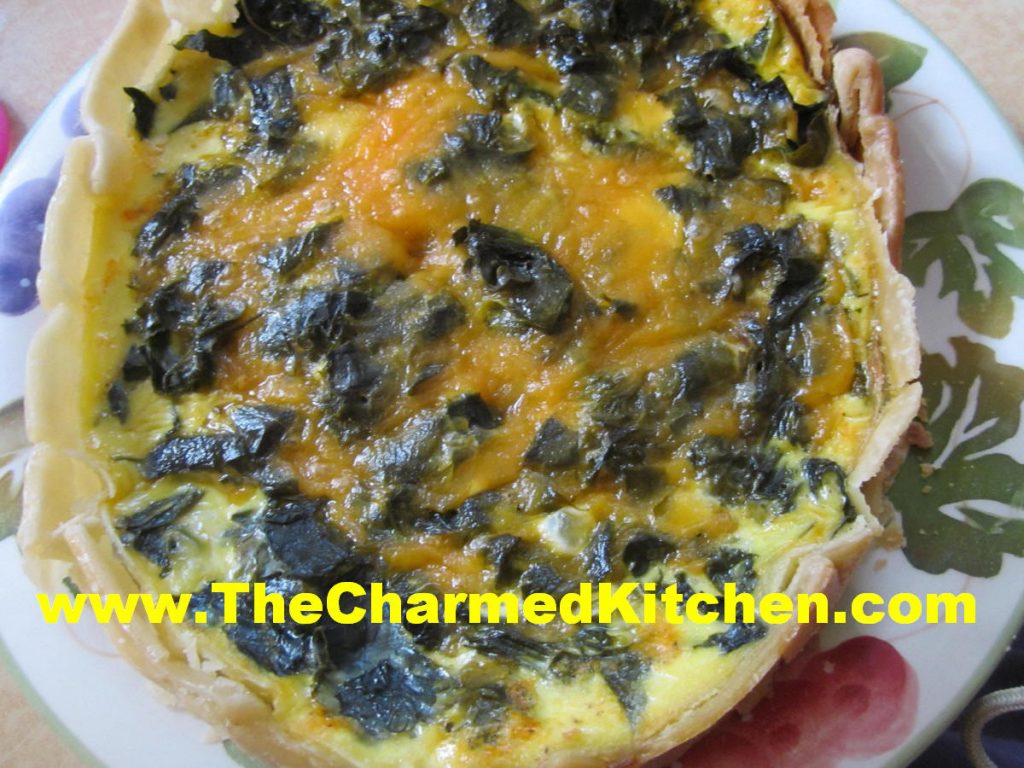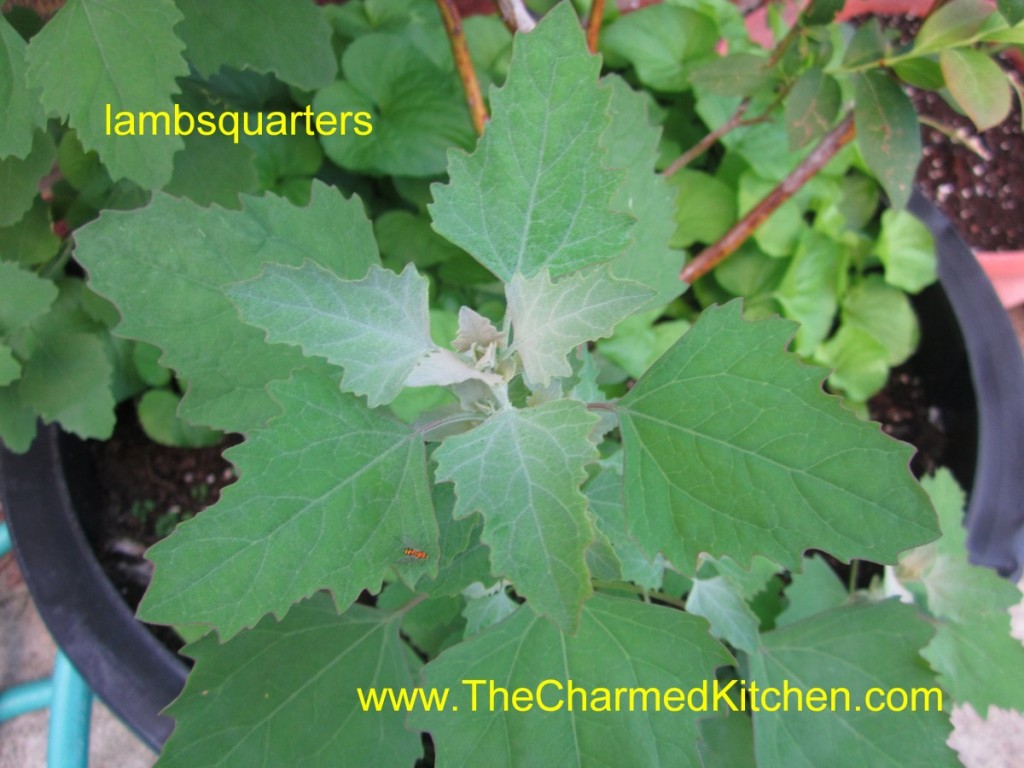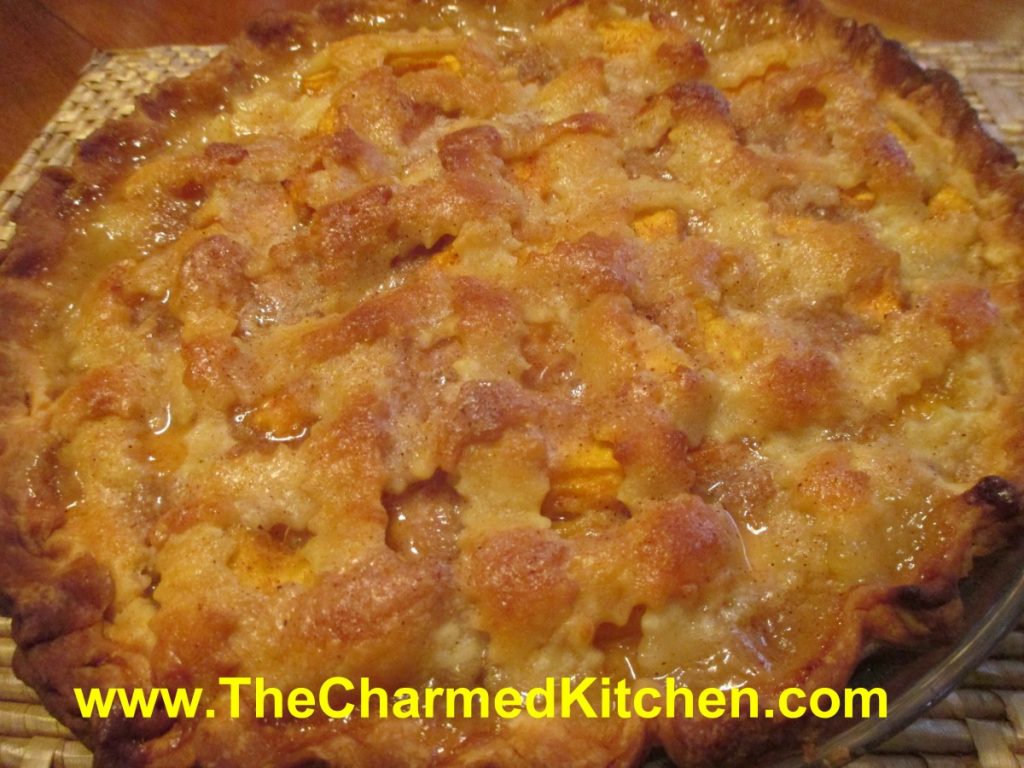 Sometimes, pie is more than just pie. Sometimes it is a memory and a tribute. We had a couple of peach trees at my parent's house. One year there were so many peaches, my dad had to prop up the branches to keep them from breaking under the weight of the fruit. I remember the peach pie my mom made with some of them. It was bliss.
I have a handwritten copy of the peach pie recipe from my Mom. Well, maybe a partial recipe is a better description. What I have is a list, with the filling ingredients and the words "350-45-50". No directions for how the ingredients are prepped or assembled. There was no recipe for the crust, but I knew the recipe she used, so that was not a problem. Her original recipe also did not have any cinnamon or vanilla, but I think she would have approved of their addition. I thought of her when I made this pie. Sweet memories, indeed.
Here is her recipe, as best I could figure it out.
Cinnamon-Vanilla Peach Pie
1 recipe pie crust- enough for two crusts- recipe follows
10 peaches
2 T. lemon juice
2 t. vanilla
1 c. sugar
1/3 c. flour
¼ c. butter
2 t. cinnamon
1 egg
2 T. cinnamon sugar*
Roll out 1 crust and place in a 9-inch pie pan. Set aside. Peel, pit and slice the peaches. Place in a bowl and toss with the lemon juice and the vanilla- set aside. In small bowl, combine sugar with flour, butter and cinnamon until mixture resembles coarse crumbs. Place about a third of the flour mixture in pie crust. Top with half of the peaches. Add another third of the flour mixture and then the rest of the peaches. Sprinkle remaining flour mixture on top of the peaches. Roll out and cut the remaining pie dough into strips and place in a lattice design on top of the pie. Trim off excess crust and crimp edges to seal. Combine egg with a tablespoon of water and mix well. Brush egg wash on lattice top and sprinkle with the cinnamon sugar. Bake in a 350 degree oven for 45-50 minutes. When I placed the pie in the oven, I put a baking sheet on the rack below the pie to catch drips. If edges start to get too brown, cover with foil. Makes 1 pie.
*Combine 1 teaspoon of cinnamon with 2 T. sugar
Flaky Pie Crust
2 c. flour
1 t. salt
3/4 c. lard, butter, shortening or coconut oil, chilled
1 T. cider vinegar
4-5 T. cold water
Combine flour and salt and cut in fat of your choice. Toss in vinegar and water 1 tablespoon at a time until dough holds together. Use a fork to toss the ingredients together and as soon as the mixture holds together stop adding water. Makes 2. Chill well before using.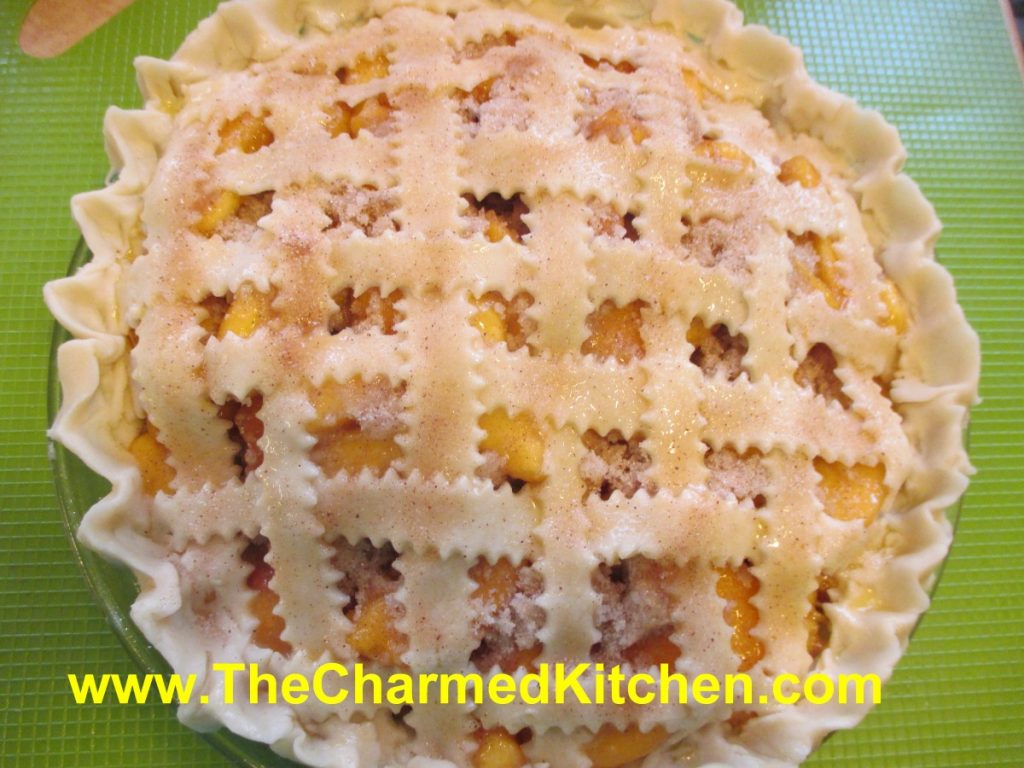 In class last night we were cooking with herbs. One of the dishes we made was pasta with pesto. There are reasons this dish is such a classic. The flavor is all about summer to me.
With cold weather on the horizon, I find myself wanting to enjoy fresh basil even more, while I can. Pesto is one of my favorite basil dishes. Pesto is most often made with basil, but there are a lot of variations out there. Pesto can be made from parsley, sun dried tomatoes, spinach or mint.
I must admit to being a big fan of the original.
I make pesto often when I have fresh basil. I also freeze basil with olive oil, so I can make it all year long. Pesto can be tossed with pasta, rice, potatoes or other veggies. I also like pesto on chicken.
Basil Pesto Sauce
1 c. tightly packed basil leaves
1/4 c. olive oil, or more as needed
3-4 cloves garlic
Salt to taste
1/2 c. pine nuts, sunflower seeds, pecans or walnuts- I like to toast the nuts first
1 c. fresh grated Parmesan cheese
Combine all ingredients, except the cheese, in a blender and mix until smooth. Stir in the cheese and toss over hot, cooked pasta or use as a sauce on meat and poultry. Sauce will keep a few days in the fridge and makes about 1 1/2 cups, enough for 1 lb. of cooked pasta.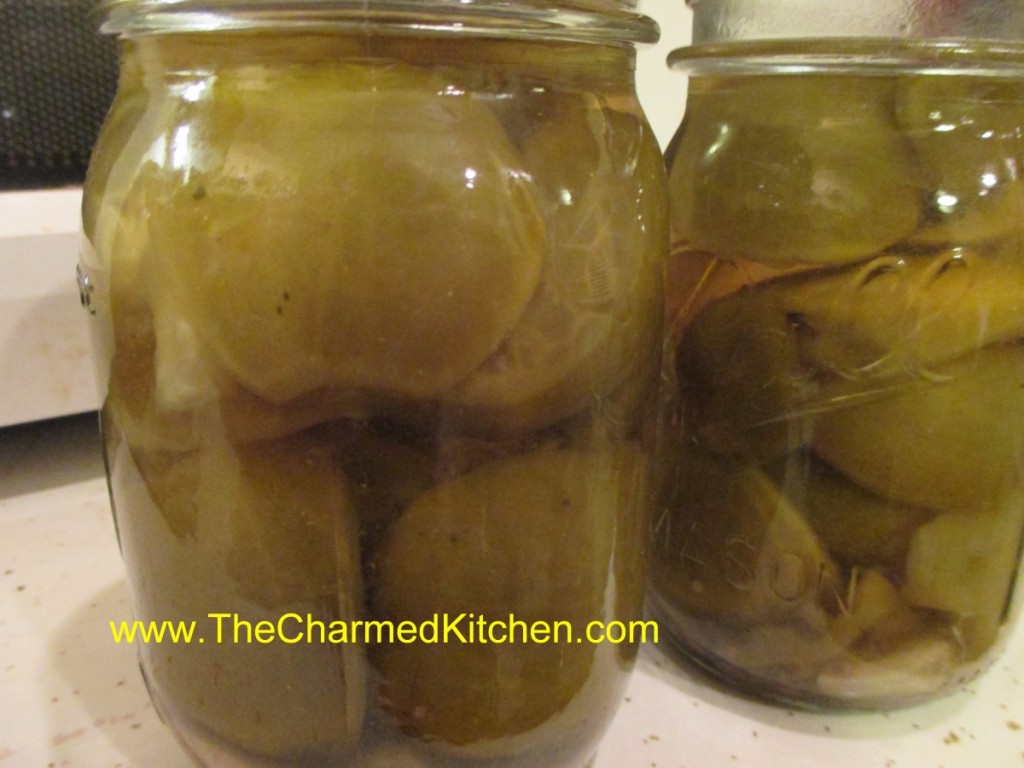 The garden season is winding down around here. A number of friends have posted pictures of their last ripe tomatoes of the year. That is a sad time. But, don't forget about those green tomatoes. You can make fried green tomatoes, which are great. You can also make these pickles. That way, you can enjoy those home grown tomatoes a little longer.
The recipe is pretty simple. I sometimes add a teaspoon of red pepper flakes to each jar for a spicy version. The hardest part is waiting. Once the tomatoes are canned, you have to give them 4-6 weeks for the pickling to finish. Trust me, it is worth the wait. While the recipe calls for using quart jars, you can use pints. Process for the same time as the quart jars. I like to use pints for the green cherry tomatoes.
Just because your ripe tomatoes are done for the year, harvest those green ones and get a little something more from your garden.
Green Tomato Dill Pickles – Kosher Style
Green tomatoes
6 ribs celery, cut in 2-inch pieces
6 Sweet green peppers
6 cloves Garlic, peeled
2 quarts water
1 quart vinegar- 5% acidity- you can use white or cider vinegar
1 cup canning or pickling salt
Dill, optional
Use small firm green tomatoes. Pack into hot, clean canning jars. Add to each quart jar a clove of garlic, 1 piece of celery, and 1 green pepper cut into fourths. Make a brine of the water, vinegar, and the salt. Boil with the dill for 5 minutes. Pour the hot brine over the pickles to within 1/2 inch of the top of the jar. Put on cap, screw band firmly tight. Process in a boiling water bath for 15 minutes. These pickles will be ready for use in 4- 6 weeks. Yield: About 6 quarts. Source: NCHFP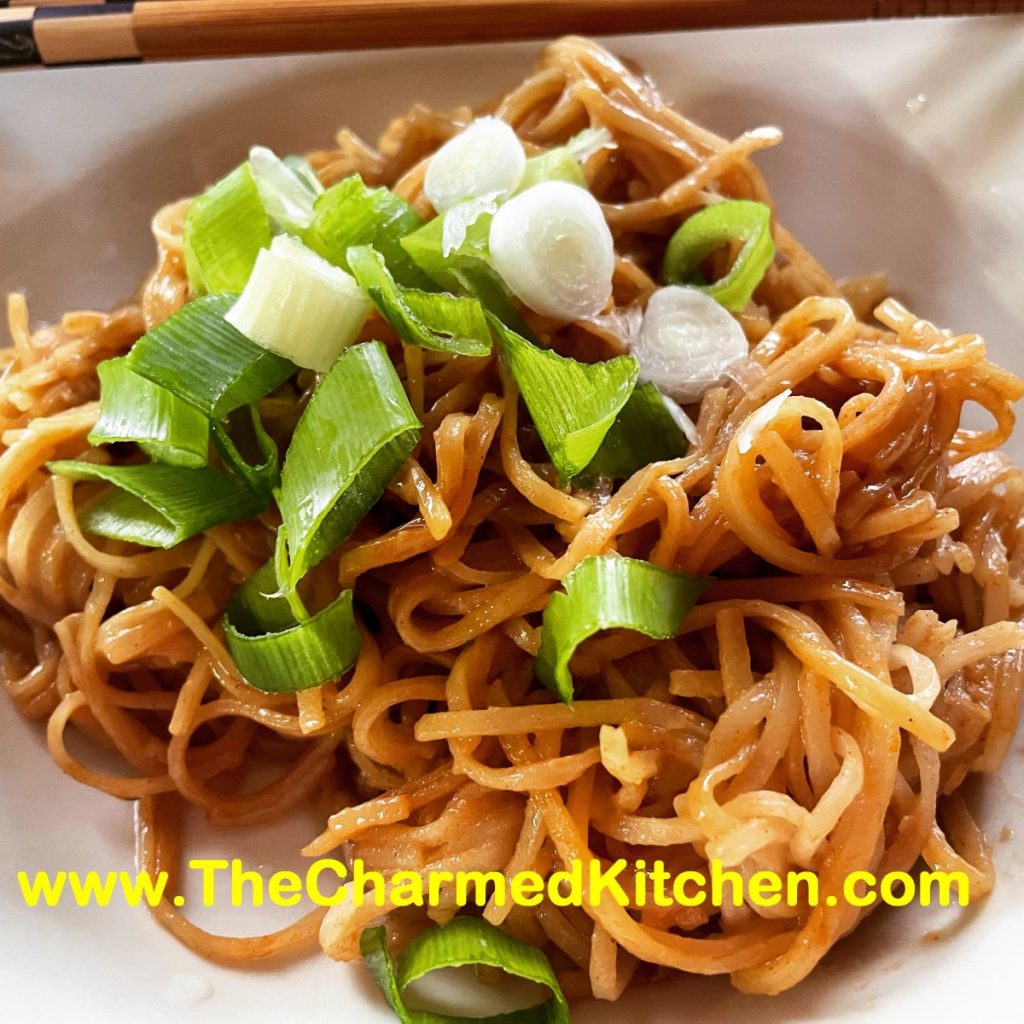 One of my favorite peanut butter recipes is this Indonesian peanut sauce. Peanut butter and peanuts can be used in so many savory dishes. This one packs a lot of flavor.
It is also a very simple recipe. The ingredients can be put together is just a few minutes. Great when you don't have a lot of time to simmer a sauce. The recipe calls for milk, but I use coconut milk sometimes and it works fine. You can also adjust the heat level to suit your taste.
Once your sauce is ready, just toss with hot pasta and serve. I sometimes top with green onions or chopped peanuts- or both!!
Indonesian Peanut Sauce
1/3 c. peanut butter
1/3 c. milk
1/3 c. chicken or vegetable broth
1/2 t. crushed red pepper
1-2 cloves garlic
1 t. fresh grated ginger
1 t. soy sauce
Dash hot red pepper sauce
Salt and pepper to taste
Combine all ingredients in a blender or food processor until smooth. Toss with hot pasta.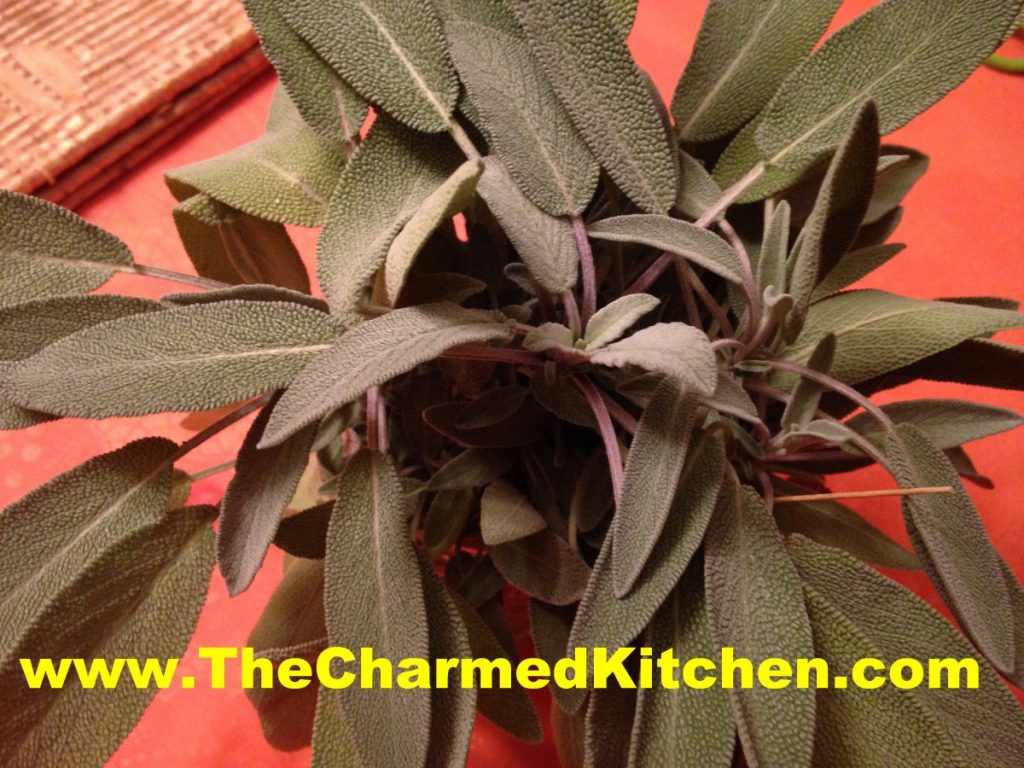 Sage deserves better. It is a wonderful herb, but I think it doesn't get used enough. Like rosemary, sage has strong flavor, and can overpower a dish if used too liberally. The secret is to use a light hand with sage. Dried sage has a more concentrated flavor than fresh. If you haven't cooked with sage lately, maybe you should.
Traditionally used in poultry stuffing, sage is wonderful with meats, stews, and soups. It can also be used with shellfish and other seafood. Sage pairs nicely with cheese, and in dips, in poultry seasoning, sausages, and with any wild game, especially venison. I love to add sage to winter squash soup and pumpkin dishes, too.
A fun addition to any plate is fried sage leaves. Just drop a few leaves in a pan with a small amount of hot oil. They crisp right up.
Sage is also one of the easiest herbs you can grow. It is a hardy perennial that thrives in a sunny location, although it will tolerate some shade. Deer seem to leave it alone, too. The reward is fresh sage leaves all season long. You can freeze or dry sage leaves for use year round.
So here are some recipes for using sage. Enjoy!!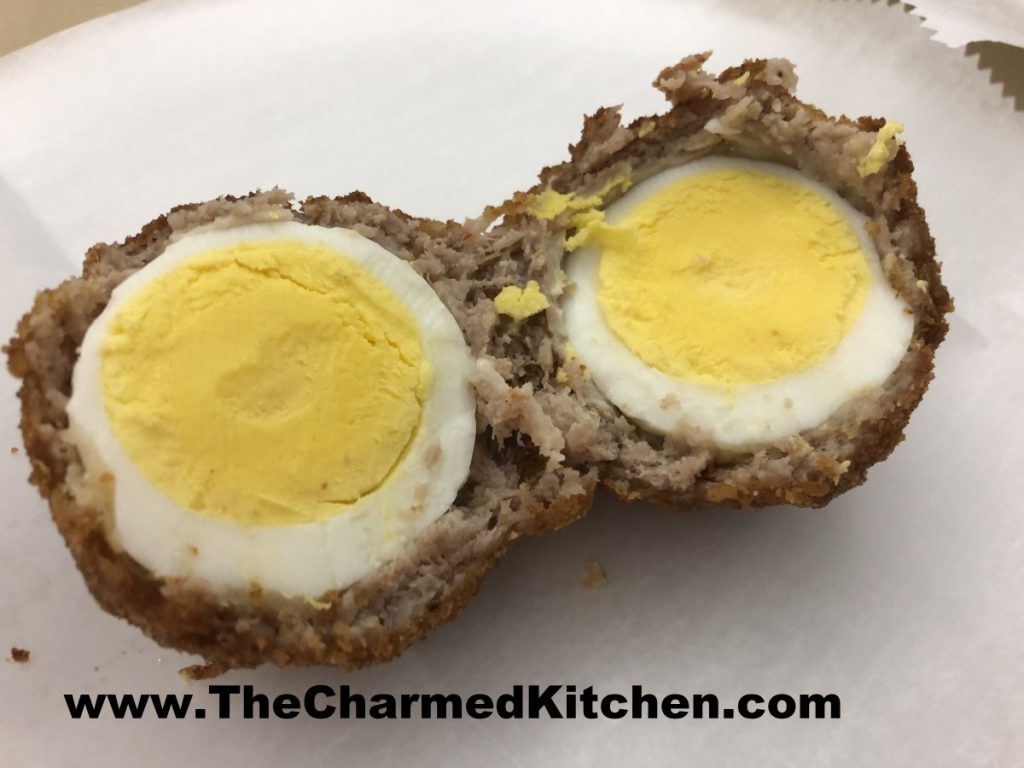 Scotch Eggs
1 1/4 lbs. bulk country style or herb sausage
1 t. sage
1/2 t. thyme
1/4 t. cayenne pepper
4 hard cooked eggs, peeled
1/2 c. flour
2 raw eggs, beaten
1-c. fresh bread crumbs
vegetable oil for deep frying
Combine sausage and flavorings and mix well. Divide into 4 equal portions and flatten. Place an egg on each flattened sausage piece and press sausage to completely cover each egg. Dredge eggs in the flour, and then dip in the eggs. Roll in the breadcrumbs and fry in 2 1/2 inches of oil (heated to 350 degrees until well browned. This will take about 10 minutes. Drain. Keep warm until served. Makes 4.
Breakfast Sausage
2½ lbs. ground pork or turkey (leave on a little fat)
1 T. dried sage
2 t. salt
2 t. pepper
1 t. dried marjoram
½ t. dried thyme
¼ t. allspice
¼ t. nutmeg
¼ t. dry mustard
⅛ t. cloves
pinch of cayenne pepper
⅓ c. warm water
Mix herbs and spices with water and let stand 10 minutes. Add the water and spice mixture to the meat and blend thoroughly. Form into patties, and chill or cook immediately. Patties can be fried or baked. This sausage can also be frozen for later use. Makes almost 3 pounds.
Dressing/Stuffing
1 c. sliced mushrooms
¾ c. diced celery
3 T. minced onions
2 T. chopped parsley
4 T. butter
4-5 c. bread cubes
salt and pepper to taste
¼ – ½ c. turkey or chicken broth if making dressing
Sauté vegetables in butter until tender. Add bread and seasonings and toss to coat. Stuff into turkey just before cooking or add broth and place in covered casserole, cooking for 45 minutes to an hour at 350 degrees. When making stuffing allow ¾ c. per pound of turkey. You may want to stuff the bird and still make extra dressing for the next day. When making dressing be sure to cover the pan well to keep the dressing from drying out.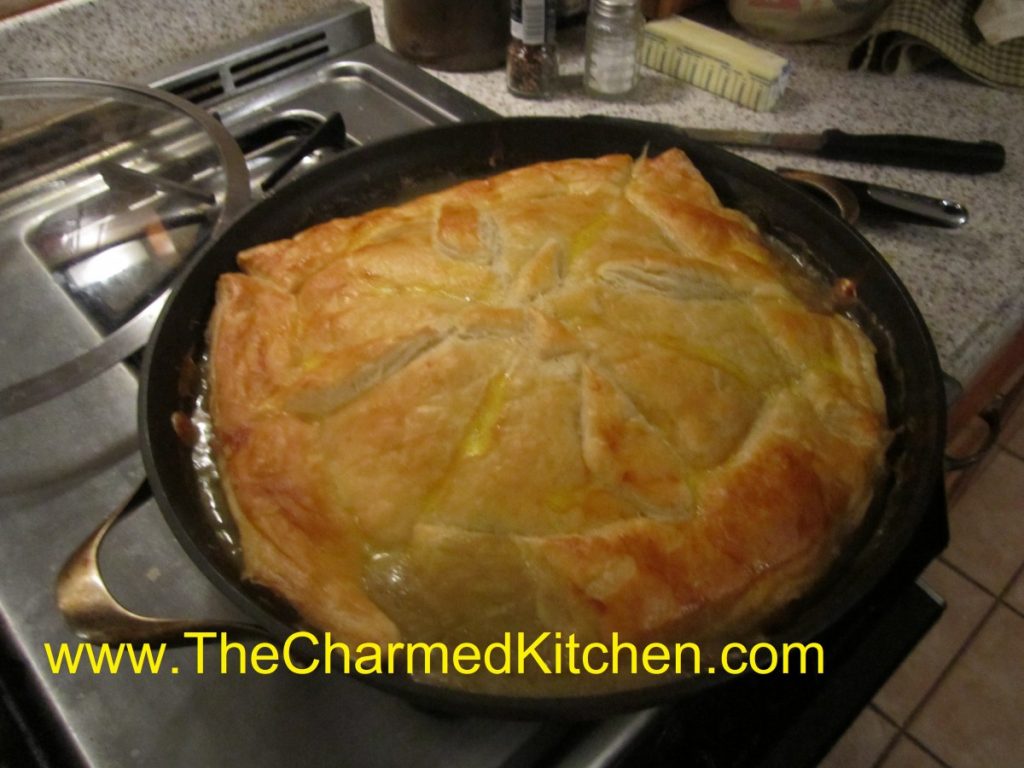 Amy's Skillet Chicken Pot Pie
¼ c. olive oil
2 T. butter
1 sweet onion, chopped
4 parsnips, peeled and sliced
4 cloves garlic, minced
1 tablespoon chopped fresh sage
1 small bunch kale, center ribs and stems removed, leaves chopped
Kosher salt
freshly ground pepper
¼ cup all-purpose flour
3 cups low-sodium chicken broth
2 T. sherry
½ small butternut squash, peeled, cut into 1/2-inch pieces (about 1½ cups)
½ of a roasted chicken- meat removed from bones, torn onto bite sized pieces – about 1½ cups of meat
1 sheet frozen puff pastry, thawed
1 large egg
Place a rack in upper third of oven; preheat to 425°. Heat oil in a deep 12-inch cast-iron or other heavy ovenproof skillet over medium-high heat. Add onions; cook, stirring occasionally, until beginning to brown, about 4 minutes. Reduce heat to medium-low. Add parsnips, garlic and sage to skillet and cook, stirring occasionally, until garlic begins to brown, about 2 minutes. Add kale and season with salt and pepper. Cook, tossing often, until wilted, about 4 minutes. Sprinkle flour over. Cook, stirring constantly, for 4 minutes. Stir in broth, 1/2-cupful at a time, then add squash. Bring to a boil, reduce heat, and simmer until squash is just softened and broth is thickened, 8-10 minutes. Add chicken to skillet, stir, and season with salt and pepper. Unfold pastry and smooth any creases; place over skillet, allowing corners to hang over sides. Whisk egg and 1 teaspoon water in a small bowl. Brush pastry with egg wash; cut four 1-inch slits in top to vent. Bake pot pie until pastry is beginning to brown, 15-20 minutes. Reduce oven temperature to 375° and bake until pastry is deep golden brown and crisp, 15-20 minutes longer. Let cool for 10 minutes before serving.
Spiced Yellow Split Pea Soup
1 lb. yellow split peas, rinsed
8 c. stock or water
2 c. chopped onion
2 carrots, peeled and sliced
3 potatoes, peeled and cubed
½ lb. sliced green beans
1 T. parsley
2-3 t. hot pepper sauce
1 t. chopped fresh sage- or ½ t. dried sage
1 t. dried thyme
1 t. ginger
1 t. cumin
1 t. turmeric
½ t. white pepper
2 cups diced ham
Salt to taste
Note: you can use 1 teaspoon liquid smoke if omitting meat.
Combine peas, water or stock and simmer, covered, about an hour, stirring occasionally. Add remaining ingredients, except salt, and cook, covered, over low heat for about 60 minutes. Add salt to taste. Freezes well. Serves 6-8.
Poultry Seasoning
¼ c. dried parsley
3 T. dried marjoram
3 T. dried rosemary
3 T. dried thyme
2 T. dried savory
1 T. celery seed
1 T. dried sage
2 t. dried oregano
2 t. dried basil
1 t. ground allspice
1 t. fresh ground pepper
Combine all ingredients in a blender. Store in a cool, dry place to maintain freshness.
Sage Rolls
¾ c. milk
½ c. sugar
1/3 c. butter
1 t. salt
2 packages active dry yeast
½ c. warm water
4½.-5 c. bread flour
½ c. chopped green onion or chives
1 T. dried sage
2 eggs, lightly beaten
Heat milk to almost simmering, being careful not to bum. Stir in sugar, butter, and salt. Cool milk to lukewarm. Dissolve yeast in warm water. Set aside. Place 2 cups of flour in a large bowl. Add the milk mixture, and beat together. Stir in yeast mixture, sage, and eggs. Beat with an electric mixer for 4 minutes. Gradually stir in enough of the flour to make a soft dough that leaves the sides of the bowl. Tum dough onto a floured surface and knead until the dough is smooth and elastic, about 8 – 10 minutes. Place the dough in oiled bowl, turning to grease the top. Cover, and allow dough to rise until doubled in bulk, about 45- 55 minutes. Punch dough down, tum onto a floured surface, and cover with the bowl. Allow the dough to rest 15 minutes. Divide dough into 24 – 32 pieces, depending on the size you like. Shape dinner rolls as desired. I like to roll pieces into 6 inch ropes, and then tie them into a loose knot. Place the rolls onto greased baking sheets, allowing them room to grow. Cover, and let rise until doubled in bulk, about 45 minutes. Bake rolls in a 350 degree oven until golden brown, 15- 18 minutes.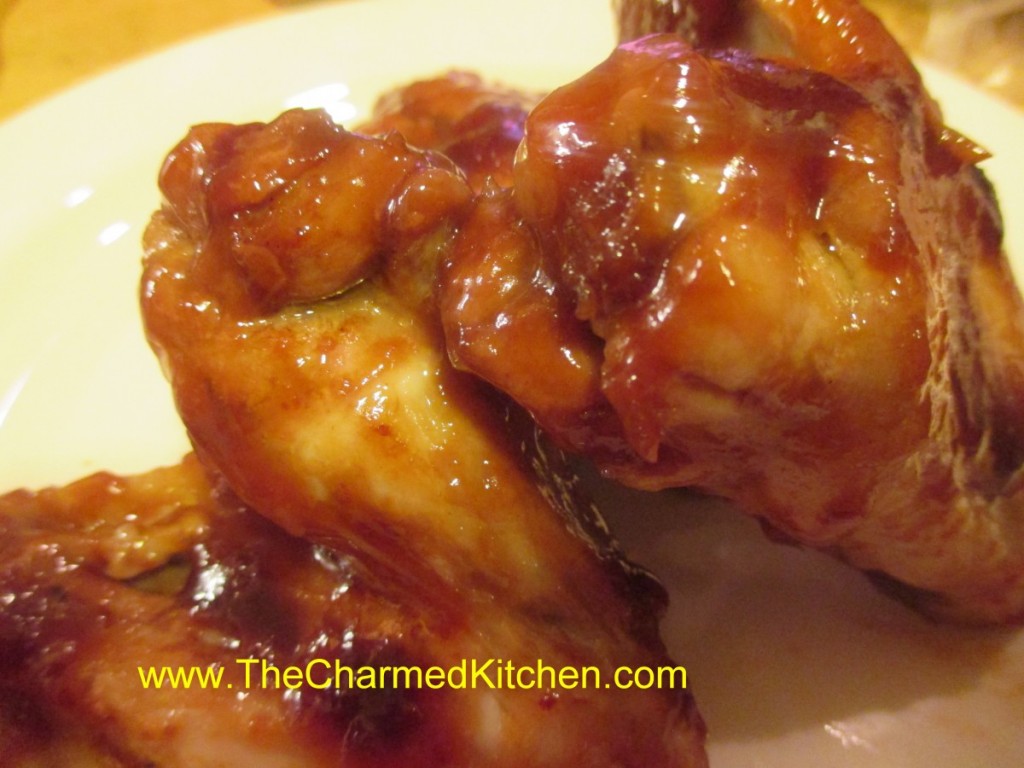 I love when local fruit is in season. I found myself with lovely red plums and I decided to use some of them to make a sauce for chicken wings. The sauce came out really nice.  I started with onions, garlic and plum puree. I added more ingredients as I went until I felt the sauce had the flavor I was going for. This sauce/glaze would be great on pork or duck, too.
I pan fried my wings, but they could be grilled and basted with the sauce instead, or baked in the oven.
Plum Sauce/Glaze
2 T. oil, butter or bacon fat- I used bacon fat
1 medium onion, minced
2-3 cloves garlic, minced
1 c. plum puree made from about 1 lb. of plums
¼ c. cider vinegar
2 T. honey
1 T. hot sauce
1 t. fresh grated ginger
Salt to taste
I started by peeling the plums. You could leave the skins on, if you like, but I prefer them off. I put the plums in boiling water for a minute and then in cold water. The skins came right off. I removed the pits and pureed the plums- I ended up with a cup of fresh plum puree. Saute onion in a little bacon fat- you could use butter or oil.  Add garlic once the  onions are tender. After that, add the plum puree and the rest of the ingredients. Let it cook for about 10 minutes to thicken and give it a taste. I decided to smooth the sauce out in the blender but it would be fine to leave it chunky. Makes about 1 1/2 cups.
To cook the wings I just pan-fried them. I had just over a pound of wings. I cooked them in a skillet, covered for about 20 minutes, turning a couple of times. I poured the sauce over them and turned the heat down to medium. I let them cook, covered, another 10 or 15 minutes. Once I was sure the wings were cooked through, I uncovered them and let the sauce cook down and thicken a little. It created a nice glaze on the wings. Easy and very tasty.
I ended up pureeing more plums and tossed them in the freezer so I can make this sauce again when the weather is chilly and no fresh plums are around.