If you are concerned about keeping away vampires this Halloween, you might want to make this recipe for cheesy garlic toast. Garlic is widely accepted as a repellent for vampires- and a lot less messy than a stake through the heart.
This is one of my favorite appetizers. I make them a few times a year, but they are extra fun to serve at a Halloween party.
A mixture of garlic and onions are cooked in butter, then spread over the bread slices. That would be plenty for most garlic bread- but you take it up a notch with a cheesy/ mayo mix on top. Baked for just a few minutes- these are always a hit. They can be served as an appetizer, or as a side with dinner.
Vampire Chasers

1 French baguette, cut into 3/4 inch diagonal slices
1 large minced onion
8 cloves minced garlic
1/4 cup butter
2 cups shredded mozzarella cheese
1/2 cup grated Parmesan cheese
1 cup mayonnaise
Slice the French baguettes diagonally into 3/4 inch slices. In a medium skillet, over medium heat, melt the butter. Combine the onions and garlic in the skillet. Cook and stir until tender. Set aside to cool. In a mixing bowl, combine the mozzarella cheese, Parmesan cheese and mayonnaise. On a cookie sheet, arrange the French bread slices in a single layer. Spread the onion and garlic mixture on the bread slices. Spread the cheese and mayonnaise mixture over the onion and garlic mixture on the bread slices. Bake in a 400 degree oven for 10 minutes or broil about 5 minutes, until the cheese is bubbly and slightly browned. Serve immediately.
If you are looking for a quick spooky decoration/treat idea, you might want to make some candy spiders. These are about the size of a tarantula. Super simple, and kids can make them, too. You only need a few ingredients.
The body is made from marshmallows, the legs are chow mein noodles and the eyes are small candies. Sixlets work well.
I used melting chocolate, but you can use any kind of chocolate you like. To start, melt some chocolate. Dip the chow mein noodles in the chocolate and tap gently to remove excess. I leave one end un-dipped to make it easier to stick in the marshmallow later. Allow to harden up before going to the next step. I set them on a flexible cutting board, but wax paper is good, too. You have to peel them off later, a flexible surface is best. You'll need 8 for each spider- so be sure to make enough. Allow for breakage.  Set a marshmallow flat side down and poke 4 holes in each side, 8 total. I used a bamboo skewer. Stick a noodle "leg" in each hole. Spoon chocolate over the marshmallow until coated. Whatever drips off can be re-melted and used again. While the chocolate is still soft, press 2 candy eyes into place. Hold them for a minute to be sure they are secure. Now, you can decorate cakes with them, use them on a dessert tray- or just eat them.
Chow mein noodle legs
Insert legs into marshmallow
Spoon chocolate over the marshmallow to cover it.
I needed a recipe using pesto sauce for a recent program. I didn't want to just toss it in pasta, so I decided to make a cheese ball. With the holidays coming up, it seemed like a good idea to make an appetizer. It came out really well. I used homemade pesto, made from frozen basil and oil.
This recipe is great when you want something that is quick to make. It tastes great, too.
Pesto Cheese Ball
8 oz. softened cream cheese
½ c. prepared pesto- recipe follows
½ c. chopped nuts, sunflower seeds or pine nuts
Combine cream cheese with pesto, stirring until well mixed. Form mixture into a ball shape and rolls in the nuts or seeds. Chill until ready to serve. Serve with crackers, veggies or pita bread.
Pesto Sauce
1 c. tightly packed basil leaves
1/4 c. olive oil
3-4 cloves garlic
Salt to taste
1/2 c. pine nuts, sunflower seeds or walnuts*
1 c. fresh grated Parmesan cheese
Combine all ingredients, except the cheese, in a blender and mix until smooth. Stir in the cheese and toss over hot, cooked pasta or use as a sauce on meat and poultry. Sauce will keep a few days in the fridge and makes about 1 1/2 cups, enough for 1 lb. of cooked pasta. Pesto can also be frozen. *since I was adding nuts to the outside of my cheese ball, I didn't add the nuts to my pesto sauce this time. I am sure it would have worked even if I had added the nuts.
I had harvested quite a bit of my lemon verbena and was trying to figure out what I wanted to do with it. I decided to make jelly.
Lemon verbena is a perennial in warmer climates. Where I live, you have to bring plants in for the winter, or replace the plants every year. For some reason, people get lemon verbena confused with lemon balm. Lemon balm, a member of the mint family, has a nice lemon fragrance, but is not nearly as intense as lemon verbena.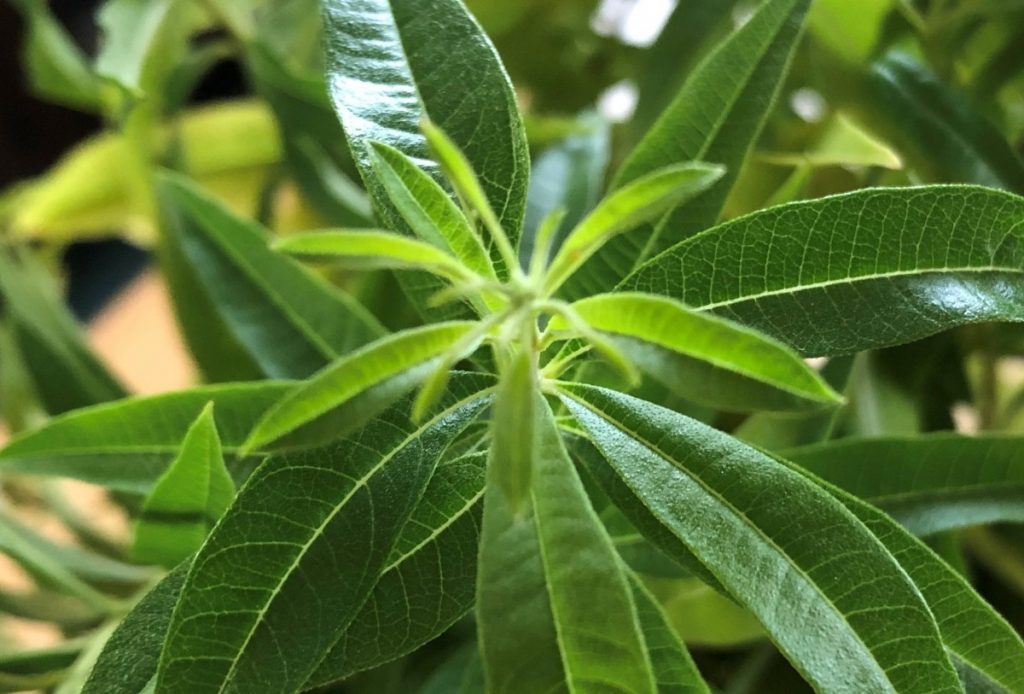 The jelly is pretty easy to make. You start by making a tea with the lemon verbena. You can do the same thing with other herbs, too. I ripped the leaves up a bit and had about 2 cups. I added 4 cups of boiling water to the leaves and let them steep until the water had cooled down. The tea was strong, which was what I wanted. I strained it out, then poured the mixture through a coffee filter to get it really clean. You'll need 3 1/2 cups of "tea" for each batch of jelly. Once you have your tea, you can make the jelly- directions follow.
Lemon Verbena Jelly
3 1/2 cups lemon verbena tea
1/2 c. lemon juice
1 box powdered pectin ( 1.75 oz.)
5 c. sugar
Wash and prep jars and get water bath heating up. Place tea in pan and add lemon juice and pectin. Bring mixture to a rolling boil over high heat. Add sugar and return to the boil. Stir often. Once mixture gets to a full rolling boil, boil 1 minute. Remove jelly from heat and skim off any foam. Ladle hot liquid into jars leaving 1/4 inch headspace. Wipe rims and adjust lids. Process in a boiling water bath for 10 minutes for 4 oz. and 8 oz. jars. Remove jars to cooling rack and check seals once they have cooled down. Yield: about 6 half pint jars or 12-13 (4 oz.)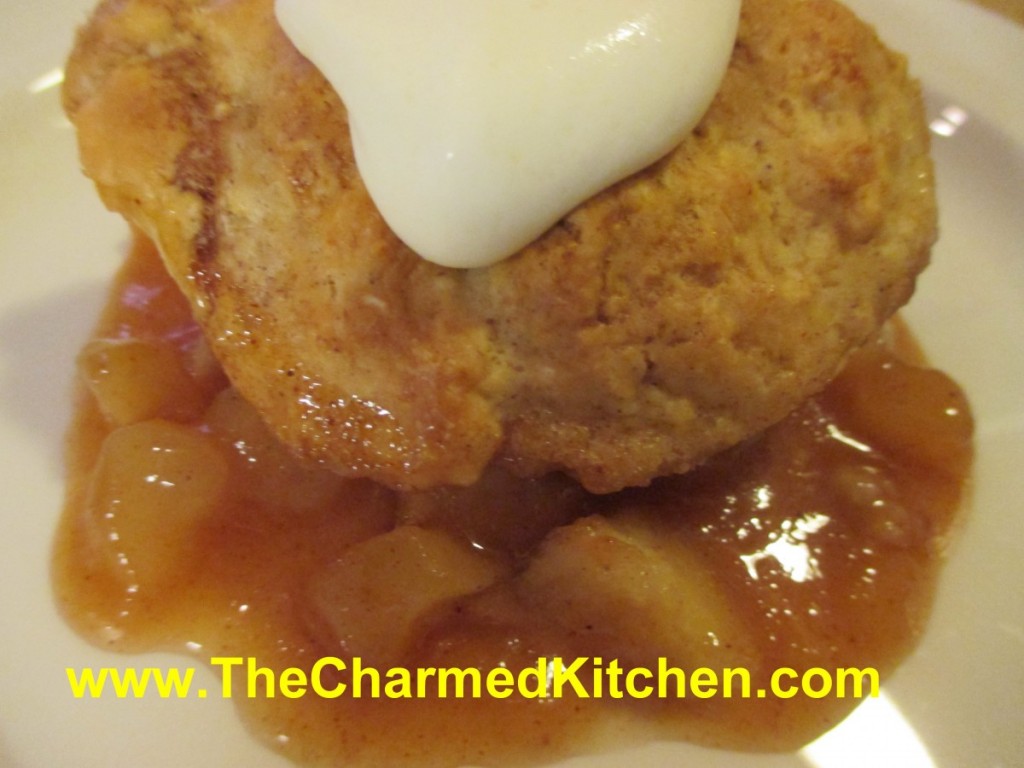 Cobbler is one of my favorite desserts for this time of year. I really enjoy making this pear cobbler for family and friends. Like apples, pears always remind me of Fall.
While cobblers can be made with any number of different fruits, I love using pears. It is one of the simplest desserts you can make from scratch, and one of my favorites, for sure.
In the time it takes to preheat the oven, you can have it ready to bake. This recipe calls for baking mix, like Bisquick or Jiffy Mix. I make my own- recipes follows- but use what you like.
The cobbler is fine served plain, or with a dollop of whipped cream or ice cream. It can also be served cold, but I prefer to serve it warm.
You can also make the cobbler with a combination of pears and apples.
Classic Pear Cobbler
4 c. peeled and sliced pears
½ c. sugar
1 T. plus 2/3 c. baking mix (Like Bisquick or Jiffy Mix or even homemade)- recipe follows
1-2 t. cinnamon
2 T. packed brown sugar
¼ c. butter
2 T. milk
In 1-quart shallow casserole, combine fruit, sugar, 1 tablespoon of the biscuit mix and cinnamon. In medium bowl combine remaining biscuit mix with sugar. Cut in butter to resemble coarse crumbs. Stir in milk to make a soft dough. Drop by spoonfuls over fruit mixture. Bake in a preheated 400-degree oven for 30 minutes, or until toothpick inserted into dough comes out clean. Let stand 5 minutes. Serves 4-6.
Baking/ Biscuit Mix
8 cups sifted, all-purpose flour
1 c. powdered milk
1 c. powdered buttermilk
¼ c. baking powder
1 T. salt
2 c. shortening*
Sift dry ingredients together 3 times. Cut in shortening to resemble cornmeal. Keep in an airtight container. Store in a cool dry place and use within six months.
*You can use butter or coconut oil in place of the shortening. Just store in the fridge, if you do. I use coconut oil.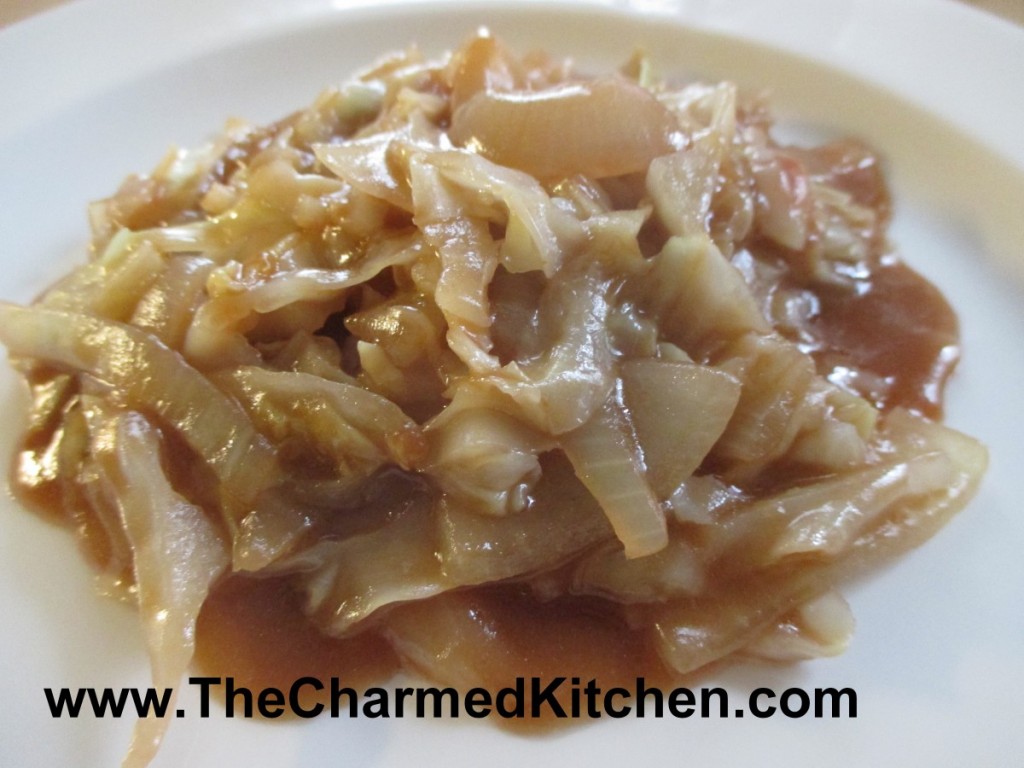 This cabbage dish is great served with pierogi, roast chicken or pork chops. Sometimes I just serve it over noodles. If you cut the cabbage into small pieces, you can also use it as a filling for pierogi. We made it in class last night and everyone loved it.
The recipe calls for using a paste-type soup base for flavoring. This was a little change from how my Mom made it, but it was hard to explain what she really did. Using the soup base was a way anyone could make this cabbage dish. Every time my mom roasted a chicken or maybe a pork roast, she would save all the drippings from the pan. She'd strain them and chill it to remove the fat. She would take the drippings and pop them in a container in the freezer. Once she had a "nice amount", she would use it to flavor the cabbage. You can see why we used the alternative soup base directions. You could also use chicken or vegetable stock, in place of the water for more flavor.
Here is the recipe. Hope you enjoy it as much as I do.
Sweet and Sour Cabbage
3 lbs. sliced cabbage, about a 3 ½ lb. head or 3 lbs. Cole slaw mix
1 onion, sliced
1 T. oil, butter, margarine or even bacon fat
3 c. water
1 T. paste type soup base or to taste
½ t. thyme
1 t. dillweed
1 t. marjoram
1 T. soy sauce
1 T. Worcestershire sauce
¼ c. balsamic vinegar
2 T. sugar
½ c. catsup
1 c. water
¼ c. flour
Sauté onion in oil until wilted. Bring water to boil in large pot. Add soup base and add cabbage. Stir in onions and remaining ingredients, except for the 1 cup of water and flour and cook, uncovered until cabbage is tender. This can take from 15-25 minutes, depending on the age of the cabbage and the size of the pieces. In jar with a tight- fitting lid combine remaining water and flour and shake until smooth. Add to cabbage mixture and cook, stirring until thickened, about 2 minutes. Adjust seasonings. This dish is great served alone, or with pork or chicken dishes or with potatoes.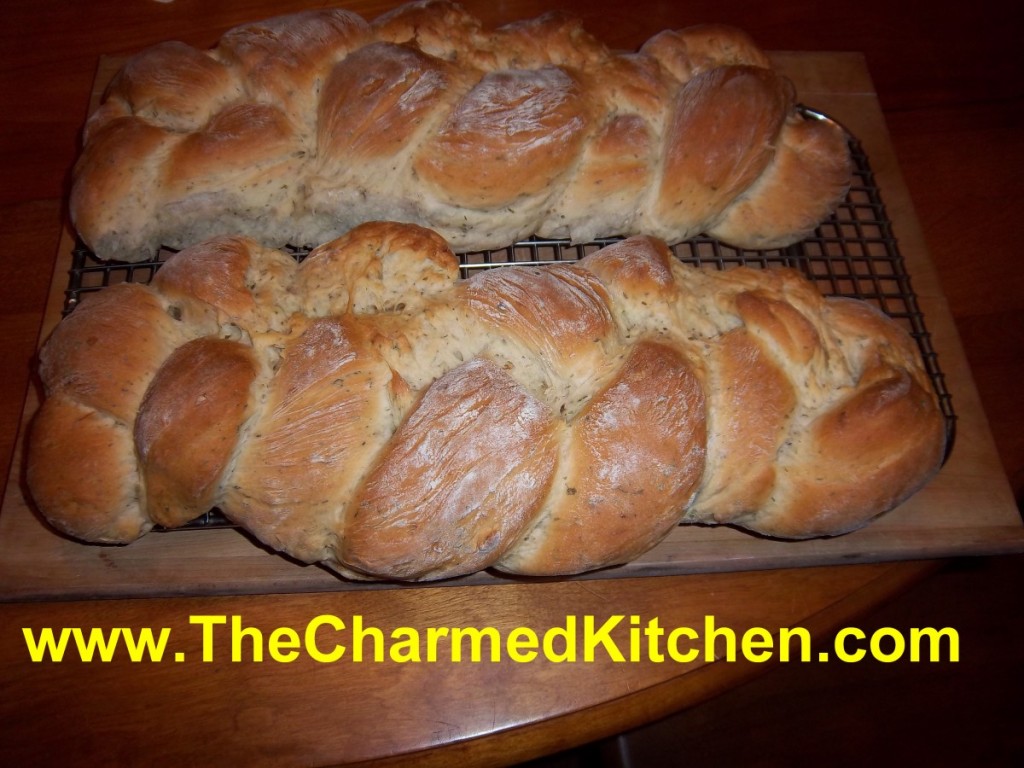 One of the benefits about baking your own bread is the aroma. The house gets filled with the most wonderful smells. In this case, the experience is even better because the breads I baked are filled with herbs and shallots, so those fragrances are also in the mix.
I like to make these loaves in braids and place them on a baking sheet- but they could just as easily be baked in bread pans for more traditional loaves. Great for sandwiches.
I like to toast some of this bread, and use as croutons or as a base for stuffing.
You can also slice the bread, brush with softened butter, then toast, for a twist on garlic bread. The garlic is already in the bread, but feel free to add more to the butter, before brushing it on the bread.
Braided Herb Bread
5 ½ -6 ½ c. flour
2 packages quick rising yeast
¼ c. sauteed shallots
2 T. each dried marjoram and parsley
1 T. each dried oregano and minced garlic
1 T. honey
2 t. dried thyme
2 t. salt
¼ c. olive oil
2 ¼ c. hot water
In a mixing bowl combine 2 c. of flour with the rest of the ingredients and mix until smooth. Beat with electric mixer 4 minutes then add 1-cup additional flour and beat 1 minute longer. Stir in flour ½ cup at a time until soft dough forms. Turn onto surface and knead, adding flour gradually until dough is smooth and elastic. Place dough in lightly greased bowl and turn to cover. Cover with a towel and let rise until doubled, about 30 minutes. Turn dough onto surface and cut in half. Cut each half into thirds. Roll each piece of dough into an 18-inch rope. Loosely braid three ropes together and repeat with the remaining dough. Place on greased baking sheet and cover until doubled in size, about 20 minutes.
Bake in a preheated 375-degree oven for 25-30 minutes, or until bread sounds hollow when tapped lightly. Makes 2.
Variation: Whole wheat: Add 2 cups of whole-wheat flour to replace 2 cups of white flour. Also try adding ¼ c. of wheat germ, oat bran or 2 tablespoons of seeds (sesame, pumpkin, sunflower, poppy, etc.)
Regular yeast can be used, but rising times will be longer and water should be warm, not hot.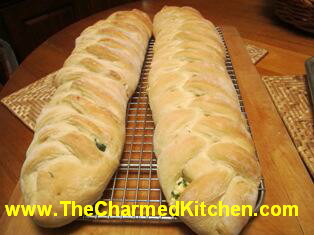 I love these filled breads. They aren't hard to make, and everyone seems to love them. They are filled with a combination of spinach, feta and Mozzarella cheese. They can be served as an appetizer or as a main dish.
Because you can swap out the fillings, you can make them to suit most any taste. I have a list of some other filling ideas at the bottom of this post.
While there are two loaves in the picture, that is because I doubled the recipe. The recipe makes one loaf.
I have made this recipe with plenty of different fillings. This just might be one of my favorites.
Spinach and Cheese Bread
3¼ c. all purpose or bread flour
1 T. sugar
1 t. salt
1 package quick-rising yeast
1 c. hot water
1 T. oil
Filling:
1 (10 oz.) package frozen spinach, thawed and squeezed dry
1½ c. shredded mozzarella cheese
1 c. crumbled feta cheese
2 T. chopped parsley
1 T. lemon juice
2 t. hot sauce, or to suit your taste
1 t. dill weed
Grease a large jelly roll pan and set aside. Place a shallow roasting pan on the stove and fill halfway with water. Start heating the water up. You'll need it later.
Prepare filling: Take spinach and place in a medium bowl. Combine it with cheeses and remaining filling ingredients. Use your hands and squeeze the ingredients together, partly to mix them up well, but also to get them to stick together a little. Set aside and prepare the dough.
Set aside 1 cup of the flour. Combine remaining flour with the other dry ingredients in a medium bowl. Stir in water and oil and gradually stir in enough flour to make a soft dough. Turn onto lightly floured surface and knead until dough is smooth and elastic, about 5 minutes. Roll dough into a rectangle about 16 x 8 inches in size. Spread spinach mixture down center of dough. Squeeze it a little, sort of in a tube shape. You need to fold the dough over this mixture, so pressing it together helps with the next step. Cut one-inch wide strips of dough from filling to edge on both sides. It will sort of look like fringe. Alternating sides, fold strips up and over the filling at an angle. Pinch the ends. Carefully lift loaf onto greased jelly roll pan and place at an angle, so it will fit. Cover with a towel, and place the jelly roll pan on top of a roasting pan, half-filled with simmering water for 15 minutes. Because quick-rising yeast is more heat tolerant, the simmering water helps the dough to rise faster. After 15 minutes, remove towel and place jelly roll pan in oven. Bake in a preheated 375-degree for 20-25 minutes, or until golden brown. Cool slightly before slicing. Serve warm and refrigerate leftovers.
Bread can be baked ahead of time and reheated later. To reheat: Wrap in foil and place in a preheated 350 degree oven for about 25 minutes. Loosen the foil after 10 minutes so the bread does not get soggy.
Note: The variations for this bread are almost endless. Some favorite combinations are ham and Swiss with mustard, roast beef and cheddar, chicken, broccoli and cheese, pizza with assorted fillings. You get the idea. Use your imagination and have fun. Just be careful not to overfill, or the bread will be hard to move, use fillings that aren't too runny and always use cold fillings. Warm fillings will make the dough soggy before baking.
If you want to use regular yeast, in place of quick rising yeast, use warm, rather than hot water. Also, don't let dough rise over boiling water. After kneading cover dough and let rise 45 minutes. Punch down and assemble as in original recipe. Cover with a towel and let rise until dough looks puffy, about 40 minutes. Bake as directed above. These breads can also be frozen.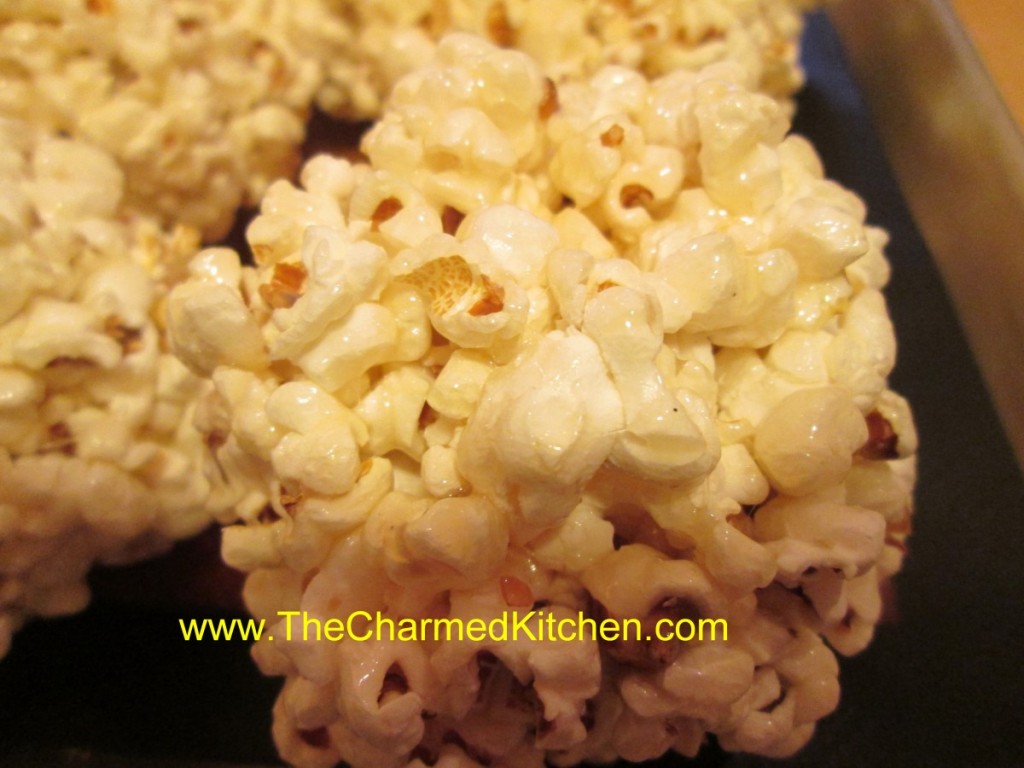 In a recent cooking camp with kids, we made popcorn balls. They loved making them. I was surprised that several kids had no idea what a popcorn ball was, before we made them in class.
We used to make them around Halloween, when I was a kid. They seem to be a part of more than a few Halloween parties when I was younger.
I don't make them often, but popcorn balls are always a special treat for friends and family.
This recipe is pretty easy. Kids, supervised, could help make them. You just have to make sure the mix cools down enough before you let them form the popcorn into balls.
I am a bit of a purist and enjoy them plain, but you can add Halloween themed candies to the mix, to dress them  up for a party. Candy corn or black and orange M&M's would both work.
The recipe calls for corn syrup. If you don't want to use corn syrup, my recipe for a corn syrup substitute, (sugar syrup) is listed below.
Homemade Popcorn Balls
9 c. popped popcorn
1 c. sugar
1 T. butter
1 T. vanilla
1 c. corn syrup*
Place popcorn in large bowl and set aside. Combine sugar, butter, vanilla and corn syrup in a saucepan. Heat and boil until thick, about 4 minutes. Pour over popcorn. Stir until well coated. Let cool until safe enough to handle. With buttered hands form mixture into balls. Store wrapped tightly in plastic wrap until ready to eat. Best eaten within a few days of making. Makes about 8.
*If you don't have corn syrup- or don't want to use it here is a way to make a substitute for it.
Sugar Syrup- corn syrup substitute
3 cups granulated sugar
1 cup Water
1/2 tsp. Cream of Tartar
1/4 t. salt
Combine ingredients in a large saucepan. Bring to a boil and cover the pot. Reduce to a simmer and cook covered for 5 minutes. Uncover and cook to soft-ball stage. Stir frequently.
Soft ball stage occurs at 235-245 degrees. This stage can be determined by dropping a spoonful of hot syrup into a bowl of very cold water. In the water, use your fingers to gather the cooled syrup into a ball. If it has reached soft-ball stage, the syrup easily forms a ball while in the cold water, but flattens once removed from the water.
Remove from heat. Cool and store at room temperature. It will keep well for a month or two.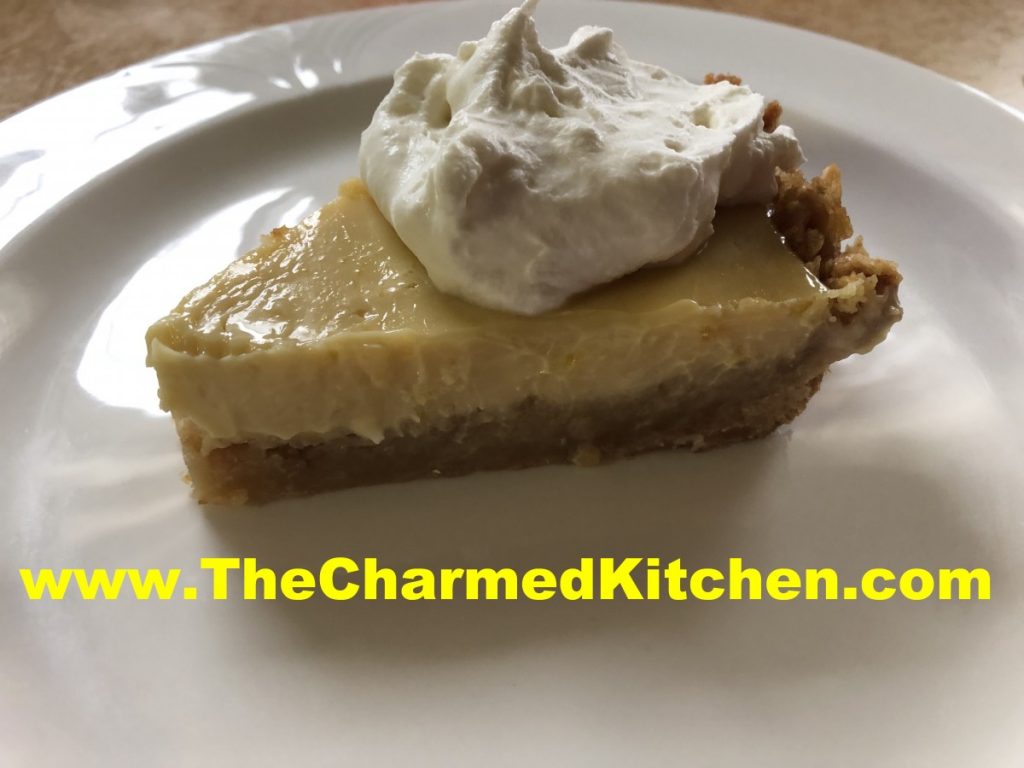 This might be one of the best lemon pies I have ever had. It was simple to make, with a surprise ingredient in the crust. That ingredient is saltine crackers! They work so well in this crunchy and slightly salty/slightly sweet crust. Perfect with the lemon filling.
I first heard about this pie in one of my cooking classes. A woman mentioned it to me after class. Said she saw it on a TV show. I looked for it online. Odd thing was that every recipe was exactly the same. Even down to the wording in the directions.
I found one reference to the recipe first showing up in Cook's Country Magazine about 4 years ago. I prefer to credit the source of a recipe, when possible.
I did change a couple of things from the original recipe. I added more lemon zest- from 1 tablespoon to 2. What can I say? I like a zesty pie.
I also thought it was odd to make so little whipped cream for the topping. Assuming you had a cup of whipping cream to start with, you use 1/4 cup in the pie filling. That leaves you with 3/4 cup of whipping cream. The recipe only calls for whipping up 1/2 a cup of whipping cream. I rounded it up in the recipe to 3/4 cup. Honestly, I would make even more topping the next time.
My guests really enjoyed the pie. I think you will, too.
North Carolina Lemon Pie
Crust
6 oz. saltine crackers (about 1½ sleeves)
1/8 teaspoon salt
10 tablespoons unsalted butter, melted
1/4 cup light corn syrup
Filling
1 can sweetened condensed milk (14-ounce)
4 large egg yolks
¼ cup heavy cream
1-2 T. grated lemon zest- I used 2 tablespoons
½ cup lemon juice
Topping
¾ c. heavy cream, chilled- increase from original recipe. I think even more whipped cream would be better. Just my preference.
1 T. sugar
1 t. vanilla extract
Preheat your oven to 350 degrees. Add the saltines and salt to the food processor and pulse until you have coarse crumbs (about 15 pulses). Add the melted butter and corn syrup and pulse until the crumbs are well combined.* Add the cracker mixture to a greased 9-inch pie plate. Use the bottom of a dry measuring cup or glass and press the crumbs into an even layer on the bottom and up the sides of the dish. Place the pie plate on a baking sheet and bake until light golden brown, 17 to 19 minutes. Prepare filling while the crust is baking. Whisk the sweetened condensed milk, egg yolks, cream, and lemon zest together in a bowl, add the lemon juice and whisk until well combined. With the pie plate on the baking sheet, remove it from the oven and pour in the filling (the crust does not need to be cooled) and place it back in the hot oven. Bake until the edges of the pie are set but the center still jiggles, 15 to 17 minutes. Place the pie on a wire rack and let it cool completely. Refrigerate the pie until completely chilled.
For the topping, use a stand mixer fitted with a whisk and whipped the cream, sugar, and vanilla on medium low until foamy (about a minute). Increase the mixer speed to high and whip until stiff peaks form, 1 to 3 minutes. Spread the whipped cream over the top of the pie and serve cold.
*Note: I will admit to just crushing up the crackers by putting them in a bag and using a rolling pin. I had a few larger pieces. Still worked. I think it gave the crust a crunchier texture. Although it sank down into the pie pan when I baked it- so maybe next time I will crush the crackers a little more.