These are a fun appetizer to serve at parties. Sauerkraut balls are a mixture of sauerkraut, sausage, cream cheese and the ingredients you would see in traditional meatballs. These are not meatballs, though. They have a very different flavor and texture. The sauerkraut gives them a unique flavor. They are a big hit at parties.
I bake mine, but there are directions for baking or frying.
Enjoy!!
Sauerkraut Balls
1 pound pork sausage
1 small onion, minced
2 cups sauerkraut, well drained and finely chopped
3 T. bread crumbs
1 teaspoon whole grain or Dijon mustard
½ t. garlic powder
⅛ t. ground black pepper
4 ounces cream cheese, softened
¼ c. fresh chopped parsley
¼ cup all-purpose flour
1 large egg, beaten
¼ cup milk
¾ cup dry bread crumbs
1 quart vegetable oil for frying, or as needed (Optional)
Heat a large skillet over medium-high heat. Cook and stir sausage and onion in the hot skillet until sausage is crumbly and browned, about 10 minutes. Drain grease and allow to cool slightly. Transfer sausage mixture into a large bowl. Stir in drained sauerkraut, bread crumbs, mustard, garlic powder, and pepper. Combine cream cheese and parsley in a small bowl; mix into sauerkraut mixture. Cover and refrigerate for 1 hour or longer.
Place flour into a shallow bowl. Whisk together egg and milk in another bowl. Place 3/4 cup bread crumbs in a third bowl. Shape sauerkraut mixture into 3/4-inch balls. Coat balls in flour, then dip in egg mixture and roll in bread crumbs to thoroughly coat. Chill the balls for 30 minutes before cooking. You have two options at this point when it comes to cooking them. You can fry the sauerkraut balls or you can bake them.
To fry: Heat oil in a deep fryer to 375 degrees F (190 degrees C). Working in batches, fry balls in hot oil until golden brown, 2 to 3 minutes. Drain on a paper towel-lined plate and serve hot.
To bake them: Place on silicone lined or lightly greased baking sheet. Bake at 375 for about 20 minutes.
Note: I sprayed them with a little non- stick cooking spray or you can drizzle a little oil on them. You can also bake them as is. I like the finished texture better with a little oil added before baking. Serve hot. I like to serve them with honey mustard or barbecue sauce. Makes about 2½ dozen.
You can cook them ahead of time, then reheat before serving. To reheat, bake at 350 degrees F for 10-15 minutes.
After breading, the balls can be quick-frozen on a cookie sheet, then stored in freezer bags. They do not need to thaw before frying or baking. Add 8-10 minutes to baking time if using from the freezer.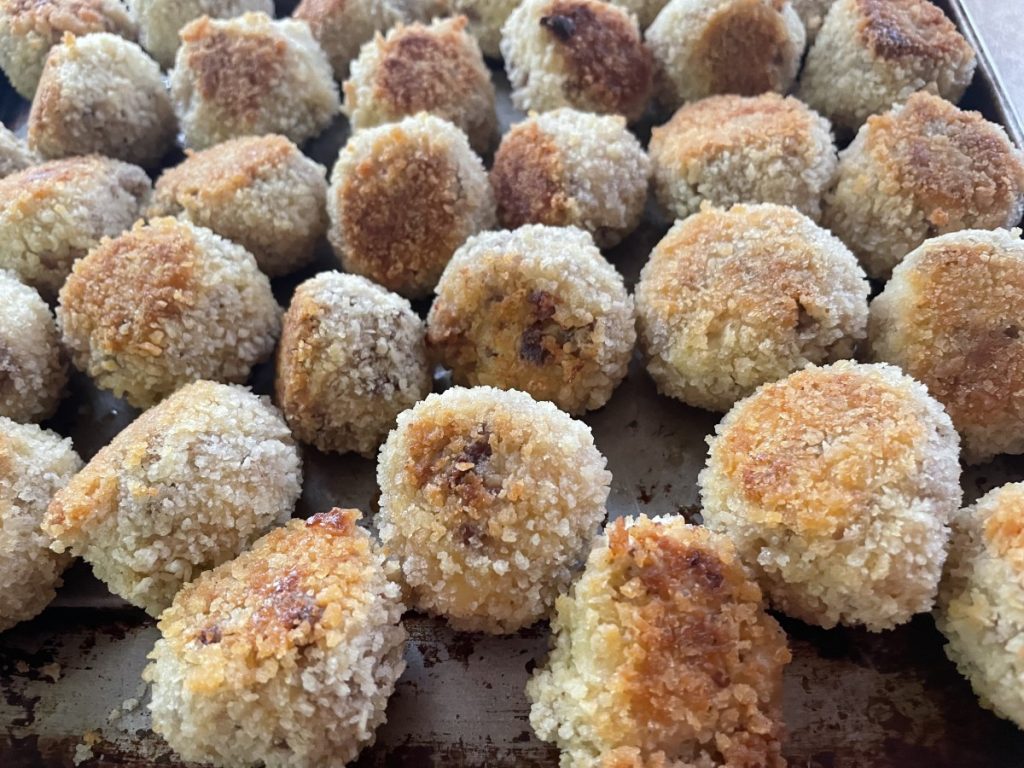 Sometimes the best recipes happen when you don't have time to plan. This is one of those recipes. Even better because it only uses 4 ingredients. Fun for the 4th of July, too.
I needed an appetizer, but didn't have extra time for prep. I also did not have time to go to the store, so used what I had on hand. I had some boneless chicken breasts. I could also have used boneless thighs or even chicken wings. I used what I had.
I cut them into strips and poured a bunch of hot sauce over them. Put them in the fridge to marinade overnight.  The next day I just tossed the chicken strips in breadcrumbs and fried them in a little oil. Served with extra hot sauce on the side, they were a big hit.
Firecracker Chicken

2 lbs. boneless chicken, I used breasts, but thighs would be good, or wings
3/4 c. hot sauce, plus extra when serving
2 c. bread crumbs
2 c. oil, for pan frying
Cut chicken into strips and place in a bowl. Pour over the hot sauce and stir to coat evenly. Cover and chill overnight, or even for a couple of days. Place bread crumbs in a plastic bag. Place a small handful of chicken in the bag and shake to coat. Place on a plate and continue with the rest of the chicken. Heat oil in skillet to 350- 375 degrees. fry chicken in several batches- you don't want to crowd them in the skillet- that will make the oil col down too much. Fry for a minute or two per side. Remove to platter lined with paper towels and cook the rest of the chicken. Keep chicken warm until ready to serve. serve with extra hot sauce on the side. Serves 8 or more as an appetizer, but can be served as a main dish, too.