I love all sorts of sorbets. I make them all year long, but seem to make more when summer arrives. The basic recipe is simple –  just pureed fruit, some sweetener and usually, some flavoring or herb, to add interest. They are so light and refreshing. The perfect dessert for summer.
So far I have make sorbet from pineapples, mangoes, strawberries, blueberries (with red grapes), peaches, cranberries and coconut. I am sure I have forgotten some of them.
I picked up fresh cherries at the market, so I could make cherry sorbet.
Fresh cherries are one of my favorite fruits of all time. I love both sweet and sour cherries. For the sorbet, I just pitted a pound of cherries, added sugar and some lemon juice. It needed a little something more- so I added almond extract. Really worked well with the cherries.
So here is the recipe. Simple and sweet.
Cherry Almond Sorbet
1 lb. cherries, pitted
3/4 c. sugar, or to taste*
3 T. lemon juice – it helps the cherries retain their color
1 t. almond extract
Place cherries in blender or food processor, with the sugar and extract. Blend until smooth. Adjust sweetener to suit your taste. Place in a container with a lid and freeze. Once mixture is frozen, remove from the freezer, break into chunks and place in food processor. Process until mixture looks creamy and smooth. You might have to do this in batches, depending on the size of your food processor. Eat or return to freezer until ready to use. Makes just over a quart of sorbet.
*Feel free to use other sweeteners you like in place of the sugar. Honey or maple syrup would both work nicely.
With cherries in season, I have been using them in all sorts of dishes. I think these blintzes are one of my favorites. They make a great dessert. I just dusted them with powdered sugar, but you can also top them with ice cream or whipped cream. They remind me a warm cherry pie.
Blintzes also make a great breakfast or brunch dish.
I didn't use a lot of sugar in my pie filling because I was using sweet cherries. I also think with the powdered sugar on top, they are sweet enough. Adjust the sugar in the recipe to suit your own taste. If using tart cherries, you might want to add a little more sugar.
They are easy to make, too. We made them in cooking camp this week and the kids loved them.
These are not traditional blintzes. The secret is that the blintzes are made with flour tortillas instead of traditional crepes. I love the texture flour tortillas take on when softened in milk. They really work well, and with a fraction of the work of making crepes.
So here is the recipe. I think you will love them as much as I do.
Cherry Pie Blintzes
Cherry Pie Filling
4 c. pitted sweet cherries- sour cherries can also be used
1½ c. water
½ c. sugar- use a little more if using tart cherries
Pinch of salt
¼ c. cornstarch
Place cherries in a saucepan with 1 cup of the water, sugar and the salt. Bring to a simmer. Mix cornstarch with the ½ cup of water and add to the cherry mixture, cooking until just thickened. Cool. Makes about 4 cups.
Blintzes
8-10 Flour tortillas
½ c. Milk
4 T. Butter
Powdered sugar
Make the pie filling ahead of time, so it is cooled down. Place the tortillas in a shallow pan and pour milk over them. Turn them to make sure they all get covered in the milk. Let the tortillas soften for 5-10 minutes. Place a tortilla on a flat surface and spoon about ½ cup of the pie filling in the middle. Fold sides in until they almost touch in the middle. Roll up from the bottom to form a little bundle. Repeat with remaining tortillas and filling. Heat butter in saucepan over medium heat and brown the blintzes, turning over as needed to brown on both sides. Start them off seam side down, to keep them from popping open. Place on serving dish and dust with powdered sugar. Serve warm. Makes 8-10.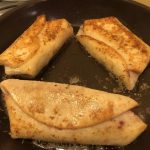 Browning in the skillet