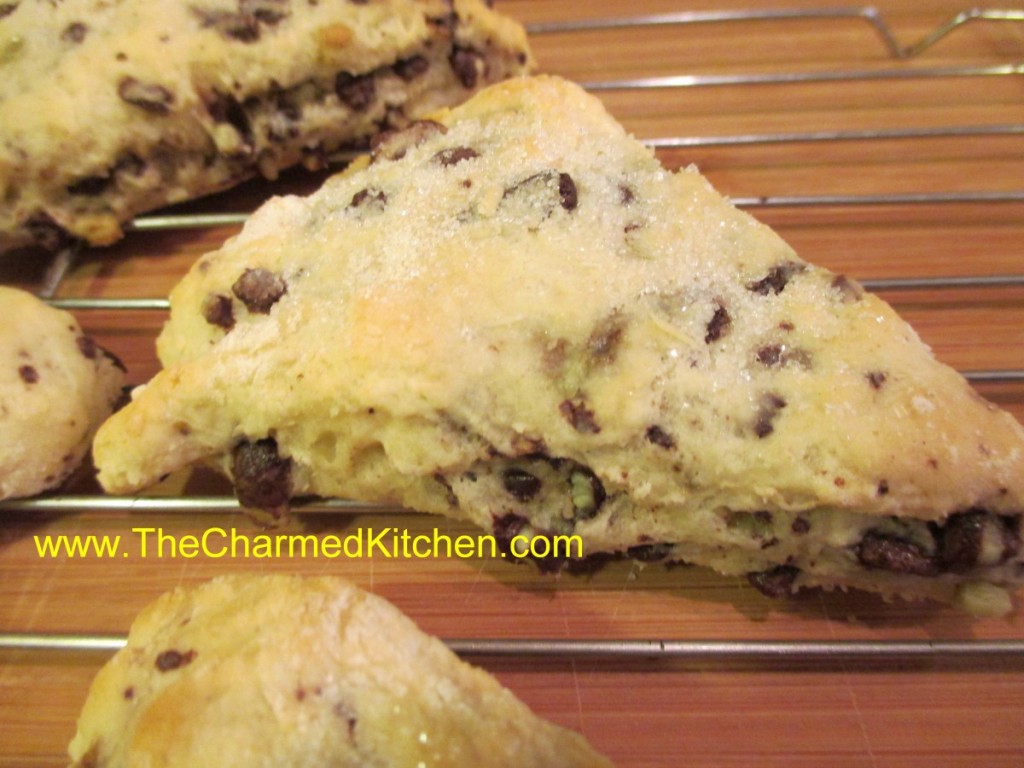 I guess I just have chocolate on my mind these days. I was going to just make a simple biscuit, but looked around at what I had, and came up with these minty chocolate scones. I used baking mix- like Bisquick- but I use a home made mix. I also had some sour cream so used that in the dough. The chocolate mint part came from a bag of Andes chocolate chips. These are just like the Andes candies, but in chip form. I have used them to make cookies before and had just enough left in the bag for the scones. The scones are very tender and flaky.
These would pair up nicely with berries and whipped cream to make shortcakes. Just let them cool completely before trying to slice for shortcakes.
Chocolate Mint Scones
1 c. baking mix- like Jiffy Mix or Bisquick- I used homemade
1/2 c. sour cream
1 egg
1/2 c. Andes chocolate mint chips
sugar for sprinkling
In small bowl place the baking mix. In another bowl mix together the sour cream and egg. Mix into the baking mix, along with the chips and stir until mixture turns into a soft dough. On lightly floured surface press the dough into an 8-inch square. Cut in half- then cut across in half again- you'll have 4 squares. Cut diagonally across each square to form 8 triangles. Place triangles of dough onto ungreased baking sheet and sprinkle with a little sugar. Bake in a preheated 400 degree oven for 12-15 minutes, or until golden brown on top. Don't over bake. Cool on wire rack. Makes 8.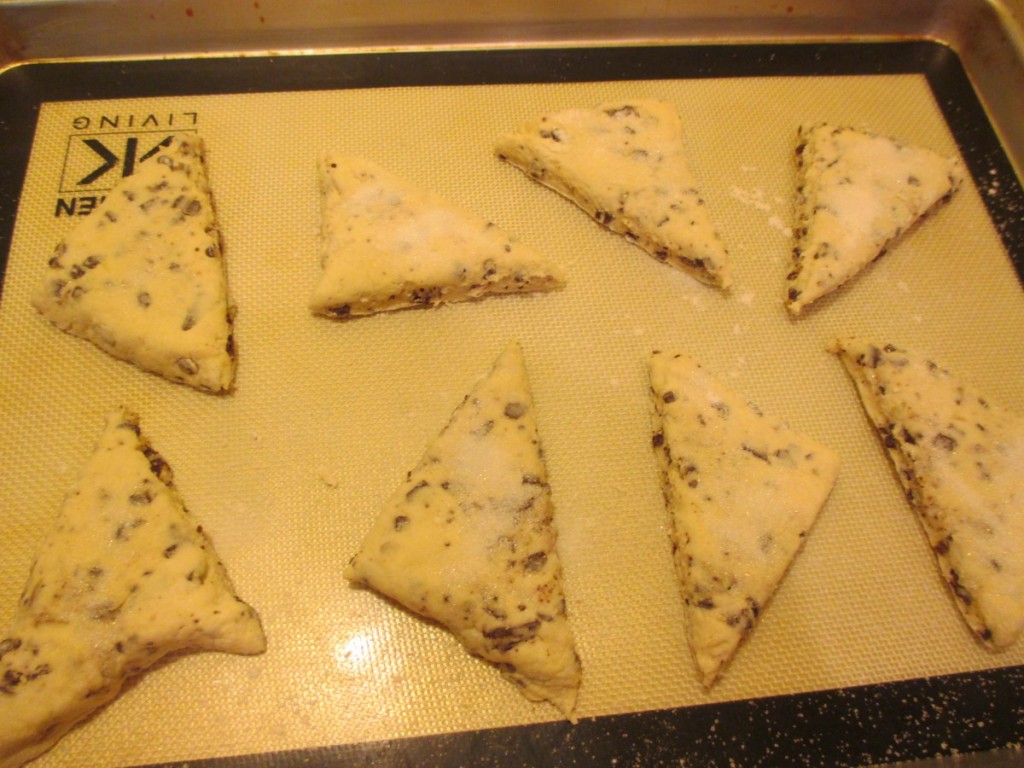 These  scones are a great addition for breakfast or a brunch. The dough is flavored with orange zest and they are studded with chocolate chips. They would also be a nice start for Valentine's Day. They aren't really sweet, which I like. You can serve them with strawberry preserves and whipped cream.  They can also become dessert by splitting the scones and using them as the base for a berry shortcake.
Chocolate-Orange Scones
1½ c. baking mix, like Jiffy or Bisquick or homemade
1 T. grated orange peel
¾ c. heavy cream
½ c. milk chocolate chips or 3 oz. milk chocolate, chopped
Combine baking mix and orange peel in medium bowl. Stir in cream to make a soft dough that forms into a ball in the bowl. On floured surface gently knead in chocolate and press or roll dough to 3/4- inch thickness. Cut into 2 1/4 -inch rounds, rerolling scraps. You should get 8. Place on and ungreased cookie sheet and bake in a preheated 425-degree oven for 8-10 minutes.
Double chocolate version: Knead 3 tablespoons of cocoa into dough with the chocolate chips.