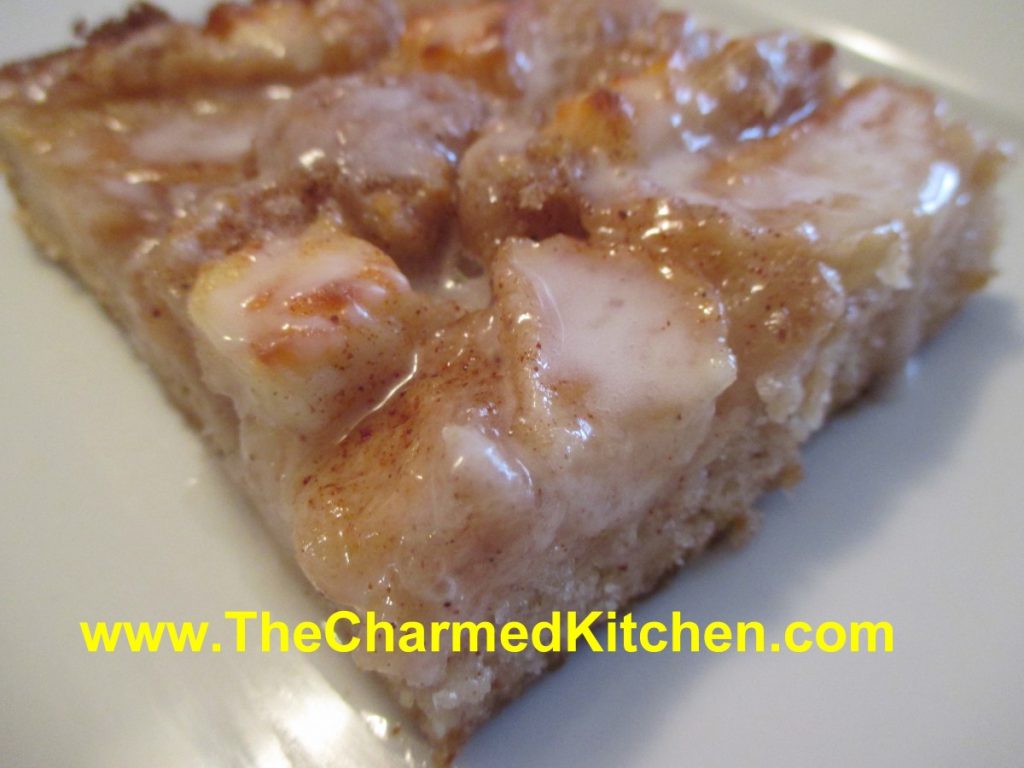 This pear-studded cake is perfect to have with that morning cup of coffee- or for dessert. The tender cake is topped with chopped pears, cubes of cream cheese, cinnamon sugar and a vanilla glaze. The taste is amazing.
I used Bartlett pears, but any ripe pear would work.
I will say up front, that this is not the prettiest cake out there. It comes out of the oven kind of lumpy, from all those pears and the tiny cubes of cream cheese. Once you top it with the cinnamon sugar, and later the glaze, it looks a lot better.
It is one of the tastiest cakes, though, and isn't that what's important?
So if you want to enjoy one of my favorite Autumn fruits in a new way- try making this simple, tasty pear coffee cake. I don't think you will be disappointed.
Cinnamon Pear Coffee Cake
1 stick (½ cup) butter
1 egg, lightly beaten
1 c. half and half
1 c. all-purpose flour
1 c. sugar
2 t. baking powder
2 t. cinnamon
1 t. vanilla
½ t. salt
2 lbs. pears, about 4 large, cored, peeled and sliced *
8 oz. cream cheese, cut in small pieces
Topping
3 T. cinnamon sugar
Glaze:
½ c. powdered sugar
1-2 T. milk
½ t. vanilla
Preheat oven to 350 degrees. Melt butter and pour into a 9-by-13-inch glass baking dish. In a small bowl, mix together the egg, half and half, flour, sugar, baking powder, cinnamon, vanilla and salt. Pour directly over the butter in the baking dish, but do not stir. Drain pears well. Add the pears, arranging in a single layer as much as possible. Sprinkle cream cheese pieces over fruit. Place in preheated oven and bake for 45 minutes, or until top is golden brown and edges are bubbling. When you remove the cake from the oven, sprinkle with the cinnamon sugar. Set cake aside to cool.  Make glaze by combining glaze ingredients. Add just enough milk for a nice consistency for drizzling. Drizzle over cooled cake. Store leftovers in fridge. Serves 12.
* To keep pears from discoloring place in a bowl with 2 cups of water and 2 tablespoons lemon juice
I had some ripe bananas and wanted to do something different with them. That is where the idea for these fritters came from. I was going to be making some doughnuts later that day, so I would already have hot oil ready for frying. Seemed like a great idea. I was quite pleased with how they turned out. Only a few ingredients, too. Simple to make and a nice change from banana bread.
I started with a couple of bananas, which I peeled and mashed with a fork. I purposely left some small chunks of banana. Then I added eggs and sour cream. I knew the sour cream would add richness and help keep the fritters tender. I also used cinnamon, both in the batter and in the powder sugar I rolled the finished fritters in. I like the combination of banana and cinnamon.
The fritters puffed up beautifully when fried. They were just a little crisp on the outside, tender and light in the middle. There is no sugar in the batter. The only sweetness comes from the bananas and the cinnamon powdered sugar I  rolled them in. I think they would be great with a powdered sugar glaze, too.
So here is the recipe. A fun way to use ripe bananas, for sure.
Banana Fritters
2 large ripe bananas
2 eggs, beaten
½ c. sour cream
1 t. cinnamon
2 c. flour
2 t. baking powder
1 t. baking soda
Oil for frying
1 c. powdered sugar
1 t. cinnamon
Peel bananas. Mash bananas with a fork, leaving some smaller chunks. You should end up with about a cup of mashed bananas. Combine in a small bowl with the eggs, sour cream and cinnamon. Combine flour with the baking powder and baking soda and stir into the banana mixture. Heat oil in a pot to 350 degrees. Oil should be at least a couple of inches deep. By rounded tablespoonful drop batter into the hot oil to fry. Only do a few at a time, so you don't overcrowd them, or bring the temperature of the oil down too much. Fry until golden brown. It will take several minutes. Remove with slotted spoon and drain on paper towels. Repeat with all the batter. You will end up with 2-3 dozen fritters.
Once the fritters are cooled down you can roll them in powdered sugar, cinnamon sugar or even make a powdered sugar glaze. I combined cinnamon with a little powdered sugar and rolled the fritters in that. The cinnamon worked nicely with the bananas.
If you love coffee I think you are going to love these scones. What better to have with your morning cup of coffee than a scone infused with coffee and cinnamon in the dough and finished with a coffee and cinnamon glaze? They are tender, full of coffee flavor and not too sweet. Simple to make, as with any scone the secret is not to over work the dough. You can eat these plain or with a bit of butter.
Coffee Cinnamon Scones
2/3 c. half and half
2 T. instant coffee powder or espresso powder
1 t. vanilla
1 egg
2 1/4 c. flour
1/2 c. sugar
1 T. baking powder
1 t. cinnamon
1 t. salt
1/2 c. cold butter
1 T. half and half, for brushing the scones
2 T. cinnamon sugar, for sprinkling on the scones
Coffee Cinnamon Glaze- recipe follows
In microwave safe container combine half and half with the coffee powder and heat 30 seconds or so. Stir to dissolve coffee and cool down before using. Heat oven to 400 degrees. Add vanilla and egg to cooled coffee mixture and beat until smooth. Set aside. Combine dry ingredients in a mixing bowl and cut in butter until mixture resembles coarse crumbs. Some small pieces of butter can still be visible. Stir in coffee mixture and mix gently until a soft dough forms. At this point you are supposed to press the dough into an 8-inch circle on a baking sheet. To get a really neat circle use an 8-inch cake pan. Sprinkle the pan with a little flour and put the dough in the pan. Press the dough into the pan. Turn the cake pan over onto an ungreased baking sheet. Do this part fast. Slam it down and then remove the cake pan. You will have a perfect 8-inch circle of dough. Use a sharp knife to cut the dough in half. If the dough is too sticky sprinkle the top with a little more flour. Cut in half again and then 2 more times. You will have eight wedges of dough forming 8 scones. Pull dough apart slightly using a spatula. They grow a lot when baking and this will give them more room to expand. Brush with the extra half and half and sprinkle with the cinnamon sugar. Bake for 20 minutes or until they spring back when touched lightly. Make glaze and drizzle over the warm scones. Makes 8.
Coffee Cinnamon Glaze
2 T. half and half
2 t. instant coffee powder or espresso powder
1 t. cinnamon
1 c. powdered sugar
Heat half and half and coffee powder together in microwave safe container for 10 seconds. Stir until smooth. Stir in cinnamon and powdered sugar until smooth and drizzle over the scones.