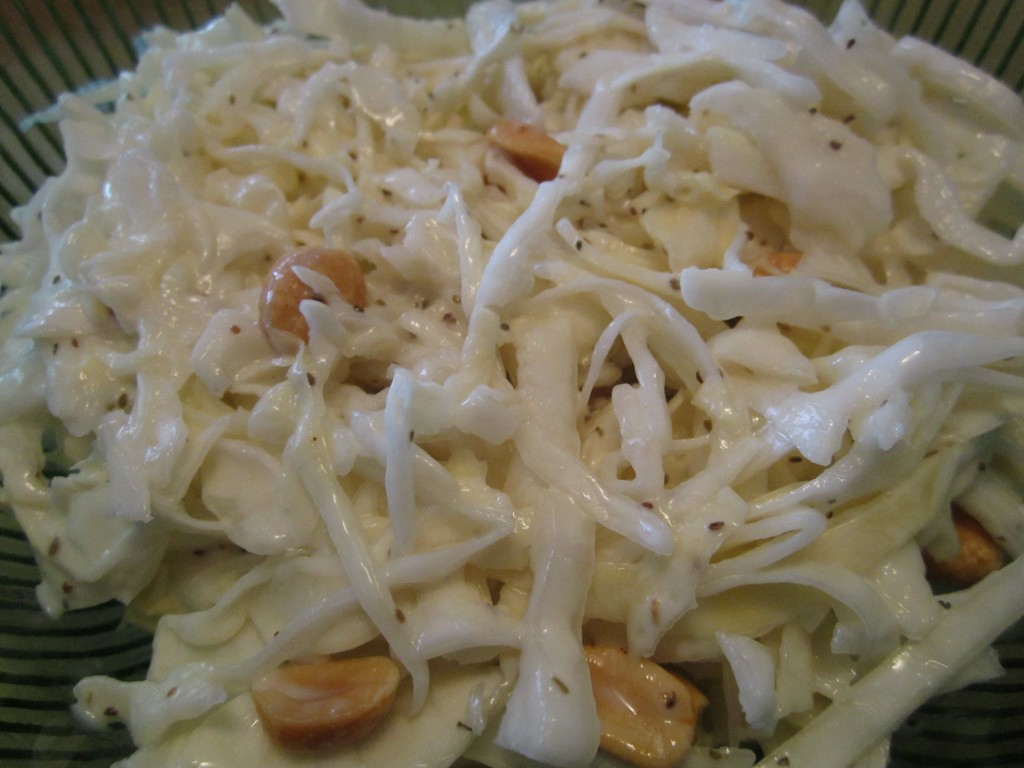 I love cole slaw and enjoy it both as a side salad or on sandwiches. I was making cole slaw and decided to add some peanuts. I enjoyed the crunch they added to the dish. I must confess, if I had cashews I would have used them instead, but the peanuts were great, too. This salad would make a nice addition to your holiday menu.
Nutty Cole Slaw
6-8 cups finely sliced cabbage
2/3 c. mayo, you can add a little more if you like- I don't like a lot of dressing on mine
1/4 c. cider vinegar
1/4 c. sugar
1 t. celery seeds
1/2 c. peanuts, or more
Place cabbage in mixing bowl. In a small bowl combine the rest of the ingredients, except the peanuts, and stir until smooth. Pour over the cabbage and toss to coat. Chill. Add peanuts just before serving.
I love coleslaw and enjoy it as a side with all sorts of foods. This is especially true when the weather warms up. It seems I go from cabbage soup and cabbage and noodles to coleslaw and cabbage salads as the seasons change.
I wasn't looking for my coleslaw to be a side dish this time, though. I was thinking of ways to make it more of a main dish. I had gotten busy with a project this morning and wanted something simple and quick. I came up with a twist on a chef's salad.
I took shredded cabbage and added meat, fruits and dressing, then topped it with some cashews. Quick to make, and a great choice when you don't have a lot of time or it is too hot to cook.
You can use your own imagination and add other fruits or proteins. This is a great way to use up leftovers, too. I think I might add peaches and raspberries next time.
So here is the recipe- taking coleslaw from side dish- to main dish.
Coleslaw Chef's Salad
5-6 c. shredded cabbage- cole slaw mix is fine
2 c. cubed cooked meat- I used chicken but use what you like- or use a combination
2 c. fresh fruit- I used blueberries and fresh pineapple but use what you like
1 c. cubed cheese., optional
Dressing:
2/3 c. mayo
3 T. cider vinegar
1 T. sugar
1 t. fresh grated ginger
salt and fresh ground pepper to taste
Topping:
1/2 c. cashews, optional
Combine cabbage with fruits, meats and cheeses (if using) in a mixing bowl. In smaller bowl combine the dressing and stir until smooth. Pour dressing over the cabbage mixture and toss to coat. Chill at least 30 minutes before serving. Sprinkle cashews on top just before serving. Serves 4.
I got this recipe from a friend many years ago. We made it in class the other night. It's a nice variation on a salad I enjoy a lot of different ways. The crunch of the cabbage goes well with the sweetness of the fruit. Since cabbage is on sale everywhere lately I thought I would share the recipe with you.
    Polynesian Cole Slaw
4 c. shredded cabbage
1 (11oz.) can mandarin oranges, drained or 2 mandarin oranges, peeled and separated
1 (8 oz.) can pineapple tidbits, drained, reserving 2 T. of the juice
1/4 c. mayonnaise
1/2  t. fresh grated ginger
1/4 t. each nutmeg and white pepper
Combine cabbage with fruit and set aside. Combine remaining ingredients including reserved juice to make dressing and pour over cabbage mixture, tossing gently to coat. Chill several hours or overnight before serving. Serves 8.