Don't let their small size fool you. These little cheesecakes pack a punch of lemon flavor. There is lemon zest in the batter and a topping full of lemony tartness. Not too sweet, either, which is a plus in my mind.
I wanted a dessert but didn't want to make anything too big. With a limited pantry these days, my options were limited, too. These mini cheesecakes were the right solution. The recipe only uses one package of cream cheese and only makes 6. They can be frozen if needed.
For the crust you can use vanilla wafers, but since I didn't have any, I just trimmed off the edges of some graham crackers, so they would fit in the muffin tins. You can even omit a crust and they are gluten free.
So here is the recipe. I hope you enjoy it.
Lemon Drop Cheesecakes
6 vanilla wafers or graham crackers
1 (8 oz.) cream cheese, softened
1/4 c. sugar
Zest of one lemon
1 t. vanilla
1 egg
Topping:
½ c. lemon juice or a combination of lemon juice and pieces of lemon*
½ c. sugar
2 t. cornstarch
Zest of a lemon
Line 6 muffin tins with paper liners. Place 1 wafer in each. If using graham crackers, trim them to fit the muffin tins. Beat together remaining ingredients for 1 minute with electric mixer. Divide this mixture in the muffin tins, filling each almost full. Bake 25 minutes at 325 degrees. Cheesecakes will puff up, then deflate as they cool. While cheesecakes are baking, make the lemon topping. Combine all topping ingredients in a small saucepan. Cook over medium heat, stirring, until mixture thickens and gets bubbly. Set aside. Once the cheesecakes have cooled down, spoon  over the lemon topping. Chill before serving. Store leftovers in fridge. Makes 6. These can be frozen. Serves 2-3.
* I only had 2 lemons, so to get the most from them, I removed the peel and white membrane and used the lemon segments in the topping. I was still a little short, so I added some extra lemon juice to get to ½ cup. You could just use all juice.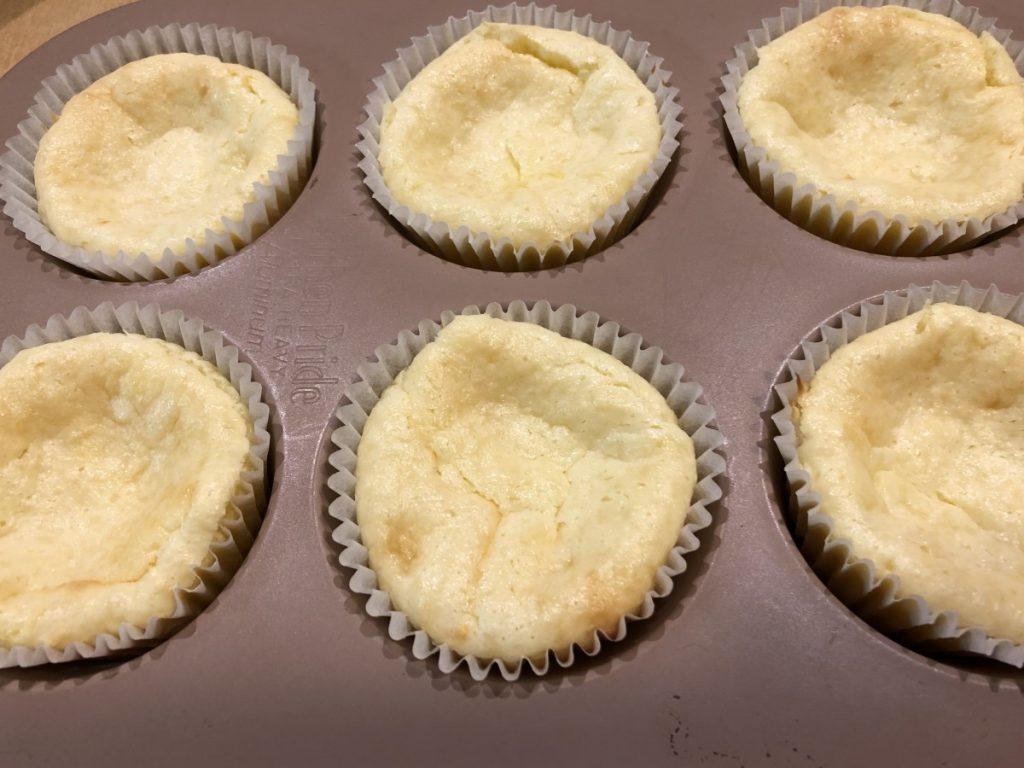 Due to really cold, wet weather I found myself with a lot of leftover Halloween candy. I needed to make a dessert for a dinner later tonight so I decided to  use the candy in the dessert. I came up with a couple of ideas and wanted to share them with you. The first idea I came up with was mini cheesecakes. I've made them before so I used my recipe and just folded in crushed candy bars. Once the cheesecakes cool they deflate a little so I also added some crushed candy bars to the top to make them look nice. Only change from the original recipe was a slight decrease in sugar to compensate for the extra sweetness of the candy. I used what I had leftover, but I am sure a lot of different candy bars would work. I used a small food processor to really crush up the candy bars. I made 2 batches, one with cookies and cream candy bars and the other with Kit Kat bars.
Halloween Candy Mini Cheesecakes
12 vanilla wafers
2 (8 oz.) cream cheese, softened
1/3 c. sugar
2 t. vanilla
2 eggs
2/3 c. crushed candy bars plus 1/4 c. crushed candy bar, for topping
Line 12 muffin tins with paper liners. Place 1 wafer in each. Beat together remaining ingredients (except candy)  for 1 minute with electric mixer. Fold in candy. Divide this mixture in the muffin tins, filling each 3/4 full. Bake 25 minutes at 325 degrees. Cool and decorate with extra crushed candy. Makes 12. These can be frozen.
I was having some friends over recently and wanted a gluten free dessert. I was also lucky enough to have recently received some frozen cherries from King Orchards in Michigan.* Inspiration struck and I ended up making these mini cherry cheesecakes. The crust is a shortbread type cookie made with gluten free flour. The filling pretty straight forward with a nice splash of lemon juice and vanilla. The cherries are a variety called Balaton with Hungarian origins. While they are considered a tart cherry they are darker than most tart cherries and have a sweetness to them that I just love. I used 2 cups of frozen cherries-I like a lot of cherries on my cheesecake- but I only used 2 tablespoons of sugar to sweeten them. The recipe made a dozen. Here is what I did.
Balaton Cherry Mini Cheesecakes – Gluten Free
Crust:
1/4 c. softened butter
1/4 c. sugar
1/2 c. gluten free flour – found in some grocery stores- I got mine at Costco
pinch of salt.
Filling: 2 (8 oz.) packages cream cheese, softened
1/2 c. sugar
2 T. lemon juice
2 t. vanilla
2 eggs
Balaton Cherry Topping:
2 c. Balaton cherries- or other frozen tart cherries- thawed
2 T. sugar, or to your taste
1 t. tapioca starch- you could also use cornstarch
Preheat oven to 325 degrees. Line 12 muffin pans with paper or foil liners. In mixing bowl combine ingredients for crust by first mixing the butter and sugar together and then stirring in the flour and salt. Divide the dough into 12 portions and roll into balls. Place one ball in each paper lined pan and press to flatten. Bake for 10 minutes. While crust is baking make the filling. Combine cream cheese, sugar, lemon juice and vanilla and blend until smooth.  Stir in the eggs. Spoon the batter into the muffin pans- they will be pretty full. Bake for 20-25 minutes, or until puffy and set. Cheesecakes will flatten a little when cooled. While the cheesecakes are baking you can make the cherry topping. Pour off any liquid from the defrosted cherries into a small saucepan. You should have about half a cup. Add sugar and tapioca starch or cornstarch and heat over medium heat. Stir constantly until mixture thickens- it just takes a few minutes. Stir in the cherries and allow mixture to cool down. Once cheesecakes and topping are both cooled down spoon cherries over the cheesecakes and chill until ready to eat. These could be frozen- but you aren't going to have any left over.
*http://kingorchards.com/