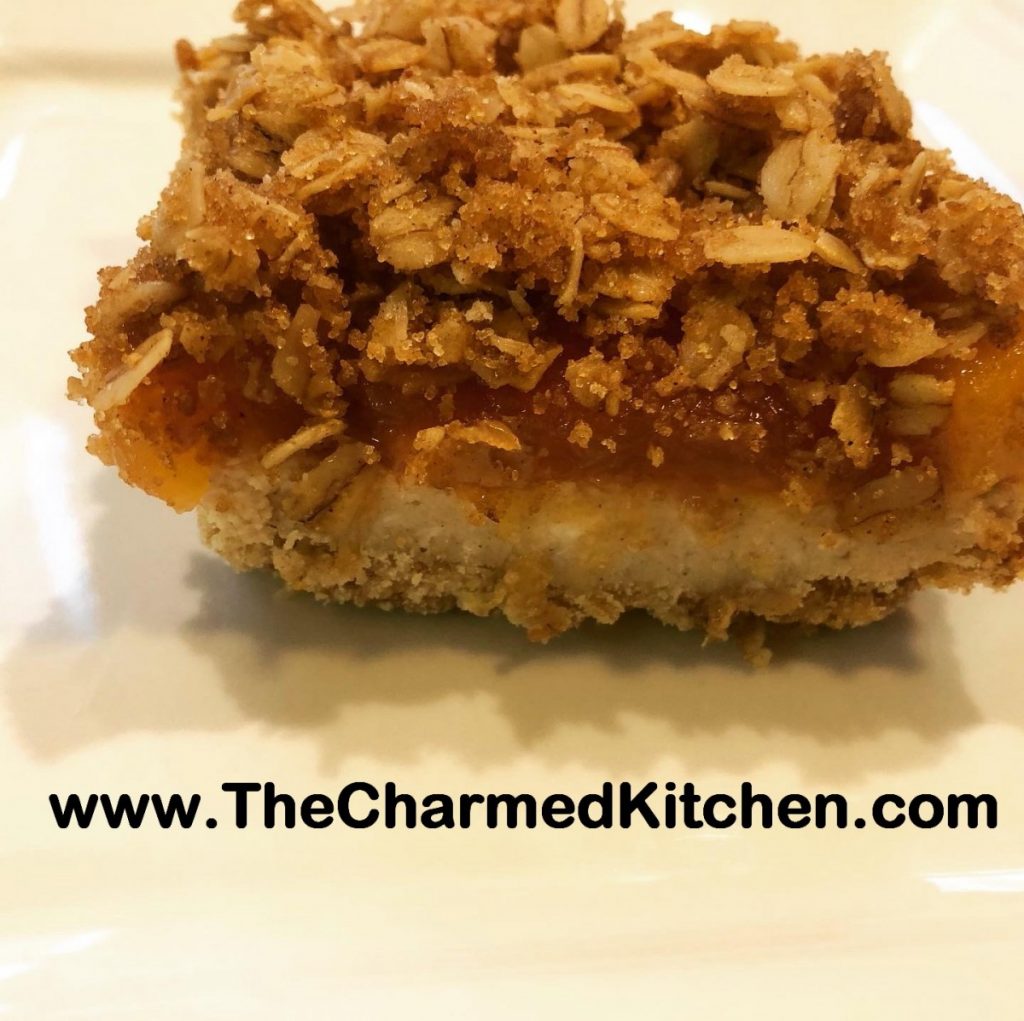 I love peaches and I love cheesecake. Never thought to combine them before. Wow, what a great dessert!! With peaches in season, it seemed like the perfect time to make it.
This recipe was inspired by a post I saw about a place that makes peach cheesecakes. I decided to make a less traditional cheesecake. I used a 9×13 baking dish instead of a springform pan. I also ended up making the cheesecake in layers. Let me explain.
I baked the crust a little, then added the cheesecake layer to bake. I was trying to figure out the best way to add the peaches. I decided to put them on after the cheesecake was baked, so I cooked them while the crust and cheesecake layers were baking. The crumb topping was an afterthought. I wanted some texture and just put that together at the end.
The result was a really good dessert. Enough peaches. Light and rich at the same time. I will most definitely make it again.
So here is the recipe. Enjoy!!!
Peach Cheesecake Squares
Crust
¾ c. butter
1/3 c. brown sugar
1¼ c. flour
1 c. oatmeal, old-fashioned or quick cooking
2 t. cinnamon
¼ t. salt
Cheesecake Layer
2 (8oz.) packages cream cheese, softened
¾ c. sugar
2 T. flour
2 eggs
2 T. vanilla
2 t. cinnamon
Peach Layer
5-6 peaches, peeled, pitted and chopped, about 5 cups prepared fruit
2/3 c. sugar, or a little less
2 T. lemon juice
1 t. cinnamon
4 T. cold water
2 T. cornstarch
Crumble Topping
1½ c. rolled oats
½ c. butter
¼ c. brown sugar
3 T. flour
2 t. cinnamon
Heat oven to 350-degrees. Grease a 9×13-inch baking pan. Beat together butter and brown sugar, then stir in the rest of crust ingredients. Mixture will be crumbly. Press into bottom of prepared pan and bake 20 minutes. While crust is baking, prepare cheesecake layer. Beat cream cheese sugar and flour until fluffy. Beat in eggs one at a time. Stir in vanilla and cinnamon. Pour over crust and bake for 25 minutes, or until set. While filling is baking, prep peaches. Combine peaches with sugar, lemon juice and cinnamon in medium saucepan. Cook over medium heat until peaches are softened. Stir off and on to keep mixture from sticking. Combine cold water and cornstarch. Stir until smooth and pour into peach mixture. Mixture will thicken up. Stir until mixture returns to a simmer. Remove from heat and set aside. Prepare crumble topping. Mix all ingredients with your fingers until well blended. Place on a baking sheet and place in 350 degree oven for 15 minutes. You can do this while the cheesecake is baking, to save time. Let the cheesecake cool a few minutes. Then spoon over the peaches. Spread evenly and let it cool for 30 minutes. Spread the crumble mixture over the peaches. Cool then chill. Store covered in fridge. Serves 12. Can be frozen.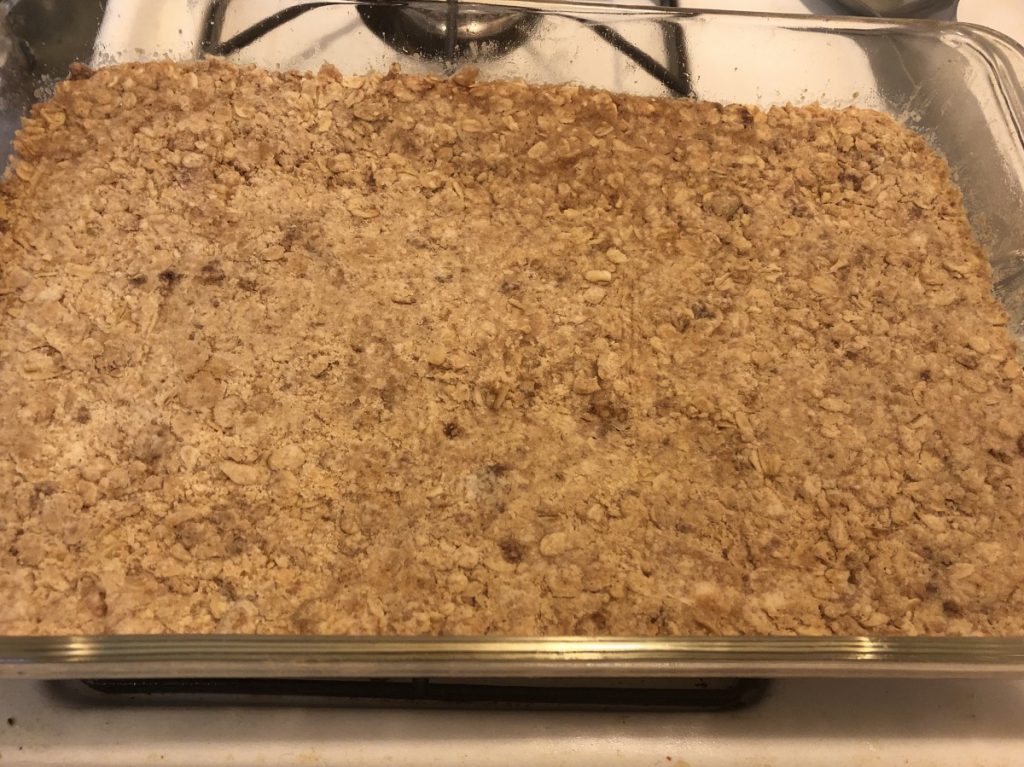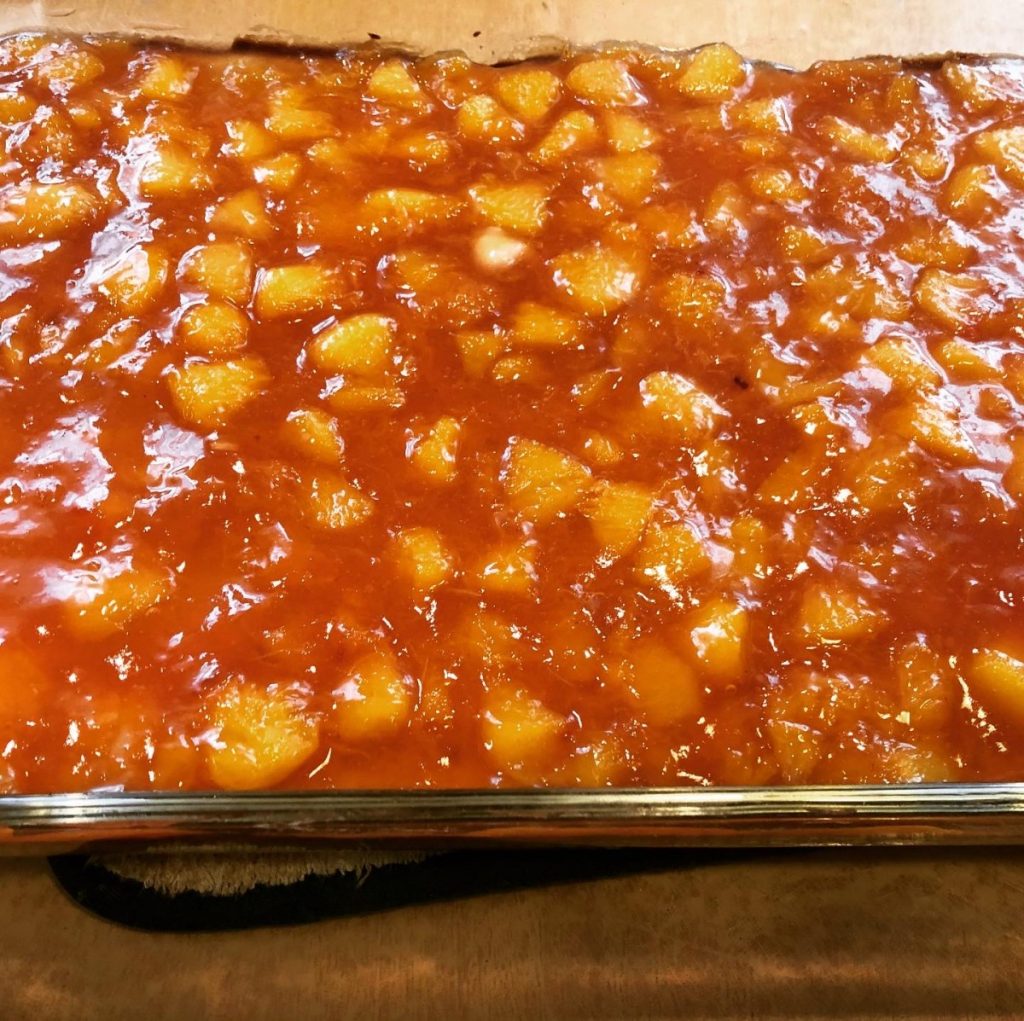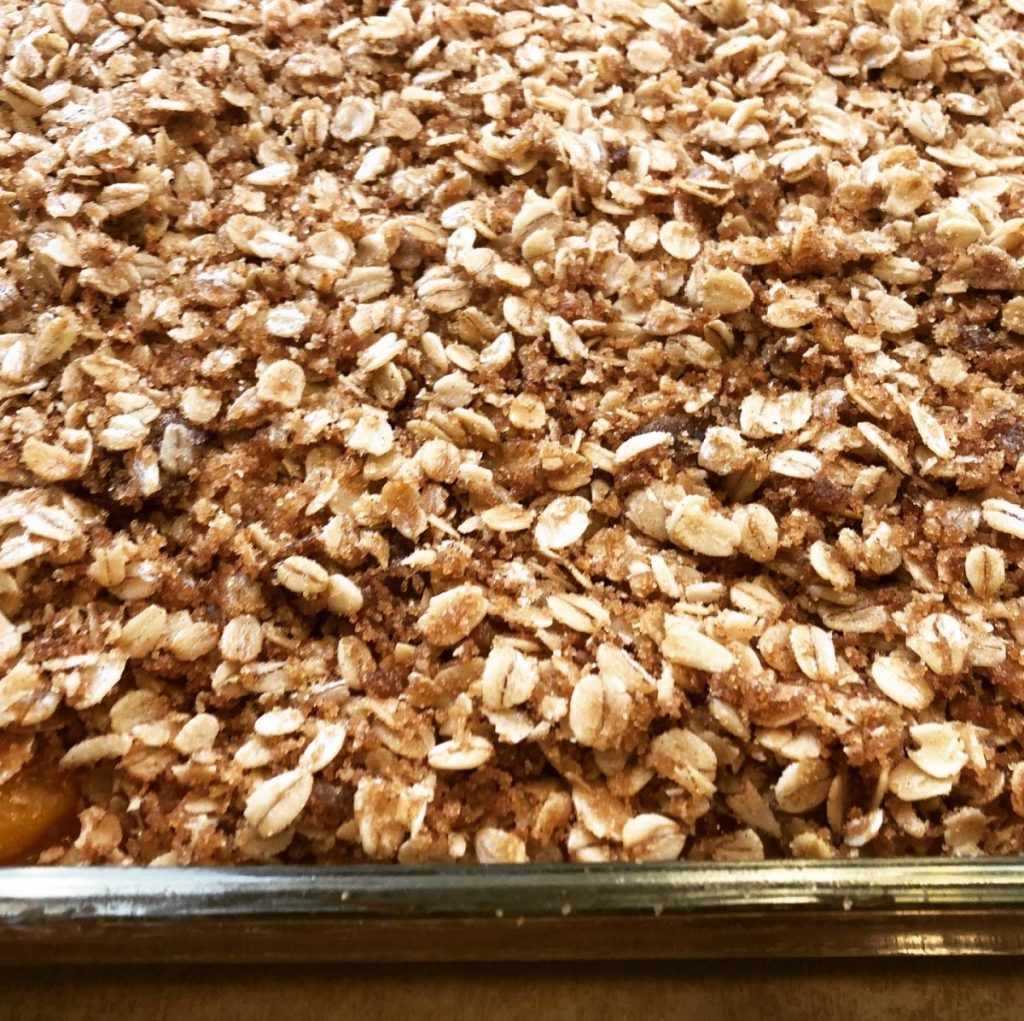 I was having some friends over recently and wanted a gluten free dessert. I was also lucky enough to have recently received some frozen cherries from King Orchards in Michigan.* Inspiration struck and I ended up making these mini cherry cheesecakes. The crust is a shortbread type cookie made with gluten free flour. The filling pretty straight forward with a nice splash of lemon juice and vanilla. The cherries are a variety called Balaton with Hungarian origins. While they are considered a tart cherry they are darker than most tart cherries and have a sweetness to them that I just love. I used 2 cups of frozen cherries-I like a lot of cherries on my cheesecake- but I only used 2 tablespoons of sugar to sweeten them. The recipe made a dozen. Here is what I did.
Balaton Cherry Mini Cheesecakes – Gluten Free
Crust:
1/4 c. softened butter
1/4 c. sugar
1/2 c. gluten free flour – found in some grocery stores- I got mine at Costco
pinch of salt.
Filling: 2 (8 oz.) packages cream cheese, softened
1/2 c. sugar
2 T. lemon juice
2 t. vanilla
2 eggs
Balaton Cherry Topping:
2 c. Balaton cherries- or other frozen tart cherries- thawed
2 T. sugar, or to your taste
1 t. tapioca starch- you could also use cornstarch
Preheat oven to 325 degrees. Line 12 muffin pans with paper or foil liners. In mixing bowl combine ingredients for crust by first mixing the butter and sugar together and then stirring in the flour and salt. Divide the dough into 12 portions and roll into balls. Place one ball in each paper lined pan and press to flatten. Bake for 10 minutes. While crust is baking make the filling. Combine cream cheese, sugar, lemon juice and vanilla and blend until smooth.  Stir in the eggs. Spoon the batter into the muffin pans- they will be pretty full. Bake for 20-25 minutes, or until puffy and set. Cheesecakes will flatten a little when cooled. While the cheesecakes are baking you can make the cherry topping. Pour off any liquid from the defrosted cherries into a small saucepan. You should have about half a cup. Add sugar and tapioca starch or cornstarch and heat over medium heat. Stir constantly until mixture thickens- it just takes a few minutes. Stir in the cherries and allow mixture to cool down. Once cheesecakes and topping are both cooled down spoon cherries over the cheesecakes and chill until ready to eat. These could be frozen- but you aren't going to have any left over.
*http://kingorchards.com/