The first time I made this sorbet, it was kind of an accident. I was in the mood for sorbet and decided on making blueberry. I grabbed a few containers of blueberries out of the freezer and put them on the counter to soften for a few minutes. Well, instead of three containers of blueberries I had grabbed one of blueberries and two of red grapes.
I decided to use them together. It really worked out well, because the grapes added a lot of natural sweetness to the blueberries. I added a couple of tablespoons of sugar to the fruit, but in hindsight, I think the sorbet would be sweet enough without any added sugar. I also added a little fresh mint. It really is a light, refreshing dessert.
Of course, you can start out with fresh fruit in this recipe, you just have to freeze them as some point. We made it in cooking camp last summer and the kids loved it. We made it without adding any extra sugar and the kids thought it was sweet enough. It ends up as a satisfying dessert- that is really just fruit.
Blueberry-Red Grape Sorbet
4 c. red grapes, fresh or frozen
2 c. blueberries, fresh or frozen
sugar to taste- I used a couple of tablespoons
a few sprigs of fresh mint, optional
Combine all ingredients in a food processor and blend until smooth. You might have to do this in a couple of batches. Place in a container and freeze until solid. Remove from freezer and allow to soften for about 20 minutes, or even a little less. Mixture should still be frozen, but soft enough to break into chunks. Place in processor and mix again. Mixture will get smoother and softer. You can also do this step in a stand mixer or even with a hand mixer. Return sorbet to freezer, until ready to eat it. For even smoother sorbet, repeat the step of softening and running through the processor again.
This cake is the perfect summer dessert. It is moist and filled with the fruits of summer. It also travels well, so you can box it up and take it along to the park for a picnic or to a cookout.
The cake is pretty simple to make. The batter can be mixed by hand- no need for long beating times or for getting out the mixer. In the time it takes to preheat the oven, you can have the cake ready to bake.
The batter and fruit are layered in the pan, along with the cinnamon sugar.
I added a citrus/powdered sugar glaze, once the cake was cooled, but it is optional.
So here is the recipe.
Peach and Blueberry Cake
1 c. oil, I used avocado oil
4 eggs
1 t. vanilla
1/3 c. lime juice- you can use lemon, instead
3 c. flour
2 c. sugar
3 t. baking powder
¼ t. salt
2 medium peaches, peeled, pitted and sliced
1½ c. blueberries- fresh or frozen
½ c. sugar
2 t. cinnamon and set aside
Glaze:
1 c. powdered sugar
1 t. lemon zest
2 T. lime juice- or enough to make glaze of pouring consistency.
Grease a 9×13 inch pan. Preheat oven to 350-degrees. Combine oil, eggs, vanilla and juice. Stir until smooth. Set aside. In medium bowl combine flour, 2 cups of sugar, baking powder and salt. Stir to combine dry ingredients, then add the oil/egg mixture. Stir until batter is smooth. It will be thick. Place ½ of batter in prepared pan. Arrange peach slices on batter and top with the blueberries. Combine the ½ cup of sugar with the cinnamon. Sprinkle on ½ of the cinnamon mixture. Pour on remaining batter and sprinkle with remaining sugar mixture. Bake 45 minutes, or until cake tests done. Cool. Serve the cake as is, or make the citrus glaze and drizzle it over cooled cake. Serves 12.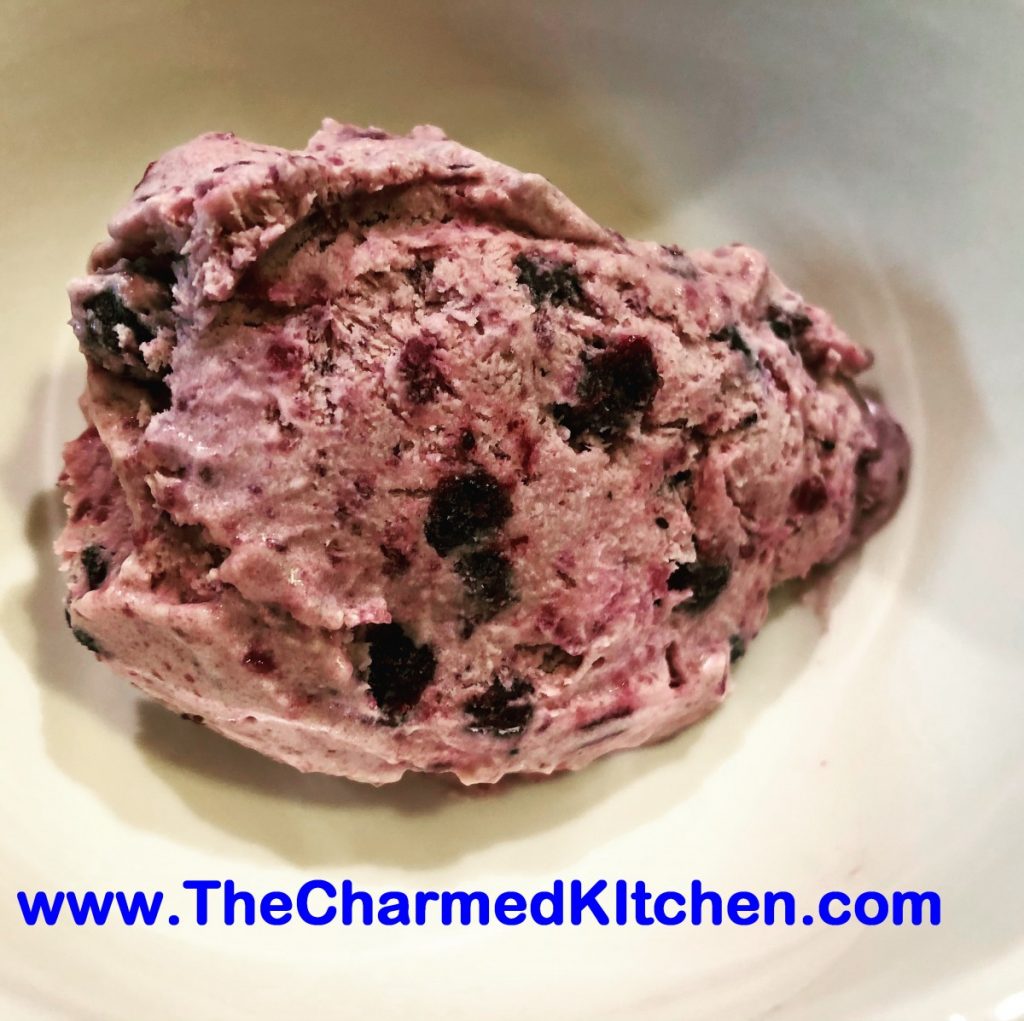 This might be the easiest ice cream you'll ever make. It tastes pretty good, too. I almost named it Quarantine Blueberry Ice Cream. The ice cream came about because of the quarantine. I had purchased whipping cream to use in a dessert for a dinner party. Except the dinner party never happened. The whipping cream sat in my fridge, minding its own business, until I decided to give that expiration date a look. Time was up. I didn't want it to go to waste. I could freeze it for later, or use it right away. I decided to make ice cream.
I had recently posted a recipe for a super easy ice cream, where you just combine whipped whipping cream and chocolate syrup, and freeze it. Its actually pretty good. I didn't have chocolate syrup handy, but I did have a jar of blueberry pie filling. I used homemade, but a can from the store would be fine. It worked! The ice cream came out very nice and creamy.
I can't say that it is as creamy as ice cream I make in the ice cream maker. But for as easy as it was to make, I have no complaints. Here is what I did.
Easy Blueberry Ice Cream
1 pint whipping cream
1 jar or can of blueberry pie filling ( other flavors should work)
powdered sugar to taste – I used about 1 cup
2 t. vanilla extract- optional
In a mixing bowl whip cream until soft peaks form. Add the pie filling and continue beating until well mixed. A stand mixer makes this easier, but a hand mixer works, too. Sweeten to taste and add the vanilla, if you are using. Put in a container with a lid- and freeze.Makes 5-6 cups.
Note: Other pie filling flavors should work fine, but you might want to cut up bigger pieces of fruit. The extra sugar really helps. When the ice cream is frozen, it will taste less sweet, so don't be afraid to add a little extra sugar before freezing. As for the flavorings- have fun. I just added some vanilla, because I like vanilla. Other extracts, like mint or almond would be fun. I could see adding cinnamon and nutmeg to apple pie filling ice cream. Have some fun with the flavors.
Since I froze blueberries last summer, I have plenty to cook with now. It has been a lot of fun. Sometimes, I just eat the blueberries right out of the freezer.
These sweet rolls are a favorite recipe of mine. They are not too sweet, even with a powdered sugar glaze. Great for brunch or breakfast. Sweet enough to be dessert, too.
The base of the rolls is a rich, yeast dough. The dough is divided in half, rolled out, then brushed with butter. Then the dough is sprinkled with cinnamon sugar and topped with blueberries. The dough is rolled up, jelly roll fashion, then sliced into rolls.
The rolls are baked in 2 (9-inch) cake pans. The recipe makes 24 blueberry rolls. The rolls can be frozen.
I used frozen berries, but fresh work too. A good reason to buy extra berries and freeze them!! 
Blueberry Sweet Rolls
3-3 1/2 c. bread flour
1 package active dry yeast
1 1/3 c. evaporated milk
6 T. butter
1/4 c. sugar
1 t. salt
1 egg
6 T. butter, melted
1/2 c. sugar
2 t. cinnamon
1 t. grated lemon or orange peel
2 c. fresh or frozen blueberries
In bowl combine 1 1/2 c. of the flour with the yeast, sugar and salt. Heat together the milk and 2T. of the butter until warm and add to the flour mixture, beating 2 minutes. Add egg and beat 2 minutes longer. By hand stir in enough of the remaining flour to make a soft dough. Turn dough onto a lightly floured surface and knead, adding flour as needed until dough becomes moderately stiff. Place in greased bowl, turning once to coat and cover. Allow to double in bulk, about 1 1/2 hours. Punch dough down, cover, and let rest 10 minutes. Divide dough in half. Roll each half into a 14×8 inch rectangle. Brush dough with the melted butter. Combine the remaining sugar, peel and cinnamon and sprinkle over the dough. Top with the blueberries and press the berries into the dough. Starting at the long side roll up dough jelly roll fashion and seal edge by pinching. Repeat with second roll. Cut each roll into 12 slices and place 12 rolls in greased 9 inch round pans. Cover pans and allow to rise until doubled, about 30 minutes. Bake in a 375 degree oven for 20-25 minutes. While rolls are warm, you can top with a powder sugar glaze, if desired. Makes 24.
I took these blueberry granola bars to a friend's house last night. I was invited over for dinner and wanted to bring something. My friends loved them. I love them, too.
They aren't too sweet and make a wonderful dessert. The crust is tender and crumbly. The blueberry filling adds just the right amount of flavor and sweetness. I could see adding a scoop of ice cream, if you wanted to dress them up a bit. One of my friends thought they would make a great breakfast. I agree.
They freeze well, too.
Here is the recipe. Enjoy.
Blueberry Granola Bars
3 c. blueberries, fresh or frozen
¾ c. sugar
1/3 c. water
2 T. cornstarch
2 t. cinnamon
½ t. salt
2 c. flour
1 T. baking powder
2 t. cinnamon
½ t. baking soda
1 c. butter
2 c. rolled oats
¾ c. chopped nuts, optional
1 c. packed brown sugar
Preheat oven to 350 degrees. Grease a 9×13-inch baking pan and set aside. In a medium saucepan, combine the blueberries with the sugar, water cornstarch and salt. Heat to a simmer, stirring constantly. Once mixture gets bubbly and thickens up, remove from heat and set aside. In mixing bowl, stir together the flour, baking powder, cinnamon and baking soda. Cut in butter until mixture resembles coarse crumbs. Stir in oats, nuts, if using, and brown sugar. Stir mixture until well combined. I actually used my hands to get it to stick together better. Press half of oat mixture into prepared pan. Pour over the blueberry mixture, spreading evenly in pan. Top with the rest of the oat mixture. Bake for 45 minutes, or until top is lightly browned. I used a glass baking dish, so I reduced the heat to 325 once I put the bars in the oven to bake. Cool before cutting into bars.  
I wanted to make dessert for a lunch I had planned with friends. Since they both love blueberries, I thought I might try making blueberry cupcakes. I started by making my classic vanilla cupcakes, then topping them with blueberries just before baking. The berries fell into the batter during baking, just as I had hoped.
The result was moist, tender cupcakes with a pop of fresh blueberries. I also used a simple vanilla buttercream and dressed them up with a few berries on top. I was really pleased at how they came out. My guests were, too.
Blueberry Cupcakes
1 cup sugar
1/2 cup butter
2 eggs
2 teaspoons vanilla extract
1 1/2 cups all-purpose flour
1 3/4 teaspoons baking powder
1/2 cup milk
About 1 cup of blueberries
Preheat oven to 350 degrees. Line a muffin pan with 12paper liners. In a medium bowl, cream together the sugar and butter. Beat in the eggs, one at a time, then stir in the vanilla. Combine flour and baking powder, add to the creamed mixture and mix well. Finally stir in the milk until batter is smooth. Pour or spoon batter into the prepared pan. Top each cupcake with 5 blueberries. Fewer if the berries are really big. Bake 20 to 25 minutes. Cupcakes are done when they springs back to the touch. Cool before frosting. Frost with the buttercream- recipe follows- and top with a few extra fresh blueberries. Makes 12.
Vanilla Butter Cream
½ c. butter
4 1/2 cups sifted confectioners' sugar
1 T. vanilla extract
In a bowl beat butter until fluffy. Gradually add 2 cups of the confectioners' sugar, beating well. Slowly beat in the vanilla. Slowly beat in remaining sugar. Beat in a little milk, if needed, to make of spreading consistency. Tint with food color, if desired.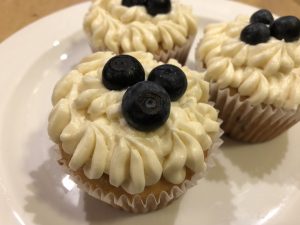 Fresh out of the oven
So what is clafoutis? Clafoutis is a sort of pancake, sort of custard, sort of quiche. It is a lovely dessert for fresh fruit, for sure.
You can serve it plain, or topped with powdered sugar or whipped cream. On a hot day, I like to serve it with a scoop of ice cream.
Clafoutis is really simple to make, too. You start by putting the fruit in a prepared pan. The batter is made in a blender, and takes just a couple of minutes to prepare. You pour the batter over the fruit- and bake.
I used cherries and blueberries in this one, but you can use all sorts of fruits- peaches, plums, raspberries…..
Most people enjoy it as a dessert, but it is also nice with that morning cup of coffee.
I used a combination I thought would make a nice dessert for summer. Blueberries and cherries are in season and so fresh.
Cherry and Blueberry Clafoutis
2 c. pitted cherries, I cut them in half, but you can leave whole
1 c. blueberries
3 eggs
1 c. sugar
3 T. melted butter
½ c. flour
2 t. vanilla extract
1 t. almond extract
pinch of salt
1 c. half and half
powdered sugar, optional
Grease a 9×9-inch baking dish or pie pan. Preheat oven to 350 degrees. Place cherries and blueberries in the prepared pan. In blender, combine eggs, sugar, butter, flour, flavorings and salt.* Blend until smooth. Add half and half and blend again until smooth. Pour batter over the cherries and blueberries. Bake for 45-50 minutes or until clafoutis is browned around edges and puffed up. Allow to cool and dust with powdered sugar, if you like. It will deflate as it cools. Serves 6.
* You can whisk the ingredients together by hand, if you prefer.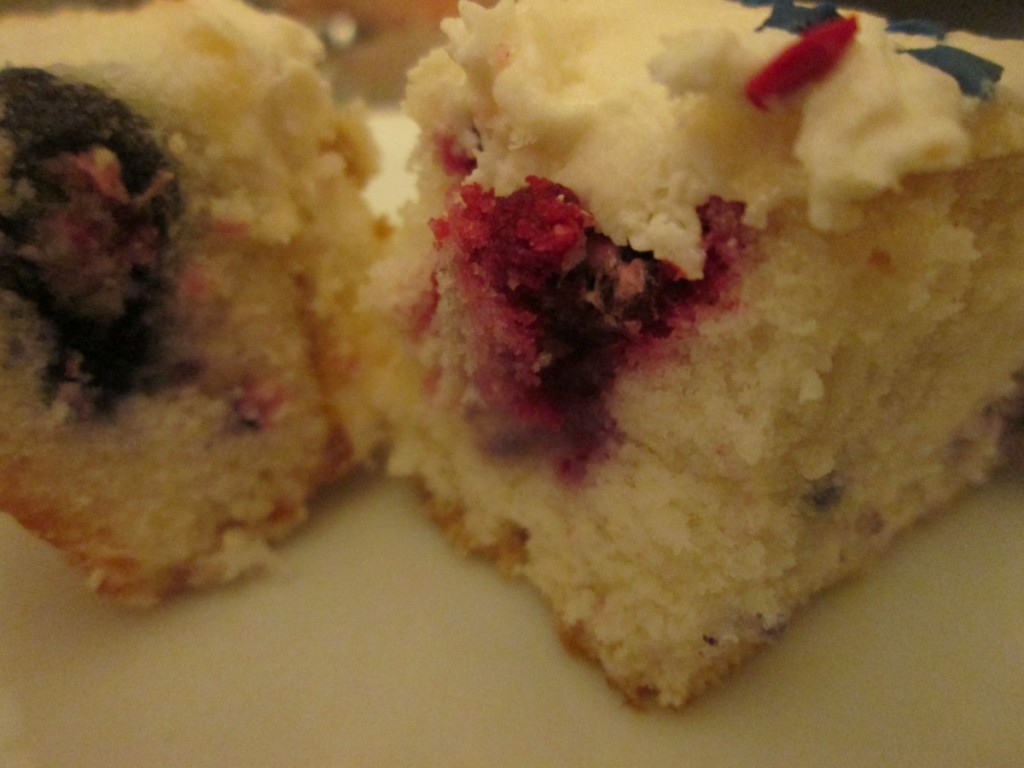 What else would you call a white cake, studded with berries, but Berry White? While this red, white and blue cake would be lovely for a 4th of July party, it would be great anytime. You can use fresh, or even frozen berries. They really make a simple white cake special.
I topped it off with a lemon butter cream frosting and since it was for the 4th of July I added a few star sprinkles.
To make the cake, start by making a white cake batter. I used homemade -recipe follows- but you could use a box mix if that is what you prefer. After you pour the batter into your pan, or pans, sprinkle with some blueberries and raspberries- or whatever berries you happen to have. Don't fold the berries into the batter. Fresh or frozen berries could be used. I used about 2 cups of berries in all. Once cooled, frost the cake. I used a lemon butter cream- recipe follows.
Classic White Cake
2 c. sugar
1 c. butter
4 egg whites or whole eggs
4 teaspoons vanilla extract
3 c. all-purpose flour
3 ½ teaspoons baking powder
1 c. milk
Preheat oven to 350 degrees. Lightly grease a 13×9-inch pan. In a medium bowl, cream together the sugar and butter. Beat in the eggs, one at a time, then stir in the vanilla. Combine flour and baking powder, add to the creamed mixture and mix well. Finally stir in the milk until batter is smooth. Pour or spoon batter into the prepared pan. Sprinkle berries over the surface of the cake. Bake 35-40 minutes. Cake is done when it springs back to the touch. Makes 1.
Note: I actually made 3 smaller cakes from this recipe- reduced baking time to 20- 25 minutes.
Lemon Butter Cream
½ cup butter
4 1/2 cups sifted confectioners' sugar
3 T. milk
1 T. lemon juice
1 1/2 teaspoons vanilla extract
In a bowl beat butter until fluffy. Gradually add 2 cups of the confectioners' sugar, beating well. Slowly beat in the milk, juice and vanilla. Slowly beat in remaining sugar. Beat in additional milk, if needed, to make of spreading consistency.
Ready for the oven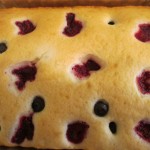 Freshly baked
When local berries are in season I freeze plenty so I can enjoy them all year round. In a recent cleaning out of the freezer, I pulled out a package of blueberries and decided to make something with them. I love blueberries in pretty much anything. I cook with them all the time. This is one of my favorite blueberry recipes- and that is saying a lot. It is a classic and always a favorite when I make it for friends and family. The cake is moist, tender and delicate but the magic is that crumb topping. The cake isn't too sweet, so you can enjoy it for dessert, or even for breakfast or brunch. I like it plain, but friends have been known to serve it with ice cream. There is something extra nice about a blueberry cake on a snowy day.
Blueberry Crumb Cake
For cake batter:
2 c. flour
2 t. baking powder
½ t. salt
½ stick (¼ cup) butter, softened
¾ c. sugar
1 egg
½ c. milk
1 pint blueberries, fresh or frozen
For topping:
½ c. sugar
¼ c. flour
½ t. cinnamon
½ stick (¼ c. butter, chilled and cut into bits)
Combine dry ingredients and set aside. In mixing bowl with electric mixer, beat butter and sugar until light and fluffy. Beat in egg and milk. Add flour mixture gradually until just mixed in. Fold in blueberries. Grease and flour an 8 or 9-inch square baking pan and add prepared batter. Combine topping ingredients until they resemble coarse crumbs. Sprinkle over batter in pan and bake in a preheated 375-degree oven and bake for 35-45 minutes. Use toothpick to test.
Note: I have used a 9-inch round pan and it worked fine.
This time of year I am always looking to empty my freezer out a little. I find it also helps me to be more creative. For a recent dinner with friends I needed a dessert. I decided to make some sort of fruit crumble/ cobbler thing. I thought it would go well with the meal we were having. Plus, when it's cold outside fruit desserts always make me think about summer. I decided the first three fruits I found were the ones I would use. Turned out to be blackberries, blueberries and red grapes. Pretty nice mix. I thawed out the fruit and tossed them with some sugar and a little cornstarch and a squeeze of lemon juice. I had about 7 or 8 cups of fruit, but I knew they would cook down. I put them in a 9-inch glass baking dish and made the topping next. Baked it until the top was golden and the fruit was all bubbly. It was a big hit and if I hadn't admitted that it was just a matter of what I found first I think my guests would have though I'd planned it from the beginning.
Three Fruit Crumble
The filling
7-8 cups mixed fruit- I  used blueberries, blackberries and red grapes, too
1/2 c. brown sugar
3 T. cornstarch
2 T. lemon juice
The topping
2 c. rolled oats
1 c. flour
1/3 c. brown sugar
2 t. cinnamon
1 t. nutmeg
1 stick butter
Combine the fruit with the other filling ingredients and place in a baking dish. I used a 9×9 inch glass baking dish but use whatever casserole you like. Place all the topping ingredients, except the butter,  in a mixing bowl and stir to combine. Cut in butter to resemble coarse crumbs. Mixture will be crumbly. Sprinkle over the fruit mixture and bake in a preheated 350 degree oven for 35-40 minutes, or until topping is golden and fruit is bubbly. Serves 6.