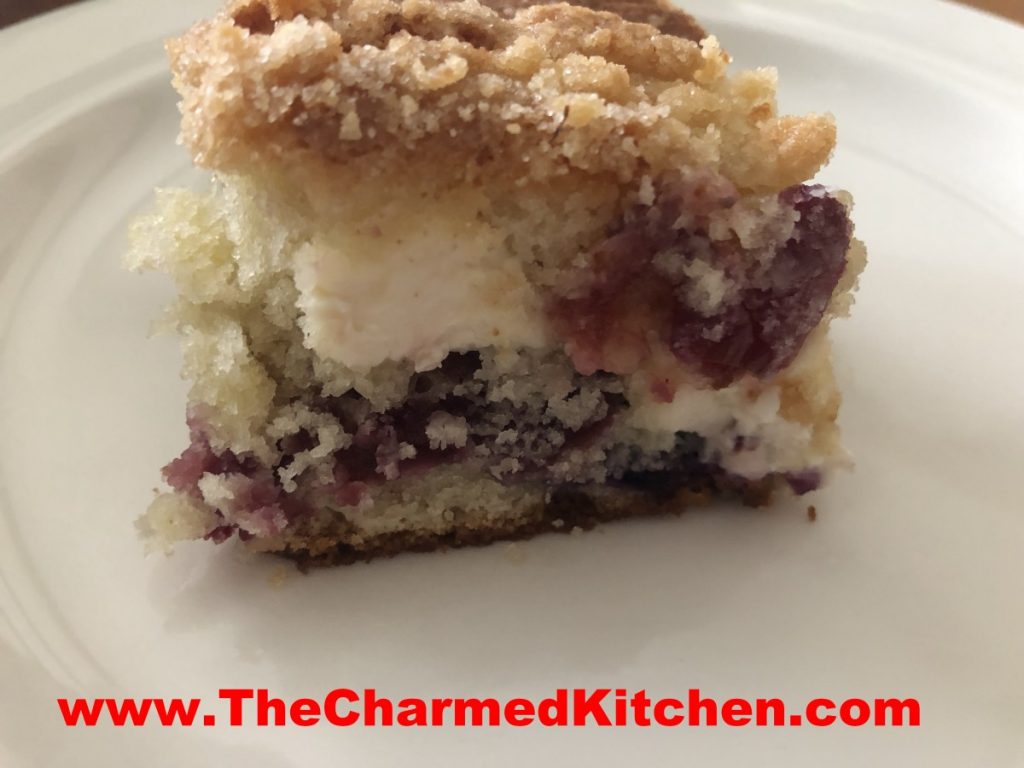 If you need a really special dessert for your next party or cookout, consider making this cheesy cherry blueberry coffee cake. It is one of my favorite coffee cake recipes ever. This is a great dessert for the 4th of July.
The cake is not too sweet, and the combination of cream cheese, with the fruit,  reminds me of a cherry-blueberry blintz.
The streusal topping adds a nice little crunch.
It is fine served all on its own. You can also serve it with ice cream or whipped cream. You can also top with more blueberries and cherries.
While I think of this cake as a wonderful dessert, it can be served as a breakfast or brunch dish.
As if this weren't enough- this cake freezes great. Who are we kidding? There won't be any leftovers – but you could freeze them, if you had some.
So here is the recipe. Enjoy!!
Cheesy Cherry-Blueberry Coffee Cake
1 1/4 c. sugar
1/2 c. butter
2 eggs
2 1/4 c. flour
1 T. baking powder
1 t. salt
1 c. milk
1 c. fresh or frozen blueberries
1 c. pitted and coarsely chopped cherries
8 oz. cream cheese, cubed
1 t. grated lemon peel
Topping:
1/4 c. sugar
1/4 c. flour
1 t. grated lemon peel
2 T. butter
Preheat oven to 375. Grease and flour a 13×9 inch baking dish. Cream together sugar and butter until fluffy. Beat in eggs. Combine 2 cups of the flour with baking powder and salt and beat into batter alternately with the milk. Toss fruit with the remaining flour and fold into the batter along with the cheese and lemon rind. Pour batter into prepared pan. Combine sugar, flour and lemon peel for topping and cut in butter to resemble coarse crumbs. Sprinkle over batter and bake for about 45 minutes. Use toothpick to test for doneness. Serves 12.
If you need a quick dessert or even a nice addition for a brunch this cake is a great choice. It really is so easy to make. As the name implies  it is meant to be served warm, but good at room temp, too.
Warm Blueberry Cake
2 c. biscuit mix*
1/2 c. sugar
1/3 c. milk
2 T. oil
1 egg
1 1/2 c. blueberries
Preheat oven to 350. Grease and flour a 9×9-inch pan. Beat all ingredients together, except berries, for about 30 seconds. Fold in berries and pour into prepared pan. Bake for about 35 minutes. Cake should be golden brown on top and test clean with a toothpick. Serve warm.
*Like Bisquick or Jiffy mix. I make my own. Recipe follows.
Biscuit Mix
8 c. flour
1 c. powdered milk
1 c. powdered buttermilk (or 1 more cup powdered milk)
1/4 c. baking powder
1 T. salt
1 1/2 c. shortening*
Combine dry ingredients and cut in shortening until well mixed. Store in tightly covered container. Makes 10 cups.
* You can use butter instead, but keep mix in fridge and use in a couple of months. You can also use coconut oil- also best to keep this version in the fridge.
I wanted a dessert that included fresh berries. I ended up making a white cake and then studded it with raspberries and blueberries. I topped it off with a lemon butter cream frosting and since it was the 4th of July I added a few star sprinkles. I loved the cake and it was a big hit with friends. After the cake was all done I decided to call it the Berry White Cake and found myself humming Barry White songs!!
To make the cake start by making a white cake batter. I used homemade -recipe follows- but you could use a box mix if that is what you prefer. After you pour the batter into your pans, or pans, sprinkle with some blueberries and raspberries- or whatever berries you happen to have. Fresh or frozen berries could be used. I used about 2 cups of berries in all, maybe a bit more.
Once cooled frost the cake. I used a lemon butter cream- recipe follows.
Classic White Cake
2 c. sugar
1 c. butter
4 egg whites or whole eggs
4 teaspoons vanilla extract
3 c. all-purpose flour
3 ½ teaspoons baking powder
1 c. milk
Preheat oven to 350 degrees. Lightly grease a 13×9-inch pan. In a medium bowl, cream together the sugar and butter. Beat in the eggs, one at a time, then stir in the vanilla. Combine flour and baking powder, add to the creamed mixture and mix well. Finally stir in the milk until batter is smooth. Pour or spoon batter into the prepared pan. Sprinkle berries over the surface of the cake. Bake 35-40 minutes. Cake is done when it springs back to the touch. Makes 1.
Note: I actually made 3 smaller cakes from this recipe- reduced baking time to 20- 25 minutes.
Lemon Butter Cream
½ cup butter
4 1/2 cups sifted confectioners' sugar
3 T. milk
1 T. lemon juice
1 1/2 teaspoons vanilla extract
In a bowl beat butter until fluffy. Gradually add 2 cups of the confectioners' sugar, beating well. Slowly beat in the milk, juice and vanilla. Slowly beat in remaining sugar. Beat in additional milk, if needed, to make of spreading consistency.