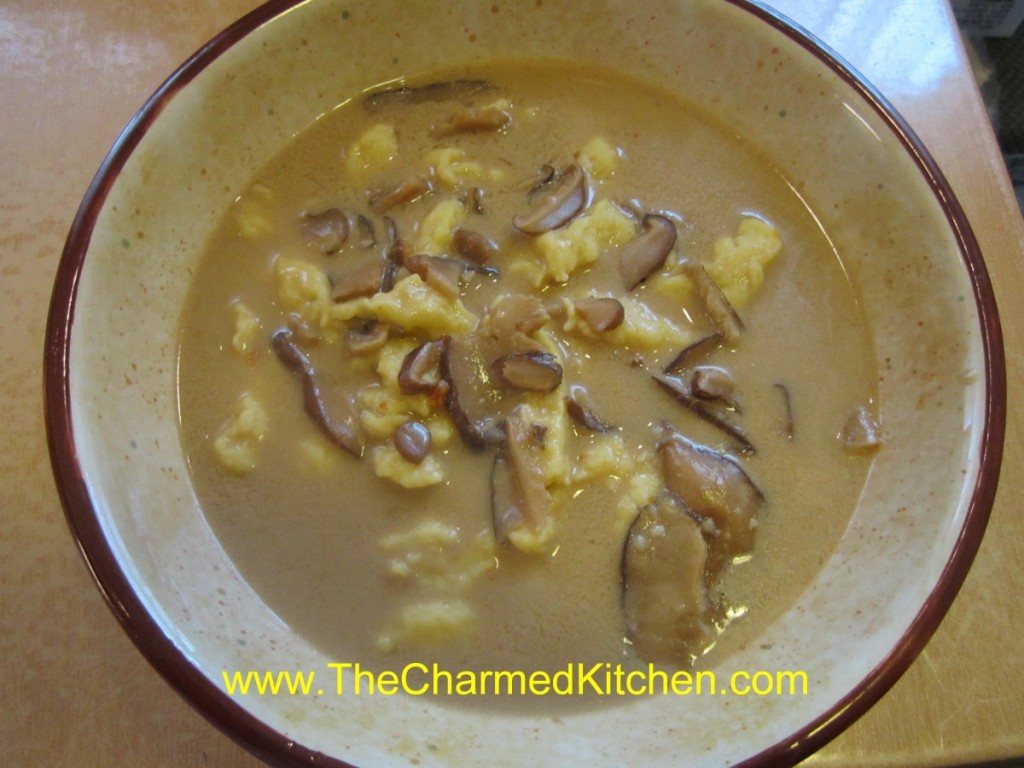 Since I decided to share some of my Mother's favorite recipes this week, I had to include this soup. Sharing this family recipe with other people makes me happy. My Busha (Polish Grandmother) and my Mother both made this soup. They would be pleased to know that someone is still making it.
There are many variations of mushroom soup in Eastern European culture. Some have barley, others add sauerkraut. This is my family's version. Plenty of mushrooms in rich stock, slightly thickened, and made creamy with the addition of sour cream. Ours is served with kluski noodles.
This soup is a tradition in my family. When I was a kid, my Busha would make it every Easter. My Mom made it for Christmas Eve. Now my niece makes it, and we have it the day before Thanksgiving.
It is one of those dishes that brings back so many wonderful childhood memories. I love the rich, earthy flavor of the mushrooms, and the slightly sweet/sour flavor of the broth. It is made with dried mushrooms, usually. I can remember watching my mom get out a big bowl and soaking the mushrooms to get them clean, and to soften them, before starting the soup.
I use dried shiitake mushrooms, but often add fresh mushrooms as well. Sometimes I use other dried mushrooms, too. I like to have a variety of mushrooms in the soup. I use chicken stock. If made with vegetable stock, it could make a great meatless meal.
Polish Mushroom Soup
4 qt. Chicken, beef or vegetable stock
5 c. dried mushrooms, about 4 0z. I use Shiitake.*
Water for soaking
½ c. flour
1 pint sour cream
¼ c. balsamic vinegar
2 T. sugar
1 Lb. Kluski-style noodles, cooked and drained
Soak mushrooms in water for 1-2 hours. Lift mushrooms carefully out to leave any sand in the bowl of water. Rinse and drain. Set aside. Bring stock to a boil and add the mushrooms. Simmer, covered for about 1½ hours, or until mushrooms reach desired tenderness. Mushrooms will retain some "chewiness". In medium bowl whisk sour cream into flour gradually until smooth. Stir in vinegar and sugar until smooth. Add a small amount of the hot soup to the sour cream mixture, whisking until smooth. Continue adding hot soup to the sour cream mixture until sour cream mixture is warm. Add the warm mixture to the pot of soup and stir to combine. Return to simmer and simmer 1 minute, stirring continuously. Place desired amount of kluski into bowls and ladle over the hot soup. Serves12.
Note: You can add a variety of fresh mushrooms to the soup to make it even more special. You might use portabellas; crimini, button or whatever mushrooms are at the store that day. Add in addition to the dry mushrooms; don't reduce the amount of shiitakes.
You can use other cooked pasta. You could try spaetzle or even gnocchi. You might also need more than one pound of kluski, depending on how much pasta your family likes in their soup.
*The dried shiitake mushrooms can be found at specialty grocery stores, some larger grocery stores and at Asian markets.
I was lucky enough to get some beautiful fresh Shitake mushrooms a few days ago. I also had some Crimini mushrooms. With a chilly weekend ahead I decided to go with a soup.  I was thinking of a version of the mushroom soup I grew up with. It is normally made with dried mushrooms. I made some changes, like adding barley. I was also planning on adding sour cream. A friend mentioned a recipe she had with paprika added to a mushrooms. The Mushroom Paprikash Soup was born. We had it over the weekend and everyone really liked it. Here is the recipe. If you can't find fresh Shitake Mushrooms feel free to use what fresh mushrooms you do have.
Mushroom Paprikash Soup
8 oz. fresh shitake mushrooms
8 oz. fresh crimini mushrooms
oil
2 onions, chopped
8 cups water
1 c. uncooked barley
1/4 c. balsamic vinegar
1/4 c. sherry
2 T. honey
1 c. sour cream
2 T. paprika
1 T. hot sauce
salt and pepper to taste
Remove stems from mushrooms and wash thoroughly. In soup pot heat oil and add onions and mushroom stems and cook until golden brown. Add the water and simmer together for 30 minutes or longer to make a mushroom stock.  Meanwhile, wash and slice the mushroom caps. Strain stock, discard onions and stems and set aside. Put a little more oil in the soup pot and add the sliced mushrooms. Saute them for a few minutes. Return stock to soup pot with the mushrooms, bring to a boil and simmer, covered for 20 minutes. Add the barley, vinegar, sherry and honey and simmer, covered, for 40-50 minutes, or until barley is tender.  To prevent the sour cream from curdling place it in a small bowl and ladle in a little of the hot soup. Whisk until smooth and add a little more soup, whisking again. Add the sour cream mixture to the soup along with the rest of the seasonings. Adjust to your taste and serve. Serves 6.