This is one of my favorite desserts. A soft pumpkin cake, lightly spiced, rolled around a cream cheese filling. Not just tasty, it's pretty, too.
I have several variations of this recipe and decided to make the "simple" one last night. It mixes up in no time and rolls up easily. I like the combination of spices, too. It also freezes well. You can make a couple of them and pop them in the freezer, so you always have dessert when needed. This recipe makes one cake, but can easily be doubled. These make nice gifts, too.
It is baked in a small jelly roll pan, the 10×15-inch size. Don't freak out when you put the batter in the pan. It will fill it right up to the top. The cake doesn't rise much, so it works.
Pumpkin Cake Roll
3 Eggs
1 cup Sugar
2/3 cup Pumpkin puree
1 teaspoon Lemon juice
3/4 cup All-purpose flour
1 teaspoon Baking powder
2 teaspoons Cinnamon
1 teaspoon Ginger
1/2 teaspoon Nutmeg
1/2 teaspoon Salt
Filling:
8 ounces Cream cheese — softened
4 tablespoons Butter
1 cup Powdered sugar
1/2 teaspoon Vanilla
In large bowl, combine eggs and sugar, beating with an electric mixer until thick and light yellow in color. Add pumpkin and lemon juice, mixing until blended. In separate bowl, combine flour, baking powder, spices and salt. Add to egg mixture, mixing well. Spread batter into greased and waxed-paper lined 10-by-15-inch jelly-roll pan.
Bake at 350 ° for 15 minutes. Remove from oven. Cool for 15 minutes. Place cake on clean tea towel sprinkled liberally with powdered sugar. Peel off the wax paper. Cool 10 minutes longer. From 10- inch side, roll cake up in towel. Set aside. While cake is cooling in towel, prepare filling. Beat together cream cheese and butter; stir in powdered sugar and vanilla and blend until smooth. Unroll cake. Evenly spread filling over cake. Roll up cake (without the towel). Wrap in plastic wrap. Cover and chill at least 1 hour before serving. A serrated knife works best for slicing. Keep leftover cake refrigerated. This pumpkin roll freezes well. Serves 6-8.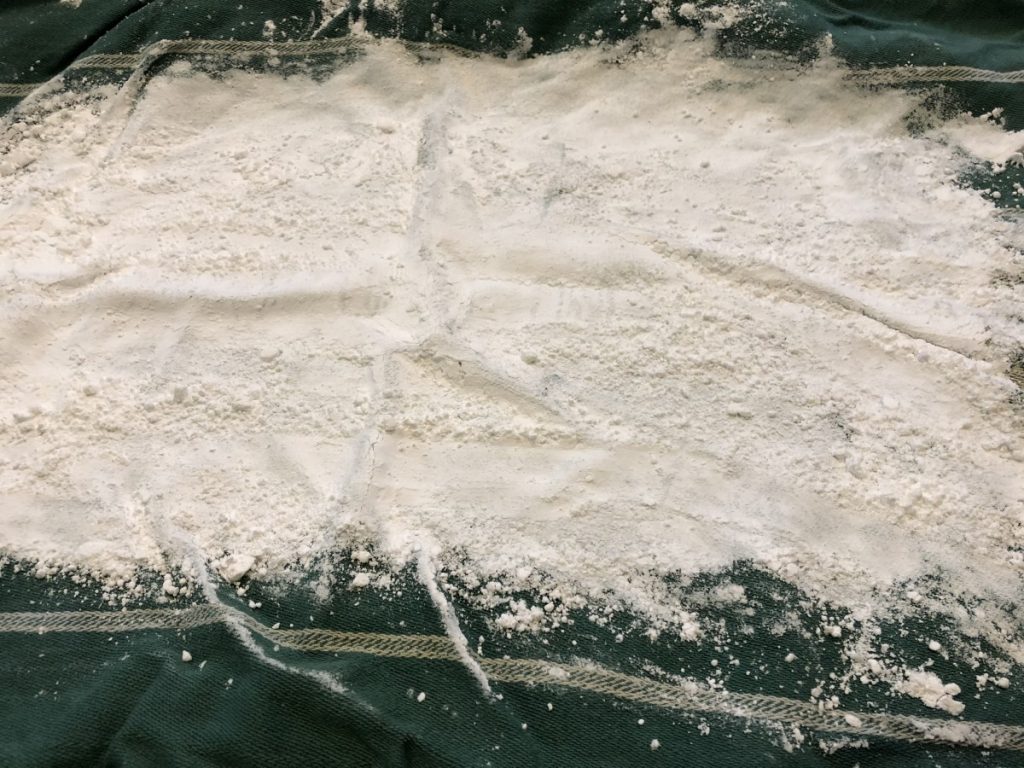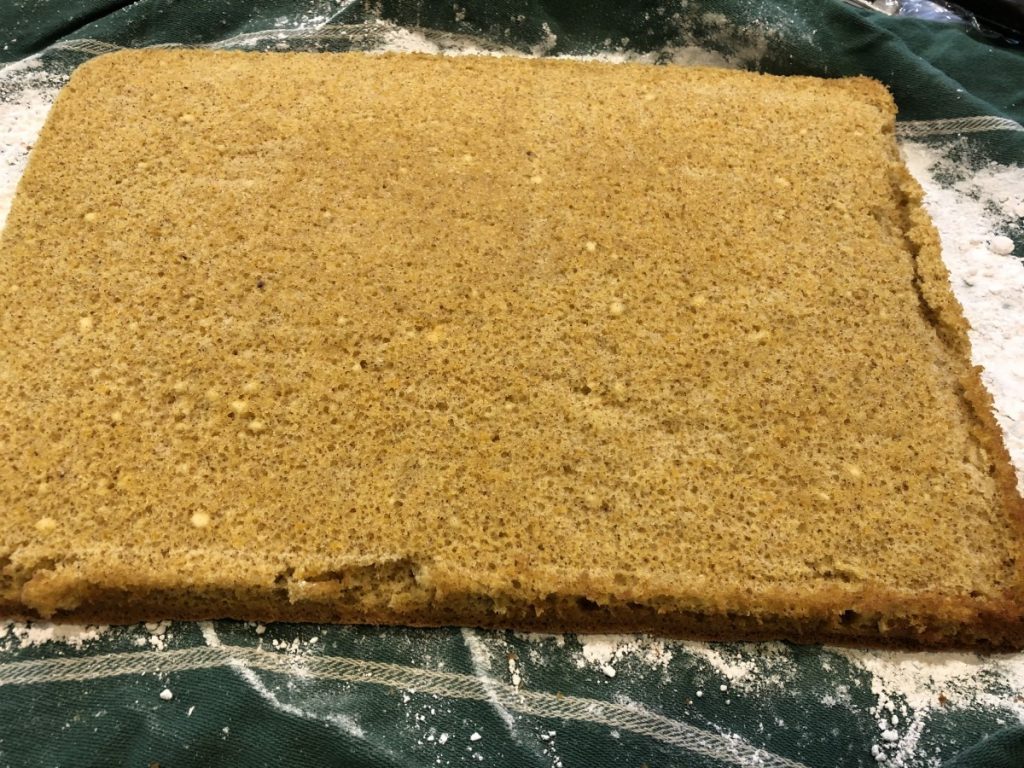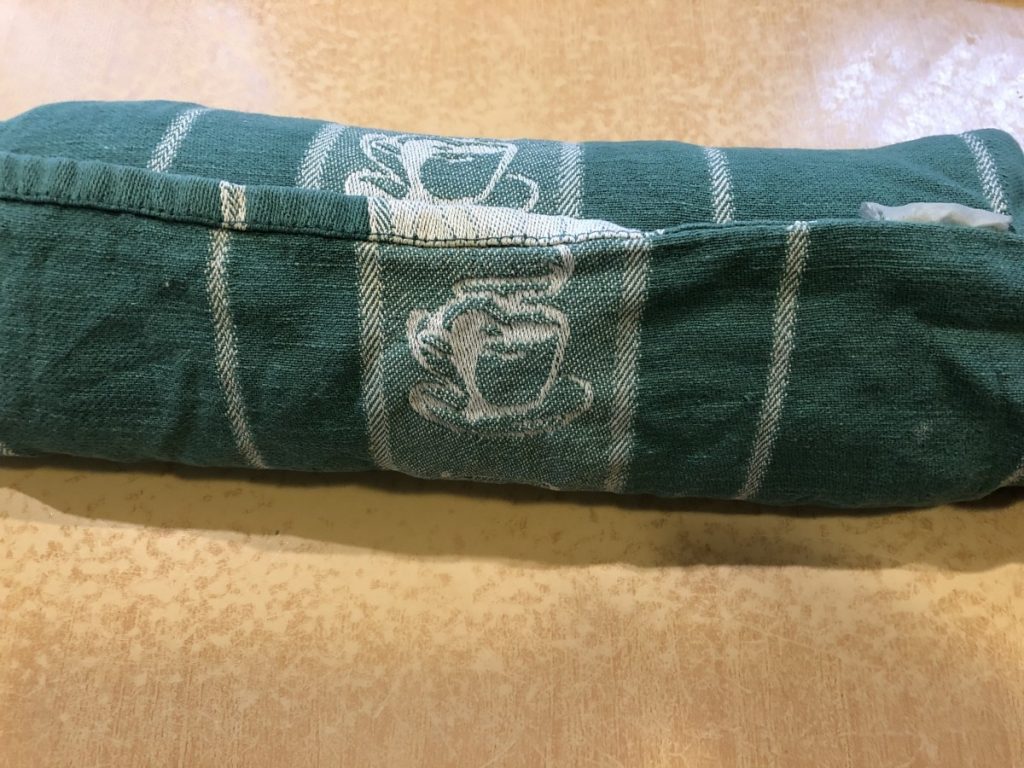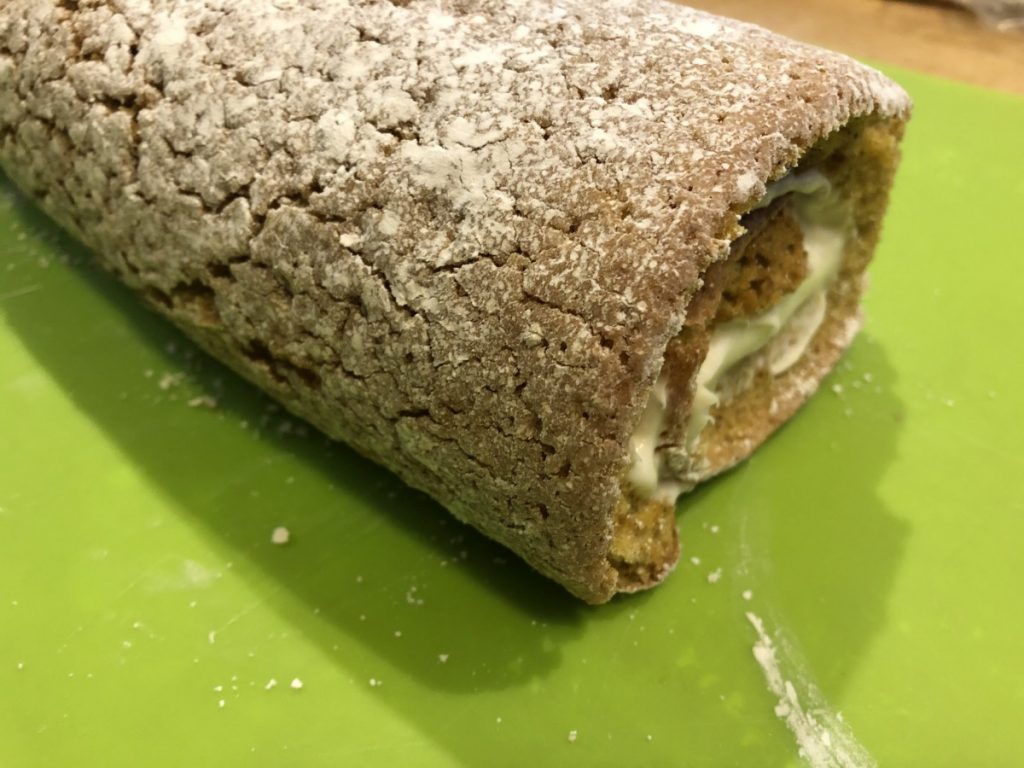 This recipe has been part of our family for years now. My mom made them for Thanksgiving every year- and I continue that tradition. Like my mom, I use fresh (or frozen) cooked pumpkin or winter squash. My mom didn't care much for the taste of canned pumpkin. She would cut up the Halloween pumpkin, cook it, puree it and freeze it- so she could make pumpkin squares anytime she wanted.
The original recipe came from Bisquick, but it had 2 cups of sugar in it. My Mother's sensibilities kicked in and she cut the sugar down to one cup. Great move on her part. The cake is still plenty sweet with less sugar.
It mixes and bakes up in no time. I normally top it with cream cheese frosting, but it would be good with a simple powdered sugar glaze, a buttercream frosting, or even just a dusting of powdered sugar mixed with a little cinnamon.
The texture is moist and tender and I think you'll enjoy it as much as I do.
Pumpkin Squares
1 c. sugar
½ c. oil
16 oz. cooked pumpkin, canned, fresh (preferred) or frozen
4 eggs, beaten
2 c. biscuit mix (homemade or Bisquick or Jiffy Mix)
2 t. cinnamon
½ c. raisins, optional
Grease a jelly roll pan and set aside. Preheat oven to 350 degrees. Beat first 4 ingredients for 1 minute. Stir in mix, cinnamon and raisins. Pour in prepared pan and bake 25-30 minutes. Test for doneness with a toothpick. Cool and frost. Frosted cake must be kept refrigerated between servings.
Frosting:
8 oz. cream cheese
2/3 c. butter
2 T. milk
2 t. vanilla
3 c. powdered sugar, or more
Beat together until smooth.
This is one of those desserts everybody seems to like. The cake is tender and moist with just the right amount of pumpkin and spices. Whenever I make one someone will comment that they seem hard to make. They aren't. Just follow the directions and you'll be fine. The effort is well worth it. Another plus is that this recipe makes 2 cakes so you can serve one now and have another one for later. They are baked in a jelly roll pan. There are several sizes of jelly roll pans out there. For this recipe I use the smaller size, which is 10×15 inches. These cakes can also be frozen.
Pumpkin Roll
6 eggs, separated, at room temperature
1 c. sugar, divided
1 c. flour
1 c. canned pumpkin
2 t. cinnamon
1 t. baking powder
1 t. ginger
½ t. nutmeg
½ t. salt
about 4 cups powdered sugar
1 lb. cream cheese, softened
1 t. vanilla
1 c. chopped nuts, optional
Preheat oven to 375 degrees. Grease 2 jellyroll pans  (10×15) and line with wax paper. Grease and flour paper and set aside. In large bowl beat egg whites until soft peaks form. While beating add ½ cup of the sugar, 2 tablespoons at a time. Beat until peaks are firm and glossy. In small bowl on low speed mix together flour, pumpkin, spices, baking powder, salt, remaining sugar and egg yolks. Gently fold flour mixture into egg whites. Divide batter between prepared pans and bake one 12 minutes or until cake springs back when toughed lightly. Meanwhile, prepare a tea towel by laying on a clean surface and dusting generously with powdered sugar. When cake is done immediately turn onto prepared towel and remove wax paper. Starting at narrow end roll up cake in the towel and allow to cool. Repeat with second cake.
Prepare filling by beating together 3 cups of powdered sugar with the cream cheese and vanilla. Add additional sugar, if needed. Stir in nuts, if using.
To finish cakes, carefully unroll and remove towel. Spread half of the filling on one cake and re-roll. Repeat with second cake. Chill. Makes 20 servings and can be frozen.