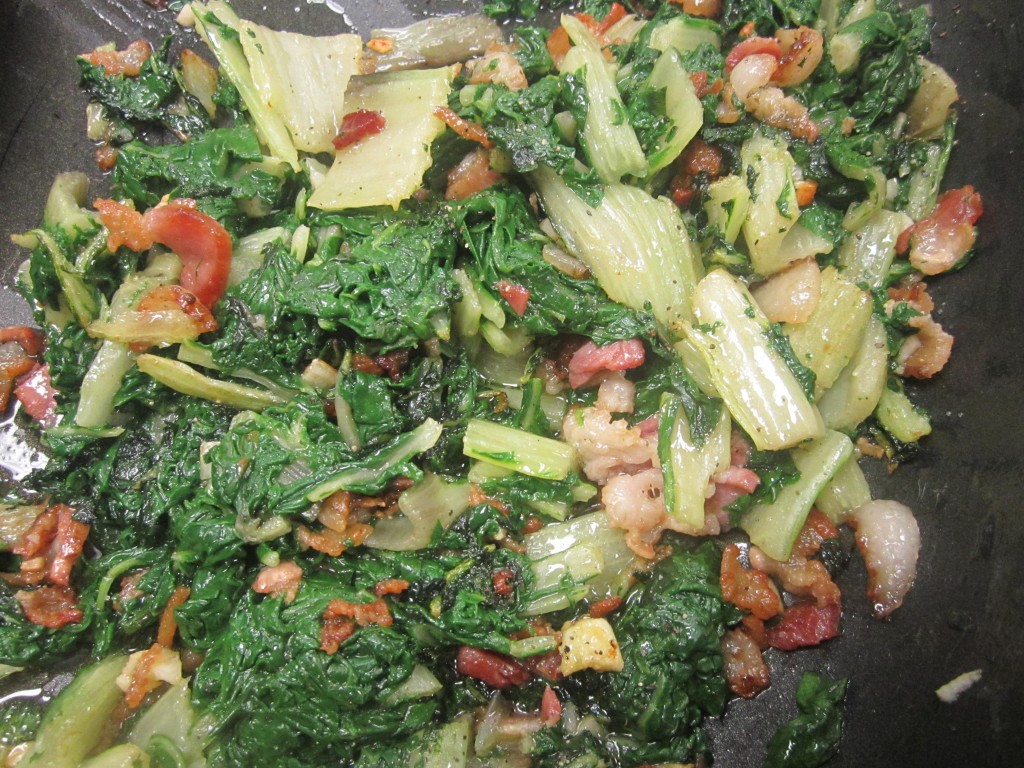 I really enjoy the taste of Swiss chard- but then I also like beet greens. Swiss chard is a close relative of beets. Unlike beets, chard does not produce edible roots. All leaves, all the time. They cook pretty quickly and have a rich, earthy flavor. Combined with a little bacon the chard is elevated to a whole new level. 
Since I was recently given a lot of Swiss chard, I have been having fun cooking with it. This is one of my favorite preparations.
Braised Chard
1½ lbs. Swiss chard
2-3 slices bacon, chopped
2 cloves garlic, peeled and chopped
Salt and pepper to taste
Wash chard and trim ends off stems. Place chard in large pot with boiling water and cook until stems are fork-tender, about 10-15 minutes. Drain and rinse chard with cold water. Cool and squeeze out excess water. Coarsely chop chard and set aside. Heat skillet and add bacon, cooking until bacon starts to brown. Add chard and garlic and cook, stirring often until chard is sizzling- about 5 minutes. Season to taste and serve. Serves 4.
I love Swiss Chard and have been enjoying a lot of it lately. It is abundant at local farm markets and in my yard. I decided to use some of my chard to make  gnudi. What are gnudi? They are little dumplings. Gnudi are similar to gnocchi but you use ricotta cheese instead of the potatoes. When done right they are tender and light. These were like little pillows of flavor. I just served mine tossed in butter and topped with fresh grated Parmesan cheese. If you are trying to get your family to eat more greens- try making these.
Swiss Chard Gnudi
1 lb. Swiss chard, stem ends trimmed
1 c. whole milk ricotta
½ c. grated Parmesan cheese plus extra for sprinkling
¼ c. dried minced onion
1 egg
½ t. coarse salt
¼ t. fresh ground pepper
1/8 t. ground nutmeg
¾ c. flour, plus extra for rolling
Butter
Grated Parmesan cheese
Cut chard leaves from each side of center stem. Cook chard leaves in large pot of boiling salted water until tender, about 3 minutes. Drain; cool. Squeeze chard leaves until very dry; place in processor. Using on/off turns, finely chop chard. Add ricotta, ½ cup Parmesan, onion, egg, coarse salt, pepper, and nutmeg; process to blend. Transfer mixture to medium bowl. Add ¾ cup flour; stir to blend. Cover and refrigerate dough overnight.
Line rimmed baking sheet with parchment paper. Spoon some flour onto large plate. Working in batches, drop heaping teaspoonfuls gnudi dough (size of small walnuts) onto plate with flour to form about 36 gnudi. Using floured hands, gently shape each into 1 1/2-inch-long, 1/2-inch-thick oval. Tap off excess flour; transfer gnudi to prepared baking sheet. They can be made 2 hours ahead. Cover and chill. Bring large wide pot of salted water to boil. Slide gnudi into pot; cook until they float to the top, about 4-5 minutes. They are very tender so remove from water gently. Toss cooked gnudi in butter and sprinkle with cheese. Serves 4.