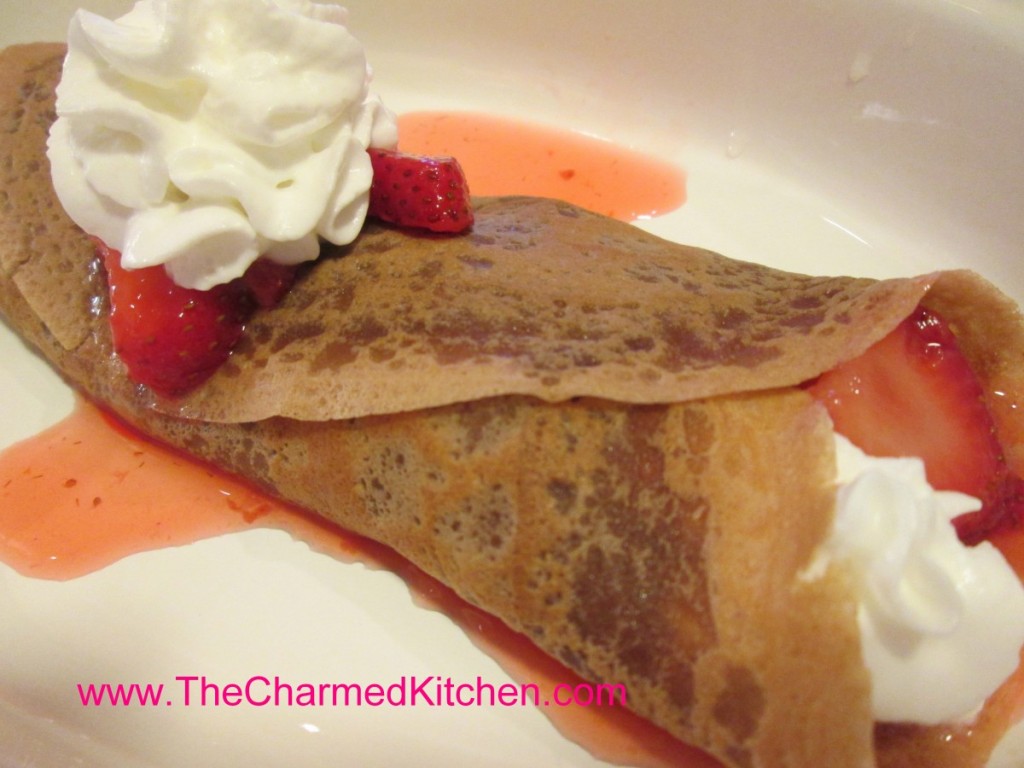 I love these chocolate crepes. They make a great dessert, or breakfast, for Valentine's Day.  The crepes pair nicely with fresh berries, but you could add any number of fillings. Ice cream works, or try jam, pudding, custard or whipped cream.
I topped mine with berries and whipped cream. You could also add some shaved chocolate as a topping.
If you haven't made crepes, this might be just the recipe to convince you.
I often make a double batch of the crepes, then freeze some, between layers of wax paper. That way I can have crepes whenever I want.
Truth is, you can fill these crepes with all sorts of stuff. I had fresh berries, so that is what I used. I added some Kahlua to the batter for a little extra flavor and it worked out just great.
You can have all the components ready, then just assemble when ready to serve. Such a lovely dessert.
Here is the recipe.
Chocolate Crepes
1 c. flour
4 eggs
1 1/2 c. milk
¼ c. cocoa
3 T. sugar
¼ c. Kahlua or other coffee flavored liqueur or ¼ c. strong coffee
1/4 c. butter, melted and cooled
Mix all ingredients in blender (except butter) until smooth, scraping sides often. Add butter and blend well. Let stand for 30 minutes before using, or batter can be refrigerated, covered, overnight. Beat again, just before using.
Heat 6 or 7 inch skillet. Brush with butter or oil and pour in about 1 tablespoon of batter, tipping pan to cover bottom of pan completely with batter. Cook until edges start to brown, turn over and cook until lightly browned (about 2 minutes per side.)
Crepes can be made day ahead or even frozen between sheets of waxed paper and frozen. Makes 18.
Strawberry filling: I just sliced a couple of pounds of berries and added a little sugar- about ½ cup- a tablespoon of vanilla and a healthy dash of cinnamon.
When filling the crepes I spooned some berries down the center of the crepe and added some whipped cream. Folded over, topped with a few berries and another bit of whipped cream.
This cake is made without any flour and trust me, you will never miss it. This is a dessert everyone seems to love whenever I make it. This is  also a great dessert option for those who can't tolerate gluten. The texture is dense, but not heavy. With only 5 ingredients, it is also pretty simple to make.  While it can be baked in any cake pan, I chose a heart shaped pan this time. Once baked and cooled the cake can be served as is, or garnished with any number of things. Fresh berries are always a nice touch, or a light dusting of powdered sugar. Sometimes I'll pipe some whipped cream around the edges.
Flourless Chocolate Cake
½ c. each sugar and water
1 stick butter
12 oz. semi sweet chocolate
6 eggs
¼ dark rum or other liqueur
Butter an eight inch cake pan and line with parchment. In saucepan heat together water and sugar until they boil. Stir in butter and bring to boil. Remove from heat and stir in chocolate until melted. Beat in eggs until smooth and stir in rum. Pour batter into prepared pan and place pan in a roasting pan. Pour boiling water into roaster to come up sides of pan 1 inch. Bake in a preheated 325 degree oven for 45 minutes. Cool, invert onto plate.
Serve cake topped with whipped cream and decorate with raspberries, other fresh fruit or even toasted nuts. Dense and rich this cake serves 8-10.