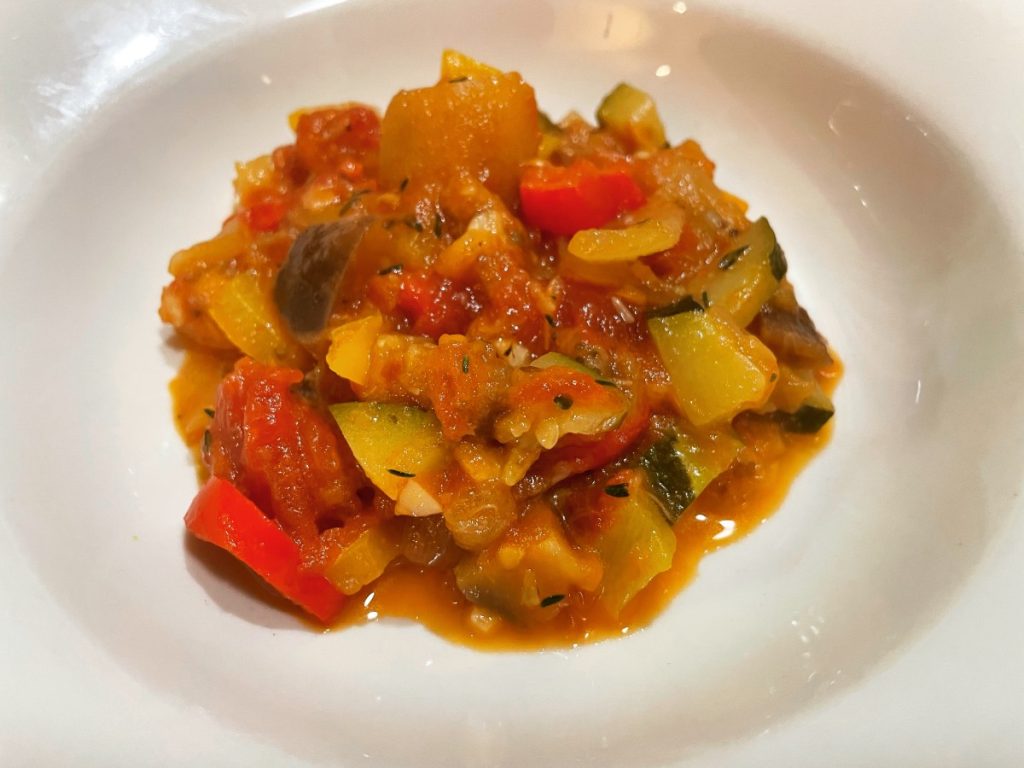 Ratatouille is a French vegetable stew made with eggplant, peppers and tomatoes, along with some other ingredients. I often enjoy it when the garden season is at its peak. For some reason I had not made it in awhile. I am not sure why not.
When a friend gave me 4 beautiful Japanese eggplant- those are the long skinny ones- I suddenly had an urge to make ratatouille. I already had peppers and zucchini. I have been canning tomatoes and I always have onions and fresh garlic.
There are all sorts of variations out there. You can adjust the herbs based on what you have and what you like. You can also play around with the ratio of the vegetables. I sometimes think of ratatouille as an end of season dish, when the last of the garden harvest is just asking to be made into a truly satisfying dish. The first time I had it a friend made it for me. We had been gardening and had a lot of veggies to use. It was so good. I have been making it ever since, although I don't always measure everything out exactly.
So here is my recipe, the one I measured out!!
Ratatouille
1 large onion, sliced in thin wedges
2 cloves garlic, minced
3 T. oil
1 14 oz. can tomatoes, cut up, I used a pint of home canned tomatoes
1 1/2 t. dried thyme
1 t. salt
1/2 t. pepper
1 bay leaf
2 medium eggplant, peeled and cubed I used 4 Japanese eggplant, which are long and thin
2 medium zucchini, cut in chunks
2 sweet peppers, any color, seeded and chopped
Heat oil in Dutch oven and cook onion and garlic until tender. Add remaining ingredients, except peppers, and cook until vegetables are tender and sauce is thickened, about 30 minutes. If stew is too runny, remove lid and cook 10 minutes longer. Add peppers and cook, covered 15 minutes. Remove bay leaf. Serves 8-10. In crock-pot combine all ingredients and cook on low 6-8 hours.
I really like most leafy greens. A lot of people don't though and I often hear from people who would love to get family members to eat them. Sometimes you have to get creative and add them to dishes where the flavor is masked a little with other foods. This simple stew is a great way to maybe get family members to try kale in a less obvious way.   It tastes pretty good, too.
Kale and Bean Stew
1½ lb. kale leaves, center ribs removed
3 T. oil
1 c. chopped carrots
1 c. chopped celery
1 c. chopped onions
2 garlic cloves, minced
1 c. dry white wine
2 (15 oz.) cans beans, rinsed and drained- I used garbanzos and lima beans
4-5 cups Vegetable or chicken stock
1 t. dried savory or thyme
1 bay leaf
1 T. white balsamic vinegar
2 T. fresh chopped herbs
Blanch kale in boiling water for 1 minute. Rinse under cold water. Drain and squeeze out excess water. Chop kale leaves coarsely. Heat oil in pot over medium heat. Cook vegetables and garlic until tender but not browned. Add wine and simmer until liquid is reduced by half. Add 4 cups of the broth, beans, savory and bay leaf and simmer over medium-low heat for 20 minutes. Add kale and simmer 5 minutes more. Add more stock if stew is too thick. Add vinegar, fresh herbs and salt and pepper to taste. Serves 6.