The Challenge: Getting Creative
I can't believe it has already been 45 days since I went to the grocery store. I have to admit it is getting harder but I am hanging in. I do find it most difficult when entertaining. I so want to go get fresh produce and I have a craving for lettuce that borders on obsession. The other day I had company for dinner. Soup is still pretty easy for me to produce but I needed dessert. Hmmm.
I had some tortillas in the freezer and I still have fresh apples so I turned them into a sort of blintz. I peeled and sliced a couple of apples and sliced them into strips. I sauteed them in a little butter and then added just a tablespoon of water and some brown sugar and cinnamon. The tortillas had some dryness from being frozen so I soaked them in water for a few minutes. Milk would have worked, too. I rolled the apple mixture in the tortillas and browned them in a skillet in butter. Dusted with powdered sugar and tada- dessert.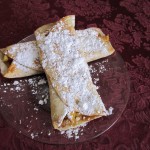 Thanks again for all the feedback. Plan to hold out at least until March 1. May go for April 1st but still thinking about that one.