Ramp and Potato Soup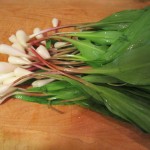 Ramps are abundant now but their season is short and there is no time to waste. Enjoy them any way you can. I love them in omelets and stir fries. Sometimes I just brush ramps with olive oil and oven roast until tender. If you can get a hold of extra ramps you can saute them in oil and freeze for later.
Creamy Ramp and Potato Soup
4-6 ramps, cleaned, trimmed and chopped
1 T. oil
3-4 cups chopped potatoes
4 c. chicken or vegetable stock
1 c. milk, soy milk, almond or rice milk
3 T. flour
salt and pepper to taste
fresh chopped parsley
Heat oil in saucepan and cook ramps until wilted- about 3 minutes. Add potatoes and stock and bring to a boil. Turn down heat and cover pan, cooking until  potatoes are tender- about 15 minutes. Combine milk with flour in small jar with tight- fitting lid. Shake until mixture is smooth and pour into simmering soup. Stir and cook until thickened and simmer a couple of extra minutes ad just seasoning and add parsley just before serving.