Cupcakes with Kids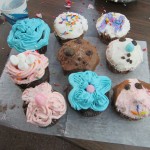 We had so much fun in Mentor cooking camp today. It was cupcake day or rather "pup" cake day. The kids were all so cute. They decorated 10 dozen cupcakes!!
-Novelty cupcakes are all the rage. Animals are fun. For cats, dogs, pigs, cows etc use jelly beans, small chocolate covered mints, chocolate- covered raisins for noses. Eyes can be raisins, Craisins, M&M's, chocolate chips or any small candy. Spots can be mini-chips and whiskers can be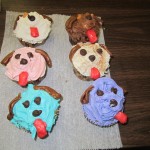 string licorice or pretzel sticks. Ears can be frosting, rolled out Tootsie Rolls or caramels, pieces of cookies. Starburst candies (red or pink) can be rolled out and cut for tongues and fruit roll-up also make great tongues. You can just pile up frosting for snouts but I like to put pieces of marshmallow underneath and frost over. Use decorating tips for different types of fur and don't be afraid to tint frosting for blue dogs or pink kitties.