Be Cool- Fruit and Yogurt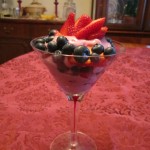 They say we eat with our eyes. I still use my mouth but I get the point. Visual appeal can make simple foods seem special. Although, for the record, no amount of pretty plating can save really bad food. So I offer up to you today- fruit and yogurt. Used for breakfast and snacks for a lot of us. Dressed up it can even be a light dessert on a day to hot too bake. I used cherry yogurt- I could have used any fruit flavored yogurt or plain, Greek, or vanilla in its place. I spooned some yogurt into a stem and added sliced fresh strawberries and blueberries. Again, any seasonal fruit you like can be used. Repeated layers until glass was full. Chill until ready to eat. You could also add some fresh chopped mint, if you like.
For breakfast you can sprinkle some granola on the top right before serving. Simple, fast and tasty.