Be Cool – Zucchini Pancakes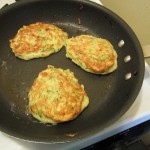 If you are awash in squash like I am right now another zucchini recipe is a good thing. What's nice about these is they cook so quickly you won't heat up the whole house making them. Oh, and they taste yummy, too.
Zucchini  Pancakes
2 medium zucchini
2 eggs, lightly beaten
2 T. flour
¼ t. baking powder
1 t. salt or to taste
Pepper to taste
2 T. grated onion, I used dried chopped onion
½ c. oil
Trim zucchini and grate coarsely. Place in large bowl.  Add the rest of the ingredients, except the oil and stir to combine. Heat oil in a skillet. Drop rounded tablespoonfuls of the batter into the skillet. Cook several minutes per side or until golden and crispy. Drain on paper towels and serve. Serves 6-8.