Yellow Roman Green Beans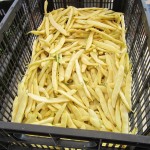 I have always had a special love for beans, green or yellow. When I was a kid my family would go out to the country on weekends, usually Sundays and stop at roadside stands on the way home. When they were in season we would always buy green beans. My Mom would boil them until just tender then pile them up on a big plate. She sprinkle them with a little salt and add a pat of butter to the top. We'd sit there and pick up a bean, run it over the butter and eat it. Can't think of beans without thinking of my Mother and Sunday night bean feasts. To this day I like them simple.
One of the treasures in my bag this week from Blue Pike Farm are Yellow Roman or Italian Beans. They are so fresh I ate several raw while still at the farm.  Here is one of my favorite bean recipes. The Yellow Roman beans will pair up nicely with the other ingredients.
Green Beans with Herb Butter
1 lb. Green or yellow beans, washed and trimmed
¼ c. butter
¾ c. minced onionor shallots
1 clove garlic, minced
¼ c. minced celery
2 T. sesame seeds
2 T. chopped parsley
¾ t. salt
¼ t. each rosemary and basil
Boil or steam beans until tender, about  8 minutes. Drain and set aside. Meanwhile, start sauce. Heat butter in skillet and add onion, garlic, celery and sesame seeds. Cook 5 minutes then add seasonings and cook, covered, 10 minutes more. Toss beans with sauce.  Serves 4.