Kale Chips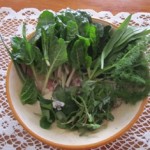 I love kale, even when not crunchy. But I must admit there is something about kale chips that is special. Green and crunchy and good for you. One of nature's perfect foods. I promised a class last week that I would post my recipe for kale chips so here it is.  If you have never had them or have never made your own they are super tasty and super easy to make.
Tuscan Kale Crisps
These make a different and fun appetizer when served upright in a tumbler or vase.
12 large Tuscan kale leaves, rinsed, dried and split lengthwise with the ribs removed
1 T. olive oil
Sea salt and fresh ground pepper to taste
Preheat oven to 250 degrees. In a large bowl toss kale leaves with the oil and season with salt and pepper. Arrange leaves in a single layer on 2 large baking sheets. Bake until crisp- about 30 minutes for flatter leaves and 33 minutes for more crinkly leaves. Makes 24.