Halloween Goodies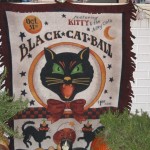 So what treats will you be planning for Halloween this year? Candy apples, cauldrons of smoking punch, finger sandwiches? I've had some fun Halloweens over the years and have made a lot of fun treats. Bat cookies, flaming ghost cake cake, bat wings, goblin goo drink and many more. I'd love to hear what plans you have for Halloween this year. I'll be sharing recipes, too. Here are a couple to get you started.
Vampire Chasers
2-3 heads garlic
Olive oil
½ c. grated Parmesan cheese
Sliced, toasted French or Italian bread, about 1 loaf
2 large onions, sliced thin
Salt and pepper
Shredded mozzarella cheese
Trim tops off the garlic heads, being careful not to dislodge the cloves. Brush with oil and wrap in foil. Bake in a preheated 350 degree oven for 45 minutes or until garlic is soft. Remove from oven and allow to cool a little. Squeeze roasted garlic out of skins and combine with the Parmesan cheese. Spread on the bread and keep wrapped until ready to use. Can be made a day ahead. Sauté onions in oil until browned. Season to taste. Divide onions among bread slices. Top with some of the shredded cheese and bake or broil until cheese has melted.
Bone Yard Beef Ribs
5-6 lbs. Beef back ribs cut into single bone pieces
Salt and pepper to taste
Garlic powder
1 c. Italian dressing, home made preferred
Barbecue sauce
Trim off any excess fat. You can ask your butcher to cut ribs in half lengthwise when you but them because they are very long. Still, the most dramatic effect is attained when the bones are left intact. Place ribs in a roasting pan and season with salt, pepper and garlic powder.  Drizzle on the dressing and seal pan with foil or tight fitting lid. You can cook them right away or refrigerate overnight. When ready to cook place pan in preheated 350-degree oven for 1½ hours. Remove foil; drain off any liquids in pan and brush with barbecue sauce. Bake 30 minutes longer. Serve with extra sauce on the side. Serves 4-5.
Note: You can use pork ribs instead, if you prefer.
For a fun serving idea, stick ribs upright in a bowl or food-safe pail.
Beef ribs are not always available so ask your butcher ahead to insure you will have them.