Green Tomato Pickles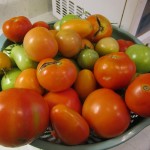 I harvested what will probably be the last of this season's tomatoes. Some red ones, but mostly green. I love fried green tomatoes but there are far too many for just that.  My friend Mari has the same problem so I promised to post the recipe for green tomato pickles for her. They are really easy to make and they taste good, too. I have also included the recipe for sweet green tomato pickles.
                                      Green Tomato Dill Pickles ‑ Kosher style
Green tomatoes
Stalk celery
Sweet green peppers
Garlic
2 quarts water
1 quart vinegar
1 cup salt
Dill
Use small firm green tomatoes.  Pack into sterilized canning jars.  Add to each quart jar a bud of garlic, 1 stalk of celery, and 1 green pepper cut into fourths.  Make a brine of the water, vinegar, and the salt.  Boil with the dill for 5 minutes.  Pour the hot brine over the pickles to within 1/2 inch of the top of the jar.  Put on cap, screw band firmly tight.  Process in a boiling water bath for 15 minutes.  These pickles will be ready for use in 4‑6 weeks.  Yield:  About 6 quarts.
Green Tomato Sweet Pickles
1 gallon green tomatoes (16 c. sliced)
1/4 c. salt
1/2 T. powdered alum
3 c. vinegar (5% acidity)
1 c. water
4 c. sugar
2 T. Pickling spice
1 T. celery seed
1/2 t. cinnamon
Slice tomatoes.  Sprinkle with salt and allow to stand overnight.  Next morning, drain and pour 2 quarts of boiling water with 1/2 Tablespoon of powdered alum over the tomatoes and let stand 20 minutes.  Drain and cover with cold water, drain.  Combine vinegar, water, sugar and spices (tie spices loosely in a bag) and bring to a boil.  Pour this over the tomatoes.  Let stand in this solution overnight.  Then drain and bring solution to boil and pour over tomatoes.  Let stand overnight.  On the third morning bring the pickles and solution to a boil.  Pack into sterilized canning jars to within 1/2 inch of top.  Put on cap, screw band firmly tight.  Process in boiling water bath for ten minutes.  Yield:  8 pints