Cinnamon Ornaments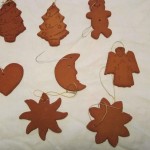 I always enjoy making and receiving homemade gifts at the holidays. I know with all the talk of how commercial everything is a homemade gift just seems more personal. In the next couple of weeks I'll be posting lots of ideas for home made and home baked gifts for giving. I hope you will enjoy them.
An easy project to try is cinnamon ornaments. Both adults and kids can make them. You make a dough from cinnamon and applesauce- roll it out and cut out with cookie cutters. Don't forget to add a hole for a hook or string so your ornament can be hung up later. Then you just let them air dry for a few days. They make the house smell wonderful and last for years.
Cinnamon Ornaments
These are for decorating not for eating!
3/4 c. applesauce
1 bottle (4.12 oz.) cinnamon
Mix applesauce and cinnamon and knead to form a stiff dough. Roll out to 1/4-inch thickness and cut out with cookie cutters. Make hole in top of ornament with skewer or straw and carefully transfer to rack to dry. Let dry a couple of days, turning occasionally. Hang dried ornaments with decorative thread or ribbon. Makes about 12-15.