Crab Rangoons
Crab Rangoons were super simple to make and a big hit as an appetizer at a dinner a few days ago. Just a few ingredients and a few minutes and you're done. I served them with my Sweet and Sour Sauce. Because I used wonton wrappers  they were quite small so I didn't need a lot of oil to fry them. I used a small saucepan and fried about 7 or 8 at a time. They only take a couple of minutes.  I was through in no time.
Crab Rangoons
1 can (6 oz.) crab meat,drained well
1 (8 oz.) package cream cheese
dash of hot sauce
wonton wrappers
oil for frying
Combine crab meat with cream cheese and hot sauce. Place a wonton wrapper on work surface and place a teaspoonful of the crab filling in the middle. Fold 2 corners in to just touch. Take one of the remaining corners and roll up into a tiny roll. Dampen edge with a little water to affix. Repeat with remaining filling. You should get a several dozen. Pour 1-inch of oil into a small saucepan and heat to 350 degrees.  Fry rangoons a few at a time until golden and drain on paper toweling. Keep warm in 300-degree oven until ready to serve- but best served right after you make them. Serve with Sweet and Sour Sauce.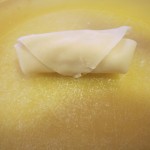 Roll up and use a drop of water to seal.