Herbed Sweet Potato Biscuits
If you are looking for a new way to cook sweet potatoes try adding them to your biscuit dough. As they bake they add moisture and tenderness. These are a fast and tasty addition to your dinner. Perhaps even for the holiday table. The biscuits are tender and are best served warm with sweet butter.
Herbed Sweet Potato Biscuits
2 1/4 c. flour
1 T. baking powder
1/2 t. grated lemon peel
1/4 t. each baking soda, dried basil and dried thyme
1 egg, beaten
1 1/2 c. shredded sweet potato, about 1 large
1/2 c. fine chopped green onions
1/2 c. sour cream
2T. butter, melted or olive oil
Stir together dry ingredients in large bowl and set aside. Combine remaining ingredients and add to flour mixture mixing until just blended. Turn onto lightly floured surface and knead a few times until dough just stays together. Dough will look too dry- but it will come together after you knead it. Press into an 8-inch square and cut into four squares.* Cross cut each square into four triangles. Place on greased baking sheet and bake in a preheated 425 degree oven for 20 minutes. Makes 16.
* I press the dough into a lightly floured 8×8-inch baking pan and then flip it out onto the work surface. That way you'll get nice, even edges.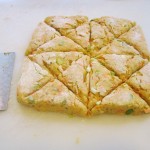 Cut dough into 16 triangles