Honey Bunnies
These rolls are really tasty and just adorable. Rich and soft they can be served with breakfast, brunch or dinner. The dough is made and then chilled for anywhere from 2-24 hours so you can make the dough in the evening and roll and bake the next day.  Fresh out of the oven they are brushed with a honey-butter glaze that gives them a beautiful shine and just a touch of sweetness.
Honey Bunnies
 4-5 c. flour
2 packages yeast
1 t. salt
2/3 c. evaporated milk
½ c. each water, honey and butter or margarine
2 eggs
Raisins, optional
Honey glaze
1/2 c. honey and 1/4 c. butter or margarine heated together until warm.
In bowl combine 1 c. flour, yeast and salt. Heat together milk, water, honey and butter until very warm and beat into the flour mixture. Beat 2 minutes on high speed. Beat in 1 cup flour and eggs. Beat 2 more minutes, until batter thickens. Stir in enough flour to make a stiff batter and chill, cover with plastic wrap for 2-24 hours.
Place dough on lightly floured surface and divide into 15 equal pieces. Roll each into a 20- inch rope. Cut rope into a 12- inch piece, a 5-inch piece and 3 one-inch pieces. Coil 12-inch piece to form body, five-  inch piece to form head and inch pieces to form ears and tail. Place on greased cookie sheet and let rise, covered until doubled, about 25 minutes. Don't worry about the pieces falling apart. As they rise they get a little sticky and they will stay together when baked. Bake in a 375-degree oven for 12-15 minutes. Remove to cooling rack and brush with honey glaze. Place raisins on each to make eyes, if desired. Brush with additional glaze before serving, if desired. Makes 15 bunnies.*
* Feel free to cut the rolls a little larger or smaller. These rise a lot when they are baking so you might want to cut dough into anywhere from 12-18 pieces. Baking time will only be a few minutes less for smaller rolls and a few minutes longer for larger rolls.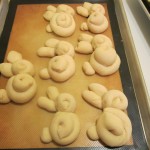 Bunnies rising