Dandelion Gravy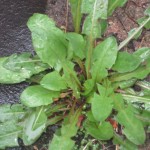 One of my favorite recipes using dandelions is  dandelion gravy. There are a lot of recipes out there but the idea is the same. Bacon is cooked, sometimes onions are added and then dandelions are added and wilted down. After flour is added and then liquid- usually milk but you can use stock, water or even use sour cream or some wine the mixture is cooked until thickened and served over boiled or baked potatoes. The addition of dairy helps cut the natural bitterness of the dandelions. Here is a recipe I use and like a lot.
Dandelion Gravy
4 strips bacon
3 T. flour
1 c. water
1 lb. dandelion greens, washed and chopped
½ c. sour cream
1 T. sugar
1 T. vinegar
Salt and pepper to taste
Hot boiled or baked potatoes
Fresh chopped parsley, optional
Chop bacon and cook in skillet until crisp. Leave bacon in the pan. Remove all but 3 tablespoons of the bacon fat and stir in the flour until smooth.  Add water and dandelion greens and cook over medium heat until greens are tender- about 5- 10 minutes. Add more water if mixture is too thick. Turn off heat. Combine sour cream with sugar and vinegar and stir into dandelion mixture. Adjust seasonings. Spoon gravy over potatoes.
Serves 4.