Strawberry Cheesy Chocolate Pie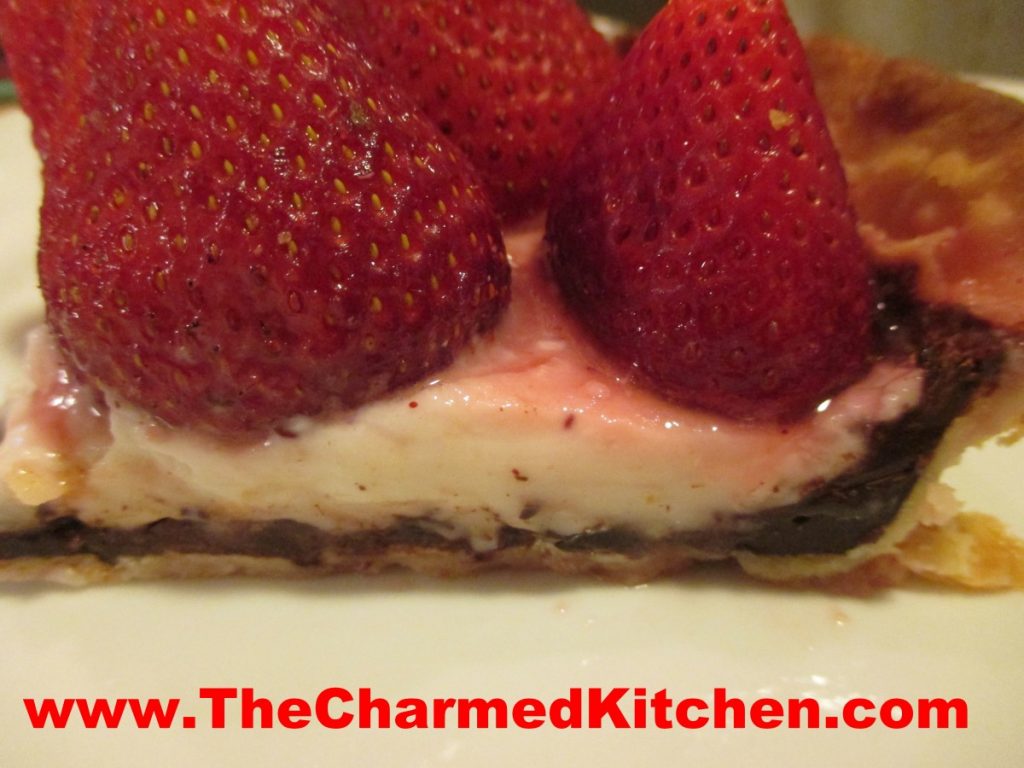 This pie has it all. Fresh strawberries, glazed and sitting on a flaky crust. But it doesn't stop there. The crust is topped with chocolate and a layer of sweetened cream cheese. The chocolate and cheese are under the berries. They provide a wonderful surprise when eating the pie.
The chocolate is such a natural match for the strawberries. The cream cheese gives a little "cheesecake" feel. In the end, the combination works perfectly together.
During strawberry season, I enjoy so many different dishes made with fresh berries. Fresh strawberry pie is always going to be a favorite. I try to make different versions and this one was definitely a version I will make again.
Strawberry Cheesy Chocolate Pie
1 9-inch pie crust * recipe follows
1 c. chocolate chips
1 T. butter
1 qt. strawberries (1¼ lbs.), hulled
1 c. sugar
2 T. cornstarch
¼ c. water
1 T. butter
8 oz. cream cheese, softened
½ c. powdered sugar
Whipped cream, optional
Using a pie pan, roll out your crust and fit it into the pan- trim off any excess. Pre-bake your crust. To do this: The prepared pie crust should be pricked all over with a fork. Cover the surface with foil and then pie weights. I use dry beans for my pie weights. Pre-heat oven to 400-degrees. Bake crust for 15-20 minutes. Check to be sure it doesn't get too brown. Remove weights and foil. Melt chocolate chips and butter together, stirring until smooth. Pour over crust and use a spatula to spread into a thin layer on the bottom and, if you like, up the sides of the crust. Set aside and allow crust to cool and chocolate to set up. Select about 25-30 berries to be placed in pie crust, large side down, and set aside. You might need fewer berries, if they are really big. Puree or crush remaining berries. Place in a saucepan with the sugar and bring to a boil. Combine cornstarch with water and stir until smooth. Add to the strawberry mixture and cook, stirring constantly until mixture thickens and gets clear. Simmer about 5 minutes. Remove from heat and stir in butter. Set aside. Place cream cheese in a bowl and beat in the powdered sugar. Spread cheese over the chocolate layer. Arrange the reserved berries on the cheese layer, pointy side up. Put the largest berry in the middle and arrange the rest around it decoratively. Spoon the puree over the berries and allow the pie to cool down a little before putting in the fridge. Serve with whipped cream, if desired.
Note: other berries can also be used including raspberries, blackberries and blueberries, or a combination. This recipe can also be used as a filling for tarts and tartlets.
Half and Half Dough*
This is a great crust for liquid fillings like custard type pies and fresh fruit pies.
¼ c. butter, room temp
½ c. shortening, room temp- you can use lard instead, or chilled coconut oil
¼ c. sugar
½ t. salt
2½ c. pastry or all purpose flour
1/8 t. baking powder
¼ c. milk
1 t. lemon juice
Cream together the first 4 ingredients until smooth. Mix together the flour and baking powder. Set aside. Combine milk with the juice and set aside. Stir ½ c. of the flour into butter mixture. Stir until smooth. Add a little of the milk, stirring until smooth. Add remaining ingredients alternately until finished. Dough will firm up once chilled. Chill at least 4 hours before using. Makes 2 crusts. You only need half the dough for the strawberry pie.