Classic Eggs Benedict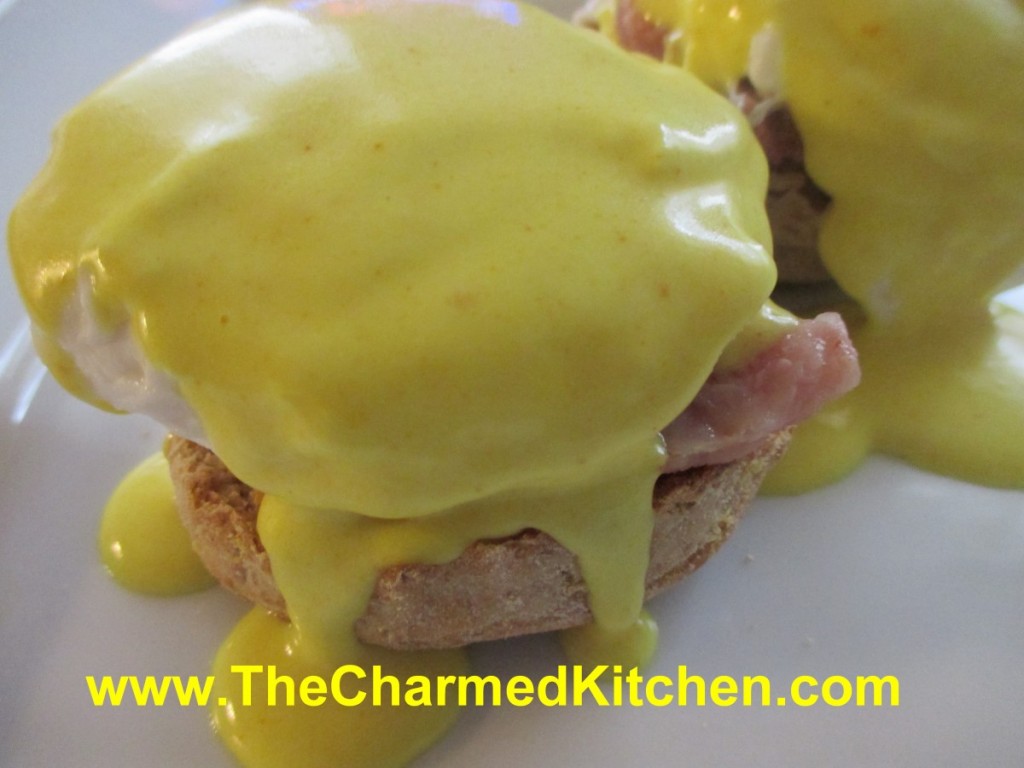 If you are looking for a special holiday breakfast, Eggs Benedict would be a top choice for me.
Eggs Benedict are English muffins, split and toasted, topped with some lightly browned slices of ham, or more traditionally, Canadian bacon. That is topped with poached eggs and then the Hollandaise sauce. There are a lot of variations. You can add wilted spinach, bacon, crab or even lobster, if you really want to splurge. I have a vegetarian friend who subs out the meat with some asparagus or cauliflower. Whatever makes you happy, works for me.
Here are the directions for making a classic Eggs Benedict.
Eggs Benedict
English Muffins allow one per serving
Eggs – for poaching – you'll need 2 for each serving
Ham or Canadian bacon
Hollandaise Sauce- recipes follow
Get all your ingredients ready. You'll need a skillet with water boiling in it to poach the eggs. Add a couple of teaspoons of vinegar- it helps hold the eggs together better. Slice the ham, if needed, and brown it in a skillet. Keep warm until needed. I put the split English muffins in the toaster oven, so I could start toasting them when I started poaching the eggs. Next, make the Hollandaise sauce. I have included two ways to make your Hollandaise. One version is made in the microwave, the other with a traditional double boiler. Both come out great. For traditional Hollandaise you'll need either a double boiler, or a pot with simmering water for this, so get it ready with hot water. For the microwave, just a glass bowl and a whisk. Recipes and directions for both versions follow.
Microwave Hollandaise
1 stick butter ( 1/2 cup)
3 egg yolks
1/2 T. lemon juice
pinch of salt
fresh ground pepper, optional
In microwave safe bowl, soften butter. This will take 10-15 seconds. Don't melt the butter, just soften it. Watch carefully. It may take less time if the butter is already room temperature, longer if butter is cold. I often make a double batch, so allow a few more seconds for larger quantities. Whisk together the egg yolks and lemon juice. Whisk the yolk mixture into the softened butter. Let stand on the counter a minute or two. Place in microwave and cook on high heat for 15 seconds. Be careful- only 15 seconds at a time. Whisk the mixture and return to the microwave, cooking 15 seconds. Repeat this process until sauce is thickened, smooth and shiny. It should take 3-4 of these 15 second cooking sessions, but ovens vary. It takes a little longer if you double the batch. Don't worry if the sauce doesn't look smooth the first time you whisk all the ingredients together. It gets smoother upon further cooking/whisking. Season with salt and pepper to your own taste. Enjoy with Eggs Benedict or as a sauce for steamed veggies.
Classic Hollandaise Sauce
4 egg yolks
1 T. lemon juice
½ cup butter, melted
Salt and cayenne to taste- just a pinch of each will do.
Since I used a bowl over a pot with simmering water, I put the egg yolks in a stainless steel bowl with the lemon juice and whisked until kind of frothy. If you are using a double boiler- do that in the pot from the double boiler. Once the mixture looked thick, I placed the bowl over the pot of simmering water and whisked it for a couple of minutes to warm the eggs. The simmering water in the pot should not be deep enough to touch the bottom of the bowl. While whisking, slowly drizzle in the melted butter. Keep whisking so the mixture stays smooth. If you don't, the eggs scramble and get all lumpy. Once all the butter is in, cook about a minute longer- or until sauce is thick and smooth. Remove from the heat, season to taste, and keep warm until ready to use. Don't wait too long. Hollandaise is best used pretty soon after you make it. If it gets too thick, add a little warm water to thin it out.
To poach the eggs, place eggs, gently, in the simmering water- the stuff in the skillet that you added vinegar to. Some people like to have the water swirling when they do this by stirring it just before adding the eggs. I just put the eggs in gently, and it seems to work just fine. Use a slotted spoon to sort of fold the whites up over the eggs. Poach for about 3½ minutes. Whites should be set, but yolks will be runny. Remove from the pan with a slotted spoon and place on a folded towel to get off some of the water.
To assemble the eggs Benedict, place toasted English muffins halves on a plate. Top with a slice, or two, of the ham. Then gently add a poached egg on top of the ham. Spoon over the Hollandaise and serve. A little more work than most egg dishes, but worth the effort.