Bean and Barley Soup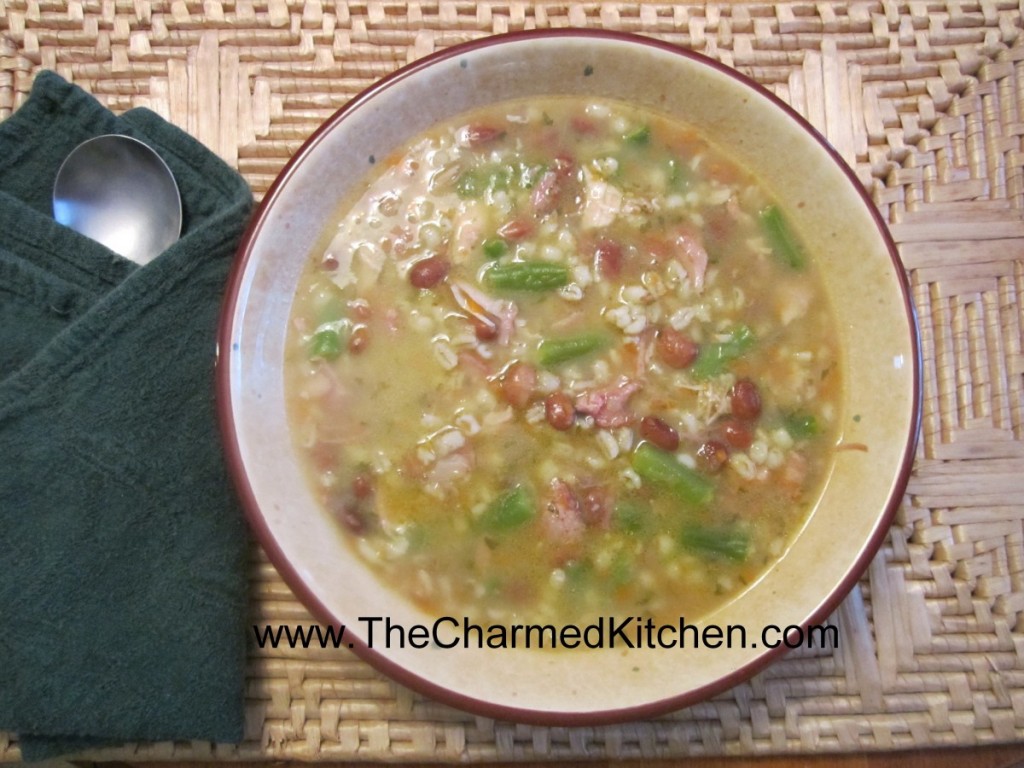 With cold weather I can't seem to get enough soup. I have been known to have a bowl of soup for breakfast. Why not?
This soup is one I have been making for a long time. While the recipe calls for either smoked pork hocks or smoked turkey this would be a great place to use that ham bone leftover from the holidays. You know, the one you popped in the freezer to use later.
The combination of smoky flavor, pinto beans, barley and green beans works so well together. This is one of those soups that tastes even better the next day. It freezes well, too.
Bean and Barley Soup
8 oz. dry pinto beans, rinsed
1 T. oil
1 onion, chopped
2 cloves garlic, minced
2 carrots chopped fine
2 ribs celery, chopped fine
1 lb. Spare ribs or 1 lb. turkey drumstick or thigh
1 lb. ham hock or 1 lb. smoked turkey drumstick or wing
1 qt. chicken stock
2 qts. Vegetable stock or water
1 c. barley
½ lb. green beans, cut
salt and pepper to taste
1 T. parsley
Place beans in saucepan with water and boil 5 minutes. Set aside to soak 1 hour. Drain. Meanwhile cook vegetables and garlic in oil in large kettle. Add meats and stocks and bring to a boil. Stir in pinto beans. Cover and simmer on top of the stove for 1 hour. Or, if pan is ovenproof place in 350-degree oven and cook 1 hour. Stir in barley and beans and cook 1 hour more. Remove from heat and remove meat. Remove any meat from bones, shred and return to soup. Stir in parsley and adjust seasonings. Serves 8-10.