Linguine with Clam Sauce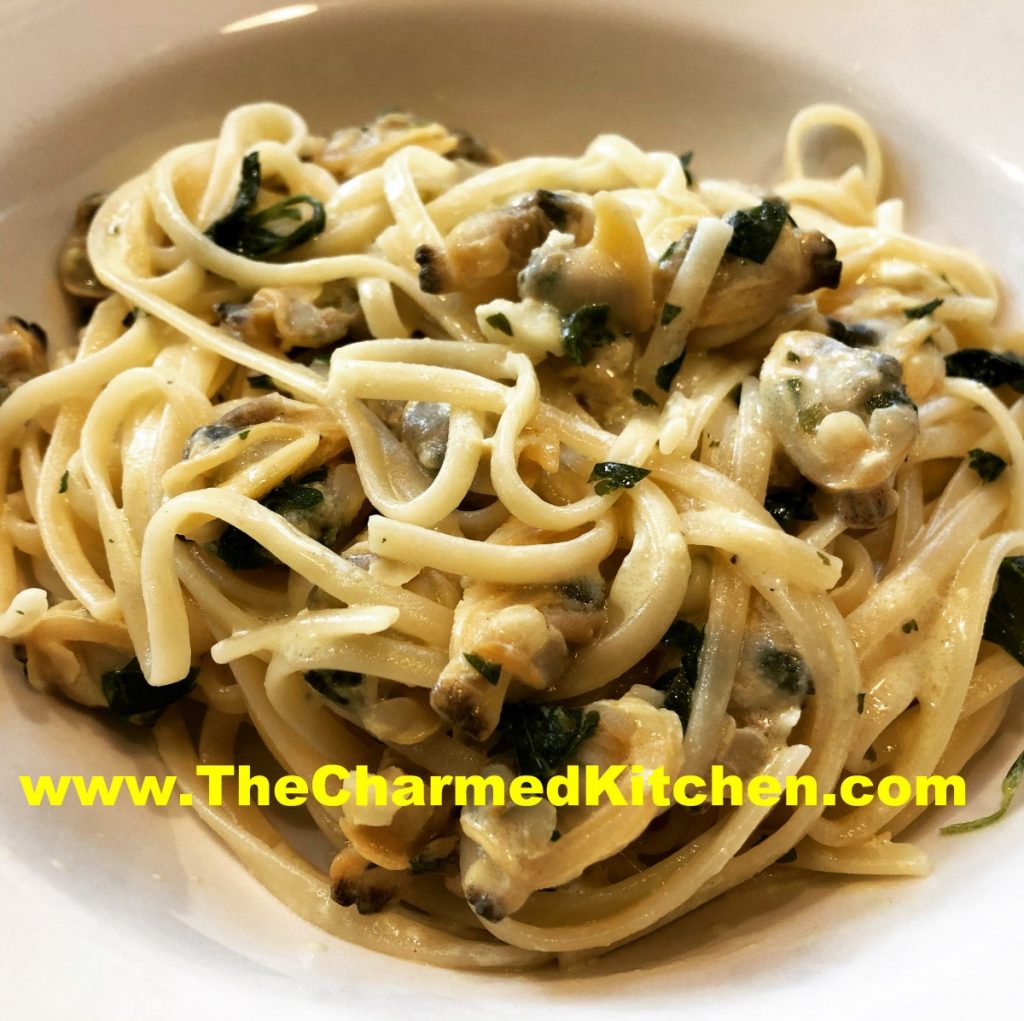 This classic is one of my favorite pasta recipes. I like to keep it pretty simple. Clams, half and half, garlic, parsley and linguine. Sometimes I add a little white wine or sherry to the sauce.
I have been craving it for a few days and decided to make it for dinner yesterday. As an added bonus, it is a dish that can be prepared in no time at all.
I like the pasta to absorb flavor from the clam sauce so I cook the pasta barely to al dente. Then I add it to the clam sauce and let them cook together a few minutes. The sauce almost disappears, but the flavor of the pasta is wonderful!!
I use frozen clam meat (thawed), instead of canned clams, when I have them. I get them at my local Asian grocery store. If I do use canned clams, I drain the liquid and save it to use later in clam chowder. I just pop the liquid in the freezer.
Linguine with Clam Sauce
1 T. oil or butter
2 cloves garlic, minced- you can add more garlic
2 cans, 10 oz. each, whole clams, drained*
½ c. white wine or dry sherry, optional
1 c. finely chopped parsley
1 c. half and half or milk
1 T. lemon juice
Salt and Pepper to taste
1 lb. linguine
Heat oil in skillet and sauté garlic until tender. Add clams, wine or sherry, if using, and parsley and cook over medium heat 5 minutes. Add half and half, lemon juice, salt and pepper and simmer 5 more minutes. Sauce should start to reduce a little. Meanwhile prepare linguine al dente. Drain pasta and transfer to the skillet. Toss with the sauce and simmer together a few minutes. Pasta will absorb some of the liquid. Adjust seasonings. Transfer to serving bowl. Makes 6 servings.
* Rather than using canned clams, I have been using frozen, cooked clams that I get at the Asian grocery store. A one-pound bag gives me a lot of clam meat for the sauce. Thaw and drain before using in this recipe.
For linguine with a red clam sauce just substitute 1-2 cups of your favorite spaghetti sauce for the milk and lemon juice. Serve with fresh grated Parmesan cheese.