Corned Beef Calzones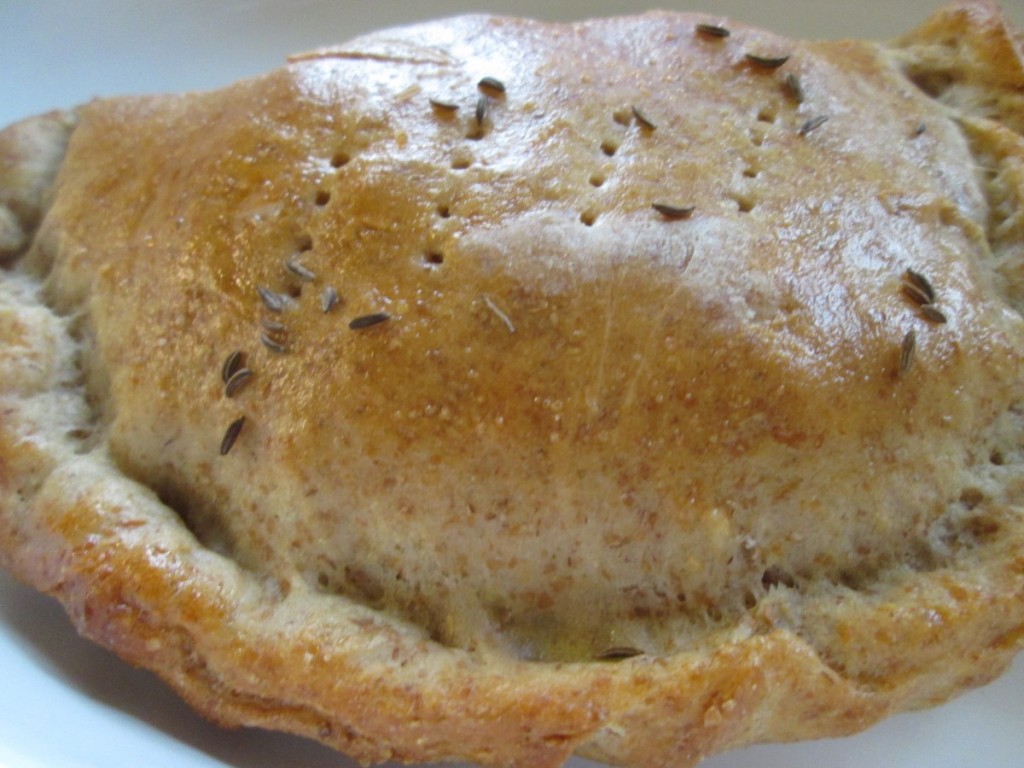 I thought this might be a nice time to share this recipe. Seems like a lot of people are cooking with corned beef in the next few days. If you have leftover corned beef, you can use it in these tasty calzones. You can also used deli slice corned beef.
I made these for a friend a while back and we were talking about them the other day. I decided to make them again.
They are almost a Reuben, but I didn't include the sauerkraut. You could, if you liked. I sometimes make these with thousand island dressing inside them as well, but I decided to leave it out and serve it on the side instead. I thought I would share the recipe with you.
Corned Beef Calzones
3 ¼ c. flour
1 c. rye flour
1 T. sugar
1 t. salt
1 package quick-rising yeast
1⅓ c. hot water
1 T. oil
1 lb. thin sliced corned beef
8 oz. shredded Swiss cheese
1 egg , beaten
Caraway seeds, optional
Set aside 1 cup of the all-purpose flour. Combine remaining flour with the other dry ingredients in a medium bowl. Stir in water and oil and gradually stir in enough flour to make a soft dough. Turn onto lightly floured surface and knead until dough is smooth and elastic, about 5 minutes. Cover dough and let rest 20 minutes. Divide dough into 8 pieces and roll one piece into a 6-8 -inch circle. In the middle of the dough place 1 ounce of the Swiss cheese and 2 ounces of the corned beef. Brush the edge of the dough with water. Fold over the dough in half and press the edges to seal. Brush the edge again with water and roll the edge over again. It will give you a prettier look and seal the calzone better. Repeat with remaining dough and fillings. Place calzones on greased baking sheets- or on a baking sheet with a silicone liner or parchment paper liner. You will end up with 8 calzones in all. Only put 4 on one baking sheet. Cover and let rest 15 minutes while preheating the oven to 400 degrees. Before placing calzones in the oven brush with beaten egg and sprinkle with the caraway seeds, if you like. Also poke a few holes in the tops with a fork to help steam to escape while baking. I put both baking sheets in the oven at the same time and switch them halfway through baking. Bake in a preheated 400-degree for 20-25 minutes or until golden brown. If baking both at once switch them after 10 minutes or so. Cool slightly before eating. Serve warm and refrigerate leftovers.
If you want to use regular yeast use warm, rather than hot water. Also, allow a little more time for the dough to rise the first time, about 40 minutes. Everything else will work the same.
If you want to make your own Thousand Island Dressing, just combine equal amounts of sweet pickle relish, mayo and catsup.