Velvet Crumb Cake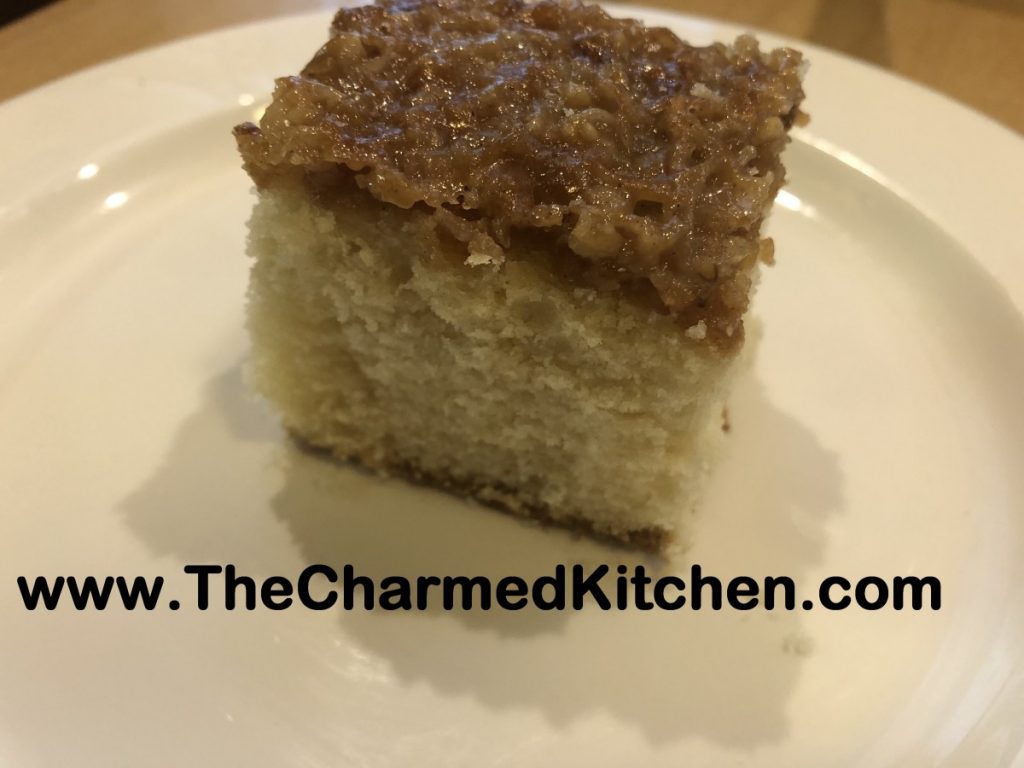 This cake has a soft, delicate texture and a crunchy, coconut-nut topping. For added fun- the cake is finished under the broiler to toast the topping. Probably not the way you finish most cakes!
For some reason, I have been feeling nostalgic all week. My cooking has certainly reflected that. Today is no different. When I was a child, my Mom made this cake pretty often. I am not sure I ever remember having it as an adult. It was probably the only way I would eat anything coconut as a kid.
I found the recipe in a Bisquick cookbook. I tweaked it a little from the original. I wondered if I would like it as much as I did when I was a child. I was not disappointed. It was every bit as good as I remember.
Here is the recipe.
Velvet Crumb Cake
Cake:
1½ c. baking mix- like Bisquick or Jiffy Mix
½ c. sugar
½ c. milk or half and half
2 T. butter, softened
1 t. vanilla
1 egg
Topping:
½ c. flaked coconut
1/3 c. brown sugar
¼ c. finely chopped nuts
3 T. butter, softened
2 T. milk or half and half
1 t. cinnamon
Preheat oven to 350 degrees. Grease an 8×8-inch baking pan or 9-inch cake pan. Set aside. In medium bowl, combine all of the cake ingredients. Combine with electric mixer for 30 seconds on low to mix. Then bring speed up to medium and continue beating batter for 4 minutes. Pour batter into prepared pan and bake 30-35 minutes or until wooden pick comes out clean when inserted into cake. While cake is baking, combine topping ingredients in small bowl, mixing until well mixed. Let cake cool a few minutes before spreading topping over the cake. Place cake under the broiler- about 4 inches away, until topping gets golden brown. This only takes 3-4 minutes. Watch carefully. Remove from broiler and cool cake before slicing.