Chicken Marsala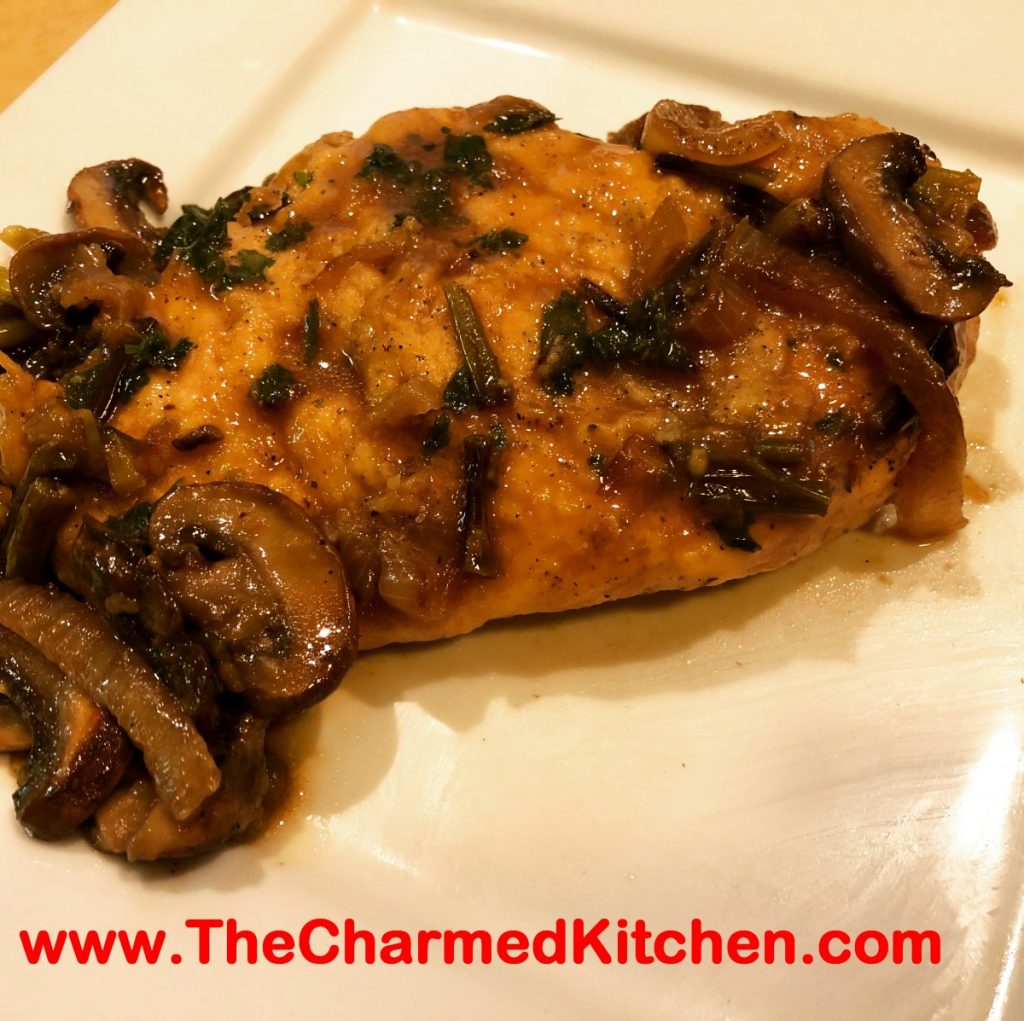 I was talking to a friend recently about cooking with wine. We were discussing the different wines used in cooking. It got me to thinking. I realized I had not made Chicken Marsala in a long time. Too long.
I had most of the ingredients on hand. I picked up the mushrooms and I made it for dinner last night. The recipe is pretty simple. Fast, too. Nice when you don't have a lot of time to cook. Best of all, it tastes really good. That is what's important, after all.
I did want to take a minute to talk about cooking wines. When you are cooking with wine, never cook with cooking wines. I just confused you, didn't I?
What I mean to say is don't use wines that say they are cooking wines on the label- most often you'll see cooking Marsala and cooking sherry, although there are others. In most grocery stores, cooking wines will be near the vinegars, not in the wine section of the store. They really are pretty awful. Let me explain.
During Prohibition, when alcohol was illegal in America, people still wanted to able to use wine in cooking. A compromise was reached and cooking spirits were born. What they all have in common is -salt. Yes, salt. Lots and lots of it, too. The idea was to make the wine too salty to drink, so no one would do anything other than cook with these wines.
Do yourself a favor and just go to the wine section of your favorite grocery store. They probably have Marsala and sherry as well. Even my local drug store carries Marsala.
For cooking, use a dry Marsala, not a sweet one. If you aren't sure, ask someone in the wine department to help you. Same goes for sherry. Get a bottle that just says sherry, golden sherry or dry sherry. Cream sherry can be used in desserts, but is not great in savory dishes. Don't be afraid to cook with wines more often. They add a wonderful flavor to lots of dishes.
So here is my version of Chicken Marsala. I often add more Marsala than the recipe calls for- no surprise there. Sometimes, if I want more sauce, I even add a little chicken stock. Last night, I just used the wine and cooked most of the liquid off. It made the sauce very intense in flavor. It ended up almost a glaze. I loved it. I also had garlic scapes and tossed a few of them in with the onions. They added a mild garlic flavor. Not traditional, but a nice touch.
Chicken Marsala
6 chicken breast halves or 8 thighs, boned, skinless, pounded thin
Oil, about ¼ cup
1 onion, chopped
8 oz. sliced mushrooms
Salt and pepper to taste
Flour
½ c. Marsala wine, or more to taste – I often add more
3-4 T. fresh chopped parsley
1 t. fresh chopped tarragon, optional
Heat 2 tablespoons of oil in skillet and cook onions until browned. Add mushrooms and cook 3 minutes longer. Meanwhile, season chicken with salt and pepper and dredge pieces in flour. Remove onion mixture from skillet and add more oil, if needed. Cook chicken until browned on both sides and barely cooked through. Add wine and vegetables and cook until sauce thickens, 5-7 minutes. Sprinkle with parsley and tarragon. Serve over rice or pasta. Serves 4-6.
Note: If you want more sauce, you can add more wine and some chicken stock- about ½ cup. Depends on how much sauce you like.