Bacon, Spinach and Mushroom Quiche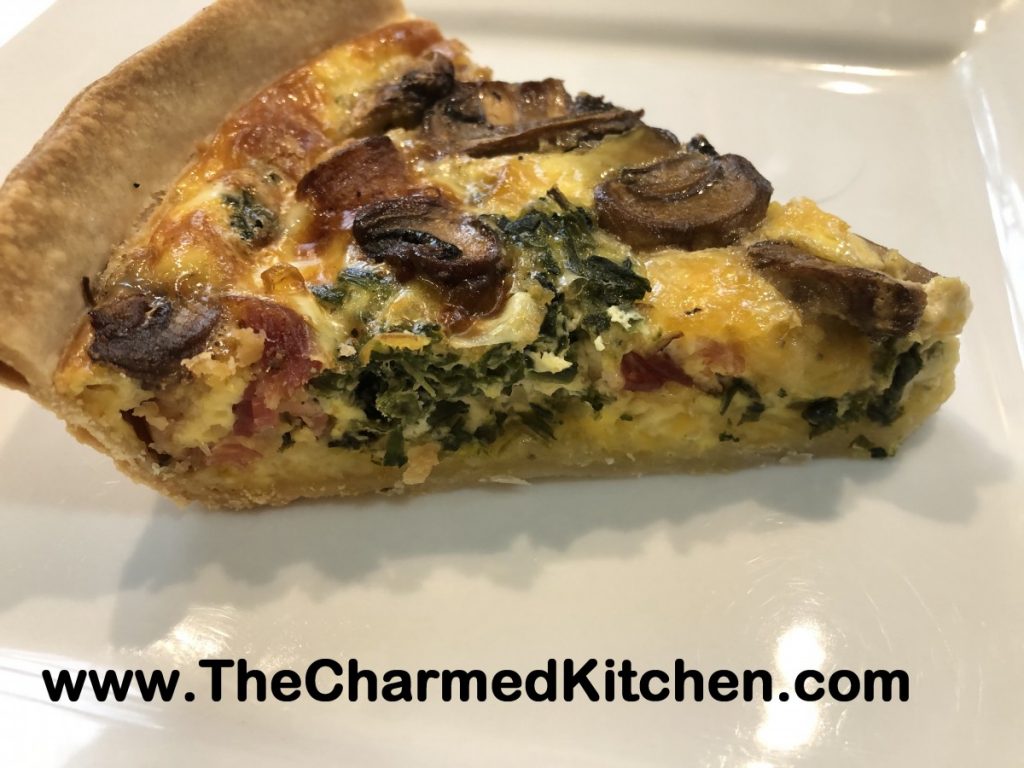 There seems to be an almost endless number of fillings for quiche. My most recent combination of bacon, spinach and mushrooms might be a new favorite. I think what made this one special is that I cooked the mushrooms in the bacon fat, after cooking the bacon. It really infused the whole quiche with that wonderful, smoky bacon flavor.
I defrosted a package of frozen spinach, but didn't use all of it in the quiche. Not sure why not, but I would use it all the next time.
I baked my bacon and the mushrooms, but you can cook them both in a skillet, if you prefer. I had just washed my stove and didn't want to get it dirty. Plus, I really like to bake bacon.
Here is the recipe. Enjoy.
Bacon, Spinach and Mushroom Quiche
1 unbaked pie crust – enough for a deep dish pie
4 oz. diced or shredded cheese – I like a sharp cheddar
2 T. flour
½ lb. bacon
1½ cup sliced fresh mushrooms
1 (10oz.) package frozen spinach, thawed and squeezed dry
1 c. milk or half and half
3 eggs, beaten
2 T. fresh chopped parsley
Hot pepper sauce to taste
salt and pepper to taste
Place bacon slices on a jelly roll pan and bake in a 350-degree oven until crisp, about 15 minutes. Remove bacon from pan and drain on paper towels. Place the mushrooms in the same pan you just cooked the bacon in and return to the oven. Cook about 15-20 minutes, or until mushrooms are cooked and even a little brown. Drain mushrooms on paper towels. Turn oven up to 400 degrees.
While mushrooms are cooking, crumble bacon. Start to prep quiche while mushrooms cook. In 9-inch (deep dish) pie pan place the crust. Toss cheese with the flour and place in crust. Add the bacon and spinach to the crust. Add the mushrooms. Combine milk with the eggs and add seasonings to taste. Pour over the bacon-spinach mixture. Place pan on a baking sheet to collect any drips and place in a preheated 400 degree oven. Bake for 30 minutes then turn down oven to 325 and continue baking until quiche is firm near the middle, about 25-30 minutes more. To test for "doneness" insert a butter knife about an inch from the center of the quiche. If it comes out clean, the quiche is done. Serves 4-6. Freezes well.