Reuben Strata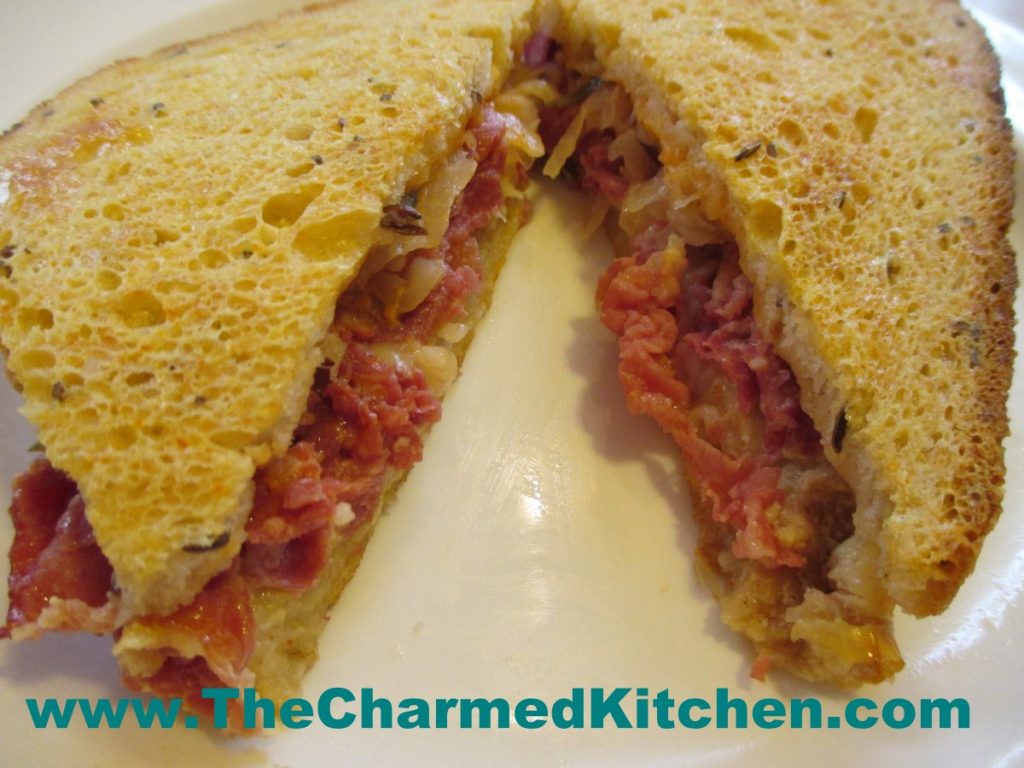 If you need a new recipe for corned beef- I would suggest making this strata. It contains all the ingredients found in a traditional Reuben sandwich, but with a twist. These "Reubens" are baked, after being soaked in an egg custard.
The dish is assembled at least a few hours before baking, so you can make it the day before, or in the morning. Just pop in the oven about an hour before you want to serve it.
Strata just means layers. Ingredients are layered before pouring over an egg/milk mixture. These layers add flavor to the final dish. In this strata, layers include rye bread, Swiss cheese, corned beef, sauerkraut and thousand island dressing. Of course, you can play around with the ingredients you use. If you don't like sauerkraut, you can leave it out- or only put in on some of the sandwiches. Strata can be served for breakfast, brunch, lunch or dinner.
I used very thinly sliced corned beef from the deli. You can also use home-cooked corned beef. Just dice it or shred it up. I also used homemade Thousand Island dressing, but use what you like. You can also serve extra dressing on the side.
Reuben Strata
12 slices rye bread
6 slices Swiss cheese
12 oz. thinned sliced corned beef- or 2 cups chopped corned beef
1 c. sauerkraut, squeezed dry
½ c. Thousand Island dressing*
3 eggs
2 c. milk
½ t. salt
½ t. hot pepper sauce, or to taste
Lightly grease a 9×13-inch baking dish. Place six slices of bread on bottom of the dish. You might have to trim the bread to fit. Top each slice of bread with a slice of cheese. Top cheese with the corned beef and sauerkraut. You can use a little more or less sauerkraut, depending on your taste. Spoon about a tablespoon of the dressing over each "sandwich". Top with remaining six slices of bread, trimmed to fit pan, if needed. Combine remaining ingredients and pour over sandwiches. Cover dish and let stand in the fridge, several hours or overnight. Bake, uncovered, in a 350-degree oven for 40-45 minutes, or until puffed and set. Let sit a few minutes before serving. Serves 6.
*Homemade Thousand Island Dressing is just equal parts of sweet pickle relish, ketchup and mayo. You can make your own pretty easily.