Homemade Chicken Nuggets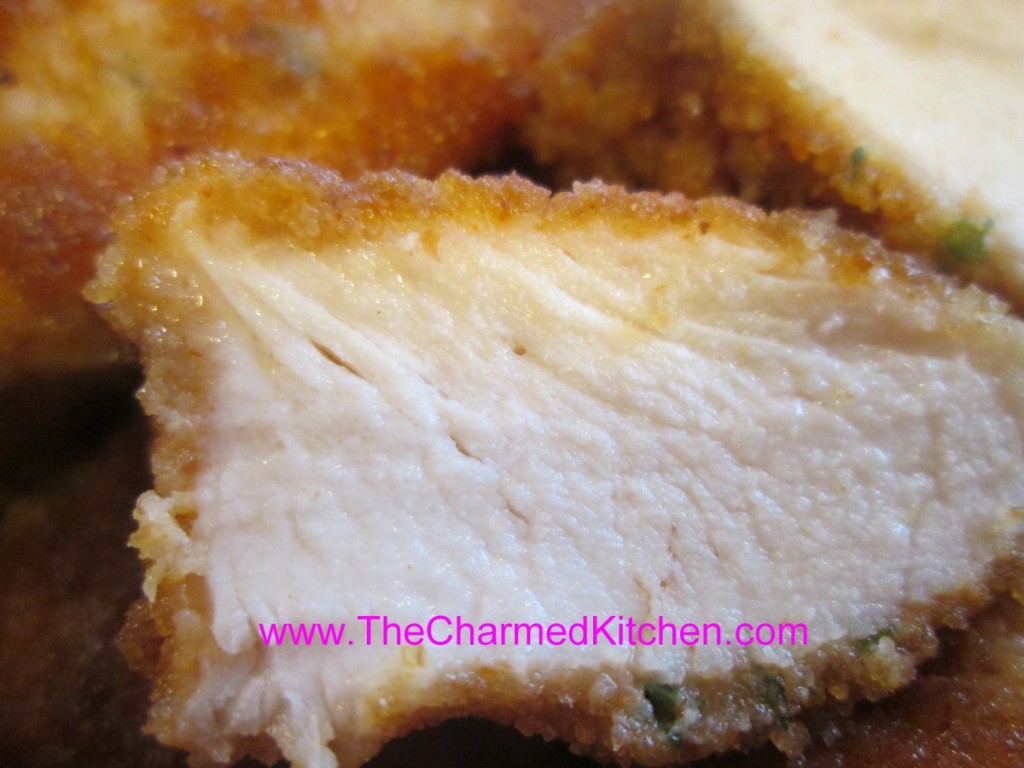 I started making these chicken nuggets for my godson when he a little kid. He is all grown up now, but requests them any time he is visiting. They are actually pretty easy to make and so much better than what is served at fast food places. I often make a big batch and freeze some for later.
They are made with boneless chicken- white or dark meat both work. The real secret is not to overcook them. Try to cut the chicken in even sized pieces so they cook at the same rate. Check them for doneness after 10 minutes.
Don't be afraid to play around with seasonings. Sometimes I add hot sauce to the egg mixture. I also recently have grown fond of adding smoked paprika to the mix.
Chicken Nuggets
1/2 c. flour
1/2 t. each salt and pepper
1 egg
3 T. milk
1 t. dried parsley
1/2 t. paprika
1/2 t. salt
1/4 t. pepper
1/4 t. garlic powder
1 lb. boneless chicken, cubed into 1-inch pieces
bread crumbs- about a cup
oil
In plastic bag, combine flour with salt and pepper and set side. Combine egg with milk and seasonings in a bowl and mix with a fork until smooth. Place bread crumbs in a medium bowl. Place a few pieces of chicken at a time in the bag with the flour. Hold bag closed and shake to coat chicken pieces. Add the floured chicken pieces to the egg mixture and stir to coat well. Using a fork, remove the chicken pieces and drop in the breadcrumbs, rolling to coat evenly. Place breaded chicken pieces on a baking sheet. Repeat until all the chicken has been breaded. Drizzle with a little oil and place in a preheated 450 degree oven. Bake for 10-12 minutes, or until juices run clear and chicken is cooked. You can also bake in a convection oven or air fryer at 425 for 10-12 minutes. Serve with barbecue sauce, sweet and sour sauce, honey  mustard or whatever dipping sauces you like. Serves 3-4.
To freeze for later use you can freeze raw or cooked- I prefer to freeze the nuggets raw and cook when needed. Place nuggets on a baking sheet and place in freezer until hard. Place in freezer container. When using frozen uncooked nuggets- bake in a 425 degree oven for 20-25 minutes.