Greek Salad
This is the perfect time of year to enjoy fresh tomatoes. Greek Salad is one of my favorite recipes using fresh tomatoes. The mix of tomatoes, salad greens, cucumbers olives and feta…. so good. Plus that dressing made with fresh lemon juice and olive oil.
We made this salad in class the other night. The class was about cooking with tomatoes. With all the other ingredients in this recipe, using really good tomatoes is so important to how this salad tastes. We may have added a little extra feta, too.
In the summer when we would get local tomatoes, or grow our own, my mom always called them "real" tomatoes. The tomatoes we got the rest of the year were always disappointing by comparison.
So here is the recipe.
Greek Salad
8 c. mixed salad greens – I like Romaine and spinach
3-4 tomatoes, seeded and diced
1 roasted sweet pepper, seeded and diced*
2 c. sliced cucumber
1/2 sweet onion, sliced thin
1/2-3/4 c. sliced olives
4 oz. crumbled feta cheese
Dressing
Juice of 2 lemons
2-3 cloves garlic
1 t. sea salt
1/2 t. oregano
1/4 t. crushed red pepper
1/2 -2/3 c. olive oil
In large bowl combine vegetables. In blender combine lemon juice with garlic, salt, oregano and pepper and blend until smooth. With machine running add oil in a slow steady stream until it becomes emulsified. Adjust seasonings. Toss with vegetables and top with olives and cheese before serving. Serves 4-6.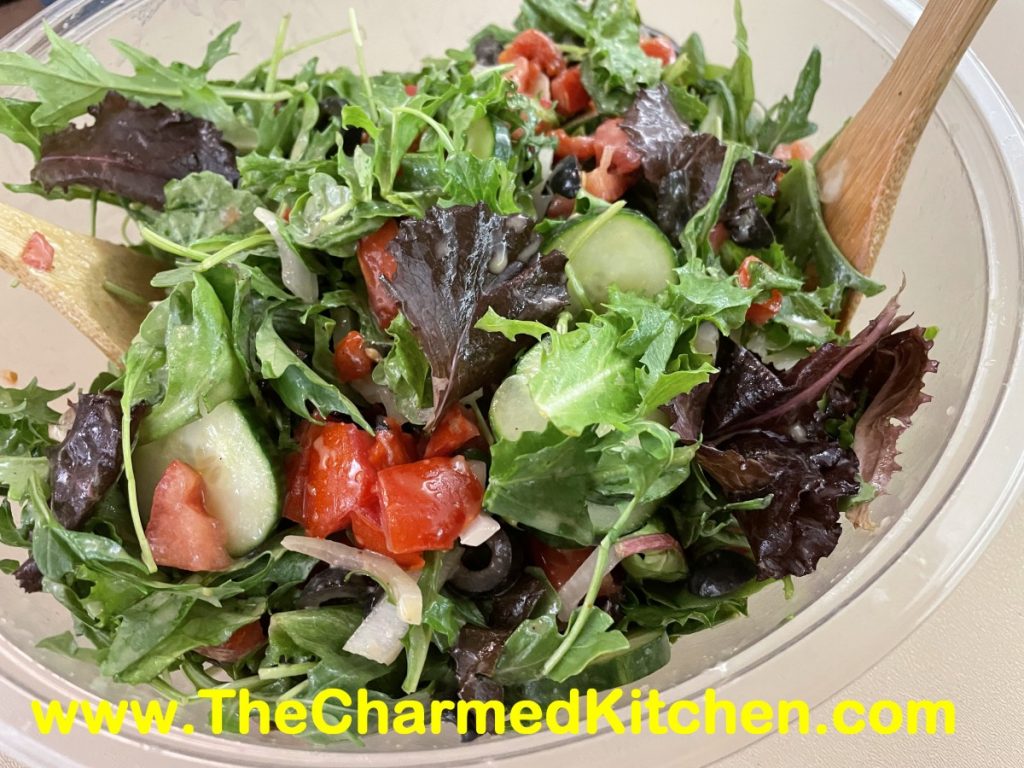 * Here is how to roast a pepper, in case you didn't know.
Roasting Peppers