Hazelnut Biscotti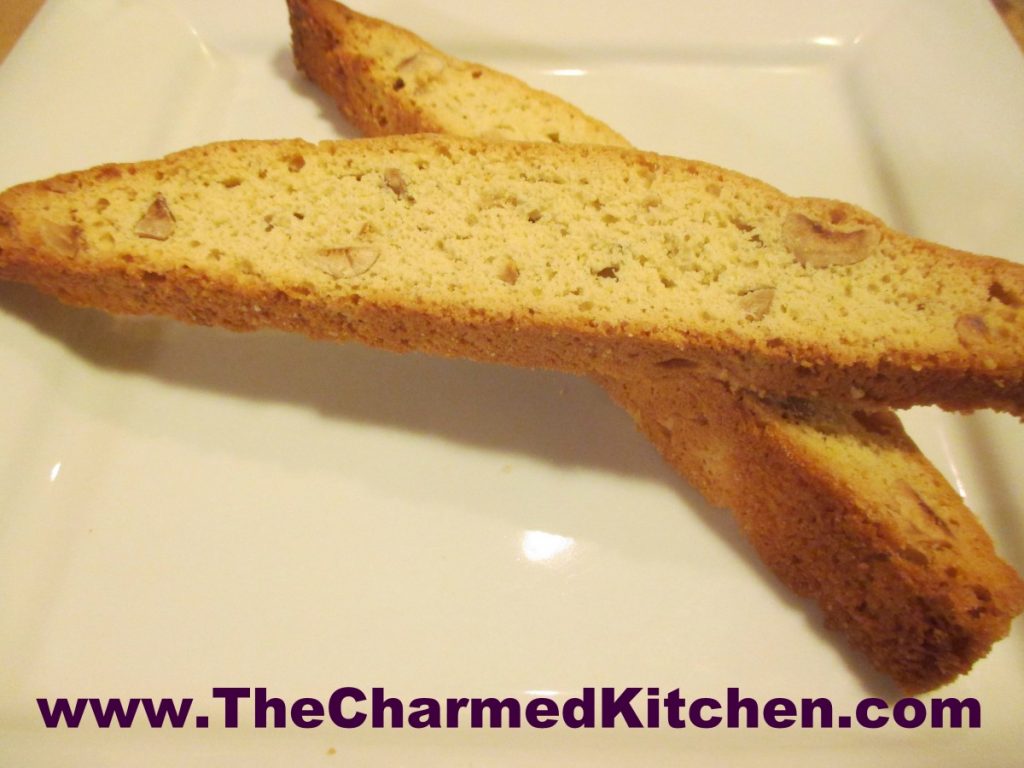 These biscotti are the perfect treat to have with your morning cup of coffee or tea. Crisp, but not too hard, they are studded with crunchy hazelnuts and flavored with vanilla and orange peel. I like them just the way they are, but you could dress them up with a drizzle of powdered sugar glaze. You can also dip one end of each biscotti in melted chocolate.
I was inspired to make these after buying hazelnuts recently.
I don't know why more people don't make their own biscotti. They are so easy to make, and you can flavor them to suit your own taste. Once baked, store them in an air tight container. They stay crisp for weeks. Assuming you don't eat them first!
Biscotti get their distinctive, extra crunchy texture, from being baked not once, but twice. The batter is spread on a cookie sheet and baked until firm. Once cooled and little, the loaf is sliced and the slices are returned to the oven to get baked until crisp and toasted. I put the slices on a cooling rack, placed on the baking sheet, before the second bake. That way, the biscotti toast on both sides evenly. No need to turn them all over half-way through the second bake.
So here is the recipe. I hope if you haven't made biscotti before, you give them a try.
Hazelnut Biscotti
3 c. flour
2 t. baking powder
1/2 t. salt
3 eggs
1 c sugar
1/4 c. butter, melted
1/4 c. olive oil
1 1/2 t. vanilla
1 t. grated orange peel
1 c. hazelnuts, toasted, peeled and chopped*
Combine dry ingredients and set aside. Mix together eggs, sugar, butter, oil, vanilla and peel. Beat until smooth and stir in flour mixture and nuts. Grease a large baking sheet, oil your hands, and place dough on sheet, forming into a 16×4-inch log. Bake at 325-degrees until tester inserted in center comes out clean, about 30 minutes. Loaf with spread a bit. Cool 15 minutes and leave oven on. Use serrated knife to cut into 1/2 -inch thick slices. Place cooling rack on a baking sheet. Place slices, cut side down, on cooling rack and return to oven for 20-22 minutes. Cool. Makes about 24.
If you like, you can dip one end of the finished biscotti in melted chocolate.
to toast hazelnuts, place on a baking sheet and bake in a 325 degree oven for about 10-15 minutes. You don't want them to burn. While they are baking, place a tea towel on a rimmed baking sheet. When the nuts come out of the oven, dump them on the tea towel. They tend to roll around, so the rimmed baking sheets is to save you from cursing as nuts roll off the towel and onto the floor. Fold the nuts up in the towel and rub them to get the skins off. Most of the skins will come off, which is fine.