Muffuletta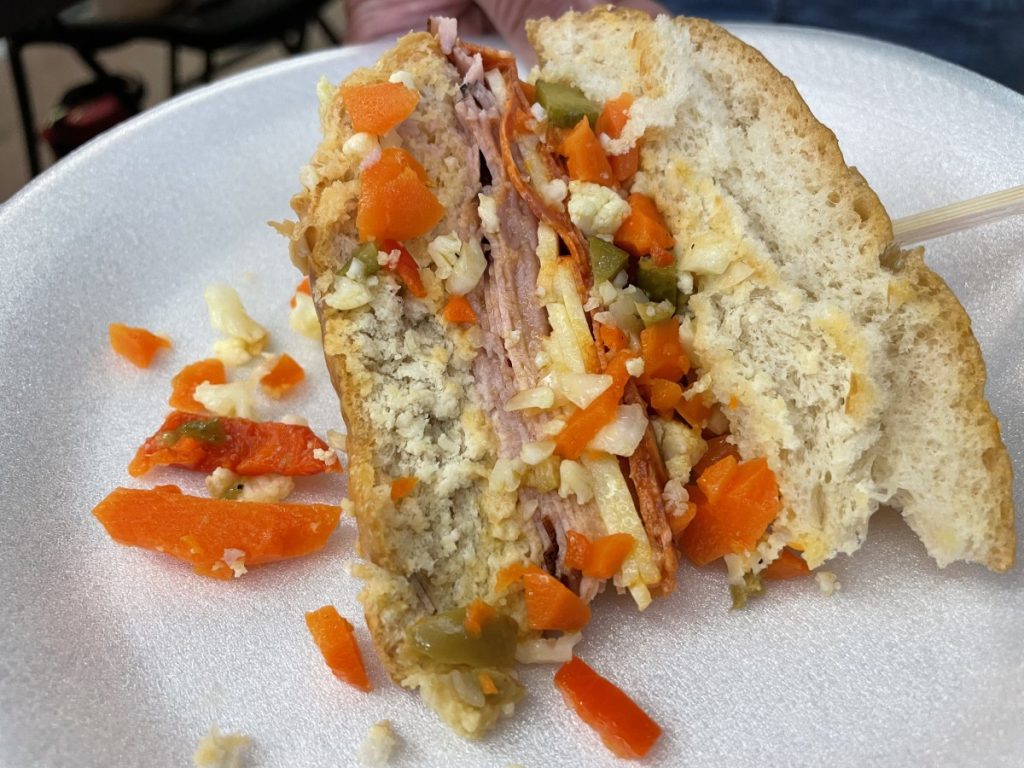 In our class on foods of New Orleans last night we made a Muffuletta. A Muffuletta is a type of large sandwich. It was first invented by Italian immigrants to New Orleans and classically contains olives and assorted meats and cheese. It also can contain pickled veggies. They are fun to make and fun to eat. A great take along for picnics and a nice meal when it is too hot to cook. It can be made a day ahead, wrapped up and kept chilled until you are ready to cut into wedges to serve.
While the recipe calls for a round loaf of Italian bread, unsliced, we used sour dough bread last night, because that was what I found at the store. It was not as classic, but still worked fine. These are great for parties, too.
Muffuletta
16 oz. jar pickled mixed vegetables (1½ cups)
1/4 c. chopped pimento stuffed green olives or ripe olives, drained
1 clove garlic, minced
1 T. olive oil
1 9-inch loaf round Italian bread, unsliced
6 oz. thin sliced ham or turkey ham
4 oz. sliced mild white cheese, like provolone or Monterey Jack
4 oz. thin sliced hard salami
Drain vegetables, reserving two tablespoons of the liquid. Chop them and combine with the olives, garlic and oil. Slice bread in half horizontally. On bottom half layer the ham, cheese and salami.  Top with the vegetable mixture and sprinkle with pepper if desired. Cover with the top of the bread and secure with picks. To serve, cut into wedges. Serves 8. Note: Sandwich can be made ahead of time and wrapped tightly in plastic wrap, even a day ahead. Keep chilled.