Homemade Grape Jelly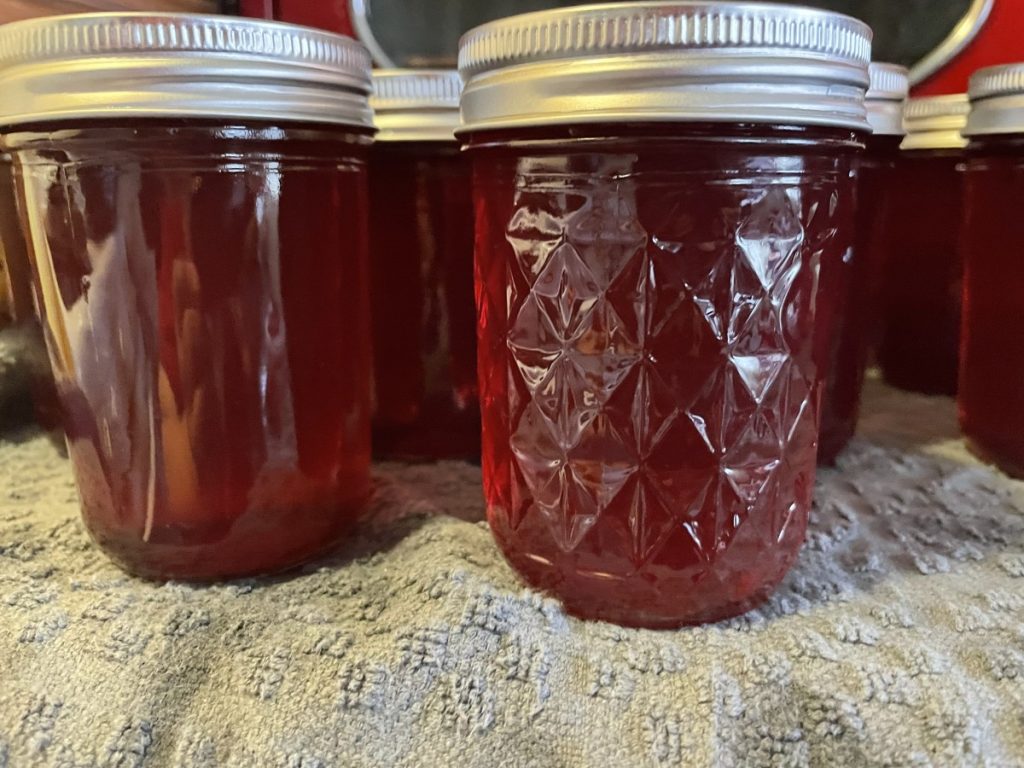 You might think it isn't worth your time to make grape jelly. Homemade grape jelly is nothing like what you can find in your local grocery store. The flavor is so much better.
A friend was looking for someone to make grape jelly out of her grapes and I volunteered. I love making jelly and I hadn't made grape jelly in some time. Her grapes were a dark pink color and they made the prettiest jelly. A dark pink, almost like a rose wine. I had so much fun and suddenly it seemed everyone I know was saying how much they like homemade grape jelly. I decided to grab some concord grapes at my local produce market and make a second batch. The Concord grapes gave me the dark purple color you probably think of when you picture grape jelly. The flavor was just as good as that first batch.
Making grape jelly is a two day process. Don't let that throw you off. You just want to cook the grapes and extract the juice the first day. Then chill the juice overnight. Little crystals will often form in the juice and this way you can strain them out the next day and not get them in your jelly.
As an added bonus, your house smells really good when you make grape jelly.
Grape Jelly
5 cups grape juice (about 3½ pounds Concord grapes and 1 cup water)
1 package powdered pectin- 6 Tablespoons
7 cups sugar
Yield: About 8 or 9 half-pint jars
This is a two day project. You make the juice on the first day, then let it sit in the fridge overnight.
To prepare juice. Sort, wash, and remove stems from fully ripe grapes. Crush grapes, add water, cover, bring to boil on high heat. Reduce heat and simmer for 10 minutes. Extract juice. I strain through a fine strainer. Place in a bowl, cover and place in the fridge.
Note: To prevent formation of tartrate crystals in the jelly, let juice stand in a cool place overnight, then strain through two thicknesses of damp cheesecloth to remove crystals that have formed. I always put in the fridge.
To get ready to make the jelly, put water in a water bath canner and turn on medium heat. Water should be deep enough to cover jars by an inch or two when they are placed in the canner. Keep water at a simmer until ready to can. Wash your jars and lids. I fill the jars with hot water.
Measure juice into a kettle. Add pectin and stir well. Place on high heat and, stirring constantly, bring quickly to a full rolling boil that cannot be stirred down. Add sugar, continue stirring, and heat again to a full rolling boil. Boil hard for 1 minute. Remove from heat; skim off foam quickly.
Empty water out of jars. Pour hot jelly immediately into hot jars, leaving ¼ inch headspace. Wipe rims of jars with a dampened clean paper towel; adjust two-piece metal canning lids. Place jars in the canner, put on the lid and turn up the heat and bring water to a boil. When water boils start processing time. Process pints or half pints for 10 minutes. Turn off heat and leave jars in the canner 5-10 minutes. Remove to cooling rack or towel. Check seals once  jars have cooled down. Makes 8-9 half pint jars.   
Recipe adapted from NCHFP.