Homemade Bagels
I taught a class last week on making bagels. It was a lot of fun. I think people were surprised on how easy they are to make. The chewy texture in bagels comes from boiling the bagels before baking them. In class we made plain bagels, Parmesan, Rye and cinnamon raisin. Such a fun evening.
Bagel History
Bagels began in Austria when a baker in Vienna in 1683 wanted to honor the visiting president of Poland. He created a roll that was round, or shaped like the stirrup on the King's saddle. The new creation was called beugel, which was a variation of the German word for stirrup. Over time the word evolved into bagel. Because they were made with white flour, everyone, other than the rich considered bagels a special treat for special occasions. Today bagels are found in almost every grocery store throughout the country.
Lox and Cream Cheese
Probably the most traditional way to top a bagel. A toasted bagel is spread with cream cheese and then a few thin slices of lox (salt cured salmon). Some people like to also add thin slices of sweet onion. I do. I also like to add a few capers. Years ago this became a tradition in my family. My niece and I always have bagels with lox on Thanksgiving morning.
Bagels
4 ½ -5 c. flour
3 T. sugar
1 T. salt
2 pkgs. Yeast
1 1/2 c. water
2 t. butter
1 T. sugar
2 t. salt
1 egg white
Mix 1 ½ cups flour, 3 tablespoons sugar, 1-tablespoon salt and yeast in a medium bowl. Heat 1½-cup water with butter and add to flour mixture. Beat 2 minutes at medium speed. Add ½ c. flour and beat 1 minute. Stir in enough flour to make a soft dough. Turn onto a floured surface and knead until smooth and elastic, about 8-10 minutes. Set in greased bowl and turn to grease top. Cover and allow to rise in a warm place 1 hour. Punch dough down cover and let rest 15 minutes. Divide dough into 12 pieces and form into smooth balls. Cover with towel and let rest 10 minutes. In large skillet heat 1 inch of water to a simmer. Add remaining sugar and salt to water. With floured finger poke a hole in the center of three of the dough balls. Drop into simmering water cooking 3 minutes. Turn over and cook 2 minutes. Turn to first side and simmer 1 more minute. Remove to greased baking sheet and repeat with remaining dough. Mix egg white with 1 tablespoon of water and brush tops of bagels. Sprinkle with seeds if desired. Bake in a 375 –degree oven for 20 –25 minutes. Makes 12.
Variations:
Light Rye: Prepare as above except substitute 1¼ c. rye flour for 1¼ c. of the regular flour.
Whole Wheat: Substitute 1 ¼ c. whole wheat flour for 1 ¼ c. of the regular flour
Herb: Use ½ tablespoon dried marjoram or parsley or 1 teaspoon dried dill. You can also add ½ teaspoon of garlic powder. Add herbs to flour/ yeast mixture.
Parmesan: Add ¼ c. grated Parmesan cheese to flour/ yeast mixture.
Onion Bagels: Cook ½ cup finely chopped onion in 3 tablespoons butter until tender. Brush onion mixture over the tops of the bagels after they have been baking for 15 minutes.
Sesame or Poppy Seed: Just before baking brush tops of bagels with beaten eggs and sprinkling with sesame seeds or poppy seeds.
Extra crusty: Place under boiler (4-5 inches away) for 3-4 minutes, turning once just before boiling. Bagels should not brown.
More Variations
Blueberry: Prepare dough as usual. When you first start to knead the dough add 1 cup of fresh or frozen (thawed) blueberries and knead as usual. You will need a little more flour.
Cinnamon-Raisin: Add 1-2 T. cinnamon to flour/yeast mixture. Add ½ cup raisins when you start to knead dough.
Multigrain: To flour and yeast mixture add ¼ c. each wheat germ, oat bran and cracked wheat. You'll need a little less flour.
Super seedy: To flour and yeast mixture add ¼ cup each pumpkin seeds, sunflower seeds and sesame seeds. Also add 2 tablespoons poppy seeds and 1 tablespoon fennel or caraway seeds. You will need a little less flour.
Cocoa: Add ½ cup cocoa powder to flour and yeast mixture. You will need a little less flour. These are great with cream cheese and fruit preserves.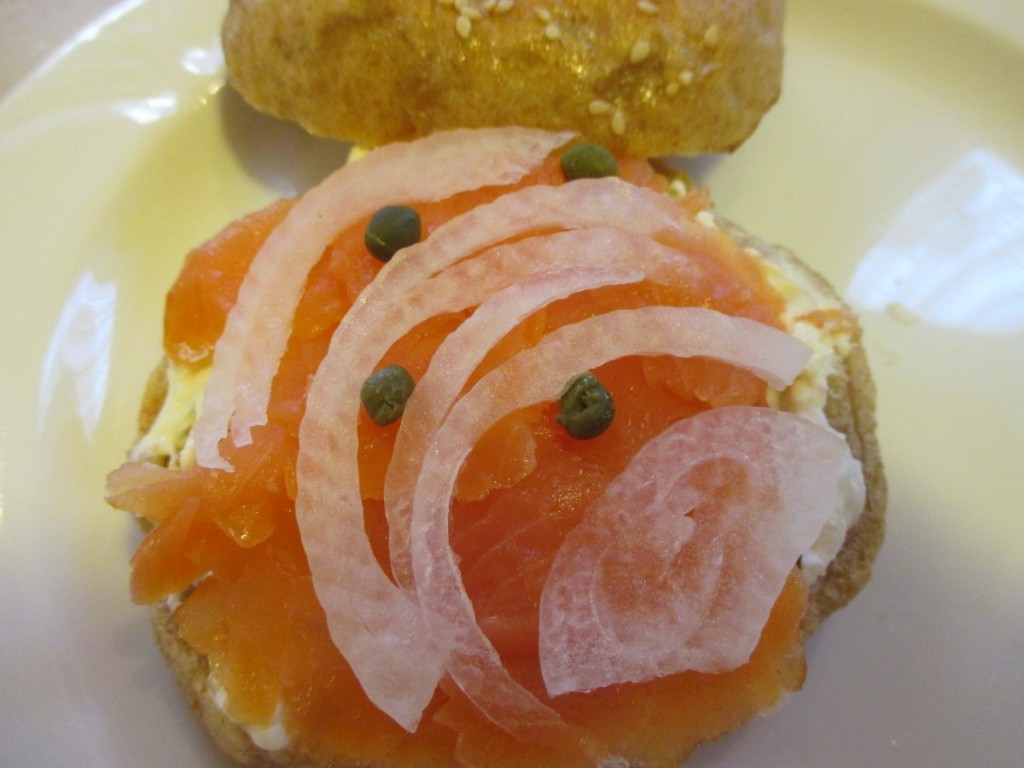 With cream cheese, lox, sweet onion and capers.