Spritz Cookies
Published
December 14, 2022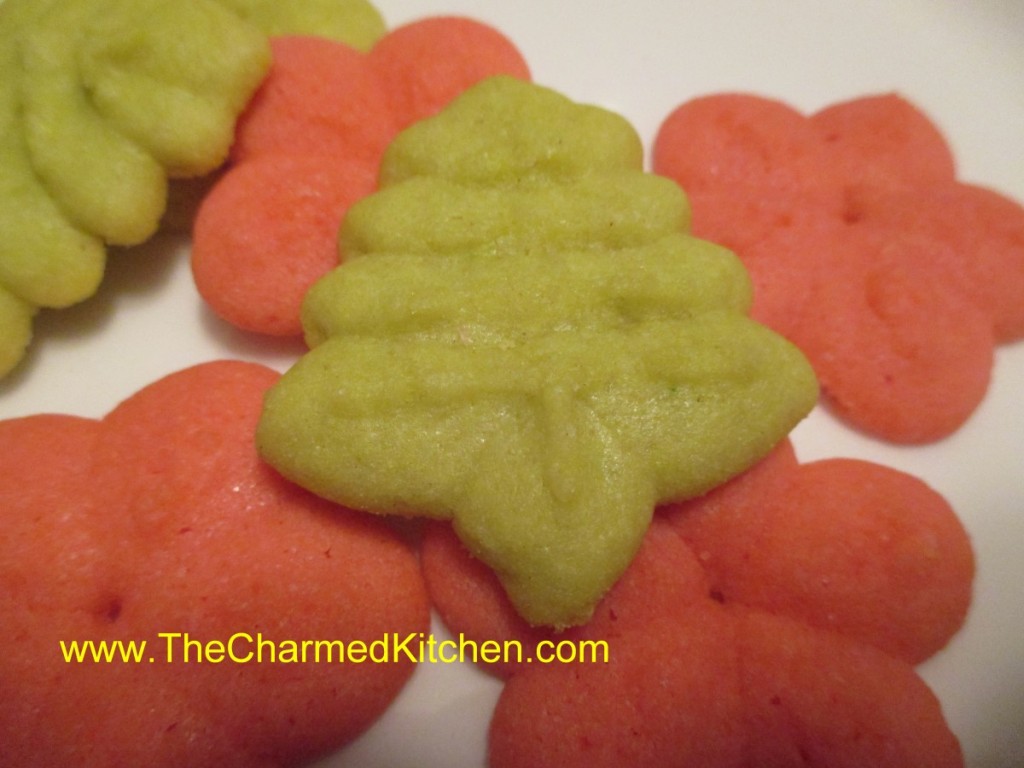 Spritz cookies are so fun to make. Delicate, tender and buttery, they are also so pretty. The dough is squeezed through a cookie press with different discs to produce a wide variety of shapes.
I have been making a lot of different variations of Spritz cookies in the last few days. I've also received a few messages from people who have issues with using their cookie presses.
Hope I can answer a few questions and make your Spritz cookies easier to create. The big problem is getting the dough to stick to the cookie sheet. There is a balance you need to get where there is enough friction to get the dough to stick, but not too much, so the cookies will release after baking.
I use silicone liners on my cookie sheets. Parchment paper works well. You can also squeeze the dough onto ungreased baking sheets. Hold the cookie press firmly down on the baking sheet. Click the ratchet once or twice and lift up. The dough, hopefully, will be on the sheet. Sometimes I can click 10 or 15 cookies with no problem, then get one that sticks. Just remove the excess dough from the end of the cookie press and start over. Little gaps or air pockets in the dough can cause that to happen.
The dough has to be soft enough to go through the press. Make the dough with room temperature butter and don't chill the dough after mixing it. A good spritz dough should be soft, but easy to shape into a roll shape and put in the cookie press. It should not be dry or crumbly.
Within certain parameters, dough for Spritz cookies are all pretty similar. At least in that the texture is all pretty much the same. My classic recipe uses egg yolks. Some of the recipes I tried used whole eggs instead. Both variations produced tender, tasty cookies. Some have a little more or less sugar. Sweetness level is a personal preference.
You can vary them by adding different flavorings or extracts. You can't add ingredients like nuts or chips because the dough would not go through the press. You can also tint the dough to produce colorful cookies.
So here are some of the Spritz cookies I have been making. Enjoy.
Classic Spritz Cookies
1 c. butter
1 c. sugar
3 egg yolks
2 t. vanilla
½ t. salt
2½ c. flour
In mixing bowl, beat together butter and sugar until fluffy. Beat in egg yolks. Stir in vanilla and salt. Tint dough, is desired. Add flour and stir until smooth. Using a cookie press with desired shape press cookies on to ungreased baking sheet. Leave about 1-inch between cookies. Bake in a preheated 375-degree oven for about 8-10 minutes- cookies should be a light golden color around the edges. Cool on a wire rack. Makes about 4-5 dozen.
Vanilla Spritz
1 c. butter, room temp
¾ c. sugar
1 egg
1 t. vanilla
1 t. almond extract
2¼ c. flour
½ t. salt
Mix butter and sugar until well mixed. Beat in egg and extracts. Stir flour and salt together in a medium bowl, then add to butter mixture. Mix well. Don't chill dough. Place dough in cookie press and press dough onto parchment or silicone lined baking sheets. Bake in a preheated 350-degree oven for 8-10 minutes. Cookies should be lightly toasted on the edges. Cool on the baking sheet for a few minutes. Makes 6-7 dozen tiny cookies.
Chocolate Spritz
Make the Vanilla Spritz or Classic Spritz dough, but add 2 oz. of unsweetened chocolate (baking chocolate) melted, when you combine the butter and sugar.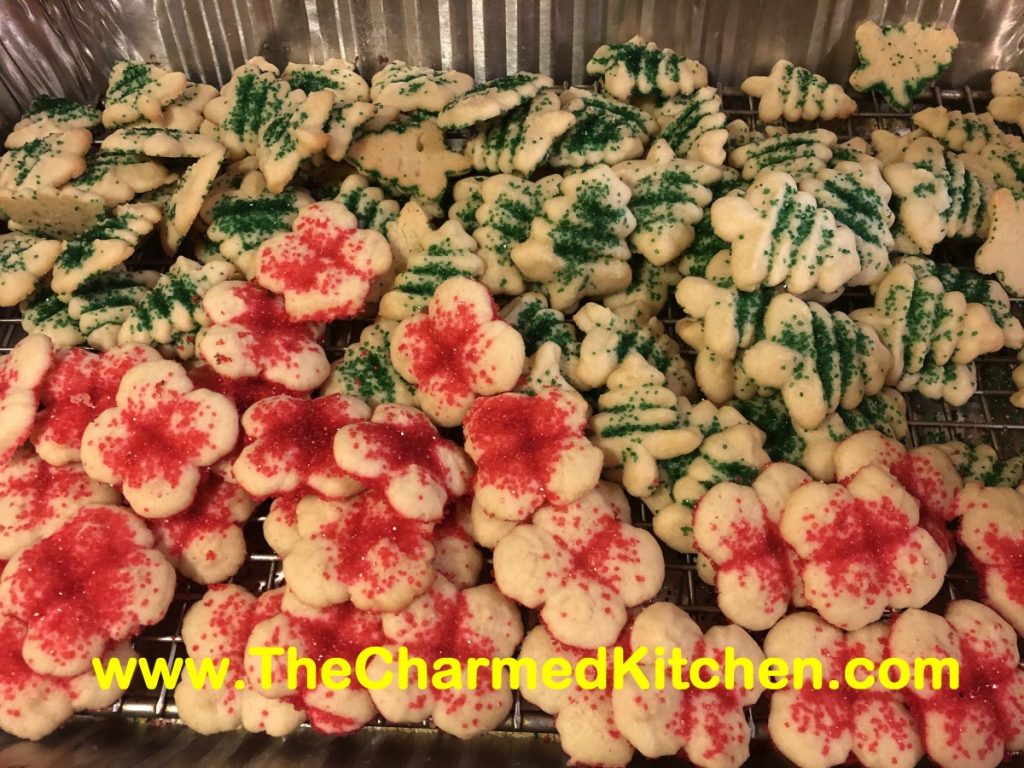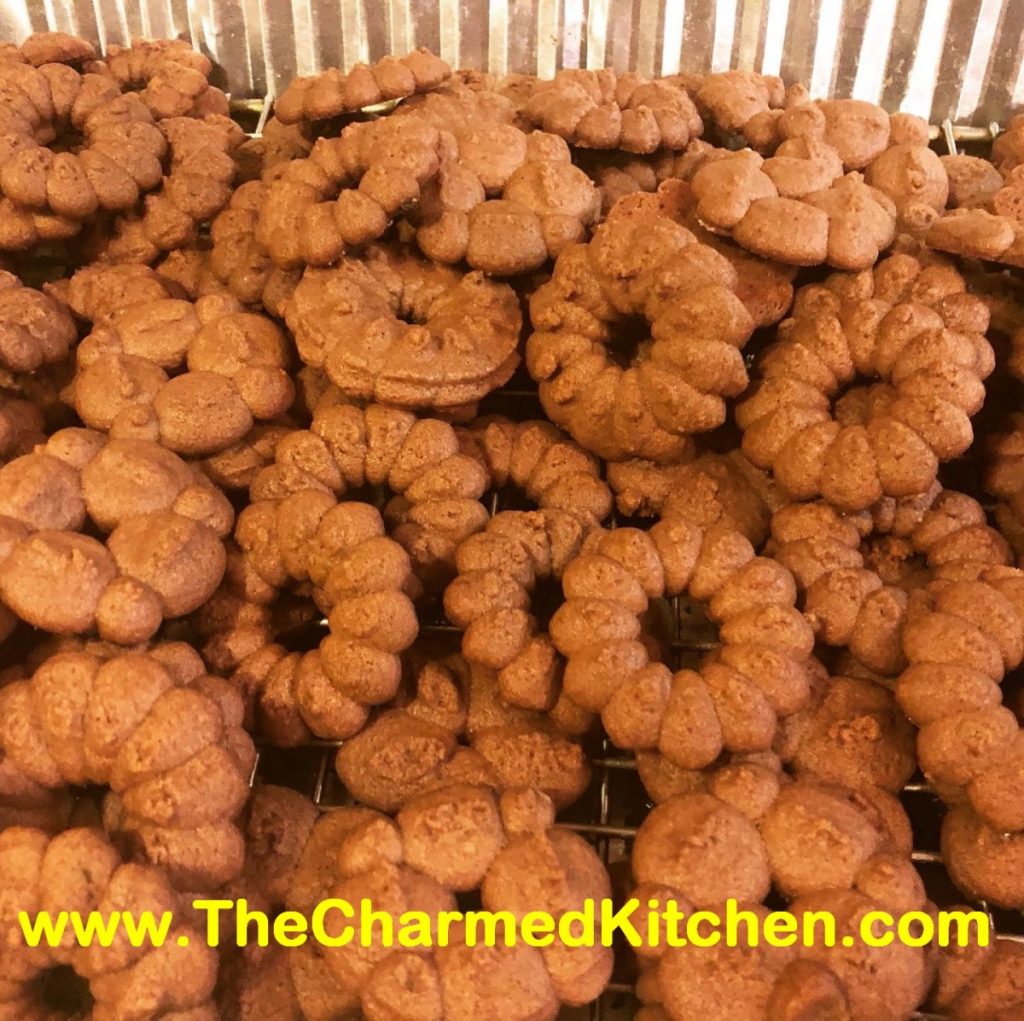 Viennese Shortbread with Coffee/Cinnamon Filling
1 c. butter
½ c. powdered sugar
½ t. vanilla
2 c. flour
¼ t. baking powder
Heat oven to 375-degrees. Cream together butter, sugar and vanilla. Blend in flour and baking powder. Using flower design of cookie press to make 1- inch cookies on ungreased baking sheet. Bake about 7 minutes, or until very lightly browned. Cool and then put two cookies together with coffee filling.
Note: You can make these cookies in almost any cookie press design that is symmetrical. I have made strips, trees and stars among others. Makes about 2 dozen double cookies.
Coffee/Cinnamon Filling
2/3 c. powdered sugar
2 T. butter, softened
1 t. instant coffee dissolved in 1 t. boiling water
1 t. cinnamon
Beat all ingredients together until smooth. Add a few drops of water if too dry.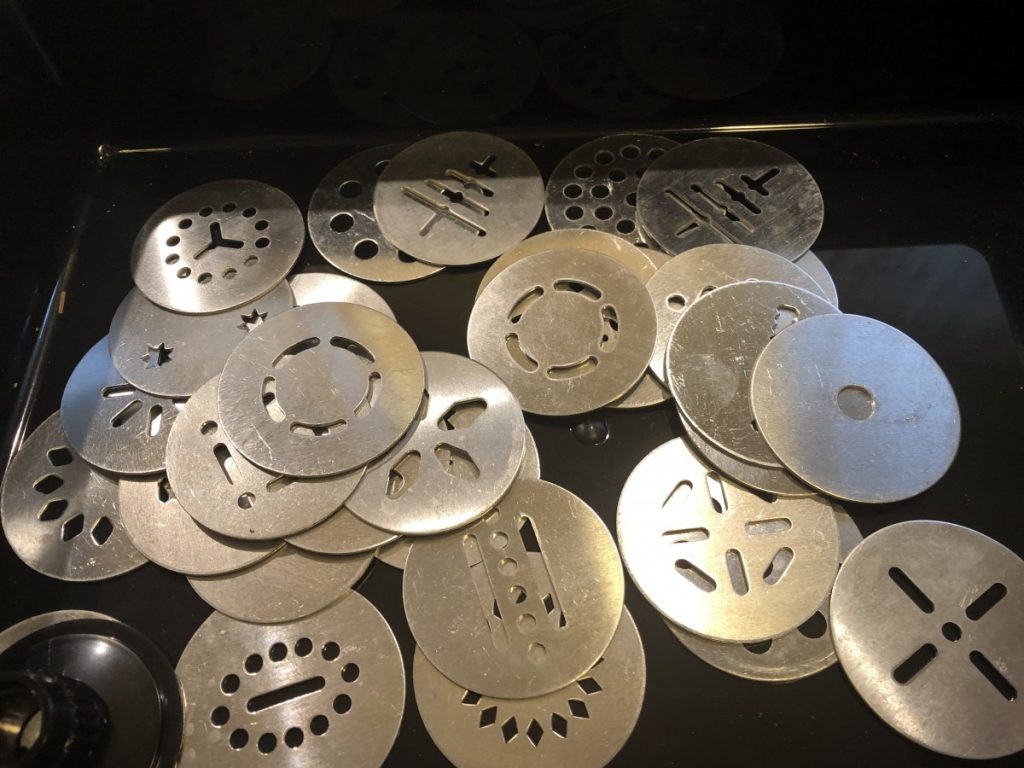 Subscriber to our Mailing List
Follow us on Social Media