Brussels Sprouts Chocolate Truffles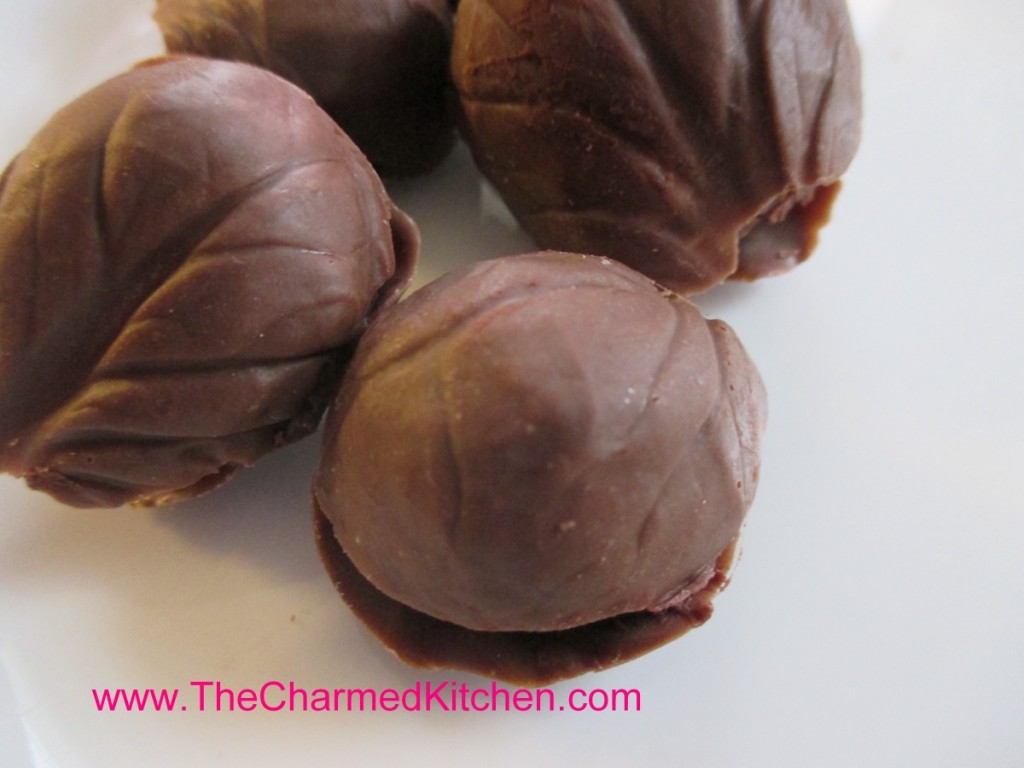 Before you think these have any Brussels sprouts in them- they don't. These truffles are all chocolate. The center is a chocolate truffle. The "leaves" are made by  painting Brussels sprouts leaves with melted chocolate. Once the chocolate  hardens, the leaves are peeled off. What remains looks like a Brussels sprout!!
This might be one way to get someone to eat Brussels Sprouts. Also a fun food to serve on April 1st.
I made my truffle recipe and put it in the fridge to firm up. The recipe follows.
Then I took some of the larger outer leaves off Brussels sprouts. I trimmed the bottoms off to make peeling of the leaves easier. You'll need two leaves for each truffle so be sure to have plenty. I had about 60.
You'll also need a few ounces of chocolate, for coating the leaves. Use whatever chocolate you like. The better quality of chocolate you use, the better the truffles. I wiped the leaves clean, and then melted several ounces of chocolate. I used a pastry brush to brush the insides of the Brussels sprout leaves with the melted chocolate. Once the chocolate had hardened, I gently peeled off the leaves and discarded them. Since the leaves were different sizes, I rolled out portions of the truffles that would fit the size of the leaves I was using. I pressed the truffle mixture in one leaf and then placed another leaf, of similar size, over the filling.
Normally I would roll the truffles in cocoa powder- but in this case, I didn't. I wanted the truffles to stick to the leaves and leaving them plain seemed like the best way to do that. The end result was very cute. Store in fridge until ready to serve.
Chocolate Truffles
1/3 c. whipping cream
6 T. butter, cut into small pieces
2 c. chocolate chips- or 12 oz. bittersweet chocolate, grated or chopped coarsely
Unsweetened cocoa
Heat cream to boiling in small saucepan. Stir in butter and cook until melted. Remove from heat and stir in chocolate until melted. Place in shallow bowl and chill until firm, at least a couple of hours. Roll mixture into 1-inch balls and roll in cocoa. Sometimes the mixture is quite firm and hard to roll into perfectly smooth balls. You can roll them out as smooth as you can, roll in cocoa and then roll again to smooth out. You might want to give them another roll in the cocoa after that. Makes about 30.
Note: For using as Brussels sprouts I skipped the rolling in cocoa part.