Cherry "Danish"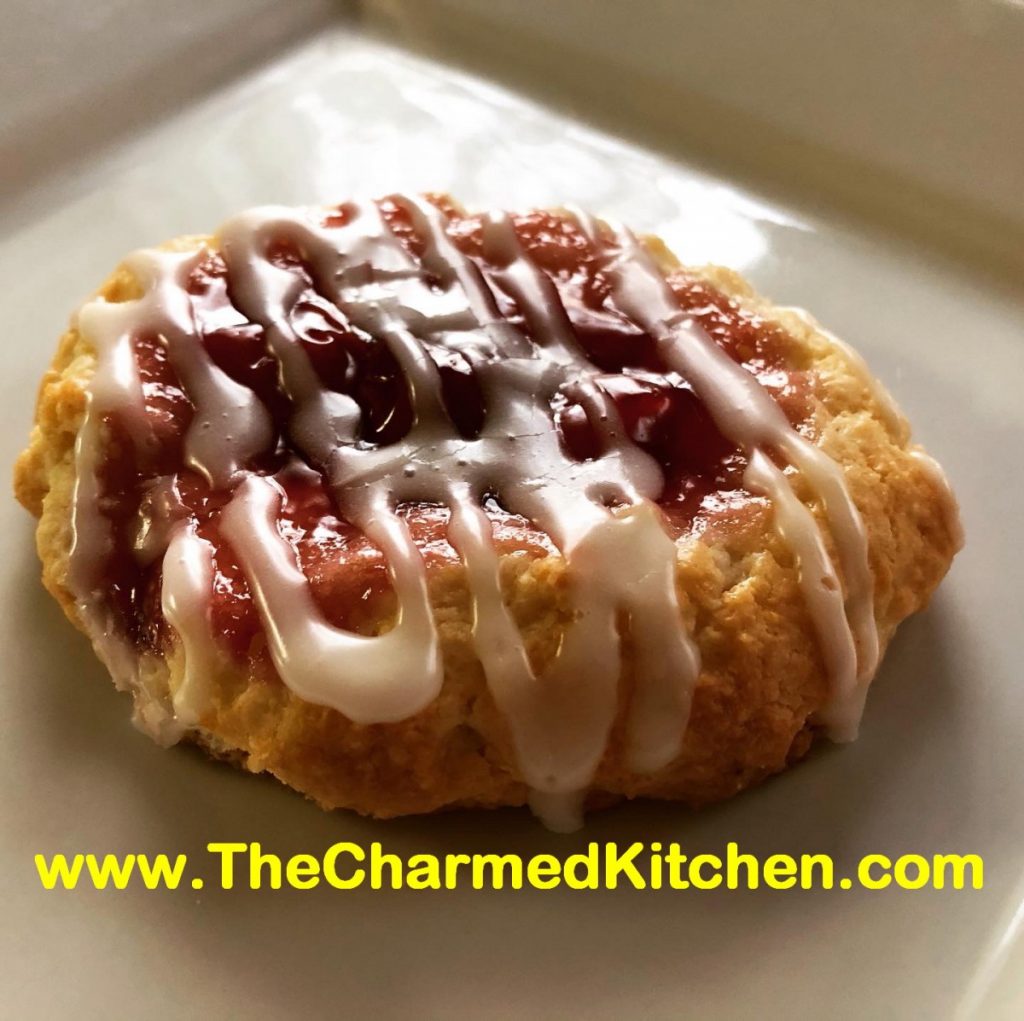 We made these little pastries in cooking camp last week. The kids enjoyed making them and eating them. If you are a baker, you might balk at calling these Danish. They are not the traditional Danish we are used to. They are tasty, though, and easy to make. I call them pastries, although that seems a little vague. They are more like little biscuits, filled with fruit.
Mom always called them Danish. My Mom used to make a batch whenever she had unexpected guests. They are ready in no time. I used cherry pie filling in these, but you can use other fruit fillings or even make cheese Danish.
They are made with baking mix- like Jiffy Mix. I make my own mix and the recipe follows. You can prep them in the time it takes to preheat the oven. They bake for just a few minutes, so a batch made in no time at all.
Easy "Danish"
2 c. biscuit mix, like Bisquick or Jiffy Mix- I make my own.
2 T. sugar
1/2 c. butter
2/3 c. milk
Assorted preserves or pie fillings or even sweetened cream cheese or ricotta for cheese "Danish" I prefer pie filling over preserves because preserves melt a lot and tend to spill out during baking.
1/2 c. confectioner's sugar
milk
Combine biscuit mix and sugar. Cut in butter. Stir in milk. Drop rounded tablespoonfuls on lightly greased baking sheet. Indent middle using spoon. Leave 2-3 inches in between, as they grow. Spoon preserves, or pie filling, into indents. Bake in 400 degree oven for 10-15 minutes or until lightly browned. Combine confectioner's sugar with enough milk to make a runny glaze. Drizzle over cooled Danish. Makes 12.
Homemade Biscuit Mix
8 c. flour
1 c. powdered milk
1 c. powdered buttermilk
¼ c. baking powder
1 T. salt
1½ c. shortening- I like to use coconut oil- you can also use butter, but mixture needs to be kept in the fridge if you use butter. I keep mine in the fridge in hot weather if I use coconut oil.
In large bowl combine dry ingredients and mix well. Cut in shortening until mixture resembles coarse crumbs. Store in a tightly-closed container and use it in 2-4 months. Makes 10 cups.